Werdum not daunted by challenge of Browne
ideo1>
As a live commentator for the UFC in Latin America, heavyweight Fabricio Werdum is expected to comment on a bad style matchup for a fighter when he sees one.
When it comes to his own career, however, "bad style matchups" don't exist.
"When I am working a broadcast and then when I fight -- my mind is very different," Werdum said. "I change my mindset.
"The only time I think a fight will be difficult is when I have had no training or I had a bad camp. When I'm in good condition, I never say, 'This fight is bad for me.'"
Some would certainly say Werdum (17-5-1) has a bad matchup ahead of him this weekend, as he's set to face Travis Browne at UFC on FOX 11 in Orlando, Fla.
[+] Enlarge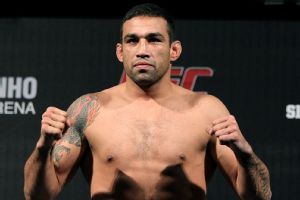 Josh Hedges/Getty ImagesFabricio Werdum isn't intimidated about the challenge of trying to take down Travis Browne at Saturday's UFC on FOX 11 card.
Browne (16-1-1) has never been taken down in his professional career -- in fact, the last two men who have tried to do so (Gabriel Gonzaga and Josh Barnett) ended up unconscious for the effort.
Known for his world-class grappling ability, Werdum has made it no secret he'd like to be the first to test Browne on the ground. That inevitably leads many to ask, "How will he get him there?" Werdum is confident he'll be able to provide an answer.
"I have five rounds -- 25 minutes -- to take him down," Werdum said. "I have Thai clinch, maybe when he kicks me I will catch it, I don't know. I have a lot of different situations to get him down. Why go crazy in the first few minutes?
"Travis Browne was just waiting for those guys to take him down, waiting to land those elbows. Barnett is a veteran guy. Why did he go crazy trying to take him down in the first minutes? I have 25 minutes. That's a long time."
Although Werdum mentally erases even the possibility of a bad style matchup for himself, he spots another one in the UFC heavyweight division: Browne versus current champion Cain Velasquez.
Werdum says he knows Velasquez is hoping for a fight with Browne, as opposed to one with himself, because of the danger he poses on the ground.
"I saw in an interview Velasquez said he wants to fight Browne," Werdum said. "For sure he would say that. That's better for him. He knows if he lands just one takedown against Browne the fight is over. Everybody knows that when he takes me down, the fight has just started."
---
Breakdown: Browne is a rare gem in the fight game: An A-plus athlete competing at heavyweight. Hopefully, we see a lot more like him in the future.
Browne is the guy who, in another life, might have gone far in basketball or football. And after years of development, his skills are catching up to that athleticism.
Have they caught up enough to beat a veteran such as Werdum? That's the question. Like any pro sport, mixed martial arts is a blend of athleticism and skill. A lot of one can mask a lack of the other, but you really need both at the highest level.
Werdum is also a big, strong guy, but he's not the athlete that Browne is. His skill set is more diverse at the moment, though. The expectation on this fight is that Werdum wants it on the floor. In the past five years, Werdum has officially tallied six total takedowns in seven fights. Meanwhile, Browne has never been taken down.
If Werdum gets the chance to grapple, it won't be due to some traditional takedown. He'll have to be crafty, take advantage in a scramble, score a surprise outside trip. If he can make that happen, he should have an obvious advantage on the ground.
If he can't, does Browne win an easy stand-up fight? Not necessarily. Browne loves the straight right hand and, it's so quick he will land it over time. Werdum will have to find a way to the inside and his defense will have to be on point. Browne isn't necessarily tricky on the feet, but he's very fast and unafraid of coming forward.
Prediction: This should be a good fight. Neither man is considered a defensive wizard on the feet. It could definitely go back and forth. It feels as though some are writing Werdum off thinking he has no chance at a takedown, but I think he'll be in this fight and will make it competitive. But in the end, it's BROWNE VIA SECOND-ROUND TKO.
---
CO-MAIN EVENT: WOMEN'S BANTAMWEIGHTS
Breakdown: Don't associate one particular style with Carmouche, because she's capable of doing pretty much everything well.
There's no question, however, she seems to hit a second gear in top position. She probably doesn't get enough credit when it comes to her finishing prowess on the floor. Her ground-and-pound is nasty, and if an opponent becomes consumed in covering up, she'll pass guard and improve position in a heartbeat.
Tate is Tate. She fights one style and that is non-stop aggression. It leaves her pretty open to punches, but she doesn't care. An opponent looking to counter allows her weight to be even slightly off-balance? Boom. Tate has her down.
Carmouche withered under the stalking game plan of Alexis Davis in her last fight, but Davis' aggression is very different than Tate's. This fight will take place in close quarters. Carmouche has to land strikes inside to back Tate off or she's in trouble.
Prediction: Tate looks to overwhelm in every fight, and this will be no different. Carmouche is an intelligent, physically strong bantamweight. I can see Tate getting carried away here and there and Carmouche getting that top position she's so good in, but overall this matchup favors Tate. TATE VIA SECOND-ROUND SUBMISSION.
ESPN Staff Writer
MMA columnist for ESPN.com
Analyst for "MMA Live"
Covered MMA for Las Vegas Sun
Brett's Picks
FIGHT OF THE NIGHT
Donald Cerrone vs. Edson Barboza: No explanation necessary here. These lightweights are known for offensive displays and combine for quite the highlight reel.
KNOCKOUT OF THE NIGHT
Cerrone vs. Barboza: Again, no explanation here is really required.
BIGGEST STORYLINE
Thiago Alves: The former title contender finally returns after a two-year layoff due to various injuries. It sort of feels like he has been around forever but Alves is 30-years-young. How healthy is he and does he look the same?
BIGGEST QUESTION
Cerrone: Will he get over the hump, finally? His career, regardless of what happens, is a huge success, but any "Cowboy" fan will tell you he has always appeared capable of taking that next step into UFC title contention.
ON THE HOT SEAT
Fabricio Werdum: This is a case where Werdum is fighting to keep his spot, not advance it. He's already looked at as the No. 1 contender, but that's gone if he loses. He has been brilliant since returning to the UFC in 2012. One more.
ONE TO WATCH
Mirsad Bektic: Definitely keep an eye on this 23-year-old prosepct fighting out of American Top Team. A physically domineering featherweight, Bektic is full of potential and could be an animal at 145 pounds.
By The Numbers
9
Werdum has nine wins by submission, but only one has come since 2010 (his last fight against Antonio Rodrigo Nogueira). Browne has escaped three submission attempts in his UFC career.
15
Carmouche lands 15 percent more significant strikes than Tate (56 percent to 41 percent). Six of Carmouche's nine wins have come by KO or TKO.
22
Takedowns landed for Tate in 10 UFC/Strikeforce fights. Carmouche has a 44 percent takedown defense, but has been taken down at least once in her last three fights.
23
Combined fights ended in the first round for both fighters. Browne has ended 13 of his 18 fights in the first round (10-1 record) while 10 of Werdum's 23 fights have ended in Round 1 (9-1 record).
56
Percent of significant strikes landed by Werdum in UFC fights, 10th highest all-time. Werdum has landed over 50 percent in each fight during his 3-fight win streak.