UFC 118: Edgar vs. Penn 2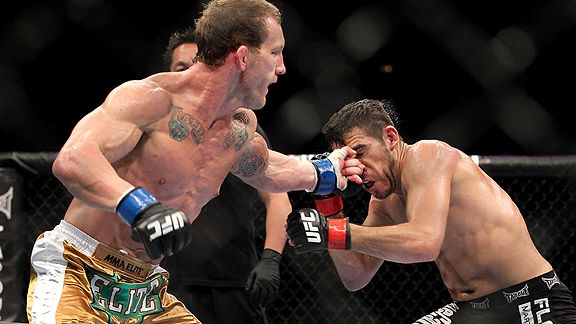 UFC 118 was a mixed martial arts event held Aug. 28 at TD Garden in Boston. It was the first Ultimate Fighting Championship event held in Massachusetts and coincided with the third UFC Fan Expo, also held in Boston that weekend.
The main fight on the card was the lightweight championship between Frankie Edgar and BJ Penn, the second time those two fighters have met. Edgar earned a second straight unanimous decision, retaining the title he won in April when he beat Penn in UFC 112. Edgar dominated basically every round and earned 50-45 scores from all three judges. Penn suffered only his second loss since 2003 -- both in lightweight title bouts against Edgar.
In the other most publicized matchup at UFC 118, Hall-of-Famer Randy Couture dominated worldclass boxer James Toney, earning a tap-out submission only 3:19 into the first round. Couture shot a single to put Toney on the floor seconds into the match, and Toney could not recover from his hold. In his post-match press conference, Toney said he would be back to UFC fighting after some more training.
In the night's preliminary fights, the other winners were Demian Maia, Gray Maynard, Nate Diaz, Joe Lauzon, Nik Lentz, Dan Miller, Greg Soto and Mike Pierce.
Edgar retained his lightweight title with a unanimous decision over the man from whom he won it earlier this year. Edgar dominated every round -- taking a unanimous 50-45 score -- and appeared even stronger than he did in Abu Dhabi in April, winning his fifth straight bout and improving to 13-1 in his MMA career (8-1 in the UFC). Eight of Edgar's past 10 wins have come by decision. Though Penn failed to avenge his title loss to Edgar, he tied Tank Abbott for the fifth-most bouts in UFC history with 18 in this match. 11 of his past 18 UFC bouts have had a title at stake.
Tale of the Tape
| | Penn | Edgar |
| --- | --- | --- |
| W-L-D | 15-6-1 | 12-1-0 |
| Age | 31 | 28 |
| Height | 5'9" | 5'6" |
| Weight | 154 | 154 |
| Reach | 70" | 72" |
| Style | BJJ/Boxing | Wrestling |
| Nickname | "The Prodigy" | "The Answer" |
Randy Couture def. James Toney (heavyweight bout)
Five-time UFC champion Randy Couture absolutely dominated his high-profile matchup with former boxing champion James Toney, forcing an arm-choke submission only 3:41 into the first round. Couture tied Matt Hughes and Chuck Liddell for the most bouts in UFC history with 23 and moved into a tie for second-most wins in UFC history. He also bettered his record as the oldest fighter ever to win a UFC bout. This was 42-year-old Toney's MMA debut after one of the most successful boxing careers in history -- he had 44 career KOs (but just once since 2003 -- his last fight had been in September 2009).moniker is "Lights Out," for his 44 career KOs, but he has just one KO since 2003 (his last fight was in September 2009). Toney was never knocked out in his boxing career.
Tale of the Tape
Couture
Toney
W-L
18-10
0-0<<
Age
47
42
Height
6'2"
5'10"
Weight
220
237
Reach
75"
72"
Strength
Wrestling
Boxing
>>72-6-3 as boxer
Demian Maia def. Mario Miranda (middleweight bout)
Demian Maia won with a unanimous 30-27 decision over Mario Miranda in a hugely tactical bout. This was Maia's first fight since his middleweight title bout against Anderson Silva. Of Maia's nine UFC bouts, only his past three have gone the distance. Mario falls to 1-2 in his three UFC bouts.
Maynard secured a victory by unanimous decision over Boston-local and fan-favorite Florian, winning by two scores of 30-27 and one of 29-28. By winning this bout, Maynard will get a lightweight title shot versus the winner of the Edgar-Penn main event. He remains unbeaten in his MMA career (11-0, 1 NC) and is the only fighter to defeat current lightweight champion Frankie Edgar. Florian lost his first UFC non-title bout after going 11-0 in his previous tries.
In his debut at welterweight (after moving up from lightweight), Diaz earned a technical submission over Davis after he passed out in a guillotine at the 4:02 mark in the third round. Now nine of Diaz's 13 wins have come by submission. This was just Marcus Davis' second fight in the United States since 2007, as eight of his past nine fights have been on foreign soil. Davis was hindered hugely after suffering a deep gash in his eye in the first round.
PRELIMINARY CARD (Spike TV)
Joe Lauzon def. Gabe Ruediger (lightweight bout)
Lauzon put on one of the more impressive performances of the night -- and won Submission of the Night for his efforts -- forcing a submission by armbar in just 2:01 in the first round. Lauzon had dominated the entire session, with Ruediger struggling to get even a hit. Lauzon, a Massachusetts native, now has won a post-fight bonus in six of his past eight bouts, three for Submission of the Night. For Ruediger, a former WEC lightweight champion, this match marked his return to the UFC after losing his debut in 2006 (versus Melvin Guillard) and then being kicked off "The Ultimate Fighter 5" when he failed to make weight. He had previously won his past six bouts overall (all by stoppage), culminated by capturing the vacant Tachi Palace Fights lightweight title in July.
Nik Lentz def. Andre Winner (lightweight bout)
Lentz defeated Andre Winner by a unanimous decision, scoring 30-27 by two judges and 29-28 by one. Lentz is unbeaten in his past 12 bouts (10-0-2) with five of his past six wins coming by decision. Winner had won back-to-back bouts since losing to Ross Pearson in "The Ultimate Fighter 9" finale.
PRELIMINARY CARD
Dan Miller def. John Salter (middleweight bout)
Miller broke a three-game losing streak by forcing Salter to tap out in the second round with an anaconda choke. Salter fought Miller close in the first round, losing 10-9, but tapped out at only the 1:53 mark in the second round. Prior to the losing streak, Miller started his UFC career 3-0 and was unbeaten in his previous 10 bouts (9 wins, 1 NC). Salter is now 5-2 in his MMA career with all five wins being finishes (3 KO, 2 sub), four in the first round.
Greg Soto def. Nick Osipczak (welterweight bout)
Soto earned his first UFC win with a unanimous 29-28 decision by the judges. Osipczak, who has now lost two losses in a row after being undefeated before his last match, won the first round but dropped both the second and the third to Soto. He now has lost two UFC matches in a row despite being undefeated before his last match. It was Soto's first UFC win (he lost his debut via DQ for illegal upkicks at UFC 111 versus Matthew Riddle).
Mike Pierce def. Amilcar Alves (welterweight bout)
Pierce won in three rounds after Alves taps out on a straight armbar at 3:11 of the final round. Pierce, who won the first two rounds at 10-9, has now won eight of his past nine bouts with his only loss in that span coming versus Jon Fitch. His past four bouts have all gone the distance (3-1). The match was Alves' UFC debut and his first fight outside of Brazil. He now has won 11 of his 13 career bouts.
The TD Garden in Boston is the home arena for the NBA's Boston Celtics and the Boston Bruins of the NHL. Opened in 1995 to replace the aging Boston Garden in the state's capital, the arena was originally known as the Fleet Center before its name change a decade later to TD Banknorth Garden (subsequently shortened to its current name in 2009).
With a maximum seating capacity of 19,580, TD Garden plays host to about 200 events annually. In addition to games played by the Celtics and Bruins, major sporting events held in the stadium's first 15 years included the 1996 and 2000 U.S. Gymnastics Trials, 1998's Wrestlemania, the U.S. Figure Skating Championships in 2001, and opening-round action of the 1999 and 2003 NCAA men's basketball tournaments. Along with many concerts by various musical acts, the 2004 Democratic National Convention, the NCAA Frozen Four ice hockey championship and the 2006 NCAA Women's Final Four also have recently been held at TD Garden.
At a cost of $160 million, TD Garden was privately financed and is owned by Delaware North Companies Inc. - Boston, a subsidiary of Delaware North Companies Inc. (headquartered in Buffalo, N.Y.). Its chairman and chief executive officer, Jeremy Jacobs, owns the Boston Bruins and chairs the board of governors of the National Hockey League.
TD Garden also features three restaurants and houses The Sports Museum, which celebrates the character and history of Boston-area sports. The arena has seen a number of improvements made in its short history, the most notable being $20 million of construction in 2006 that included a 20,000-square foot expansion of Boston's North Station train concourse area, additions to concession and restaurant areas, and the installation of a high-definition scoreboard dubbed Garden HDX.
Located on Causeway Street and minutes from Faneuil Hall and the city's historic North End, TD Garden was built in the same area as the old Boston Garden, which opened in 1928 and hosted sporting events and entertainment acts for 67 years -- a period during which the Celtics won 16 NBA titles and the Bruins claimed five Stanley Cup trophies. While the Bruins have failed to secure another NHL championship at the new arena, the Celtics added a 17th NBA title in 2008 at TD Garden.
NEWS RESULTS FOR UFC 118: EDGAR VS. PENN 2
TOP STORY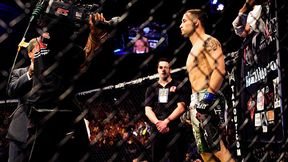 Lights Out For Penn, Toney
Frankie Edgar kept his lightweight title with a dominant win over B.J. Penn, and Randy Couture dropped James Toney in UFC 118. Story »
SHERDOG

Follow Sherdog.com's coverage of UFC 118 -- Edgar vs. Penn, including news, video previews and full fight histories on all 20 fighters. UFC 118 -- Edgar vs. Penn 2 »