UFC 122: Marquardt vs. Okami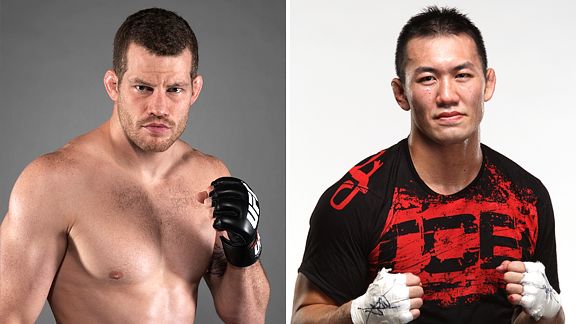 UFC 122: Marquardt vs. Okami was a mixed martial arts event presented by Ultimate Fighting Championship at the Koenig Pilsener Arena in Oberhausen, Germany on November 13, 2010. The feature match of the night saw Yushin Okami win by unanimous decision over Nate Marquardt in a middleweight bout. The co-headlining match, Jorge Rivera vs. Alessio Sakara, was scrapped after Sakara pulled out after experiencing flu-like symptoms hours before the fight.
MAIN CARD
Okami wins by unanimous decision ovr Marquardt, in a match that may have determined the No. 1 contender to take on the winner of the Anderson Silva-Vitor Belfort middleweight title bout taking place in February. Marquardt took on the bout just two months after defeating Rousimar Palhares by first-round TKO, but was not able to gain the upper hand on Okami -- who has now won six of his last seven and is 18-3 since 2004. He is the last fighter to defeat Anderson Silva, although it was more than four years ago and by DQ for an illegal kick.
Jorge Rivera vs. Alessio Sakara (middleweight bout)
The co-main event of the night has been scrapped after Sakara withdraws due to illness just hours before the fight. Both fighters were taking three-match win streaks heading into UFC 122, but Sakara reportedly had flu-like symptoms that caused the bout to be cancelled.
Dennis Siver vs. Andre Winner (lightweight bout)
Siver, fighting out of Mannheim, Germany, earns the win by getting Winner to tap out to a rear naked choke at 3:37 of the opening round. He had dropped Winner with a left hook to gain the advantage, and has now won six of his last seven bouts. Winner, the loser of TUF: 9, has now dropped back-to-back bouts for the first time in his career.
Amir Sadollah vs. Peter Sobotta (welterweight bout)
A third straight bout on the card goes the distance, as TUF: 7 winner Sadollah takes the unanimous-decision victory over the German Sobotta. Sadollah was able to land a number of kicks and combinations during the bout to subdue Sobotta, who has now lost in all three of his UFC appearances.
Krzysztof Soszynski vs. Goran Reljic (light heavyweight bout)
Soszynski rebounds from his loss to Stephan Bonnar by winning via unanimous decision. Reljic loses in his return to the light heavyweight division after dropping back-to-back decisions at middleweight.
Duane Ludwig vs. Nick Osipczak (welterweight bout)
Moving back up to welterweight after dropping his two previous bouts, Ludwig wins by split decision in a match that was moved onto the main card after the Sakara-Rivera fight had to be scrapped. Osipczak had the better of things in the opening round, before Ludwig reversed the momentum in the middle frame. With cuts above both eyes by that time, Ludwig then dominated the third by pounding on his opponent in the closing minutes.
PRELIMINARY CARD
Vladimir Matyushenko vs Alexandre Ferreira (light heavyweight bout)
Matyushenko is the victor by TKO after the referee stops the fight at 2:20 of round one. Able to take Ferreira down after an opening exhange, Matyushenko landed punches and elbows to force the stoppage and defeat Ferreira -- who had won seven straight bouts, all by first-round submission.
Pascal Krauss vs Mark Scanlon (welterweight bout)
Krauss wins by unanimous decision after dominating for portions of his debut match in the UFC. The German is now 10-0 in his MMA career with seven submissions and two knockouts. Scanlon -- filling in for Kenny Robertson, who pulled out of the bout due to injury -- takes the loss in his UFC debut.
Kyle Noke vs. Rob Kimmons (middleweight bout)
Noke wins the middleweight bout as Kimmons taps out to a rear naked choke at 1:36 of the second round. A TUF: 11 alum, Noke has won four straight matches for the third time in his career, and first time since 2004.
Seth Petruzelli vs. Karlos Vemola (light heavyweight bout)
Making his second appearance in the Octagon, Vemola wins by technical knockout after the referee stops the fight at 3:46 of the first round. Petruzelli was taken down early yet almost caught his opponent in a triangle, before Vermola took things to the ground again and landed punches and elbows until the bout was stopped.
Kris McCray vs. Carlos Eduardo Rocha (welterweight bout)
Rocha gets a first-round victory in his UFC debut as McCray taps out after a kneebar at 2:21 of the opening round. A finalist in TUF:11, McCray started by taking his opponent down but the move was quickly reversed by Rocha, who is unbeaten in nine career bouts with eight 1st-round stoppages.
The Koenig Pilsener Arena is a multi-purpose indoor sports arena, located in Oberhausen, Germany. Opened in September 1996, the arena in the in the North Rhine-Westphalia region of the country hosts over 100 events each year and can seat up to 13,000 people for various types of entertainment.
Previously called the Arena Oberhausen, the facility has hosted a variety of events ranging from classical music concerts to boxing matches. Popular rock bands such as Oasis and R.E.M. have appeared at the Koenig Pilsener Arena, which has also hosted "Worldstars on Ice" figure skating exhibitions and "Lord of the Dance" shows among its many performance acts.
NEWS RESULTS FOR UFC 122: MARQUARDT VS. OKAMI
TOP STORY
Okami Defeats Marquardt
Yushin Okami won by unanimous decision over Nate Marquardt in the headline match at UFC 122 in Oberhausen, Germany. Story »
SHERDOG

Follow Sherdog.com's coverage of UFC 122 -- Marquardt vs. Okami, including news, video previews and full fight histories on all the fighters. UFC 122 -- Marquardt vs. Okami »