UFC 125: Resolution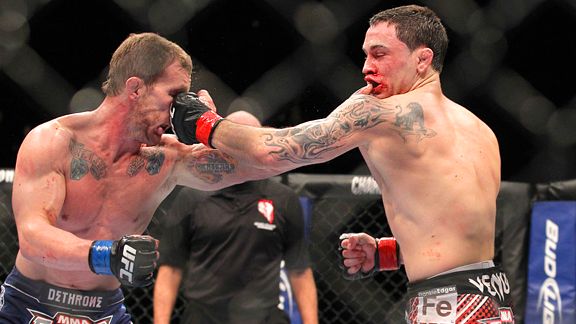 UFC 125: Resolution was an Ultimate Fighting Championship event held on New Year's Day, 2011 at the MGM Grand Garden Arena in Las Vegas. The featured match of the night saw lightweight champion Frankie Edgar retain his title after judges scored his championship bout with challenger Gray Maynard a draw. Other top matches on the night's card included Brian Stann claiming a first-round TKO victory over Chris Leben and Thiago Silva winning by unanimous decision over Brandon Vera.
MAIN CARD
Frankie Edgar (champion) vs. Gray Maynard
Edgar retains his lightweight belt after judges rule his championship bout with Maynard a draw. The challenger had Edgar in major trouble early by battering him in the first round, but the champion recovers to gain the upper hand in later rounds. Maynard was looking to become the second fighter in UFC history to win 9 straight bouts but failed to finish off Edgar, who holds on to the title without defeating the only man he has lost to during his MMA career.
Chris Leben vs. Brian Stann
Stann is the victor by TKO after the referee stops the bout at 3:37 of the first round. Leben was aiming for his first four-bout winning streak since 2005-06 (when he started his UFC career 5-0), but was dropped a couple of times by Stann, the first with a right hook midway through the round. Leben got back to his feet before getting levelled again, with a knee and several punches from Stann finishing things to earn him a second straight bout since dropping from light heavyweight to middleweight.
Thiago Silva vs. Brandon Vera
Silva earns the win via unanimous decision, sending Vera to a third straight loss for the first time in his career. Silva, who had control of matters throughout the match, rebounds after losing two of his last three after starting his career 13-0.
Nate Diaz vs. Dong Hyun Kim
Kim stays unbeaten in 15 career bouts (14-0-1, with one NC) by taking a unanimous decision victory over Diaz, who suffers his first loss since moving up from lightweight. In control for most of the match, Kim earns his fourth straight win via decision by outpointing Diaz, who was the winner of The Ultimate Fighter 5.
Clay Guida vs. Takanori Gomi
Guida registers a third straight submission victory after forcing Gomi to tap to a guillotine at 4:27 of the second round. Gomi, the former Pride lightweight champion, is unable to claim his first winning streak since signing with the UFC in 2010.
PRELIMINARY CARD
Jeremy Stephens vs. Marcus Davis
Stephens takes the fight with an impressive third-round knockout of Davis. Seemingly behind in the bout entering the final round, Stephens lands a lethal right and follows up with more strikes before the referee ends the bout at 2:33 of the third. Davis loses in his initial lightweight bout after losing three of his last four at welterweight.
Dustin Poirier vs. Josh Grispi
Poirier dominates to win by unanimous decision over Grispi in the battle between two WEC featherweights making their UFC debuts. Grispi had won 10 straight bouts and was supposed to fight Jose Aldo for Aldo's featherweight title, but Aldo withdrew from the bout due to injury. Landing shots easily throughout the match, Poirier impresses while claiming his ninth career win.
Phil Baroni vs. Brad Tavares
Tavares, a TUF 11 semifinalist, improves to 3-0 in the UFC with a first round knockout of Baroni, who had the upper hand early before being dropped by an overhand right. Tavares pounced to land more smashing blows, before the referee stops the fight at 4:20 of the first round.
Mike Thomas Brown vs. Diego Nunes
Nunes takes the victory by split decision in his UFC debut. Brown, a former WEC featherweight champ, had come out aggressively to take the first round before Nunes -- with his left eye swollen shut -- rebounds to claim the final two frames with some effective kicks and solid defense.
Daniel Roberts vs. Greg Soto
Roberts claims a third straight win after Soto taps out to a kimura at 3:25 of the first round. After fending off a guillotine attempt, Roberts drags down his opponent and lands a series of blows before locking on the move that leads to the submission.
Antonio McKee vs. Jacob Volkmann
Jacob Volkmann wins his third straight bout since dropping to lightweight, with a split-decision victory over McKee. The 40 year-old McKee loses in his UFC debut after winning 11 straight in his career.
MGM Grand Garden Arena is located in the MGM Grand in Las Vegas. It was patterned after New York's Madison Square Garden and holds 16,800 people. It has become well-known for hosting boxing and UFC events.
The stadium also has held several award ceremonies -- including the Billboard Music Awards and the Academy of Country Music Awards -- in recent years. The arena also is well-known for hosting some of the country's top concerts -- Barbra Streisand held the inaugural event with a concert in 1993, her first in almost 30 years. Elton John, Billy Joel and Cher also have played the arena.
Mike Tyson, Floyd Mayweather and Oscar De La Hoya became favorites at the arena, which has held several boxing championships in its time. It also has become a popular destination for UFC -- Resolution will be the sport's 15th event in the arena.
TOP STORY
Edgar Survives To Keep Belt
Frankie Edgar recovered from a first-round battering to earn a draw with Gray Maynard and retain his lightweight title at UFC 125. Story »
SHERDOG

Follow Sherdog.com's coverage of UFC 125: Resolution, including news, video previews and full fight histories on all the fighters. UFC 125: Resolution »