UFC 129: St. Pierre vs. Shields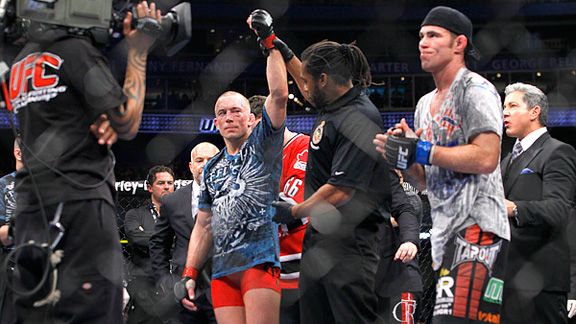 UFC 129: St. Pierre vs. Shields was an Ultimate Fighting Championship event held on April 30, 2011, at the Rogers Centre in Toronto, Ontario. The event featured two championship bouts, with Georges St. Pierre winning a unanimous-decision victory over Jake Shields to retain his welterweight championship and Jose Aldo successfully defending his UFC featherweight championship with a victory by decision over Mark Hominick.
UFC 129 was the first UFC event to be held in Ontario, since mixed martial arts were only legalized in the province in August 2010. The stadium originally was planned to hold 42,000 fans, but that number sold out quickly and UFC officials decided to increase its capacity. After two early sales event and the general ticket sales were finished, UFC increased the number of seats to 55,000, selling all of them. The $11 million in gate revenue and actual event attendance far outweighed any previous UFC event in North America.
MAIN CARD
Georges St. Pierre vs. Jake Shields (welterweight championship bout)

Georges St-Pierre successfully defends his welterweight title for a record sixth consecutive time, taking a unanimous-decision victory in uneventful fashion. Using his jab effectively and maintaining a speed advantage over Shields, St. Pierre did suffer a cut midway through the bout but kept the fight a standing affair and encountered little threat from his opponent. Shields, the former Strikeforce middleweight champion and EliteXC welterweight champion, fails in his attempt to add a UFC title to his resume and loses after going unbeaten over a six-year stretch. St. Pierre ties a UFC record with his ninth win in a title bout and sets the UFC mark for title wins by decision.
It would break the welterweight record and become the second-longest streak in any UFC division. St-Pierre also looks to tie the UFC record with his ninth win in a title bout. A win would make St-Pierre the third fighter in UFC history to win nine straight bouts overall and second to win eight straight title bouts. Since the UFC went to unified MMA rules in 2000, St-Pierre is the all-time leader in significant strikes, takedowns and takedown percentage. Jake Shields, the former Strikeforce middleweight champion and EliteXC welterweight champion, will try to add a UFC title to his resume. Shields is unbeaten in more than six years with a 15-0 mark in that span. Neither fighter has stopped an opponent since 2009 when Shields choked out Robbie Lawler and BJ Penn could not come out for the fifth round against St-Pierre. If St-Pierre wins by decision he will tie Jon Fitch for the most UFC wins by decision and set the UFC mark for title wins by decision.
Jose Aldo vs. Mark Hominick (featherweight championship bout)
Jose Aldo makes a successful UFC debut (after becoming the first UFC featherweight champion in November when the UFC and WEC merged), taking a unanimous decision win over the pesky Hominick. Able to land in various ways throughout the bout, Aldo's blows take a toll on Hominick, whose face is badly swollen by the later rounds but battles to the end. The youngest fighter in UFC history to defend a title, Aldo is 12-0 since 2006 with seven of his last nine wins coming by knockout. Hominick, a native of Ontario, was on a five-bout winning streak and falls to 3-1 in the UFC.
Lyoto Machida vs. Randy Couture (light heavyweight bout)
Machida takes out the five-time UFC champion with a brutal kick to the chin early in the second round, with Couture claiming afterward that the bout was his last in the Octagon. In similar fashion to Anderson Silva's devastating kick on Belfort in his last fight, Machida's "Karate Kid" effort wows the crowd -- while knocking out a few of Couture's teeth. Couture suffers the loss after three straight wins, and makes history by tieing Matt Hughes for the most fights in company history (24). Former champion Machida rebounds from from back-to-back losses and avoids being the first light heavyweight champion to lose back-to-back bouts in the UFC after dropping the title.
Vladimir Matyushenko vs. Jason Brilz (light heavyweight bout)
An early flurry from Matyushenko results in another quick fight in Toronto, as an uppercut and a left end the night for Brilz after just 20 seconds. Brilz, fighting for the first time since losing a controversial split decision to Antonio Rogerio Nogueira last May, falls to 3-3 in the UFC. Matyushenko gains his fourth win in the UFC since returning from a six-year hiatus from the company in 2009. The former IFL light heavyweight champion has now won 16 bouts via KO or submission.
Mark Bocek vs. Ben Henderson (lightweight bout)
Henderson makes a successful debut in the UFC, claiming a unanimous decision win over Bocek. A flurry of blows from Henderson opened a major cut on Bocek's forehead, and he survived a takedown in the third to hold on for the victory. Henderson had won 10 consecutive fights before dropping the WEC lightweight championship to Anthony Pettis in December. Bocek had won four of his last five bouts overall (with each of those wins coming by submission), but the Toronto native falls to 6-2 when fighting in Canada.
PRELIMINARY CARD (Spike TV)
Nate Diaz vs. Rory MacDonald (welterweight bout)
MacDonald takes a unanimous decision victory after a grueling battle with Diaz, who landed some blows and kept coming forward against the Canadian prospect. But MacDonald found success throughout to take each of the three rounds, delighting the home crowd.
Sean Pierson vs. Jake Ellenberger (welterweight bout)
Ellenberger claims a first-round knockout over the Canadian Pierson, connecting with a devastating left hook and landing a couple additional shots before the referee stops the bout at 2:42 of the first.
PRELIMINARY CARD
Claude Patrick vs. Daniel Roberts (welterweight bout)
Patrick wins the first bout of the night that goes the distance, taking a unanimous decision victory. The Canadian had Roberts in trouble near the end of the first round and floored him with a high double-leg in the middle round. Able to take full mount for a while during the third, Patrick landed some knees and punches before stuffing a couple of takedowns before the final whistle.
Ivan Menjivar vs. Charlie Valencia (bantamweight bout)
The action-packed undercard features another quick bout, as Menjivar drops Valencia early with an elbow and finishes him off with blows from above. The bantamweight fight ends in 90 seconds, with a third straight win for a Canadian in the Toronto showcase.
Jason MacDonald vs. Ryan Jensen (middleweight bout)
McDonald takes the middleweight bout with a win by submission at 1:37 of the round. The Canadian worked a triangle attempt midway through the opening round, before being able to tigten it and ultimately finish off Jensen.
John Makdessi vs. Kyle Watson (lightweight bout)
Makdessi continues the night's exciting action with a stunning, spinning left back-fist that knocks Watson out cold at 1:27 of the third round. Makdessi had assumed the upper hand after a slow start, and connected on a number of strikes in the middle round to further the advantage. The final flurry came after Makdessi had opened a cut under Watson's eye midway through the final round.
Yves Jabouin vs. Pablo Garza (featherweight bout)
Garza opens the night with a victory by submission after Jabouin taps out to a triangle choke at 4:31 of the first round.
NEWS RESULTS FOR UFC 129: ST. PIERRE VS. SHIELDS
TOP STORY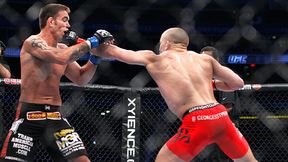 St. Pierre, Aldo Defend Titles
A record UFC crowd in Toronto was treated to an exciting undercard before champions Georges St. Pierre and Jose Aldo won unanimous decisions to retain their titles. Recap » Report Card »
SHERDOG

Follow Sherdog.com's coverage of UFC 129 -- St. Pierre vs. Shields, including news, video previews and full fight histories on all the fighters. UFC 129 -- St. Pierre vs. Shields »