UFC 131: Dos Santos vs. Carwin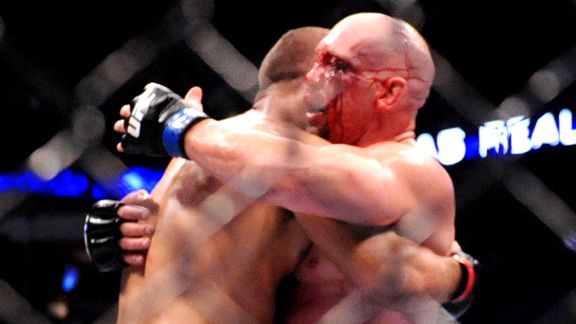 UFC 131: Dos Santos vs. Carwin was an Ultimate Fighting Championship event held on June 11, 2011, at the Rogers Arena in Vancouver, British Columbia, Canada. In the featured match of the night, heavyweight Junior dos Santos claimed a unanimous-decision victory over Shane Carwin (a replacement for Brock Lesnar). Results of other feature matchups included Kenny Florian defeating Diego Nunes by unanimous decision in a featherweight bout, and Dave Herman winning by TKO over Jon Olav Einemo in a heavyweight battle.
MAIN CARD
Junior dos Santos vs. Shane Carwin (heavyweight bout)
Dos Santos stays unbeaten in the UFC with a unanimous-decision victory over Carwin, and is likely to be considered the No. 1 contender for Cain Velasquez's title when the champion returns from a torn rotator cuff. Dos Santos landed a number of blows early that bloodied the face of Carwin, who fought on but couldn't muster much of an attack as the speed and jabbing of Dos Santos kept him at bay. The win ties Dos Santos with Hall-of-Famer Randy Couture and current heavyweight champion Cain Velasquez for the longest heavyweight winning streak in UFC history. Carwin, who was stepping in for an injured Brock Lesnar, was fighting for the first time since losing to Lesnar last July.
Kenny Florian vs. Diego Nunes (featherweight bout)
Kenny Florian wins in his first bout since dropping to featherweight, taking a victory by unanimous decision over Nunes. Florian was able to score some takedowns and wear down his opponent, who loses in his second appearance in the Octagon after earning a split-decision victory over Mike Brown at UFC 125.
Demian Maia vs. Mark Munoz (middleweight bout)
Munoz earns his second three-fight winning streak in the UFC, taking a unanimous-decision victory over Maia, who had won two in a row. Munoz recovered nicely after Maia had controlled things early, and he has won six of his last seven bouts overall with the only loss in that span coming to No. 1 contender Yushin Okami by split decision.
Jon Olav Einemo vs. Dave Herman (heavyweight bout)
Herman wins by TKO over Einemo in an exciting battle, after looking to be finished before responding with a number of blows to end the bout at 3:19 of the second round. Herman has finished 20 of his 21 career victories (with 18 coming in the first round), while Einemo, who was fighting for the first time since 2006, is now 6-2 in his career.
Donald Cerrone vs. Vagner Rocha (lightweight bout)
Fan-favorite Donald Cerrone continues the successful start to his UFC career with his second win in the Octagon, a unanimous-decision victory over Rocha, who was making his UFC debut by stepping in for the injured Mac Danzig. The Brazilian wasn't able to take the battle to the ground, as Cerrone was able to outclass him standing, and Rocha's overall career record falls to 6-2.
PRELIMINARY CARD
Sam Stout vs. Yves Edwards (lightweight bout)
Stout knocks out Edwards with a huge overhand left, and the highlight-reel blow ends the bout at 3:52 of the first round.
Jesse Bongfeldt vs. Chris Weidman (middleweight bout)
Weidman earns an impressive victory by forcing Bongfeldt to tap to a standing guiilotine seconds before the end of the first round.
Krzysztof Soszynski vs Mike Massenzio
Another bout goes the distance, with Soszynski wearing down Massenzio to claim the unanimous-decision victory.
Nick Ring vs. James Head (middleweight bout)
Ring wins the middleweight bout, forcing Head to submit (to a rear naked choke) at 3:33 of the third round.
Dustin Poirier vs. Jason Young (featherweight bout)
Poirier is the victor over Young, via unanimous decision after three rounds.
Joey Beltran vs Aaron Rosa
Beltran claims the win over Rosa by TKO at 1:26 of the third round.
Darren Elkins vs Michihiro Omigawa
Elkins wins by unanimous decision over Omigawa.
NEWS RESULTS FOR UFC 131: DOS SANTOS VS. CARWIN