UFC 137: Penn vs. Diaz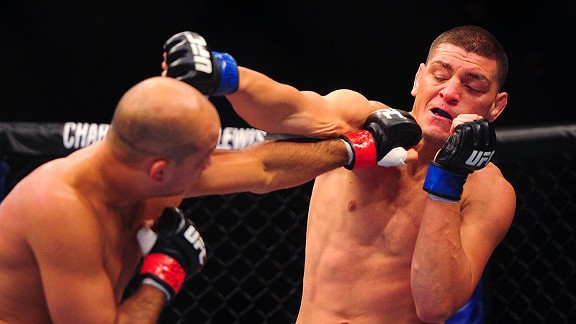 "UFC 137: Penn vs. Diaz" was an Ultimate Fighting Championship event held on Oct. 29, 2011 at the Mandalay Bay Events Center in Las Vegas, Nevada. In the night's main event, welterweight Nick Diaz defeated B.J. Penn by unanimous decision. The main card also featured Cheick Kongo claim a decision over fellow heavyweight Matt Mitrione, while Roy Nelson stopped Mirko "Cro Cop" Filipovic (by third-round TKO), after which Cro Cop announced his retirement from the sport.
Originally, Diaz was scheduled to fight welterweight champion Georges St. Pierre in the main event, but he was dropped down to the co-main event after missing multiple media appearances. The main event was rescheduled to pit St. Pierre against Carlos Condit, but on October 18, St. Pierre pulled out of the fight with an injury, bumping the Penn-Diaz fight up to main event status.
Main Card
Nick Diaz def. B.J. Penn (by unanimous decision)
In a replacement main event that saw numerous changes in the last two months, Diaz takes the victory in an exciting battle to win his 11th straight fight. Penn impressed in the first round by connecting with some solid punches, but Diaz turned things around in the second, upping the pressure on Penn and battering him with shots against the fence. The two continued to exchange shots in the final round, with Diaz scoring enough to win the round and claim the victory. Penn had come off a draw against Jon Fitch in a title eliminator in February and is now just 2-4-1 as a UFC welterweight (with both wins against Matt Hughes).
Cheick Kongo def. Matt Mitrione (by unanimous decision)
Kongo claims the win by decision to become the fourth heavyweight with 10 wins in UFC history. The bout was a lackluster affair, but Kongo was able to score a couple of takedowns and control things over Mitrione, who goes down to defeat for the first time in six MMA bouts (with four wins by knockout).
Roy Nelson def. Mirko Filipovic (by third-round TKO)
A more svelte Nelson ends a two-match losing streak by stopping Cro Cop, who drops his third in a row for the first time in his career. After a relatively quiet opening round, each fighter had a chance to pummel his opponent in the second, with Cro Cop unloading early while Nelson swarmed after a takedown late in the round. The last frame begins with Nelson emerging from a scramble to take Cro Cop's back, and the referee stops the bout, after a flurry of punches from Nelson, with 1:30 left in the third. Following the loss, Cro Cop announces that he has fought for the last time.
Scott Jorgensen def. Jeff Curran (by unanimous decision)
This fight was promoted to the main card after removing St-Pierre vs Condit and Brad Tavares vs Dustin Jacoby due to injuries. Solid grappling exchanges rather than striking prowess highlighted the bout, with Jorgensen getting the better of his opponent throughout the three rounds to claim the decision. Curran had won two straight overall but loses in his return to the UFC, having lost to Matt Serra way back in 2004. Jorgensen has now won seven of his last eight with the only loss in that stretch coming to bantamweight champion Dominick Cruz.
Hatsu Hioki def. George Roop (by split decision)
Hioki gets the win via decision in his UFC debut; it is his fifth straight and he is 13-1-1 in his last 15 bouts. While Roop produced better strikes in the first round, Hioki responded with a takedown to assume some control. Roop opened the second with a solid combination, but Hioki scored another takedown move and then worked from mount to finish out the round. The final frame began with some infighting before Roop took down his opponent, but it was not enough. Roop fails in an attempt for back-to-back victories for the first time since winning three straight from 2007-08.
Preliminary Card (Spike TV)
Donald Cerrone def. Dennis Siver (via first-round submission)
Cowboy Cerrone is the victor by a rear naked choke at 2:22 of the first round, forcing the tap after swarming over Siver following a couple of high kicks that dazed his opponent.
Bart Palaszewski def. Tyson Griffin (first-round KO)
With Griffin unable to make weight, the match becomes a 148-lb. catchweight bout, which doesn't last very long. The two exchange a number of kicks before Palaszewski connects with a strong left hook that dazes Griffin. A series of follow-up blows culminates with a right hook that drops Griffin for good at 2:45 of the first round.
Preliminary Card (Facebook)
Brandon Vera def. Eliot Marshall (by unanimous decision)
The fight begins as a standing affair, with Vera succesfully landing a number of kicks in the first round. Marshall misses out on takedown attempts early in the middle round before he is taken to the mat by Vera, who follows up with elbows and knees to take the round. The aggressive Marshall finally gets a takedown in the third, with Vera holding off a rear naked choke attempt in the closing seconds to win the bout.
Ramsey Nijem def. Danny Downes (unanimous decision)
Nijem dominates the lightweight bout, opening by landing some wild punches and connecting with knees and elbows after a first-round takedown. He moves for rear naked chokes in each of the first two rounds, but Downes is able to fight off the submission attempts. But Nijem's ground and pound efforts continue in the final frame, along with more choke attempts, while he rides his momentum to the final bell for the decision victory.
Francis Carmont def. Chris Camozzi (unanimous decision)
The night's second bout goes the distance, with Octagon newcomer Carmont in charge throughout for a decision win. The Firas Zahabi-trained Frenchman landed a number of kicks and knees while fighting off takedown attenpts early, and then impressed in the middle round with a slam and an uppercut that bloodied Camozzi. In control by the final round, Carmont scored another takedown and landed punches while over his opponent.
Clifford Starks def. Dustin Jacoby (unanimous decision)
The two middleweights started the bout in conservative fashion, with an even first round. Starks was able to shoot for takedowns in the latter two rounds to maintain control of the contest for the victory.
NEWS RESULTS FOR UFC 137: PENN VS. DIAZ
TOP STORY
Nick Of Time
Nick Diaz turned up the heat at exactly the right time to carve out a unanimous decision victory over B.J. Penn in UFC 137's main event. Recap » Analysis/chat wrap »
SHERDOG

Follow Sherdog.com's coverage of UFC 137, including news, video previews and full fight histories on all the fighters. UFC 137 »