UFC 139: Shogun vs. Henderson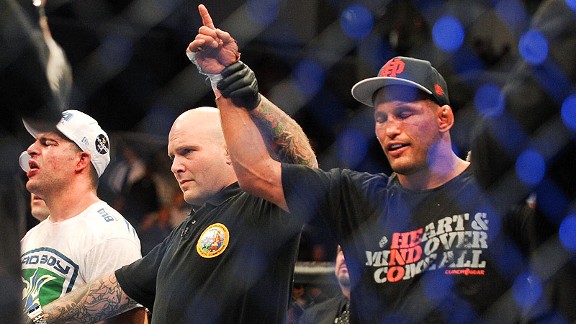 "UFC 139: Shogun vs. Henderson" was an Ultimate Fighting Championship event, held Nov. 19, 2011, at the HP Pavilion in San Jose, Calif. This was the first UFC event in San Jose, which had previously been the home base for Strikeforce.
The main event was a light heavyweight bout between Mauricio "Shogun" Rua and Dan Henderson. Henderson dominated the early rounds, before Rua staged an impressive comeback. Still, Henderson came away with the decision victory, potentially earning a title shot in the light heavyweight division.
Main Card
Dan Henderson def. Mauricio Rua
Unanimous decision: 48-47, 48-47, 48-47
In a brutal, bloody bout, Mauricio Rua and Dan Henderson go the distance, and in the end, it's Henderson who earns the decision victory. Henderson dominated the first three rounds, but wasn't able to finish Rua, who staged a huge comeback in the last two rounds. Fighting under the UFC banner for the frist time since UFC 100, Henderson wins for the seventh time in his last eight bouts overall. It's his fourth win in a row, but the first of those to go the distance. The last time Henderson won a fight via decision was at UFC 93 in 2009. Rua falls to 20-6 overall, losing for the second time in his last three bouts. The loss drops him to 4-4 inside The Octagon, the though losses -- one each to Jon Jones, Lyoto Machida, Forrest Griffin and now Henderson -- have come against elite opponents.
Wanderlei Silva def. Cung Le
TKO, 4:49 of the second round
Silva breaks Le's nose with a knee to the face, then follows up with a series of hammerfists to force a stoppage late in the second round, earning his first victory since February 2010. The former PRIDE champion improves to 34-11-1 (1 NC) overall, with just his third win in his last nine fights. 24 of his 34 career victories have come via knockout. Le loses in his UFC debut, falling to 7-2 overall in his MMA career. He's fought just three times since mid-2008, splitting a pair of fights with Scott Smith and now losing to Silva.
Urijah Faber def. Brian Bowles
Submission, 1:27 of second round
In a matchup of former WEC champions clash, Faber -- the former featherweight champ -- gets Bowles -- the former bantamweight champ -- into a guillotine choke and forces a submission to hand Bowles just his second career loss and first inside The Octagon. Faber improves to 26-5 overall with the 14th submission victory of his career. The win puts him in line for a potential title match against Dominick Cruz. The two have split their two previous meetings.
Martin Kampmann def. Rick Story
Split decision: 29-28, 28-29, 30-27
Kampmann snaps the first two-fight losing streak of his career with a split decision victory over Story, who's now lost two straight. Kampmann improves to 18-5 overall, earning his first win since a decision victory over Paulo Thiago at UFC 115. Just four of his 18 victories have come via decision. "Horror" Story falls to 13-5 overall, with all five losses via decision. This is the first time in his career he's lost consecutive fights. He's now gone the distance in four consecutive fights, dating to 2010.
Stephan Bonnar def. Kyle Kingsbury
Unanimous decision: 30-27, 30-27, 30-25
Bonnar wins a lopsided decision and has now won his last three fights to improve to 8-6 in his UFC career. The three-fight win streak matches the longest in his UFC. Kingsbury's four-fight win streak comes to an end, as he suffers his first loss since the TUF 8 finale in 2008.
Preliminary Card
Ryan Bader def. Jason Brilz
KO, 1:17 of first round
Michael McDonald def. Alex Soto
KO, 0:56 of first round
Chris Weidman def. Tom Lawlor
Submission, 2:07 of first round
Gleison Tibau def. Rafael dos Anjos
Split decision: 28-29, 29-28, 30-27
Miguel Torres def. Nick Pace
Unanimous decision: 30-27, 30-27, 30-27
Seth Basczynski def. Matt Brown
Submission, 0:42 of second round
Danny Castillo def. Shamar Bailey
TKO, 4:52 of first round
NEWS RESULTS FOR UFC 139: SHOGUN VS. HENDERSON
Chuck Mindenhall, MMA

Touching gloves before a fight isn't enough to prove what's about to go down is civilized. Nor is a postfight embrace, or posing for a picture togethe...

Story | August 29, 2012

Josh Gross, ESPN.com

Josh Gross rates the performances of UFC 140 fighters.

Story | Conversation | December 12, 2011

ESPN.com staff, ESPN.com Tuesday, Nov. 22

These are the bantamweight power rankings.

Story | Conversation | November 22, 2011
TOP STORY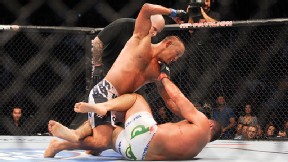 The Right Stuff
Dan Henderson's searing right hand did enough damage early on to help him earn the nod over Mauricio Rua at UFC 139. Recap » Chat Replay »
SHERDOG

Follow Sherdog.com's coverage of UFC 139, including news, video previews and full fight histories on all the fighters. UFC 139 »