UFC 140: Jones vs. Machida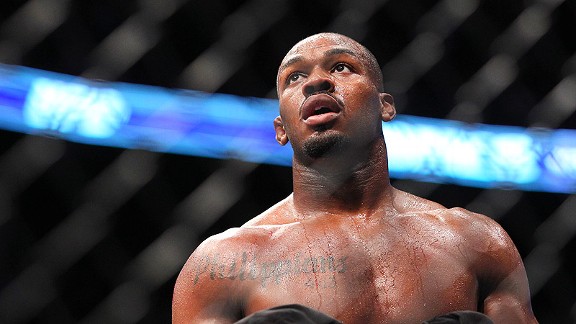 "UFC 140: Jones vs. Machida" was an Ultimate Fighting Championship event held Dec. 10, 2011 at the Air Canada Centre in Toronto. The main event was the light heavyweight championship match between Jon Jones and Lyoto Machida, a bout that Jones won via second-round submission.
Jones, the reigning champion, made his second defense of his title, following his win over Rampage Jackson at UFC 135. Jones was originally expected to fight Rashad Evans at UFC 140, but a lingering thumb injury knocked Evans out of action.
The other featured fights at UFC 140 saw Frank Mir defeat Antonio Rodrigo Nogueira via submission (because of a broken arm). Antonio Rogerio Nogueira defeated Tito Ortiz via first-round TKO. It marked the first time the Nogueira brothers fought on the same UFC card.
Main card
Light heavyweight championship bout: Jon Jones def. Lyoto Machida
Submission, 4:26 of second round
Jones continues to demonstrate another dimension of his game of late, winning by submission for the third time in his past four fights, choking out Machida to defend his light heavyweight title. Overall, Jones has won six straight -- all via stoppage -- since suffering his lone career loss (via disqualification) in December 2009. Jones improves to 15-1 overall, with five of his 15 victories coming via submission. Jones is the first light heavyweight champion to win multiple title defenses since Chuck Liddell won four defenses from from 2005 to 2006. Machida, stepping in for the injured Rashad Evans, loses for the third time in his past four bouts to fall to 17-3 overall.
Frank Mir def. Antonio Rodrigo Nogueira
Submission, 3:38 of first round
Mir, who became the first fighter to stop Nogueira in their 2008 fight, submits Big Nog in the first round. Mir has won his past three bouts, improving to 16-5 overall, with nine wins via submission. Nog falls to 33-7-1 with one no contest in his MMA career. He's just 2-3 in his past five fights, dating to his 2008 loss against Mir.
Antonio Rogério Nogueira def. Tito Ortiz
TKO, 3:15 of first round
Nogueira ends a two-fight losing streak, stopping Ortiz in the first round after dropping decisions to Ryan Bader and Phil Davis. Nogueira improves to 3-2 in the UFC since making his Octagon debut in November 2009. This is his first knockout victory since knocking out Luiz Cane in his UFC debut in 2009. He improves to 20-5 overall. Ortiz is just 1-6-1 in his past eight fights, with the lone win coming against Ryan Bader via submission. He's lost two straight since that win, both via TKO.
Brian Ebersole def. Claude Patrick
Split decision: 29-28, 28-29, 29-28
Ebersole, a veteran of more than 60 fights, improves to 3-0 in the UFC since debuting in February. He now has 49 career professional wins, including 15 by decision. Patrick falls to 14-2 overall, losing for the first time inside The Octagon (3-1). This is just the fourth time in 16 career bouts that Patrick went the distance.
Chan Sung Jung def. Mark Hominick
KO, 0:07 of first round
Jung uses a huge left to knock Hominick to the canvas and put an end to this fight just seven seconds into the first round, matching the record for the fastest knockout in UFC history. "The Korean Zombie" gets his second consecutive win in The Octagon to improve to 12-3 overall in his MMA career. This was his first win via knockout since exactly three years ago. Hominick suffers his second consecutive loss, falling to 20-10 overall. It's just the third of his 10 career losses to come via knockout.
Preliminary card
Igor Pokrajac def. Krzysztof Soszynski
KO, 0:35 of first round
Constantinos Philippou def. Jared Hamman
KO, 3:11 of first round
Dennis Hallman def. John Makdessi
Submission, 2:58 of first round
Yves Jabouin def. Walel Watson
Split decision: 28-29, 29-28, 30-27
Mark Bocek def. Nik Lentz
Unanimous decision: 30-27, 30-27, 30-27
Jake Hecht def. Rich Attonito
TKO, 1:10 of second round
John Cholish def. Mitch Clarke
TKO, 4:36 of second round
NEWS RESULTS FOR UFC 140: JONES VS. MACHIDA
TOP STORY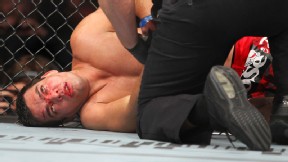 Dragon Slayer
Jon Jones survived some tense moments before choking out Lyoto "The Dragon" Machida in the UFC 140 main event on Saturday. Recap »
SHERDOG

Follow Sherdog.com's coverage of UFC 140, including news, video previews and full fight histories on all the fighters. UFC 140 »