UFC 142: Aldo vs. Mendes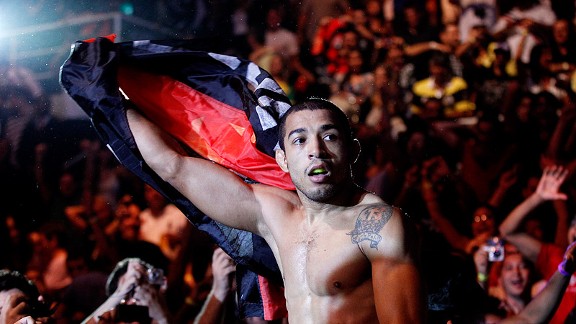 UFC 142: Aldo vs. Mendes was an Ultimate Fighting Championship event held Jan. 14, 2012, at the HSBC Arena in Rio de Janeiro. The main event featured a featherweight championship bout between Jose Aldo and Chad Mendes, which Aldo won with a first-round knockout.
Aldo, the featherweight champion and a native of Brazil, made his third official defense of the UFC featherweight title and his fifth title defense dating from his days in the WEC.
The co-featured event pit Brazilian Vitor Belfort against Anthony Johnson in what was scheduled to be a middleweight bout. Johnson failed to make weight, but the fight went on, with Belfort winning via a first-round submission.
Main Event
Featherweight Championship: Jose Aldo def. Chad Mendes
Knockout, 4:59 of first round
With a second left in the first round, Aldo lands a knee to the face of Mendes, knocking him out cold to the delight of the Brazilian crowd. Also defends his title for a fifth consecutive time, tying the mark for most consecutive WEC/UFC featherweight title defenses. Aldo has gone largely unchallenged since making his debut under the Zuffa banner, and is currently riding a 14-fight win streak. Mendes suffers the first defeat of his MMA career, falling to 11-1 overall. This was Aldo's 13th career knockout victory, and first to come in the first round since an eight-second KO of Cub Swanson at WEC 41.
Vitor Belfort def. Anthony Johnson
Submission, 4:49 of first round
Belfort, the former UFC light heavyweight champion, improves to 3-1 in the UFC since returning to the Octagon in 2009, defeating Johnson, who failed to make weight for the fight. Each of Belfort's last five fights have ended in the first round, posting a 4-1 mark in those matches. Johnson falls to 10-4 overall, suffering his first loss since 2009. Three of his four career defeats have been submissions. Johnson was making his debut at 185, but weighed in more than 10 pounds overweight at the Friday weigh-in. The fight went on as scheduled, after Johnson made a provisional 205-pound weigh-in the morning of the event. Johnson was forced to give 20 percent of his purse to Belfort for failing to make weight.
Rousimar Palhares def. Mike Massenzio
Submission, 1:03 of first round
Palhares, the submission specialist, extends his win streak to three fights with another submission victory. He improves to 7-2 in his UFC career and 14-3 overall. 10 of his 14 career victories have come via submission. Massenzio falls to 2-4 in his UFC career and 13-6 overall. He's been forced to submit in three of his six losses.
Carlo Prater def. Erick Silva
Disqualification, 0:29 of first round
Silva, making his second UFC appearance, is disqualified for hitting Prater on the back of the head. Prater is awarded the win, his fifth in a row, improving to 30-10-1 overall. Silva falls to 13-2 with one no contest.
Edson Barboza def. Terry Etim
Knockout, 2:02 of third round
The unbeaten Barboza improves to 4-0 in his UFC career since his debut in November 2010, knocking out Etim with a kick to the head in the third round. Barboza scores his seventh career knockout in 10 MMA bouts, and his first since UFC 123. Etim falls to 15-4 overall, losing for the second time in his last three fights. This is the first of his four career losses to come via knockout.
Preliminary Card
Thiago Tavares def. Sam Stout
Unanimous Decision
Gabriel Gonzaga def. Edinaldo Oliveira
Submission, 3:22 of first round
Yuri Alcantara def. Michihiro Omigawa
Unanimous Decision: 30-27, 29-28, 30-27
Mike Pyle def. Ricardo Funch
TKO, 1:22 of first round
Felipe Arantes def.Antonio Carvalho
Unanimous Decision: 29-28, 29-28, 29-28
TOP STORY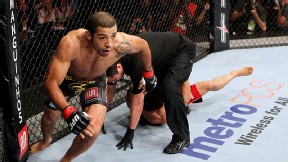 Aldo wins, retains title
Jose Aldo used a knee to the face to knock out Chad Mendes with just a second left in the first round, retaining his UFC featherweight championship. Recap » Chat Replay »
SHERDOG

Follow Sherdog.com's coverage of UFC 142, including news, video previews and full fight histories on all the fighters. UFC 142 »