Renault chief Cyril Abiteboul admits it will be a "tall order" for the French manufacturer to beat Williams to fifth in the Formula One constructors' championship and achieve its pre-season goal.
Renault headed into 2017 full of optimism and set the target of improving its 2016 finishing position (ninth) by four places this season. The team has enjoyed a stronger run this year and sits seventh in the standings, one point clear of American outfit Haas and just five behind Toro Rosso in sixth.
However, hopes of closing the gap to fifth-placed Williams took a hit following a double retirement at the Mexican Grand Prix, leaving Renault trailing its rivals by 28 points with a maximum of 50 up for grabs in the final two races of the campaign in Brazil and Abu Dhabi. Abiteboul concedes Renault has now switched its focus to leapfrogging Toro Rosso in a bid to claim sixth.
"The team remains confident and united, which is essential to maintain progress to the end of the season, and also for our preparations for 2018," Abiteboul said. "We have the means; our organization is stable, robust and competent. This season we set ourselves the goal of fifth in the constructors' championship. Whilst achieving this is still mathematically possible, it is now a tall order after a race where we didn't score points.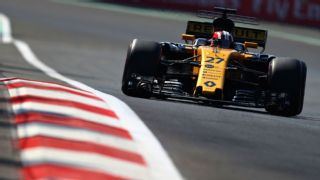 "Mexico highlighted our performance potential. Both cars sadly retired, however the two cars reached Q3 and lined up seventh and eighth on the grid and were in fourth and fifth at the end of the first lap. Points were clearly within our reach. There are now two grands prix remaining. We will do everything we can to be sixth at the end of the weekend."
New Renault recruit Carlos Sainz scored points on his first outing for the team at the U.S. Grand Prix, but was forced out of the race in Mexico with steering issues. The Spaniard believes Renault's performance in recent races is proof that it has a car at its disposal that is capable of returning to the top ten in Brazil.
"Mexico was difficult -- I had a high speed spin early on in the race which hampered my running," Sainz explained. "After the last few races, I think we have a car that can be in the top ten. We need to keep both cars on track and aim for points again in Brazil. We need to fightback."