The 2018 NBA draft lottery took place Tuesday evening, and the Phoenix Suns secured the No. 1 overall pick. Will they take Deandre Ayton or Luka Doncic? How will the rest of the first round flesh out? In his first post-lottery mock draft, ESPN NBA draft analyst Jonathan Givony made his pick for the Suns and every team with a first-round selection.
Let's take a look at 14 potential lottery players who, based on where they landed in Givony's mock draft, should be in position to make some noise in fantasy during the 2018-19 season.
---
1. Deandre Ayton, Phoenix Suns
Fantasy take: Ayton is physically gifted and skilled enough to come in and start from Day 1. His offensive ability looks likely to translate to the NBA, and he has double-double potential with good scoring, percentages and blocks out of the gate. The Suns have a need for a franchise big man, and he should see the court early and often.
Rookie projection: 18.3 PPG (54.2 FG%, 74.4 FT%), 10.5 RPG, 2.0 APG, 0.7 3PG, 1.7 BPG, 0.7 SPG, 2.0 TPG
---

2. Luka Doncic, Sacramento Kings
Fantasy take: Doncic is a bit of a mystery because he has developed and played overseas. However, he is considered highly polished, has excellent size for a potential point guard and has both great passing and solid shooting potential in addition to the rebounds that his size might allow. On the right team, as a starting point guard, he has the ability to put up strong all-around numbers immediately. The Kings have their point guard of the future in De'Aaron Fox, but he has been more comfortable scoring than setting the table, so Doncic may still get to play quite a bit of lead guard.
Rookie projection: 16.8 PPG (45.6 FG%, 83.8 FT%), 1.4 3PG, 5.3 APG, 6.2 RPG, 1.2 SPG, 3.1 TPG
---
3. Marvin Bagley III, Atlanta Hawks
Fantasy take: Bagley has the tools to be a strong, versatile-scoring big man immediately. He has both post moves and shooting range, but he lacks the muscle of a pure center and may project to either power forward or small-ball center. The Hawks are a bad team that could feature him, and thus he could easily be their leading scorer as a rookie, even though his defense leaves something to be desired.
Rookie projection: 16.8 PPG (48.7 FG%, 70.1 FT%), 0.6 3PG, 8.9 RPG, 0.9 BPG, 0.8 SPG
---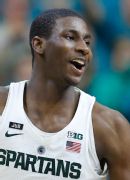 4. Jaren Jackson Jr., Memphis Grizzlies
Fantasy take: He has great upside but maybe isn't quite as ready to come in and put up dominant statistics as some of his classmates. He was an 11 PPG and 6 RPG guy with 3 BPG in 22 MPG as a freshman at Michigan State, teasing great defensive potential and a strong all-around game. However, that could take some time to translate at the pro level. He should fit well next to Marc Gasol on the Grizzlies' front line, but he'll have to beat out JaMychal Green to earn his minutes.
Rookie projection: 11.5 PPG (47.9 FG%, 80.7 FT%), 0.9 3PG, 7.4 RPG, 1.7 BPG
---

5. Mohamed Bamba, Dallas Mavericks
Fantasy take: The Mavericks tried to find a big-man defensive anchor when they traded for Nerlens Noel, but that experiment didn't work out. Bamba projects to be the player who can ideally fill that role, with almost unheard-of height and length to go with good lateral quickness, good instincts and a high motor. His defensive potential is high out of the gate, but he also has a fledgling jump shot and a more polished offensive game than might be initially expected. On a team like the Mavs that has room for him to play right away, he could lead his class in defensive stats while managing respectable offensive numbers.
Rookie projection: 9.1 PPG (52.9 FG%, 69.1 FT%), 9.5 RPG, 2.3 BPG, 1.5 APG, 0.8 SPG, 0.4 3PG, 1.4 TPG
---
6. Trae Young, Dallas Mavericks
Fantasy take: Young was by far the most impressive perimeter scorer/playmaker in his class, routinely putting up 30-point/10-assist games as a freshman that drew him consistent comparisons to Stephen Curry. The Magic have a huge hole at point guard after they traded away Elfrid Payton, and Young has the chance to come in and immediately become the primary offensive threat on the team.
Rookie projection: 19.0 PPG (42.9 FG%, 84.4 FT%), 2.3 3PG, 6.5 APG, 3.1 RPG, 0.9 SPG, 3.0 TPG
---

7. Wendell Carter Jr., Chicago Bulls
Fantasy take: The Bulls have Robin Lopez at center, but as last season progressed, it was clear that they wanted to go with more of a youth movement. It was equally clear that they didn't feel Bobby Portis was their center of the future, as he still primarily came off the bench behind Lauri Markkanen. Carter is a good fit in the middle next to Markkanen, capable of crashing the boards and defending the rim, and he's got an NBA body right now, so he is ready to play.
Rookie projection: 10.1 PPG (49.9 FG%, 73.1 FT%), 9.7 RPG, 1.5 APG, 1.4 BPG, 0.7 SPG, 0.3 3PG, 1.7 TPG
---

8. Michael Porter Jr., Cleveland Cavaliers
Fantasy take: Porter's potential role for the Cavaliers as a rookie would depend dramatically on whether LeBron James returns. If James returns and Porter remains on the Cavs, he would have an uphill climb to earn a starting role, as his skill set would overlap greatly with both James' and Kevin Love's. He also lacks the physical maturity to step right in for a team with "right now" championship aspirations. However, if James were to leave as a free agent, Porter would immediately be thrust into a developmental franchise player role as a young guy with the skill set to become a superstar at James' old position.
Rookie projection (assuming no James): 16.7 PPG (43.0 FG%, 82.1 FT%), 4.7 RPG, 2.4 APG, 1.3 3PG, 1.0 SPG, 0.6 BPG, 2.9 TPG
Rookie projection (assuming James): 7.5 PPG (43.0 FG%, 82.1 FT%), 3.3 RPG, 1.5 APG, 0.7 3PG, 0.7 SPG, 0.3 BPG, 0.9 TPG
---

9. Collin Sexton, New York Knicks
Fantasy take: Sexton is an athletic combo guard who plays in attack mode and has a streaky jumper, though he also has a good ability to draw fouls. If the Knicks move on from Trey Burke and Emmanuel Mudiay, Sexton could potentially fit into a backcourt with last year's lottery guard Frank Ntilikina. That's a lot of "ifs," though, making Sexton's immediate role and playing time out of the gate a bit unclear. Such a combination would allow both to share the role as lead guard, with neither of them truly playing point guard.
Rookie projection: 12.8 PPG (43.1 FG%, 75.6 FT%), 4.8 APG, 1.1 3PG, 3.4 RPG, 1.0 SPG, 0.4 BPG, 2.7 TPG
---

10. Mikal Bridges, Philadelphia 76ers
Fantasy take: Bridges projects as a rookie version of what the 76ers have in Robert Covington. Considering that the 76ers have a potential logjam for the starting shooting guard slot, including last season's top pick, Markelle Fultz, it seems unlikely that Bridges would get the playing time to produce fantasy impact numbers right away.
Rookie projection: 6.0 PPG (45.0 FG%, 73.4 FT%), 4.7 RPG, 1.6 APG, 0.5 3PG, 0.8 SPG, 0.4 BPG, 0.7 TPG
---
12. Shai Gilgeous-Alexander, LA Clippers
Fantasy take: The Clippers currently have plus-scorers and borderline All-Stars at both shooting guard and small forward, leaving point guard as a potential area to upgrade. Gilgeous-Alexander is a long point guard with a versatile game on both offense and defense, who could fit in next to combo scorer Lou Williams. He would have to compete with defensive stalwart Patrick Beverley for point guard minutes, but Beverley would also be a good mentor for Gilgeous-Alexander, as he has naturally strong defensive tendencies. If he were to earn starter minutes, he would carry upside similar to Shaun Livingston or Michael Carter-Williams.
Rookie projection: 9.3 PPG (46.3 FG%, 81.3 FT%), 5.1 APG, 3.4 RPG, 0.8 3PG, 1.1 SPG, 0.5 BPG, 2.5 TPG
---
18. Keita Bates-Diop, San Antonio Spurs
Fantasy take: Bates-Diop had a huge senior season at Ohio State, averaging an impressive 19.8 PPG and 8.7 RPG with strong perimeter shooting (1.9 3PG) and solid defense (1.6 BPG, 0.9 SPG). His upside is limited because he projects to play small forward instead of power forward in the NBA, but his production and maturity could make him a plug-in option on the wing for the Spurs. They consistently played Rudy Gay, Kyle Anderson and Danny Green on the wing, and all are entering free agency during the offseason. Bates-Diop could play that defensive wing role while still offering a bit of offensive versatility.
Rookie projection: 9.4 PPG (47.3 FG%, 78.9 FT%), 1.7 APG, 5.6 RPG, 1.3 3PG, 0.8 SPG, 1.0 BPG, 0.8 TPG
---

29. Moritz Wagner, Brooklyn Nets
Fantasy take: The Nets have had almost no offensive production from their big man slots, and the team as a whole is ripe for a potential impact talent. Wagner lacks explosiveness and defense, but he is a face-up big man who can knock down the 3-pointer and has a knack for getting to the rim. He was the unquestioned engine for a Michigan Wolverines team that made a run to the NCAA championship game, and if he earns consistent playing time, he could be a fantasy sleeper in this rookie class.
Rookie projection: 8.2 PPG (46.1 FG%, 73.0 FT%), 4.9 RPG, 1.3 3PG, 1.1 APG, 0.6 SPG, 0.6 BPG, 1.2 TPG
---

30. Grayson Allen, Atlanta Hawks
Fantasy take: Allen was one of the most polarizing players in college, but he's got a big-time jumper from long range and he had some big performances in big moments in his college career. Having played four collegiate seasons, he should be ready to produce if called upon out of the gate. In today's NBA, everyone can use more 3-point shooting.
Rookie projection: 8.6 PPG (42.6 FG%, 81.4 FT%), 1.7 3PG, 2.9 RPG, 1.4 APG, 0.5 SPG, 0.1 BPG, 1.2 TPG