Harris' return a bright spot amongst a bad day
March, 28, 2009
03/28/09
12:55
PM ET
By
Brian McKitish, Special to ESPN.com
FRIDAY, MARCH 27
HIGHLIGHTS
• Carmelo Anthony, Nuggets: 43 points, 11 rebounds, two 3-pointers and a steal on 18-for-29 shooting from the floor and 5-for-6 shooting from the line.
• Pau Gasol, Lakers: 36 points, 11 rebounds, 7 assists, 2 steals and 2 blocks while shooting 14-for-19 from the floor and 8-for-10 from the line.
• Josh Smith, Hawks: 22 points, 11 rebounds and 3 blocks in a loss to the Celtics.
LOWLIGHTS
• Rasual Butler, Hornets: 5 points, 4 rebounds and a 3-pointer on just 2-for-11 shooting from the floor in 40 minutes of action.
• Mike Miller, Timberwolves: 2 points, 5 rebounds and 4 assists while taking just two shots in 26 minutes in a loss to the Cavs.
• O.J. Mayo, Grizzlies: 6 points and 4 assists with no steals or 3-pointers on just 2-for-6 shooting from the floor.
It was a good news/bad news kind of night in the NBA as fantasy owners received good news when Devin Harris (shoulder) returned to the court, but bad news on Stephen Jackson, Marcus Camby, Baron Davis and Kevin Garnett.
Harris looked a little rusty going just 4-for-13 from the floor, but was able to play 37 minutes and finished with 13 points, 6 rebounds 14 assists, one 3-pointer and a steal in a loss to the Cavaliers. The run for Keyon Dooling (20 minutes) and Chris Douglas-Roberts (4 minutes) appears to be over and Harris' owners have to feel like they've dodged a bullet on this one as it looks like he'll be just fine going forward.
Now for the bad news. Stephen Jackson confirmed on Friday that his season is officially over as he will undergo surgery on his toe. With the injury, owners should rush to the waiver wire ASAP to see if Kelenna Azubuike or Anthony Morrow (in that order) are available. Both 'Buike and Morrow figure to log heavy minutes with Jackson out.
[+] Enlarge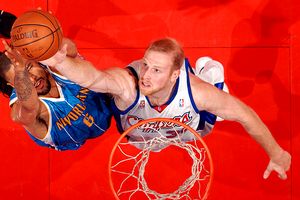 Andrew D. Bernstein/NBAE/Getty ImagesChris Kaman could be in for a big boost if Marcus Camby misses time.
Marcus Camby left Friday's contest after just three minutes with a sprained ankle and initial reports suggest that he'll be out for 1-2 weeks. Given how late we are in the season, Camby could easily be shut down for the year with the injury. Teammate Baron Davis missed Friday's game with a stomach ulcer and although we don't know how long he'll be out, we can't rule out the possibility that he'll shut it down for the year given his history in bad situations such as these. Look for Mike Taylor (23 points, 2 3-pointers) to step it up in Davis' absence while Chris Kaman and DeAndre Jordan should see more minutes with Camby down.
Kevin Garnett missed Friday's game against the Hawks with a sore left knee, and news has surfaced that he may be forced to miss a few more contests to get healthy for the playoff run. As I mentioned in yesterday's Working the Wire column, owners really need to consider dropping KG for an option with better prospects. Even if KG doesn't need to miss any more games, his minutes will be seriously limited the rest of the way.
Under the Boards
Kobe Bryant briefly left Friday's game with an ankle injury, but was able to return in the second half and log 41 minutes in the Lakers 103-95 victory over the Nets. Kobe scored 14 points while adding nine assists, four steals and three 3-pointers in the win, but his owners need to be concerned that his minutes will be cut slightly in order to keep him healthy for the playoffs. The Lakers have already wrapped up home court advantage and Phil Jackson does not need to be running Kobe out on the court for 37-40 minutes a night, especially if this ankle injury flares up. … Marc Gasol (27 points, 5 rebounds and 2 steals) was able to get going with Spencer Hawes getting into early foul trouble. Gasol had been struggling as of late, so don't get too excited about his performance against a dismal defensive team in Sacramento. … O.J. Mayo finished Friday's game with just six points on 2-of-6 shooting from the floor in 24 minutes and it appears as though he has hit the proverbial rookie wall. With just 12.2 points per game over his past five, Mayo has been particularly frustrating to own as of late. … Thaddeus Young scored 21 points and added seven rebounds, two steals and a 3-pointer in a loss to the Bobcats on Friday night. Young has caught fire in recent action and is averaging 24.0 points, 5.8 rebounds and 1.6 steals over his past five games. … With Nate Robinson apparently in the doghouse, Chris Duhon (15 points, 7 assists, 1 steal and 4 3-pointers) appears to be back on track for the Knicks. Duhon had been struggling in recent action so be sure to check your waiver wire if an owner in your league decided to dump him. … Julian Wright started at center for the Hornets and made the most of the opportunity with 11 points and 14 rebounds while adding a steal and a block. Of course, Wright is not a center and he was able to operate more freely against the defensively challenged Knicks, but he also has a ton of upside as well and should get more opportunities with Peja Stojakovic (back) and Tyson Chandler (ankle) sidelined. … Despite coming off the bench, Randy Foye managed to score 18 points and drill six 3-pointers in 30 minutes on Friday night. It's unfortunate, but with Kevin McHale shuffling his lineups, Foye and Kevin Love (18 points, 6 rebounds and a block) are the only two players in Minnesota that you can trust at this point in the season. … As Gregg Popovich looks to get his team healthy and ready for the playoffs, he was able to rest Tony Parker (27 minutes), Tim Duncan (13 minutes) and Manu Ginobili (17 minutes) in the Spurs 111-98 victory over the Clippers. The game got out of hand fairly quickly, so we shouldn't expect their minutes to be cut like this every night, but owners should still prepare for the possibility that Pops will limit his stars down the stretch. If that is the case, give Drew Gooden (14 points, 5 rebounds), Matt Bonner (10 points, two 3-pointers) and Michael Finley (11 points, three 3-pointers) a look in San Antonio. … Jason Kidd missed his first game of the season on Friday with a sore lower back. In his absence, Jose Juan Barea had 22 points, 4 assists and 2 steals. Kidd's injury is not considered serious, so JJ's performance could be short-lived.