Chandler trade opens door for Haywood
December, 10, 2011
12/10/11
7:42
PM ET
By
John Cregan, Special to ESPN.com
Now that the powers that be have temporarily stopped fiddling with the time-space continuum/violating the prime directive/crossing the streams, we now can formally resume a player movement period that is, over the next 10 days, going to be the basketball equivalent of the last half-hour of "2012."
First onto the big-tank-boat is Tyson Chandler, whose acquisition via sign-and-trade will have a ripple effect up and down the Knicks' roster. And because the Mike D'Antoni-powered Knicks promise to field one of fantasy's most productive starting fives, this might be a bigger move in fantasy terms than in NBA terms.
[+] Enlarge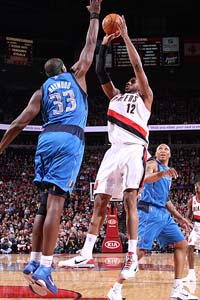 Sam Forencich/NBAE/Getty ImagesFor now, Brendan Haywood is the starting center for the Dallas Mavericks. Haywood averaged 9.1 points and 2.1 blocks playing 30.6 minutes per game in 2009-10 for the Mavericks and Washington Wizards.
Let's lead with the center situation(s). We can't be sure whether or how the Mavericks will use their newly minted trade exception, but as of this writing, the starting center for your world champion Dallas Mavericks is ... Brendan Haywood. Who, given 28 to 30 minutes a night, isn't as big a fantasy dropoff from Chandler as you'd think.
Until the playoffs last season, Chandler and Haywood were locked into a quasi-timeshare that knocked both players down a rung in terms of production. As a matter of fact, I'd take Haywood's last half-season in D.C. in 2010 (9.8 points per game, 10.4 rebounds, 2.1 blocks, .561 field goal percentage) over Chandler's 2011 (10.1 PPG, 9.4 REB, 1.1 BLK, .654 FG%) due to the doubling up in the blocks column. Unless Mark Cuban uses his trade chip on another center, look for Haywood to return to solid No. 2 center status in medium-to-deep leagues. Nine points, 10 rebounds and 1.5 blocks per game feels about right.
As for Chandler, the question is, will entering the D'Antoni Zone be enough to bump him into the top 15 centers in fantasy? The short answer is no. Chandler wasn't signed for his dazzling array of post moves (namely because he doesn't have any). No, he was signed to play backstop to the defensive sieves stationed at the 3 and 4 spots, to clean up the occasional offensive possession, and to try to make Knicks fans forget there was ever a time when Ronny Turiaf was their starting center.
What Chandler will have going for him is a vastly increased pace, going from the Mavericks' paltry 93.4 possessions per game to the Knicks' 98.1. His minutes should stay around the previously projected 32 per game, but he'll get more touches due to the additional rebounding opportunities. I'd give him a modest bump, maybe to 12 points, 10 rebounds but still only around 1.2 blocks per game.
The biggest fantasy story here is the amnestying of hard-luck case Chauncey Billups (who does get $14.2 million to cushion the blow). Billups has long been one of my favorite underrated fantasy point guards due to his perennially high true shooting percentage (his .617 TSP was still best amongs all PGs in 2010-11).
Yes, he is reaching the carbon-dating stage of his career, but when he's on the court, he's still efficient and a top-15 point guard. His departure means Toney Douglas will see upwards of 30 to 32 minutes per game. And anyone who gets that many minutes a night to run the pick-and-roll with Amare Stoudemire is bound to register a bump in production.
If you want proof of Douglas' potential, just look at his numbers when starting last season: 13.9 PPG, 5.7 assists and 2.4 3-pointers made. That's not only top-15, people ... that's Kyle Lowry-esque. Yes, I am telling you that even with New York's probable signing of fantasy killjoy Mike Bibby, Douglas has the potential to be this season's Lowry. Even with Bibby,13.5 points, 5.0 assists, 2.0 3s and 1.5 steals a night could well be in Douglas' future. Which means Douglas would be a solid sixth- to seventh-round pick in medium leagues.
So, what happens to Billups? It really depends on where he ends up. Word is he's trying to David Stern his way over to the Heat. Whether he'll be successful remains to be seen, as he'll first be subject to the waiver process. Miami would be just about the worst destination for him fantasy-wise, as he'd struggle to notch 25 to 28 minutes per game in a timeshare with Mario Chalmers. Watch and wait to see where he ends up before inking him on your draft boards.
Oh, and Turiaf ends up with my beloved Washington Wizards, where he'll join forces with Kevin Seraphin to form one of the great Francophonic-backup-center tandems of all time. As of this writing, JaVale McGee was said to be unconcerned.