David West, Lamar Odom among movers
December, 12, 2011
12/12/11
11:13
AM ET
By
John Cregan, Special to ESPN.com
I had one of the great columns of my fantasy career loaded up for the CP3-Lakers-Daryl Morey's Revenge deal. It was incisive, groundbreaking and would have forced you to totally re-evaluate the way you think about Goran Dragic. But instead of that 2,000-word masterpiece, like with everything else NBA-related as of late, we just have to hold our nose and settle for the salisbury steak.
West to the Pacers
[+] Enlarge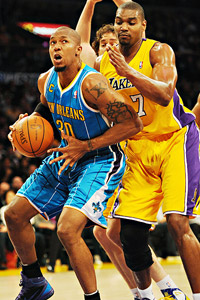 Kelvin Kuo/US PresswireFantasy owners were happy to see David West land in a more favorable situation than Boston.
Originally a sidebar to "the deal that wasn't," David West's syndicated version of "The Decision" became the highlight of the weekend. Thankfully for power-forward-needy fantasy owners, West chose the Indiana Pacers over a deal with the Boston Celtics that would have decimated his fantasy value.
I love West on the Pacers. They sport one of the more under-the-radar, undervalued fantasy lineups in the NBA. This is mainly due to three factors: 1. They play in a small market; 2. They lack star power; and 3. They have the sixth-highest pace in the NBA.
Working against them is their muddy backcourt situation. The addition of combo guard George Hill was a nice move but promises to work against Paul George and Brandon Rush (and maybe Darren Collison if he isn't careful).
With the West signing, Indiana's frontcourt is at least now on full lockdown (unless the Pacers nab Andrei Kirilenko). Tyler Hansbrough gets nudged to a bench role (one that he's better suited for anyway) and is firmly off the fantasy radar. Barring a deal for another 2-guard (O.J. Mayo, anybody?), I'm guessing the Pacers should look like this opening night:
PG Darren Collison
SG George Hill/Paul George
SF Danny Granger
PF David West
C Roy Hibbert
West will miss Chris Paul, but he should get plenty of touches as the solid No. 2 option in Indiana's up-tempo offense. The top concern will be West's recently torn ACL, but all reports have him close to 100 percent. And to be honest, stunning athleticism was never one of West's strong suits. But with all of the back-to-backs in everyone's future, I'd stake a very tiny red flag next to his name on your draft spreadsheet.
Because West is so consistent, he's great to own and easy to project; I'd expect 19.0 ppg, 8.0 rpg, gaudy percentages, a steal, a block and no 3s whatsoever. West is a fantastic glue guy for a fantasy squad and looks to be a solid mid-fourth-round selection.
Mavericks trade for Odom, sign Carter
An obviously disconsolate Lamar Odom demanded a trade anywhere. Mitch Kupchak obliged and immediately arranged for what NBA insiders would term as a "have fun trying to resuscitate your reality career in Texas" salary dump.
But why to the rival Dallas Mavericks, trade exception aside? Dwight Howard, I know, I know. Because in real-life basketball terms, Odom is a great fit for the Mavericks. He'll join fellow aging but still-skilled combo forward Shawn Marion to form a nice veteran frontcourt rotation built around Dirk Nowitzki. Both Odom and Marion have long been two of fantasy's most statistically versatile producers.
I don't think the Mavericks are quite done, but this what their rotation is looking like:
PG Jason Kidd
SG Jason Terry/Vince Carter/Rudy Fernandez
SF Shawn Marion/Lamar Odom
PF Dirk Nowitzki/Lamar Odom
C Brendan Haywood
The problem? That Dirk guy's going to get the lion's share of frontcourt minutes. That means both Odom and Marion are both ticketed for only 27-28 minutes per game (MPG), which will dent their fantasy prospects. I was bearish on Odom anyway (see John Hollinger's "Fluke Rule"), but this won't help. I'd downgrade Odom to around 12.5 ppg and 7.5 rpg, meaning he's eighth-round material at a loaded fantasy position.
The Mavericks are looking more and more like a goopy fantasy mess this campaign. Vince Carter might have been big news a couple years ago, but he's more Michael Finley-on-the-Spurs at this point. For a veteran-laden club, they have a heck of a lot of minutes to portion out by Christmas.
Suns waive Carter, re-sign Hill, sign Brown
Unlike the Mavericks, the Phoenix Suns should have a lot more rotational definition headed into the regular season. Grant Hill should start ahead of Josh Childress at small forward, and even if Mickael Pietrus sticks in Phoenix, the Suns are looking like this:
PG Steve Nash
SG Jared Dudley/Shannon Brown
SF Grant Hill/Josh Childress
PF Channing Frye/Hakim Warrick
C Marcin Gortat
Hill will make for a nice bench player in deeper leagues (I'd anticipate a carbon copy of last season's 13.2 ppg), but the big fantasy battle here is at shooting guard. Fantasy owners should hope Jared Dudley and his solid 3-point stroke wins the job, but Phoenix could opt for defense and give the job to Brown. Watch this one closely in camp, because whoever walks out with 30-32 MPG at shooting guard in the Suns' offense will be a deep sleeper in drafts.
Clippers sign Butler, set to match offer on Jordan
[+] Enlarge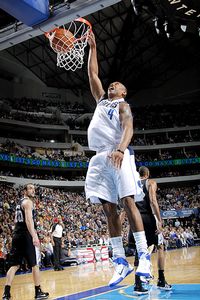 Glenn James/NBAE/Getty ImagesThe Clippers hope the signing of Caron Butler isn't their biggest move of this brief preseason.
As an Angelino who gets whiplash from looking at all the Laker flags driving around town, it'd be poetic to see the rising Clippers nab Chris Paul. Until CP3 is dealt, it's probably foolish to project the Clippers' fantasy prospects, but they did make two moves during the weekend that would seem to enhance their chances of getting (and re-signing) Paul.
Yes, Caron Butler got overpaid (3 years, $24 million). The good thing about all that money is that it means he's a sure bet to begin the season firmly entrenched as the Clippers' starting small forward.
Butler was a top fantasy player as recently as 2008, but injuries and age started to nudge his production over a cliff in 2010, even before he got shelved by season-ending knee surgery. With the Clippers, he'll be only the fourth option at best, but I'd look for a slight uptick from his 2010-11 numbers: 15.5 ppg and 5.0 rpg to go with one steal and one 3-pointer.
Re-signing DeAndre Jordan is a must (a league source told ESPN The Magazine's Ric Bucher that the Clippers planned to match the Golden State Warriors' 4-year, $43 million offer). Word is that Paul sees Jordan as the next Tyson Chandler. Jordan has yet to display anything close to Chandler's consistency, but one thing's for sure: If the Clippers do indeed match Jordan's offer sheet, Chris Kaman needs a new place to play ASAP.
The Clippers and Hornets have already submitted a trade to the NBA involving Paul, in which Kaman would head to New Orleans. Kaman is entering a contract year and knows he needs a good season to squeeze in one more big payday. If Kaman is dealt, the Clippers will probably acquire a center to back up Jordan and possibly deal Mo Williams (depending on what they give up for Paul).
No matter what, I'd look for Jordan to post not-quite-Chandler numbers (8.0 ppg, 9.0 rpg, 2.0 bpg). Not bad, but he'll run hot and cold throughout the season.
Celtics re-sign Green
It wasn't so long ago that Jeff Green was one of my favorite sleepers. As a member of the Oklahoma City Thunder, Green seemed to hold some mini-Granger potential, but he never conjured the efficiency to match his upside.
Now, Green is mired in a bench role on a good team, which has been good for his basketball growth but not so good for his fantasy prospects. Barring an injury to Paul Pierce, Green will be an late-round pick at best. Still, he packs enough statistical diversity (averaging nearly one steal, one 3-pointer and half a block per game) to register as a steady bench player in deeper leagues.
Magic re-signs Richardson
Jason Richardson is an example of how negative press perceptions can depress an otherwise productive player's fantasy draft stock. Richardson can't play defense, he's inefficient, he just got (over)paid, he'll suffer if/when Dwight Howard goes … and he will go a round or two too late in your draft.
Richardson is losing efficiency, but to be fair, he's more about the volume. He will anchor your team in 3s and boost your steals, while not hurting your percentages (.555 TS% in 2010-11). And he's become more durable with age (he was very brittle in his Warrior days). Richardson's someone you can grab in the seventh round, plug into your lineup and never worry about again.
Kings sign Hayes
Chuck Hayes has long displayed double-double potential (he averaged 11 points and 11 rebounds per 40 minutes in 2010-11) and may get the chance to start in Sacramento, but he'll be in a time-share with J.J. Hickson and Jason Thompson at the 4 (assuming that's where he'll get most of his minutes). As long as he retains his center eligibility, he'll have some value in deep leagues, but only as an late-round pick or free-agent pickup.
Hawks sign McGrady
Ah, if this were 2005, this would have been my lead. McGrady actually had some sneaky-good nights last season when given 30-plus MPG. If he's supposed to be the new Jamal Crawford (the bestower of instant offense), he might get enough touches to be worth a look late. He really did have a nice couple of weeks back in late January/early February. No, really.
Heat signs Battier
A disgustingly astute and savvy signing, Battier will pop up on the fantasy radar a few times this season, especially for teams in head-to-head leagues with a short-term need for 3s and blocks. But he's on the Heat now, so if you value your team's collective karma, save him for the waiver wire.