Nene, Marc Gasol maintain previous value
December, 14, 2011
12/14/11
5:48
PM ET
By
John Cregan, Special to ESPN.com
Nuggets re-sign Nene, acquire Fernandez, Brewer
It's nice to see Nene stay on in Denver and help the Nuggets make their way in the post-Carmelo era. If for nothing else, we fantasy owners owe him a debt of thanks for knocking Timofey Mozgov squarely off the fantasy radar.
One of the NBA's most efficient centers (a career-high PER of 20.49 in 2010-11), Nene has always boasted very healthy per-40-minute numbers (19.0 points and 10.0 rebounds last season). Stats-wise, he's one of the most well-rounded big men in the NBA. He contributes in every category (one of the few centers who averages more than a steal and a block) and has nudged his free throw percentage above the 70 percent mark.
From a fantasy standpoint, Nene's two issues have been durability and passivity. It's mainly been Nene's unselfishness (or, as a Brazilian, maybe a tendency to play "The Beautiful Game") that's prevented him from becoming a top-five fantasy center.
Of course, shot attempts were at a premium when Carmelo Anthony was around, and I expected Nene's post-Melo scoring to improve slightly the second half of last season.
I was wrong; his scoring actually decreased, dropping from 16.9 ppg in December to 11.4 ppg in April. I actually wonder if he was hurt more by Chauncey Billups' departure than helped by Anthony's. ESPN's projected 14.5 ppg feels about a point too high to me, but he's still a nice lower-tier No. 1 center.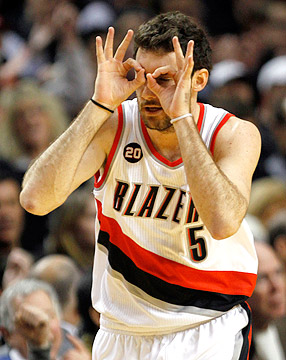 AP Photo/Don RyanRudy Fernandez's fantasy value is tied to whether or not the Nuggets re-sign Arron Afflalo.
Swingmen Rudy Fernandez and Corey Brewer just arrived from the defending-champion Dallas Mavericks. They're tasked with filling out the Nuggets' depth on the wing in the wake of Wilson Chandler's and J.R. Smith's defections to China. Neither will start (Denver should re-sign Arron Afflalo), but both players have value in medium-to-deep leagues.
Fernandez is one of the least efficient 3-point specialists in the NBA (he shot 32.1 percent from behind the arc in 2010-11), but he will produce nice volume numbers if given minutes. If he can crack 25 minutes per game (MPG), Fernandez will give you two 3-pointers and a steal per night.
If Brewer ever irons his shot out, he'd become a valuable fantasy asset, someone with elite steals ability who could throw in 1.0-1.5 3-pointers a game. Keep him on your radar, especially if someone goes down in Denver's backcourt.
Grizzlies re-sign Marc Gasol
Gasol is sort of a more aggressive version of Nene, a good, unselfish passer with solid across-the-board numbers who doesn't hurt you in any category. He should enjoy another season as one of fantasy's most underrated centers (make that a little less underrated due to Memphis' playoff success and Gasol's new deal).
My concern is that when I expected Gasol to make a contract push, he regressed badly. His scoring dropped by three points to 11.7 per game, while his rebound average fell all the way to 7.0 a night. The culprit might have been conditioning; historically, Gasol's weight has been an issue, and hopefully he straightens it out before he becomes the "Continental Dampier."
Clippers claim Billups off waivers
Until we see where Chris Paul is going, we won't know if Chauncey Billups is going to be pushing for the starting point guard job, coming off the bench, or perhaps even playing alongside Paul. It's a great chess move by the Clippers (that felt strange to type), but Billups' fantasy prospects most likely took a big hit in the process.
If Paul comes to the Clippers and Eric Bledsoe leaves, Billups will back up Paul and spend some time at the 2 with Mo Williams (especially if Eric Gordon is dealt). In that scenario, he'd struggle to crack 25 MPG. He'd be a fantasy bench player at best, probably notching around 12 points and four assists a game.
If Paul doesn't come, Billups will push Williams for the starting point guard job (I'm guessing he'll win it), filling the same role Sam Cassell had on the Clippers' last serious playoff squad. If he starts, Billups will bank 15.0 points and 5.5 assists, while chipping in 2.0 3-pointers and a steal.
Lakers sign McRoberts
If the Lakers stand pat, they'll essentially have swapped Lamar Odom for Josh McRoberts. With Derrick Caracter on the shelf for 4-6 weeks, McRoberts is all alone backing Pau Gasol up at power forward, and will get a big opportunity to establish himself as an important member of the Lakers' rotation.
While it's easy to bemoan/mock the Lakers' move (especially if they stand pat), McRoberts does hold some fantasy potential. He's a hustle guy, capable of posting the occasional double-double, and he came close to averaging a steal and a block per game last season, while averaging only 22.2 minutes per game. If he gets closer to 28-30 MPG, he'll be worth rostering in deep leagues.