Many beneficiaries in Chris Paul trade
December, 15, 2011
12/15/11
12:08
AM ET
By
John Cregan, Special to ESPN.com
As an Angeleno, let me tell you, Clippers fans deserve this. To most NBA followers, Donald Sterling is the face of this historically woebegone franchise, but the Clippers have a lot of passionate devotees who have waited a long time for another shot at relevance. All credit to Neil Olshey for pushing all his chips to the middle of the table.
Because it's almost too much. Too much that Chris Paul is a Clipper … and a little too much given up in return. It's a steep price, but one you have to pay if you're the Clippers, because it makes you, well, not the Clippers. Maybe it even makes you the Buffalo Braves.
A future All-Star in Eric Gordon, a probable lottery pick in the deepest draft in years, a very recent All-Star center in Chris Kaman, and a rangy, recent lottery pick in Al-Farouq Aminu.
I'll leave it to smarter prognosticators to peg which L.A. team is now the best on paper, but in terms of which team has the best fantasy prospects? Right now, it's the Clippers by a country mile.
Let's take a look at the new pride of Clipper Nation:
PG Chris Paul
SG Chauncey Billups/Mo Williams/Randy Foye
SF Caron Butler
PF Blake Griffin
C DeAndre Jordan
Obviously, the big question here is who starts at shooting guard. There's a huge logjam in the backcourt. The inference would be that the Clippers deal one of their four point guards (Paul, Williams, Billups, Eric Bledsoe) to make a run at acquiring more size or another 2-guard. Another move could be to exercise their amnesty rights on Williams' contract (if they can't deal him).
As it stands, the fantasy dream scenario would be to give Billups 25 minutes a night at shooting guard. Billups played the 2 at last year's FIBA World Championship and acquitted himself quite well (9.8 points per game in limited action).
I've long been a fan of Billups' underrated efficiency (his true shooting percentage of .614 was No. 1 among all point guards last season), and he just about has the size to defend the position. I'm really hoping all this happens, in which case I'd pencil Billups in for 13 points, four assists, two 3-pointers and a steal per night. Basically, he'd be a top-15 shooting guard, right ahead of James Harden.
I think it's safe to say the point guard situation is pretty locked down.
[+] Enlarge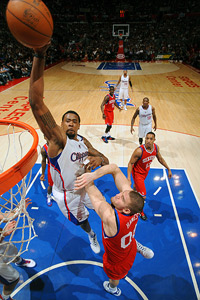 Noah Graham/NBAE/Getty ImagesDeAndre Jordan is slated for steady minutes and now has an elite point guard to make things easier on offense.
Paul immediately should leap up draft boards to No. 3 in your overall rankings, the clear choice after the Kevin Durant/LeBron James 1/1A combo. I was bearish on him meeting ESPN's projected 15.8 points, 9.8 assists, 2.4 steals and 0.9 3s per game in New Orleans, but that feels just right with him in Los Angeles.
Butler should stay about where I pegged him over the weekend, around 15 points and five rebounds per game with a steal and a 3-pointer. As for Griffin, there's a chance Paul's presence could push his scoring average closer to the 24 points per game range, but I'd temper those expectations until he shows he's improved from the free throw line (64.2 percent in 2010-11).
The temptation will be to go a little nuts reprojecting Jordan. Just remember that even with the extra minutes and All-NBA-level feeds from Paul, Jordan is limited offensively and is one of the worst free throw shooters in the history of the NBA. That's not hyperbole; his .452 clip last season was a career high. He dunks. He dunks in a brutal, electrifying fashion that's fun to watch. And he'll get one or two more dunks a night courtesy of CP3.
Paul reportedly thinks Jordan has Tyson Chandler potential, and Chandler at his best is about 10 points, 10 rebounds and 1.5 blocks a night. That's solid No. 2 center material in medium leagues.
Let's take a look at what's left of the Hornets. It's really not as bleak as you'd think:
PG Jarrett Jack
SG Eric Gordon
SF Trevor Ariza
PF Emeka Okafor
C Chris Kaman
The Hornets turn into a team with a lot of sneaky-good fantasy potential. It's not that they're loaded with statistical stars. It's just that with their lack of depth, a lot of pretty good to very good players will log heavy minutes. Add in their off-the-radar status, and there's a lot of sleeper potential here.
Jack wasn't even a top-40 PG on Wednesday morning, but by the time he downs his next beignet, he'll be squarely in the top 20. Jack has proved that given starter's minutes, he can be a 16 and 6 guy, to go with 1.5 steals and a 3-pointer. I'm thinking he'll land in Mike Conley territory, not a No. 1 PG, but a nice flex guard and a top-85 player overall.
This could be the moment when Gordon takes the leap everyone has been warning us about, the moment when he goes from budding All-Star to actual All-Star. There isn't another player on the roster with 20-plus point potential, so Gordon is going to get all the shot attempts he can handle.
[+] Enlarge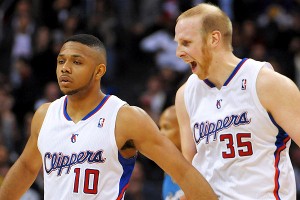 Kirby Lee/US PresswireEric Gordon and Chris Kaman should get plenty of opportunity on a thin Hornets roster.
If he can crack the 20-attempts-per-game barrier -- and there's a chance he will -- Gordon will become a 24-25 points per game guy. His passing always has been underrated, and he could top out near five assists a game. Throw in two 3-pointers, 1.5 steals and great percentages, and you've got a top-30 player.
But here's the catch: as long as he stays healthy. To be fair, Gordon has had some bad luck injury-wise, but the numbers don't lie. He has yet to stay upright for a full season. New Orleans was Paul's team. It could be Gordon's team, if he remains reasonably ambulatory.
Ariza's stock nudges up ever so slightly. He's a volume guy, and with Paul gone, his usage rate probably just went up a bit. He's a deeply streaky shooter coming off one of the worst shooting campaigns of his career. The signs point to a slight bounce back, maybe around 12 points, 5.5 rebounds, a 3-pointer and 1.5 steals per game. Don't forget his banner performance (15.5 ppg, 6.5 rpg) versus the Lakers in the playoffs this past April; there is potential there.
I'm interested to see how Okafor and Kaman mesh in the frontcourt. You'd have to think Monty "I'd rather tongue-kiss a maggot than tweet or blog" Williams is going to find a way to pair them up as much as possible. Okafor's numbers aren't going anywhere, but Kaman is in a contract year and will have plenty of opportunities to score. I'd say he becomes the No. 2 option on offense after Gordon. Upgrade him slightly to around 16 points and 8.5 rebounds a game, as long as he stays healthy. Oh, and Hornets fans … Kaman offers one of the more unintentionally hilarious Twitter feeds in the annals of American sport, so enjoy.