Evan Turner providing good rebound totals
March, 15, 2012
03/15/12
10:57
AM ET
By
Seth Landman, Special to ESPN.com
Evan Turner
continued to play a ton of minutes for the 76ers against the Pacers on Wednesday night, finishing with 21 points, 5 rebounds, 4 assists, 3 steals and 2 blocks in 38 minutes of action. Prior to this, he had actually been averaging a double-double in points and rebounds over his past five games, so his fantastic production of late is certainly no fluke. In fact, in spite of the loss to the Pacers, Turner is averaging 17.8 points, 10.6 rebounds, 3.6 assists, 1.2 steals and 54.4 percent shooting from the floor over his past five games.
With all that in mind, Turner is definitely worth having on your fantasy roster for the rest of the season, and should, given the way he has been rebounding of late, be a popular keeper option for many good teams moving forward. In fact, he has a shot at being one of the better rebounding guards in recent memory. Among active guards, only Turner, Kobe Bryant, Quentin Richardson, Jason Kidd, Dwyane Wade and Larry Hughes have averaged six or more rebounds per game for an entire season, and Turner is currently sitting right at six. That puts him in pretty special company, and should be a good sign for his potential looking forward.
Looking back
• Derrick Rose missed Wednesday night's game for the Bulls because of a strained groin, and while John Lucas had a fantastic game filling in for him, he's not an option to fill in for Rose in the long term. Even if Rose does end up missing significant time due to his injury, the guy to replace him with would be C.J. Watson, who is averaging 18.2 points and 7.2 assists per 40 minutes this season.
• James Johnson had another great game for the Raptors in their loss to the Nets, finishing with 16 points on 6-for-10 shooting to go along with his four blocks. Blocks and steals are the reason to own Johnson in the long term, so you need to pick him up soon if you are looking to make up ground in the defensive categories, as teams will quickly seem to run out of games to play over the coming weeks.
• If you are looking for scoring, you might want to take a look at Gerald Green. The D-League call-up has averaged 21 points per game over his past three contests for the Nets, and while he has been only a mediocre contributor in other categories, Green has always had the talent to contribute on the NBA level. If you are desperate for a player who can turn your fantasy season around, Green is that sort of talent, even if the odds are against him making that kind of an impact.
• In the assists category, if you are particularly desperate, you could do worse than Baron Davis. Long considered a great point guard, he has been low on minutes with the Knicks but is doing his best with what he has been given, averaging 6.8 assists over his past five games in just 20.4 minutes per game of action. That said, though Davis is a decent source of assists, he's a travesty in just about every other category, and unless you are desperate for point guard production, there's no reason to own him quite yet.
• If you were wondering how Klay Thompson would respond to the trade that made him the undisputed starter at shooting guard for the Warriors, you got your answer Wednesday night. In a close loss to the Celtics, Thompson had 26 points and four assists in 40 minutes out of the starting lineup and would appear to be a great option in fantasy leagues moving forward.
• After a nice performance against the Pistons on Monday night, Jazz point guard Devin Harris went back to being his usual self Wednesday, posting just seven points and two assists while Jamaal Tinsley received the bulk of the point guard minutes for the Jazz coming off the bench.
[+] Enlarge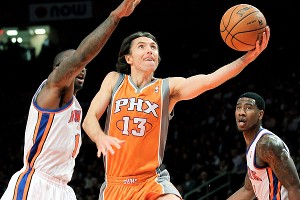 Anthony Gruppuso/US PresswireSteve Nash is averaging 13.9 points and 11.1 assists per game this season.
• Meanwhile, Steve Nash had a phenomenal night for the Suns, scoring 12 points on just four shot attempts and racking up 16 assists while shooting 8-for-8 from the foul line in the Suns' win over the Jazz. Clearly Nash is more than capable of carrying a team down the stretch, so if he does end up being traded, he will, of course, still retain a ton of his value.
• Tyreke Evans had a nice night for the Kings, with 23 points on 9-for-17 shooting from the floor against the Pistons. However, he also had to leave the game because of a left ankle injury in the fourth quarter. Make sure you keep an eye on Evans' status, because every game he misses serves as a chance for Isaiah Thomas and Marcus Thornton to prove they can succeed without him.
Looking ahead
• JaVale McGee has been playing well of late, posting three double-doubles in his past five games. The big man has been playing well all around, and should have no trouble putting up decent numbers against the Hornets' front line, which has given up big numbers to opposing centers all season.
• Luke Ridnour and J.J. Barea combined for 17 assists in the Timberwolves' win over the Suns on Monday night, and both have a case to be starters in fantasy leagues now that Ricky Rubio is on the sidelines. Ridnour especially has been great since Rubio got hurt, and should have no trouble putting up decent numbers against a Jazz backcourt that has struggled all season. Without Rubio, Ridnour has become an important fantasy option, and should keep that up for the remainder of this regular season.