Kings' Tyreke Evans springing to life
January, 11, 2013
01/11/13
10:54
AM ET
By
Josh Whitling, Special to ESPN.com
Tyreke Evans
looked fantastic in his second game back after missing 11 games because of a knee injury, scoring 20 points on 8-for-11 shooting, with seven rebounds, two assists, three blocks and two steals off the bench in 32 minutes of play in the Kings' overtime loss to the Mavs on Thursday.
A healthy Evans in the lineup has a considerable domino effect on the fantasy value within the Kings' backcourt, and the initial ramifications appear to be a hit in value for Aaron Brooks, Marcus Thornton and Jimmer Fredette, who played 17, 7 and 8 minutes, respectively. That kind of minutes isn't enough (especially in an overtime game) for a player to have value in even deep leagues, so monitor closely how Keith Smart distributes playing time; Isaiah Thomas started, nailed a 3-pointer that sent the game to overtime, and scored 18 points in 31 minutes, so he appears to have retained some fantasy value.
The allocation of minutes in this backcourt has been inconsistent all season, however, due to injuries and the redundancy among players' skill sets, so now that all the key pieces appear to be healthy, it's critical to note what happens as Evans is reassimilated. He's the only sure thing when it comes to fantasy value when everybody's healthy, and despite his reduced points, rebounds and assists numbers, which can be largely attributed to a cut in playing time and injuries, he's having the most efficient season of his career from both the field and the stripe. If he stays healthy, he should be a top-50 player, so his return has a significant impact upon the fantasy landscape, and the effects of it should be closely monitored.
Looking Back
• Roy Hibbert left Thursday's game with back spasms, and Ian Mahinmi responded with 13 points and six rebounds in 20 minutes. He already had seen an uptick in minutes and production of late, averaging 18.8 minutes per game in January compared to his season mark of 16.5, and he's averaging 7.4 points, 6.2 rebounds, 0.4 steals and 0.4 blocks per game in his past five. Hibbert is considered day-to-day, and the extent of his woes is unknown, but back spasms can be unpredictable. If he misses any significant time, Mahinmi will become a short-term option in deep leagues, capable of providing 6-8 rebounds with a steal and a block per game given starter's minutes.
• Dirk Nowitzki notched a season-high 40 minutes, scoring 17 points on 7-for-21 shooting with nine boards and one 3-pointer, and though it doesn't always look pretty as he rounds into shape, he now has scored in double figures in six consecutive games and is averaging 17.0 points, 5.7 rebounds, 2.7 assists and 1.5 3s per game in that span. He's worth starting in all formats if you hadn't already put him back in your lineup. One effect of his presence, however, is that he has minimized what little value Chris Kaman had. Kaman is averaging just 9.4 points in 23.2 minutes per game over his past five contests with Dirk in the picture, and is now droppable in shallow formats, in which players earning more playing time are available. Kaman has been decent on a per-minute basis this season, averaging 25.1 points per 48 minutes, the same rate as Monta Ellis and Al Jefferson, but if his minutes trend into the low-20s, he'll have value only in deeper formats.
• For super-deep leagues, Mike James acted as Darren Collison's primary backup in just his second game since signing a 10-day contract, even playing some big fourth-quarter minutes during crunch time of a close game. If he sticks for the rest of the season, he could have some 3-point value, although he isn't worth adding yet in anything but the very deepest of formats and only on a speculative basis.
Looking Ahead
[+] Enlarge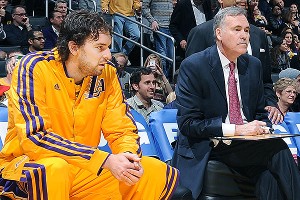 Andrew D. Bernstein/NBAE/Getty ImagesPau Gasol (left) is expected to return soon.
• Dwight Howard and Jordan Hill have been ruled out for Friday's game, and Pau Gasol is questionable, meaning Robert Sacre and Earl Clark will continue to receive extended minutes. Neither has rest-of-season value, but Sacre has short-term value in blocks, and Clark flashed his scoring and rebounding ability Wednesday, scoring 22 points with 13 boards off the bench, making him worth a spot start Friday. When Gasol returns, it'll likely be before Howard, which is a blessing for his value, as he'll get to establish himself in the post more, the area where he thrives. He's going to be examined before Friday's game, and if he passes his concussion test, he should have increased value until Howard returns. Gasol should immediately improve his career-low 41.6 field goal percentage.
• Andrea Bargnani, Jonas Valanciunas, Linas Kleiza and Aaron Gray are all out for the Raptors, and Terrence Ross is questionable against the Bobcats on Friday. Landry Fields had his best game as a Raptor, with 10 points, 11 rebounds and 3 steals Wednesday, and he should have some short-term value with the Raps plagued with injuries.
• With Anderson Varejao out, look for Tristan Thompson to continue his rebounding and Tyler Zeller to be a solid scoring threat. Both notched double-doubles Wednesday night and have emerged as legitimate fantasy options, Thompson in all leagues and Zeller in deeper formats. Look for the success to continue while Varejao is sidelined (at least six weeks).