Raptors brimming with upside ... for now
February, 4, 2013
02/04/13
11:02
AM ET
By
Tom Carpenter, ESPN.com
Barring another trade, the
Toronto Raptors
' lineup of the future figures to be
Kyle Lowry
,
DeMar DeRozan
,
Rudy Gay
,
Andrea Bargnani
and
Jonas Valanciunas
. It's a lineup with a lot of upside both in fantasy and reality, but it's also a lineup we may not see for a while.
[+] Enlarge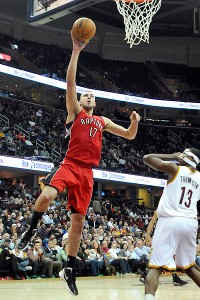 David Richard/USA TODAY SportsJonas Valanciunas looked rusty in his return to action.
The rookie Valanciunas returned to action this weekend after missing a month with a broken finger, but he came off the bench for a total of just 17 minutes in two games and had more fouls (seven) than stats (six; 2 points and 4 rebounds). It could be a while until we see him get back to full starter's minutes, since Aaron Gray and Amir Johnson have been playing so well, but he remains an intriguing stash, especially if Bargnani ends up being dealt by the trade deadline, which is still a legitimate possibility.
Bargs (elbow) is nearing a return to action, too; he could be back in the mix as soon as Wednesday against the Boston Celtics. The Raps may want to showcase his upside for trade purposes, which would give him a chance to shine statistically. His value could fluctuate dramatically if traded, though. He has had a disappointing season thus far, which might continue if he lands on a team that doesn't feature him. On the other hand, if an under-talented squad such as the Charlotte Bobcats or Phoenix Suns nabs Bargs, he could finish strong.
Regardless of how things flesh out in the paint, the Raptors' backcourt of Lowry, DeRozan and Gay looked very promising in their first two outings together over the weekend. Back in the mix as a starter due to Jose Calderon's departure, Lowry posted typical stats in those two games; he struggled with his shooting (4 for 13 in two games), but he knocked down a couple of 3s, collected a few steals, pulled down 9 rebounds and dished out 11 dimes. We know DeRozan can score (19, 27 points), but he surprised a bit with 10 dimes and 3 3-pointers. Hopefully he'll continue to do more than just score.
As for Gay, when trade rumors were swirling, I recommended that owners hang on to him because I was convinced he'd end up turned loose on a bad team. That's exactly what has happened. In his first two games, Gay is averaging 24.5 points, 3.5 rebounds, 2 3s, 2 steals and 1 block per game, with a 48.7 field goal percentage. While we should expect that scoring and shooting percentage to dip some and the rebounds to rise, we should also expect Gay, Lowry and DeRozan to be solid fantasy contributors the rest of the season.
Looking Back
• Fantasy teams (and the Celtics) have been scrambling to replace Rajon Rondo for a week now, but there just isn't a simple solution outside of trading. The Celtics have averaged 23.2 assists per game, which is fifth-best in the league. Take away Rondo's 11.1 assists per game, though, and they are left with just 12.1 assists, which would leave them 6.7 behind the bottom-ranked Bobcats' 18.8 assists per game. Over the weekend, the Celtics did have games of 23 and 30 assists, but it was primarily a team effort to get there. In other words, there isn't one simple point guard solution. Sure, Paul Pierce chipped in a bit more than usual (7 Friday and 4 Sunday), but Jason Terry (6 dimes) was the only player with more than 4 assists Sunday, while Terry and Courtney Lee each had 5 dimes Friday. We should expect this trend to continue as Pierce, Terry, Lee and Barbosa should all get a slight bump in assists but not enough to make a noticeable statistical impact on their own.
• Will Bynum has long been a fan favorite in Detroit and fantasy circles because whenever he gets the chance to play significant minutes, he's ready to produce. While the Detroit Pistons waited for Jose Calderon to get his work visa, Bynum cranked out 29 points and 18 assists in two weekend games. Calderon should get his paperwork in order soon, but we can expect Bynum to maintain enough of a role as Calderon's primary backup at the point to remain fantasy-relevant in deeper leagues.
• Stephen Curry returned from his latest ankle malady Saturday and looked no worse for the wear, abusing the hapless Suns for 29 points (11-for-20 FG), 6 3-pointers, 8 dimes and 2 steals. If you are atop your standings and own Curry, you are playing with fire and should look to deal him away before he goes down for a significant stretch. On the flip side, if you are desperate, then it's worth rolling the dice on his balky ankles to get his amazing stats.
Looking Ahead
• The Pistons' Brandon Knight claimed that when Metta World Peace grabbed him in a neck hold Sunday, he also punched him in the face. MWP got a flagrant foul for grabbing him, but if replays prove Knight to be correct about the uppercut, look for World Peace to be suspended for a game this week.
• Tim Duncan took an ugly fall Saturday, but an MRI revealed no structural damage in his sprained left knee. Considering the San Antonio Spurs' long-term postseason plans and the fact that Duncan also sprained his right ankle Saturday, there is a pretty good chance he will miss some games this week as the Spurs embark on a nine-game road trip. That would make Tiago Splitter a good play in Duncan's absence.
• Dwight Howard remains day to day as he does everything possible to play through his troublesome shoulder injury. While he is sidelined, Pau Gasol and Earl Clark will continue to be excellent fantasy contributors.
• Michael Kidd-Gilchrist took a nasty spill Saturday that left him hospitalized overnight with a concussion. He'll have to pass concussion tests before playing again, something I think will cost him several games. Look for Jeffery Taylor to start in MKG's stead and for Ben Gordon and Gerald Henderson to get some extra burn.
• A strained right adductor has cost Dirk Nowitzki the past two games, but he expects to play Monday night as long as all goes well in the morning shootaround. The Dallas Mavericks play only three games this week, so those of you setting weekly lineups Monday will want to pull him if he has a setback and ends up sitting again.
Fastbreak Player of the Night
Only one of the top dozen forwards in Fastbreak are in action Tuesday evening; that would be David Lee, who makes for a solid play against the Houston Rockets. For the other forward spot, I like Zach Randolph despite his recent struggles (29 total FB points in his past three games). That's because the Grizzlies play the lowly Suns' frontcourt, so I expect Z-Bo to turn it on, especially without Gay in the mix to steal touches.