Old Man Duncan still getting it done
March, 15, 2013
03/15/13
11:08
AM ET
By
Josh Whitling, Special to ESPN.com
Many, including myself, expected a significant drop-off in the second half from
Tim Duncan
after he averaged 17.2 points, 9.6 rebounds and 2.8 blocks prior to the All-Star break. And although he recently sat out the second game of a back-to-back because of his sore knee, he appeared just fine while dropping 28 points and 19 rebounds Thursday on the Mavericks. He's averaging 15.6 points, 10.6 rebounds and 2.1 blocks in 11 games since the break, a slight dip in production, but not as substantial as many predicted.
He's averaging 17.7 points, 11.0 rebounds and 2.3 blocks in six games since Tony Parker went down with a sprained ankle, and based on the 29.8 minutes per game he's averaging in March, it looks like Pop (coach Gregg Popovich) will give him the occasional game off instead of limiting his in-game action. Hopefully you didn't sell him at a discount anticipating a disappointing stretch run, as he's still ranked No. 8 on the Player Rater when sorting by averages, and appears primed to retain his fantastic numbers in games when he's not being rested.
Looking Back
• Mike James started at point guard for the Mavericks for the fourth straight game, finishing with 10 points, 5 assists and 2 3-pointers. This is coming off a 13-point, seven-assist game Tuesday, and even though there's not much upside here, while he's starting he'll provide some 3s and assists for deep leagues.
• With Tyson Chandler, Carmelo Anthony and Amar'e Stoudemire all sidelined, Kenyon Martin, Marcus Camby, Kurt Thomas and Chris Copeland all got increased playing time. Copeland's increase is especially intriguing from a fantasy sense, as the 28-year-old rookie is averaging 0.8 3s per game in just 12.2 minutes. Anthony got his knee drained and is expected to return soon, but likely will be handled gingerly as the team prepares for a playoff run, so even though Copeland had just nine points and two 3s in 21 minutes Thursday night, he could be a bountiful source of 3s in the next several weeks if he continues getting more playing time.
• Gary Neal scored 16 points off the bench for the Spurs for the second time in the past three games, but he's averaging just 14 minutes per game this month, with two DNPs. Based on his solid career per-minute stats of 9.6 points and 1.5 3s in just 21.4 minutes per game in his three-year career, it seemed like he'd see a bump in production with Parker sidelined. But he has been used too inconsistently to be depended upon in fantasy leagues, which is really the case for all of the Spurs' point guards; nobody has surfaced as a consistent fantasy player in Parker's absence.
Looking Ahead
• With Andrea Bargnani out for the remainder of the season, Jonas Valanciunas has seen an uptick in minutes, playing 33 and 34 minutes, respectively, in the past two games. The 34 minutes matched his season high, and with the Raptors looking toward the future, he should continue to get plenty of minutes, with foul trouble being the biggest impediment to him logging 30-plus per game on a regular basis. I could see 12 points, 8 rebounds and 1.5 blocks per game from here on out, and he'll be a popular add in fantasy leagues the next week or two if he keeps getting this kind of playing time.
[+] Enlarge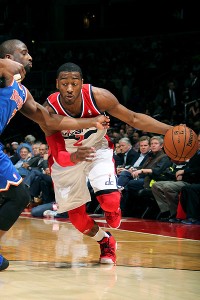 Ned Dishman/NBAE/Getty ImagesJohn Wall is slowly returning to form following his knee injury.
• John Wall has been balling this week, averaging 25 points and 12 assists in his past two contests. He's reportedly still getting back into game shape after missing so much time to start the season, but he's poised for a strong finish. His scoring has jumped from 13.3 points per game in February to 18.6 this month, and he's ranked 19th on the Player Rater the past 15 days. If he's on your team and you're evaluating what to expect going forward, pencil him in for top-30 stats, as he's shouldering a significant load for the Wizards and using the final part of the season to prove he deserves mention among the` league's top point guards.
• We get a first look at the Kobe-less Lakers on Friday. Jodie Meeks should start in Bryant's place and see an increase in value, as detailed in this week's Working the Wire. Pay close attention to how those 20 shot attempts per game are distributed, however, because that's a lot of touches to go around. Antawn Jamison, Steve Blake, Metta World Peace and Earl Clark are all worth monitoring as the Lakers try to figure out how to compensate for the loss of their best player and focal point of the offense.
• Jermaine O'Neal is back for the Suns after missing four games for personal reasons, and now figures to see plenty of minutes with Marcin Gortat likely out for the rest of the season. I'd be surprised if he wasn't starting in the middle for the Suns soon, and he's primed to be a major source of blocks down the stretch, as his 3.65 blocks per 48 minutes ranks eighth in the league among those averaging at least 15 minutes per game. I could see eight rebounds and two blocks per game from here on out, numbers worthy of a roster spot in any two-center league.
• The status of both Jeff Teague and Josh Smith are uncertain for Friday's game against the Suns. Devin Harris scored 17 points and had seven assists in Teague's absence, and both Anthony Tolliver and Johan Petro got an increased run with Smith sidelined. Ignore Tolliver and Petro, but if Teague is going to miss any more time, Harris is a legit option for points, assists, 3s and steals.