Hello Berry, I am a huge fan of the 06010 podcast. I am, for the first time, in a league where all members play seriously and I am loving it. I am 3 and 0. I just want to thank you for making fantasy more fun! Unfortunately, I am dealing with health issues and have been on sick leave from work for the last two months. Playing fantasy and listening to you on the show and podcast are helping me get through a difficult time in my life, so I wanted to thank you for that! Thanks, Brett, Ontario, Canada
---
Hey Mr. Berry: My mom has never really been around for me. But don't worry about that, my dad is a pretty good mom. Your new show is killing it. I love every second of it. I just wanted to let you know that when there are days that I'm sad I don't have her around that I now have [fantasy football] as an escape from all the stress and the sadness that surrounds my life and it's a great escape. Thank you Mr. Berry, I hope you continue to find happiness. Sincerely, Harrison, West Virginia
---
This has been just an awful, difficult week. Words are inadequate. At least any I could come up with. But where there is darkness, we look for light, and for me, I found it sifting through email. I can't tell you how much these emails meant for me to read. Because the thing I love about the game we all play -- the thing I have ALWAYS loved about the game we all play -- is that it's so much more than a game.
That it's family and friends and bonds with people we've known all our life and people we've never met. From all ages, all walks of life, from grandma to young kid, no matter where we are in life or what we believe in, there is a common language and a shared set of experiences that do not and cannot change. It's an escape to a world where everyone and everything is equal. Whether you are the CEO or just an intern, a grizzled veteran or just trying it for the first time, we are all sitting there, hoping they get it to our guy on the 1-yard line instead of play-action to a fullback no one has.
I often say that fantasy football is life and in a small but important-to-me way, I was really glad to be reminded of that this week.
Let's get to it.
Quarterbacks I love in Week 5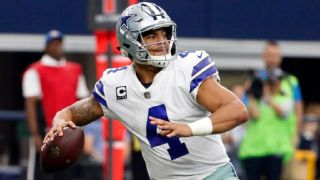 Dak Prescott, Cowboys: Dak has played the Packers twice. In the 2016 regular season, he was 18-for-27 for 247 yards and three scores. Then, in the playoffs he was 24-for-38 for 302 yards and another three scores. Aaron Rodgers & Co. should have no issue scoring here, which means Dak is going to have to keep up. Prescott has been terrific lately and you like facing Green Bay away from Lambeau (since the start of last season, opponents have completed 69 percent of passes and scored 28.9 points per game at home against them compared to 61.4 and 19.0 at Lambeau). And our friends at ESPN Chalk tell us the over/under in this game is one the highest of Week 5, so Prescott is locked in as a top-five play this week.
Jameis Winston, Buccaneers: Until further notice we are starting our skill players against the Patriots. You want stats? I got stats. They've allowed a 300-yard passer in all four games this season. No other team has allowed more than two. Opponents are completing passes against New England at the fifth-highest rate in the league, and the Patriots have given up 11 passing touchdowns, tied with the Titans for most in the league this season. They have also coughed up the most fantasy points to QBs this season. Winston's dropback percentage is 67 percent this season (a career high) and he's in the top 10 in pass attempts per game. Giddy up.
Ben Roethlisberger, Steelers: I get it. He's been bad. Less than 250 yards in three straight games, he's got Antonio Brown all mad at him and -- through four games -- is the 20th-best QB in fantasy. And then here comes Jacksonville, a defense that is allowing the fewest fantasy points to opposing quarterbacks (just 6.3 a game). So maybe it's not surprising I was the only one to rank Big Ben inside my top 10. But while my own eyes tell me the Jags' defense is certainly improved this year, are we all sure they're world beaters? They've played the Tom Savage-led Texans in Week 1, the Titans, a completely lost Ravens offense in their first trip to London and the Jets. The only real QB they've faced is Marcus Mariota, and while he didn't have a huge game against them, he didn't need to because Tennessee handled them in a 37-16 pasting in which the Titans rushed 36 times for 179 yards (5.0 yards per carry) and three scores. I don't know, man. I understand everyone's concern, but since 2015, Big Ben is the second-best QB on a points-per-game basis when playing at home. Squeaky wheel gets the grease, so I bet Brown goes off in a game in which Ben reminds everyone what he can do. I'm in on Roethlisberger this week.
Others receiving votes: With Derek Carr and maybe Mariota out, plus a lot of big names on bye, you may be digging deep. So it's worth noting the Colts have allowed more than 15 fantasy points to every QB they've faced this season and they are better than you think against the run, so Brian Hoyer could be useful. So could Josh McCown against his former team, the Browns. They've given up the fourth-most fantasy points this season to opposing QBs and that list consists of the road version of Roethlisberger, the ghost of Joe Flacco, Jacoby Brissett and Andy Dalton. ... I'll downgrade Carson Palmer a bit if Fletcher Cox plays, but the Cardinals can't run and volume (Palmer leads the NFL with 45 pass attempts per game) will help against the Eagles' 30th-ranked pass defense.
Quarterbacks I hate in Week 5
With the caveat that this week it's especially hard to "hate" any QB with a pulse, I'm not crazy about ...
Alex Smith, Chiefs: The Texans' numbers against the pass look just OK overall on the season, but you know, what happens when you subtract Tom Brady? I mean, Smith has been terrific but, you know, he's not Tom Brady. Especially traveling on a short week. So, quarterbacks not named Tom Brady vs. the Texans this season? Just a 53.9 percent completion rate, 155.3 yards per game and only one touchdown. Now, they've faced Blake Bortles, Andy Dalton pre-Bill Lazor and half of Marcus Mariota, so it's also skewed the other way. But I think they play conservatively on the road and lean on Kareem Hunt here, especially since the Chiefs' defense is good, so I don't see Smith having to go nuts here either in what should be a low-scoring game. He's outside my top 15 this week.
Philip Rivers, Chargers: While playing in front of a hostile crowd is nothing new for Rivers this season, he is part of a West Coast team traveling east for a 1 p.m. game local time. Rivers has struggled this season when under pressure; he's just 27th in completion percentage when blitzed, plus two of his four interceptions came when blitzed. The Giants rank fifth in blitz percentage. With Keenan Allen likely to be held in check by Janoris Jenkins and Dominique Rodgers-Cromartie, this feels like a heavy Melvin Gordon game, especially after he's been chirping to the press about wanting more work and the Giants allowing 142 rushing yards a game, fifth worst in the NFL.
Running backs I love in Week 5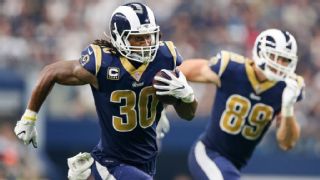 Todd Gurley, Rams: Just in case you were thinking of getting cute because it's Seattle, just stop. Gurley has the most touches from scrimmage in the league and only Le'Veon Bell has more carries than he does this season. The volume keeps him as an RB1 in a middle-of-the-pack matchup. That's right, middle of the pack. The Seahawks have allowed opposing RBs to average 5.12 yards per carry, fourth most in the league. That includes 3.17 yards before contact per carry, third most in the league. You're starting Gurley and I suspect he winds up with a low rostered rate in DFS tournaments.
Frank Gore, Colts: The fact that Gore is facing his former team doesn't matter so much that his former team isn't very good. The 49ers have allowed the fourth-most points to opposing running backs this season, and Gore has gotten 67 percent of the Colts' carries the past three weeks. In a game the Colts should win (or at least be very competitive), Gore should get a lot of work in a plus matchup (Gore averaged 22.7 touches a game in the Colts' past seven wins).
Duke Johnson Jr., Browns: I'm the highest on him and only one other ranker even has him inside the top 20 (PPR only), which is odd to me. Johnson is currently RB16 on the season and has increased his targets in each game, finishing with nine catches on 10 targets in Week 4. Part of the reason for this? No team in the NFL has passed more often than the Browns (73 percent of plays), and when they pass, they pass to Johnson, who has 28 targets this season, fourth most among running backs. Part of the reason the Browns have passed so much is they have been down big, but they should be more competitive with New York. That said, they don't have a ton of weapons (Johnson has twice as many catches as any other Brown this season ) and New York has allowed the ninth-most receptions in the league to opposing running backs, so yeah, expect them to get the ball in Johnson's hands a lot.
Others receiving votes: Alex Collins is averaging an insane 8.24 yards per carry this season, including 5.47 yards per carry between the tackles, which ranks fourth among qualified RBs. On the road and with the passing game struggling, expect the Ravens to lean on the run game once again against a Raiders squad that's allowed 4.38 yards per carry between the tackles this season, eighth most in the NFL. I also think Javorius Allen (the only runner with five-plus catches in three straight games) rebounds for a flex-worthy performance in PPR. ... Even with last week's disappointment, Tarik Cohen is the RB leader in receptions, with at least four catches in every game (only Christian McCaffrey can also say that among running backs). Considering opponents have completed the fourth-highest percentage of passes to running backs this year against the Vikings, I'm back on Cohen this week as a viable flex. ... You know I think that Arizona can't run and they can't block, which means a lot more dump-offs for Andre Ellington, who has led Arizona running backs in snaps the past three weeks.
Running backs I hate in Week 5
LeGarrette Blount, Eagles: He certainly showed signs of life last week, and as of this writing (Wednesday night), Wendell Smallwood missed practice, so if Smallwood misses the game, you'd see more Corey Clement, but it would certainly increase Blount's chances of having success here, as I don't love them currently. Arizona has not allowed a 100-yard rusher in more than a year, since LeSean McCoy went for 110 yards in Week 3 of last season. Blount is not involved in the passing game, so you'll have to hope for a score, which is certainly possible, because it's not likely coming from yardage. Opposing RBs are averaging 2.98 yards per carry vs. the Cardinals this season, third fewest in the league.
Marshawn Lynch, Raiders: Through four weeks this season, it's been a lot of lame "Least Mode" jokes, and sadly there's not a lot to come back with. And I am worried that continues into Week 5 against a good Ravens run defense. Yes, Le'Veon Bell went nuts last week, but it took him 39 touches to do so. I don't see Lynch getting anywhere close to that kind of volume. Among qualified running backs, Lynch is averaging the sixth-fewest yards per carry before first contact this season, and just a guess here, but I say Baltimore makes EJ Manuel prove it should back off the line on Sunday. Lynch is outside my top 20 this week in PPR, even on a bye week.
Wide receivers I love in Week 5
Chris Hogan, Patriots: Time for America's (soon to be?) favorite game show: Chris Hogan facts! He's second in NFL in red zone targets. He has as many red zone targets as Rob Gronkowski and Danny Amendola combined. He has accounted for one-third of the Patriots' red zone targets. He has four catches of 25-plus yards, tied with Brandin Cooks. He has more targets than any other Patriots wide receiver and just two fewer targets than Gronk. Since Week 2, he has the most fantasy points of any wide receiver in PPR scoring. He played football at Monmouth. Prior to that he played lacrosse at Penn State, where he met his now wife, who also played for the school. They are the parents of twins. You should start him without question.
DeVante Parker, Dolphins: Am I really talking up a Dolphin after last week? Apparently. Part of it is volume. There are only five other receivers who have been targeted at least eight times in each of the past three weeks (Keenan Allen, Antonio Brown, DeAndre Hopkins, Michael Thomas and Mike Evans). And part of it is matchup. Facing a team that has given up a league-high 178 WR fantasy points means that volume should be productive. Parker is averaging the third-most deep targets (15-plus yards) per game this season, so he has a shot to get deep for one against a Tennessee team that already has been burned for three deep touchdown passes in four games.
DeSean Jackson, Buccaneers: Come on New England. Show me something here. Show me that you are better than having me just pick everyone going against you. But for now, if you've got Patriots opponents, smoke 'em if you got 'em. D-Jax has at least six targets in every game this season for the Bucs, so they keep trying to get him the ball and on Thursday night, I say they connect for at least one big one.
Others receiving votes: If Marcus Mariota plays, I like Rishard Matthews' chances (at least seven targets or a touchdown in 14 of his past 16 games) against a Fins defense that is coming back from London and has allowed opponents to complete 75.7 percent of passes (NFL high) this season. ... Pierre Garcon has eight deep targets the past two weeks, a number that trails only Brandin Cooks, Stefon Diggs and Jaron Brown. They'll move him around enough to avoid Vontae Davis and exploit a Colts secondary that has coughed up a league-high 23 deep completions this season. ... Jaron Brown has been out there on nearly every snap the past two games (147 of 154) and had 12 targets last week (Larry Fitzgerald had seven). Even with John Brown getting healthier, I like Jaron to continue his play against an Eagles team allowing the most receptions, most receptions to WRs lined up outside (where he plays), receiving yards and second-most fantasy points to opposing WRs this season. ... Those who are desperate or looking for a cheap DFS play might consider Adam Humphries, who is second on the Buccaneers in targets, receptions and receiving yards this season and, you know, plays the Patriots.
Wide receivers I hate in Week 5
Alshon Jeffery, Eagles: Marvin Jones Jr. had two catches for 37 yards ... in a game where the Lions went pass-heavy (42 attempts). T.Y. Hilton had four catches for 49 yards. Dez Bryant had two catches for 12 yards. And Pierre Garcon had four catches for 36 yards. These stats, of course, are what these receivers did against Patrick Peterson, for a total average of just three catches and 33.5 receiving yards. The same Patrick Peterson who will shadow Jeffery on Sunday. Now, Jones and Bryant did manage to score in those games, so hey, it's definitely possible. Especially if you can carry the entire defense with you the way Dez did. So if you're starting Jeffery, a touchdown isn't a nice to have, it's a must-have ... and that's dangerous. Carson Wentz has thrown multiple touchdown passes in just four of his past 16 games. Alshon has been up and down a bit this season, as he already has two games with fewer than 40 receiving yards and has yet to record a catch gaining 25-plus yards. He's outside my top 20 this week.
Sammy Watkins, Rams: He had the big performance in a standalone Week 3 game against the 49ers, but that's about it. He has totaled just eight catches (and more worrisome, just nine targets) for 105 yards in his other three games this season. Let me phrase that a little differently. While Jared Goff has produced top-10 numbers, Watkins has one -- count 'em, one -- finish as a top-30 receiver. I do think he will have a few more big games along the way this season, I just have a hard time seeing one of them coming against a Seahawks defense that ranks in the top 10 in both completion percentage and TD-INT ratio this season.
Amari Cooper, Raiders: Too obvious? Well, Cooper was started in the majority of leagues last week when he was on the "hate" list in a next-to-impossible matchup, so I'm not taking anything for granted. Entering this game, Cooper ranks 83rd of 87 qualified receivers in reception percentage (42.9 percent) and is WR45 over his past 12 games behind injured guys like Julian Edelman and Cameron Meredith, as well as the retired Steve Smith Sr. No idea how you can have any confidence starting him until we see something, especially against a Ravens team that has given up the fourth-fewest fantasy points to opposing wide receivers.
Tight ends I love in Week 5
Charles Clay, Bills: Over the past eight games, he is the second-best tight end in fantasy and yet still available in 20 percent of leagues and not being started in about 40 percent of them. What more does this guy have to do? He has double-digit fantasy points in six of the past eight and is the fourth-best tight end in fantasy this season. Clay has at least six targets in three of his four games this season (only Zach Ertz has six-plus in all four games), and he gets 26 percent of his team's targets, the highest by any TE. More important, he gets 42 percent of his team's red zone targets, WAY higher than any other tight end. Cincy isn't the greatest matchup, but that's sort of the point. Charles Clay has reached must-start, set-and-forget territory.
Austin Seferian-Jenkins, Jets: Since returning in Week 3, ASJ is tied for the second-most targets on the team and has turned those into nine catches for 77 yards. A breakout is coming and odds say it's this week against the Browns. Cleveland rocks ... for opposing tight ends, that is. The Browns have allowed the most receptions, the third-most receiving yards, tied for the second-most receiving touchdowns and second-most points to opposing tight ends this season.
Evan Engram, Giants: He is one of two tight ends with at least eight points in all four weeks this season and his targets have increased every week (only Ertz and Gronk have more targets among tight ends this season). Engram should get a lot of looks this week at home against a Chargers team that coughed up five catches for 98 yards to Denver's tight ends in their only other road game this season.
Others receiving votes:Benjamin Watson has caught 88.9 percent of his targets this season (all other Ravens: 57.8 percent) and has been far and away the team's most consistent fantasy pass-catcher (WR/TE) this season. The Raiders have been gashed by Vernon Davis and A.J. Derby the past two weeks, so if I'm playing a member of this Ravens passing game, it's Watson for me. ... Since I am mentioning all Buccaneers it seems, I might as well push my chips to the middle and say Cameron Brate has a good shot at TE1 value this week, as New England gives up the fourth-most fantasy points to opposing tight ends.
Tight ends I hate in Week 5
Jack Doyle, Colts: He is currently in the league's concussion protocol, so he may very well miss this game. But even if he plays, I'm not convinced he has a ton of success. In four games this season, the 49ers have allowed just 10 receptions for 77 yards and no TDs to tight ends, all of which are the fewest in the NFL. Doyle, who is coming off back-to-back games with fewer than 30 yards, is outside my top 10.
Jason Witten, Cowboys: Witten ran 36 routes in Week 4 and was targeted just twice. In fact, his 5.6 percent target rate was his second lowest in a game in our data set (past 10 seasons). I can't imagine using him in a 10-team league this week after the past two games and this week facing a Packers team that has allowed just 12 receptions for 106 yards to opposing TEs in four games this season (the second-fewest fantasy points allowed to opposing TEs).
Defenses I like in Week 5
Baltimore Ravens (at Oakland, 49 percent available); Philadelphia Eagles (vs. Arizona, 57 percent available); Oakland Raiders (vs. Baltimore, 79 percent available); Cincinnati Bengals (vs. Buffalo, 30 percent available).
Matthew Berry, The Talented Mr. Roto, wishes he could respond to every email, but he reads them all. Emails in this column were edited for length. He is the creator of RotoPass.com, the founder of the Fantasy Life app and a paid spokesperson for DRAFT.