Category archive:

Ian Poulter
February, 7, 2015
02/07/15
8:36
PM ET
SAN DIEGO -- Ian Poulter picked the wrong place to park at dinner and wound up getting his courtesy car towed.
Poulter and caddie Terry Mundy went to a Korean-barbecue restaurant Friday night during the Farmers Insurance Open, and when they left the restaurant, Poulter first thought that his courtesy car had been stolen.
"There were 60 spots in the car park. We walked 40 yards to a restaurant, but apparently that restaurant that we ate in wasn't quite in the vicinity of where I should have parked," Poulter said Saturday after moving within three shots of the lead at Torrey Pines. "The kind security guard who was standing by my car as I parked waited until I left and then called a tow truck to tow it away so he could make some money.
"I told him my car had been stolen," Poulter added. "He said, 'Nope, we towed it away.' I said, 'That was awfully nice of you.' A few similar words."
His night wasn't over. Poulter was given a slip of paper with information how to retrieve the car. But because it wasn't his car, he couldn't claim it.
"Obviously, we sign a nice piece of paper in the office that says we drive the car for the week, so I've got no documents that says this is my vehicle," he said. "I had to leave it there and get a taxi. Uber to the rescue."
Poulter said he turned over the towing information to the tournament office, which took it from there.
"It was brilliant, because my caddie told me to park there," Poulter said.
That apparently wasn't the only car incident Friday night. Steve Wheatcroft said on Twitter he was rear-ended driving to dinner in Del Mar.
November, 17, 2014
11/17/14
2:46
PM ET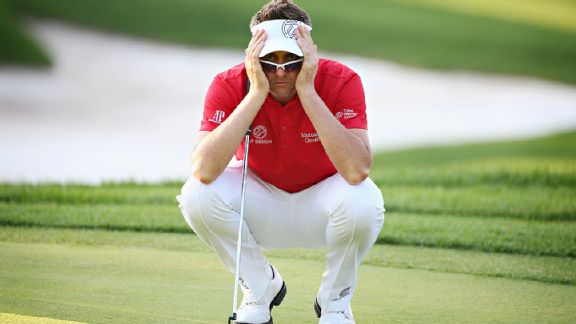 Ian Walton/Getty ImagesIan Poulter hasn't won on either the PGA Tour or the European Tour since the 2012 WGC-HSBC Champions tournament in China.
Seeking his first victory in more than two years,
Ian Poulter
missed a putt that would have forced a playoff Sunday at the Turkish Airlines Open; the ball slid past the hole, handing
Brooks Koepka
his first European Tour victory.
So where might Poulter get some advice on his game, particularly with the flatstick? Twitter, of course.
Greg Norman, the 59-year-old two-time major champion and former world No. 1, reached out to the Englishman via social media.
I will give you a call @SharkGregNorman. Thanks Poults.

- Ian Poulter (@IanJamesPoulter) November 17, 2014
August, 16, 2014
08/16/14
1:41
PM ET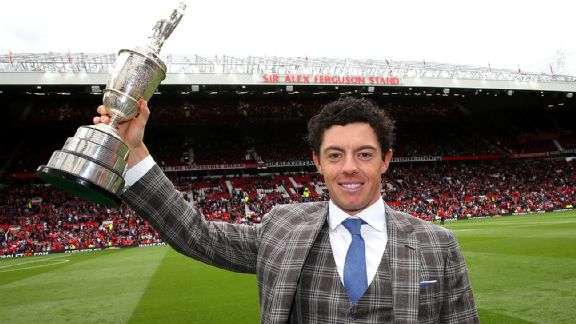 John Peters/Getty ImagesRory McIlroy brought the oldest major championship trophy in golf to Old Trafford to celebrate the opening of the English Premier League season with Manchester United.
After winning the Open Championship in July, Rory McIlroy announced to the crowd at Royal Liverpool that he appreciated the kindness of the fans, even though he was a supporter of Manchester United of the English Premier League.
On Saturday, it's safe to say he got a warmer reception at Old Trafford.
And after meeting some legendary names at the home of Man United, McIlroy got into a comical Twitter back-and-forth with Arsenal fan and fellow Ryder Cupper Ian Poulter.
Hey you can keep your Claret Jug but can I have my suit back please Mr @McIlroyRory I thought something was missing. pic.twitter.com/wI12lw7qdV

- Ian Poulter (@IanJamesPoulter) August 16, 2014
Sorry @IanJamesPoulter you must be mistaken... this suit was only available with the claret jug!

- Rory Mcilroy (@McIlroyRory) August 16, 2014
And the red socks? @McIlroyRory Sorry @IanJamesPoulter you must be mistaken.. this suit was only available with the claret jug!

- Ian Poulter (@IanJamesPoulter) August 16, 2014
Yes them red socks. I thought Van Gaal was going to ask you to take off that suit and help your boys out. They needed it. @McIlroyRory

- Ian Poulter (@IanJamesPoulter) August 16, 2014
You do realize they are the only trophies that will be paraded at Old Trafford this season. @McIlroyRory

- Ian Poulter (@IanJamesPoulter) August 16, 2014
August, 10, 2014
08/10/14
7:46
PM ET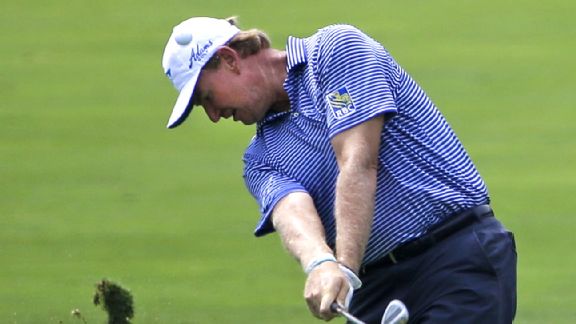 AP Photo/David J. PhillipErnie Els surged to a 6-under 66 in Sunday's final round at Valhalla.
LOUISVILLE, Ky. -- Out of left field, Ernie Els was Ernie Els again. The Big Easy was playing big and making it look easy.
He was out of the tournament at 5-under at the start of Sunday, 8 strokes behind Rory McIlroy, a leader who looked unstoppable. But something funny happened on the way to a backdoor top-10 at Valhalla.
The 44-year-old Els got so hot, he started thinking the unthinkable. He started thinking he could win the PGA Championship.
"I felt like I could birdie every hole," Els said.
He ripped off four in a row on holes No. 3 through 6 to get to 9-under, and he felt like a brand-new man. After tying for fourth at the 2013 U.S. Open, Els had failed to finish in the top 25 in his past five majors, missing the cut three times.
But he switched back to a short putter at the start of the year, waited to find a rhythm with it and, voila, finally found it on the front nine of his final major round of the year. Els failed to birdie No. 7 and missed a brutal 5-footer at No. 8, and yet felt so confident in his rediscovered game that he turned to his caddie and said, "Let's get to 14."
He meant 14-under, not the 14th hole.
"That meant I needed to make five birdies in 10 holes," he said. Els threw everything he had at Valhalla in a desperate attempt to claim his fifth major title but ended up tied for seventh.
The heavy rains had left the venue an inviting and vulnerable target. "The course was as gettable as you can get ever," Els said. "This is a great course, great spectator course, but for a major, this was as gettable as you are going to get."
Els pushed it to 11-under on the 11th hole before running out of steam. Four consecutive pars and a bogey preceded his closing birdie for a round of 65 that felt more like a 62.
"It could have been something real special," the Big Easy said.
Ernie Els was back to being Ernie Els. That was special enough.
August, 10, 2014
08/10/14
7:20
PM ET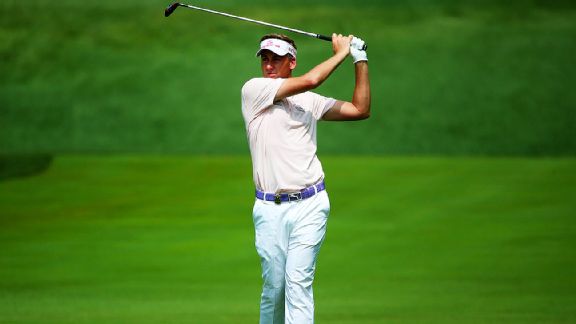 Andrew Redington/Getty Images)Ian Poulter knows a thing or two about the Ryder Cup after having led the Europeans to victory in 2012.
LOUISVILLE, Ky. -- Before leaving Valhalla and boarding his plane home, Ian Poulter addressed the growing sentiment that Team Europe will be the overwhelming favorites late next month at the Ryder Cup. Poulter, of course, is a longtime points machine for the Europeans.
"My thoughts, well, obviously I think there's been a couple of injuries for the American team at the minute," he said, referring to the absence of Dustin Johnson (personal issues) and the possible-to-likely absence of Tiger Woods (back). "But listen, it's Ryder Cup and a weak team or a strong team, doesn't matter who is it playing, who is not playing. It's going to be a really difficult week."
Poulter led the amazing comeback in the Miracle at Medinah in 2012. So he knows a little something about Ryder Cups.
"Whether we are favorites is irrelevant," he said. "It's the Ryder Cup. And you know, we have seen guys go in there and demolish people that are much higher in the world rankings. It doesn't mean anything when it comes to it. It's Ryder Cup. Guys are going to play with passion and both teams are going to be fighting really hard."
Poulter finished even-par for the PGA Championship.
May, 10, 2012
05/10/12
4:18
PM ET
PONTE VEDRA BEACH, Fla. --
Ian Poulter
shot a 7-under par 65 on Thursday to take the first-round lead with all of the afternoon groups still on the golf course. The 36-year-old Englishman had eight birdies and a bogey. In 2011, Poulter attributed his poor play to the stress brought about by acting as the project manager for his new multimillion dollar home at Lake Nona in Orlando. He has personally overseen every detail of the project from the basic design to the furnishings to the bathroom and kitchen fixtures.
"I'm not a moving freak. I just like nice things," Poulter said. "So I guess, you know, you upgrade things as you go along. But this one being a big one and being a stressful one: two years and nine months is abnormally long to build a house.
"I could write a book. There were a lot of interesting hiccups along the way, but I'm glad to say they are all behind me, and we are going to spend that first night in there on Sunday."
[+] Enlarge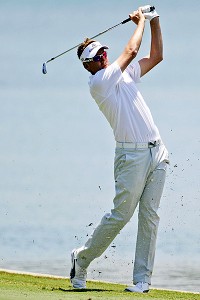 AP Photo/John RaouxIn his past two PGA Tour starts, Ian Poulter has finished seventh at the Masters and third at the Arnold Palmer Invitational.
Last year, Poulter missed the cut at half of his 12 PGA Tour events and had just two top-10s. The always impeccably dressed former Accenture Match Play champion, who was once thought to be a strong contender at the majors, missed the cut in 2011 at both the U.S. Open and the Open Championship. After his win last May at the Volvo World Match Play Championship, he had only one top-10 in the remainder of the year at the UBS Hong Kong Open, where he finished fourth.
At the beginning of the 2012 season, he made a vow to refocus his efforts on the golf course. Based on his seventh-place finish at the Masters, he appears to have rededicated himself to the game.
On Thursday, Poulter had 21 putts -- including nine one-putts.
"I hit a lot of good shots and then missed a couple of the greens just by a tiny bit, so you would expect to get those up and down," Poulter said. "But I had no idea that the run was nine single putts in a row.
"You know, if you've got your eye in these greens and you do start it online, you should expect a ball certainly from 20 feet and in to go in. I mean they are absolutely perfect."
Poulter might finally be clearheaded enough to bring that exacting attention for detail to his golf game. Over the next three days, the Stadium Course will certainly force him to use those skills.
Farrell Evans covers golf for ESPN and can be contacted at evans.espn@gmail.com.
February, 23, 2010
02/23/10
11:08
AM ET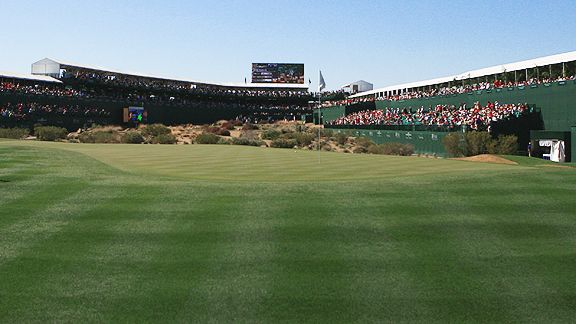 Kenneth E. Dennis/Icon SMIThe 16th hole at TPC Scottsdale makes even the best golfers squirm.
One of the most famous, exciting, non-golf-like holes in all of golf will be on full display this week at TPC Scottsdale. The 16th hole, a 162-yard par-3, has some of the most -- let's say, memorable -- ambience on the PGA Tour. The hole feels like equal parts college football, bullfighter-entering-the-arena and overgrown block party. It makes for an exciting environment all week, regardless of who's standing on the tee box.
But what about the actual golf played on that hole? The numbers say No. 16 has gotten more difficult in recent years. In each of the last three events at this venue, the percent of birdies has gone down. Last year, the hole played to an average above par for the first time since 2005.
A few more interesting notes about No. 16: The winner has played No. 16 under par every tournament here since 2000 except once (J.B. Holmes, who played it to even par in 2006). The last tournament winner to bogey the hole at any point during the week was Mark Calcavecchia in 2001. No winner has played the hole to over par for the week since Phil Mickelson in 1996.
---
Speaking of Mickelson, you'd be hard-pressed to find anyone more beloved than Mickelson at this event. The two-time winner here played college golf at Arizona State and his first foray into golf course design was Whisper Rock, located in North Scottsdale. In 18 career starts as a professional at the event formerly known as the Phoenix Open, Mickelson has finished in the top 10 half the time he's teed it up.
How has Mickelson fared on the course's most famous hole? Not well in recent years. His last birdie at No. 16 came in the final round of the 2006 FBR Open. Since then, he's bogeyed the hole four of the eight times he's stepped to the tee. When Mickelson last won this event in 2005, he played the 16th hole in par-birdie-par-par for the week.
Mickelson's best round of his career came that year at this event, when he fired the only 60 he's ever shot on the PGA Tour.
---
Trivia question
Kenny Perry looks for his first win since the Travelers Championship in June when he defends his title this week at the Waste Management Phoenix Open. Who was the last back-to-back winner of this event? (Answer below.)
One name to watch this week is Kevin Na, who is still winless on the PGA Tour but has had a handful of his most successful weeks at this event. Na has finished fourth or better in three of his four starts here, accounting for a quarter of his 12 career PGA Tour top-five finishes. Na is the only player in the field this week to have finished in the top 15 in each of the last two years.
Na has fired eight straight rounds of better than par here, and 11 of his 16 career PGA Tour rounds at TPC Scottsdale have been in the 60s. Na's 1.500 putting average last year was good enough for fifth in the field as he drained 21 birdies en route to his best finish of 2009.
---
It's been a shade over two years since Ian Poulter graced the cover of the UK edition of Golf Digest with a golf bag the only thing shielding him from the camera. His bold comments in that magazine have been well-documented and rehashed in the last few days: Poulter claimed then that when he reached his full potential, it would be just him and Tiger Woods atop the golf world.
When the magazine was released, Poulter was ranked 22nd in the world and his comments seemed more like false bravado than an actual prediction. After last week, it's tough to not take his statement seriously. With his first win on U.S. soil coming last weekend at the WGC-Accenture Match Play, Poulter has now vaulted to a career-high fifth in the world rankings.
Poulter's ascension wasn't immediate. He struggled in both Europe and the United States for most of '08, with just one top-10 finish on either the European or PGA tours. That one successful event was a doozy, though: He finished runner-up to Padraig Harrington at the Open Championship.
The last 14 months have been much kinder to Poulter. He began 2009 as the 26th-ranked golfer in the world. In 25 PGA and European tour events since the beginning of 2009, Poulter has now won twice (last weekend and '09 in Singapore), finished in the top five six times, and in the top 10 a total of 11 times.
So how close is Poulter to breaking through with a major championship? With almost the lone exception being his performance in the 2008 Open Championship, he has struggled in majors. He has only two top-10 finishes in 27 career major starts. Last year, Poulter finished in the top 20 in three of four majors, but not higher than a T-18 finish at the U.S. Open.
How does Poulter stack up against the other "best players without a major"? Last year, we created the "Almost Index," a way to gauge the success of the careers of golfers who had yet to win a major championship. The formula uses PGA and European tour victories, top-10 percentage and success in majors to create a picture of the man in question's career on the course.
Trivia answer
Question: Kenny Perry looks for his first win since June at the Travelers Championship when he defends his title this week at the Waste Management Phoenix Open. Who was the last back-to-back winner of this event?
Answer: Johnny Miller in 1974 and 1975.
At the time prior to the 2009 PGA Championship, Sergio Garcia -- with a score of 30.649 -- was running away with the dubious title. Following the Spaniard were Kenny Perry (22.434), Lee Westwood (21.997), Steve Stricker (17.144) and Rory McIlroy (17.332).
Today, Sergio's Almost Index score is 30.659. Poulter's lack of big performances in majors leaves him with a number that isn't close -- 11.367. Poulter hopes that list is one he never has to climb.
Justin Ray has been a studio researcher for ESPN since June 2008, and is the lead researcher for "The Scott Van Pelt Show." He is a 2007 graduate of the University of Missouri School of Journalism, where he studied convergence media. Send comments and suggestions to Justin.Ray@espn.com.