Category archive:

Seattle Seahawks
January, 27, 2015
01/27/15
8:11
PM ET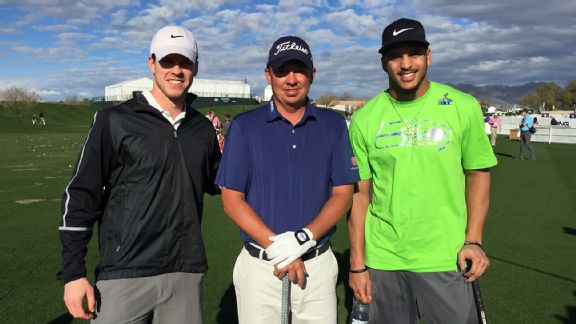 Michael Collins/ESPNPGA Tour pro Jason Dufner, center, chatted it up with Seattle Seahawks wide receivers Bryan Walters, left, and Jermaine Kearse, right, on Tuesday at the Waste Management Phoenix Open.
SCOTTSDALE, Ariz. -- Standing on the driving range Tuesday at the Waste Management Phoenix Open, a couple guys looked a little out of place.
One was dressed in what looked like sweatpants and a T-shirt, while the other was in shorts and a rain jacket. If you've been on tour long enough, you can tell when someone isn't a pro golfer.
Turns out Seattle Seahawks players Jermaine Kearse and Bryan Walters had some time off before their big game, Super Bowl XLIX, down the road in Glendale, Arizona. Both are golf nuts -- Kearse just recently, and Walters since childhood.
They walked around in awe, shaking hands and meeting golfers. Jason Dufner was a big hit. Then a tour representative asked if they'd like to hit some shots on the range. What golfer in his right mind could say no to that?
Two hybrids were brought over, wallets and credentials were laid on the ground, and the swings began. Walters hit some good shots right away, while Kearse struggled. The funny thing was, on a range of PGA Tour pros, not one came over to offer swing tips.
Then PGA Tour's Amanda Balionis got PGA Tour player Brendan Steele, who was with his swing coach, Rick Smith.
"Brendan says to me, 'Last time I gave a guy a lesson, he quit the game two holes later and vowed never to play again,'" Smith said. "I ain't doing that again. You're the teacher!"
Smith then laughed uncontrollably.
Next thing you knew, two guys playing for the defending champion team this Sunday in the Super Bowl were getting a golf lesson from one of the top teachers in the country. All three were in absolute heaven.
Smith was showing swing planes while giving nuggets of advice, encouragement, and praise. Kearse and Walters were doing something to take their minds off the big game, and they were hitting pretty good shots by the end of the 10-minute session.
Afterward, everyone walked away thinking the same thing: Did that just happen? Yep, and I tweeted the pictures to prove it.