January, 24, 2015
01/24/15
10:19
AM ET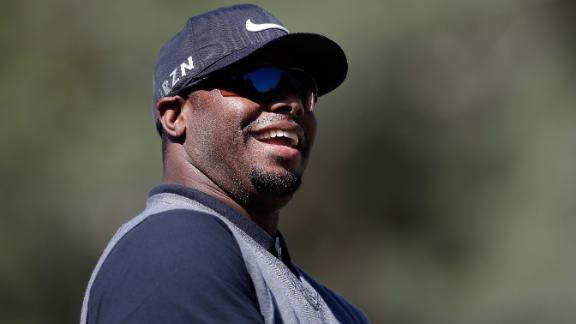 Griffey Aiming To Be Scratch Golfer
ORLANDO, Fla. -- You know that saying, "If only I could have been a fly on the wall?" I'm pretty sure at the PGA Merchandise Show's Demo Day, I was the fly and the wall was the Nike Golf teeing area.
Former Major League Baseball stars Ken Griffey Jr. and Fred McGriff were there testing new clubs and hobnobbing with potential clients. Junior has a house in the Orlando area, while McGriff still resides near Tampa. Both are true golf addicts and fierce competitors when it comes to playing sports.
They'd make NFL defensive backs or the NBA's best trash talkers proud. There were challenges uttered while digs about shoe size and number of hits were volleyed back and forth like a tennis match.
Famous jazz saxophonist Michael Phillips sat in a chair inside the tent like a guy in a barbershop being entertained while thinking aloud.
"See what this game does?" Phillips said. "I don't even know where my horn is, and I ain't looking for it."
In the end, Griffey Jr. got the best of the trash talking because apparently in their first encounter, Junior beat McGriff. Afterwards I snapped a quick photo of the two of them to put on Twitter.
When Round 2 of this clash happens to occur on the golf course, I sure do hope I get to be that "fly" again.
January, 21, 2015
01/21/15
2:22
PM ET
The Golden Bear, Jack Nicklaus, turns 75 on Wednesday. Golfers -- and golf fans -- around the globe surely want to wish the man with 18 major championships a happy birthday, so we decided to share a few of the more famous dedications as well as a few classic photos.
Happy Birthday to my friend @jacknicklaus on this your 75th year. Viv & I send all our fondest love to you and yours today. RESPECT

— Gary Player (@garyplayer) January 21, 2015
Happy Birthday to Buckeye @jacknicklaus! The Golden Bear turns 75 today. #GoBucks pic.twitter.com/ZUtmGmv6kM

— Ohio State Buckeyes (@OhioStAthletics) January 21, 2015
Happy 75th birthday, Jack! A diamond celebration for the Golden Bear. #jacknicklaus #nicklaus #goldenbear pic.twitter.com/1jzlx55CqL

— Jack Nicklaus (@jacknicklaus) January 21, 2015
Happy 75th birthday to the Golden Bear @jacknicklaus

— Tiger Woods (@TigerWoods) January 21, 2015
A fav Jack Nicklaus stat on his 75th b'day. British Open finishes '63-'80: 3, 2, T12, 1, 2, T2, T6, 1, T5, 2, 4, 3, T3, T2, ,2, 1, T2, T4

— Bob Harig (@BobHarig) January 21, 2015
Happy 75th Birthday @jacknicklaus #legend Have a wonderful day! #18majors pic.twitter.com/nlPfaB79tB

— Ernie Els (@TheBig_Easy) January 21, 2015
Happy birthday to @jacknicklaus ! Thank you for being a great role model, and doing amazing things for the game:) #goldenbear

— Lexi Thompson (@Lexi) January 21, 2015
Happy birthday @jacknicklaus !!! pic.twitter.com/IDPAYEsCXb

— Jesper Parnevik (@JesperParnevik) January 21, 2015
Happy 75th Birthday to the legendary @JackNicklaus. pic.twitter.com/661U1NmFVh

— The Open (@TheOpen) January 21, 2015
Happy 75th Birthday to the Golden Bear, @JackNicklaus! pic.twitter.com/fEg3ld28D8

— PGA.COM (@PGA_com) January 21, 2015
Happy 75th @JackNicklaus from your family at #theMemorial! We wouldn't have made it to our 40th year without you. pic.twitter.com/MdcgiPThXk

— Memorial Tournament (@MemorialGolf) January 21, 2015
A very Happy Birthday to 2 of my favorite people, @johan_immelman and @jacknicklaus . Have a great day guys!!

— Trevor Immelman (@TrevorImmelman) January 21, 2015
Happy Birthday @jacknicklaus

— Justin Rose (@JustinRose99) January 21, 2015
Happy Birthday to the legendary #RyderCupUSA team member and captain @jacknicklaus! pic.twitter.com/U9LbVlSWa9

— Ryder Cup Team USA (@RyderCupUSA) January 21, 2015
Happy 75th @jacknicklaus! We appreciate all you have done for The Presidents Cup! 256 days until #PresCupKorea! pic.twitter.com/imi9RWEKxB

— The Presidents Cup (@PresidentsCup) January 21, 2015
January, 18, 2015
01/18/15
1:19
PM ET
By
ESPN.com news services
Tiger Woods couldn't be in attendance Sunday when girlfriend Lindsey Vonn won a downhill race to match Annemarie Moser-Proell's 35-year-old record of 62 World Cup wins since he's practicing for a tournament later this month in his return from a back injury. But he was watching on the Internet back in Florida, where it was 5 a.m. ET, and sent Vonn a congratulatory message.
"He said, 'Good job,' and he's proud of me," Vonn said. "He was watching with his daughter Sam, so they were up early in the morning."
So might this record inspire Woods to revive his golf career and reach Jack Nicklaus' record of 18 major championships? Woods has been stuck at 14 since 2008.
"He's a pretty determined guy," Vonn said. "I don't think he needs any inspiration from me. He's been working really, really hard and I'm looking forward to watching him come back, because he has put a lot of work into it and I'm sure he's going to be back on top soon."
Vonn added that Woods is planning to attend some of her races at next month's world championships in Vail and Beaver Creek, Colorado.
"It's tough to have two athletes competing at the same time, but he's definitely going to make something work," she said.
Woods has already made a good impression on Vonn's mom.
"I've met him," Lindy Lund, Lindsey's mother, told The Associated Press. "Nice guy. I like him."
The Associated Press contributed to this report.
January, 17, 2015
01/17/15
7:18
PM ET
Stuart Appleby took to Twitter after his round Friday at the Sony Open to vent his frustrations on how the PGA Tour and its rules officials set the hole locations each day.
I wonder when the Tour will adopt a better more accurate way to measure pins, all players agree it's not close to ideal, but what's new.

— Stuart Appleby (@StuartAppleby) January 16, 2015
If he had missed the cut, the complain could have easily been brushed off as a bitter pro upset at getting the weekend off. But Appleby reached the weekend at 3-under through 36 holes. As is always the case on Twitter, there were some who questioned why he was complaining, so to clarify, he later tweeted this:
We just want consistency in how they do the measuring not based on each officials opinion and how long his legs are.

— Stuart Appleby (@StuartAppleby) January 17, 2015
Why isn't it questioned? With all the technology used to measure everything on tour to the inch, during a tournament, the hole is placed by men who have different heights and strides. A 5-foot-9 official certainly has a different length stride than one who is 6-foot-4.
That might not seem like much, but when holes (as is now common) are put three or four "steps" from an edge of a green where water is in play, it could easily become a factor. That's an even bigger deal when pacing off a green from front to back.
Appleby raised an interesting, easily fixable, point. Caddies routinely walk their own yardage during practice rounds and make notes in their books while using laser ranger finders (only during practice rounds) for precision. Rules officials, using something as simple as a precisely marked string, could standardize a practice that in today's world is more than a little behind the times.
January, 15, 2015
01/15/15
1:47
PM ET
Coming off his fourth PGA Tour win Monday at the Hyundai Tournament of Champions, 24-year-old Patrick Reed signed on with WME | IMG for his management and marketing representation on Thursday.
In the past 20 years, only Tiger Woods, Rory McIlroy, Sergio Garcia and now Reed own four or more PGA Tour victories before turning 25.
Reed, who jumped to No. 14 in the world rankings this week, was the United States' leading point winner at the 2014 Ryder Cup as a rookie with a 3-0-1 record in a losing effort against Team Europe.
He also owns victories at the 2014 Humana Challenge, the 2014 WGC-Cadillac Championship at Doral and the 2013 Wyndham Championship. The Hyundai and Wyndham wins both came in playoffs.
In college, Reed helped Augusta State earn back-to-back national titles in 2010 and 2011 before turning professional.
January, 15, 2015
01/15/15
10:30
AM ET
With the first Latin America Amateur Championship underway in Argentina, Casa de Campo's Teeth of the Dog course in the Dominican Republic has been selected to host the second edition in 2016.
This week, 109 golfers from 28 countries throughout Latin America descended upon Pilar Golf Club in Buenos Aires for the chance to win the inaugural event.
The champion of the LAAC earns a spot in the Masters. The winner and the runners-up also get an exemption into the final stages of qualifying for the U.S. Open and the Open Championship as well as spots in the U.S. Amateur and British Amateur and any other USGA amateur championship for which they are eligible.
The 2016 Latin America Amateur Championship will be played Jan. 14-17 on the Pete Dye-designed layout at Casa de Campo resort.
January, 13, 2015
01/13/15
5:58
PM ET
For the second time in three years, the PGA Tour has put the kibosh on an element that made the 16th hole at the Waste Management Phoenix Open so memorable.
[+] Enlarge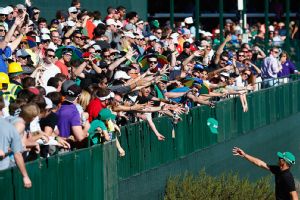 Sam Greenwood/Getty ImagesAt most PGA Tour events, you might find a player toss a golf ball or glove into the stands. At TPC Scottsdale, you never knew what you might walk away with at the par-3 16th hole.
The PGA Tour put out a notice to players and caddies stating that "for fan safety reasons, players and caddies are prohibited from throwing, kicking, or otherwise propelling items into the crowd on the 16th hole."
Three years ago, the tour discontinued caddie races for the safety of the caddies, and now players aren't allowed to throw swag gifts to the crowd for "safety reasons"? If you really want to make the 16th hole safe for the fans, stop selling alcohol.
Here's the truth: The Waste Management Phoenix Open loved the caddie races and loved having players interact with fans on the 16th hole, throwing hats, T-shirts, candy or whatever into the crowd. It's part of what makes the hole the Greatest Show On Grass.
Publicly, the tournament is forced to tow the PGA Tour line. When asked whose idea it was to stop these things, the answer is what you'd expect.
"You're going to have to direct those questions to the PGA Tour," said a tournament official who wishes to remain nameless.
The perception? After Tiger Woods declared last week he's playing the event for the first time since 2001, a couple of days later it looks as if the tour is telling the rest of the field how to act.
Maybe the tour should tell fans not to throw oranges or bring a gun to the course, as has occurred previously when Tiger played at TPC Scottsdale.
I would encourage golfers to hand out gifts to fans on the 17th tee, because apparently you're still following the edict. No one who works outside likes being told what to do by a suit who never leaves his desk.
Fake Breaking News! Next year, spectators won't be allowed to watch the 16th hole at TPC Scottsdale during the Waste Management Phoenix Open. The hole will be enclosed in a dome. Only players, caddies and walking scorers will be permitted. Fans will be able to watch the hole on large-screen TVs placed outside the dome. Whew ... fans are safe now!
Real News! "If a player is going by handing them out or flipping them to someone in the first row, that's fine," PGA Tour chief of operations Andy Pazder told The Associated Press. "But not going by throwing things like a Frisbee."
So why the change in policy?
"A fan in public seating in a mad scramble to get a hat is going to hurt himself, or land on top of another person," Pazder told the AP. "I would say to the players, 'Think about the liability.'"
Hmmm. Seems the PGA Tour is good at dancing backwards.
January, 12, 2015
01/12/15
6:04
PM ET
How do you make "the world's most interesting golfer" uncomfortable?
[+] Enlarge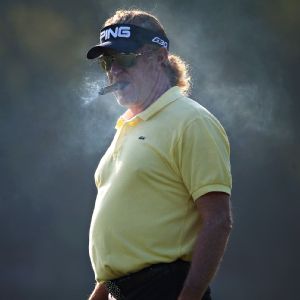 Matthew Lewis/Getty ImagesMiguel Angel Jimenez, 51, might be best known for his pre-round workouts, even becoming a social media sensation in 2014 when other golfers, including LPGA Tour players, tried duplicating his routine.
That's a fun question Mitsubishi Electric is apparently going to get to answer as the company has signed 51-year-old Miguel Angel Jimenez to wear its corporate logo on his golf shirt.
The company has put out some fun commercials already with Fred Couples, Corey Pavin and Fred Funk. "Don't get caught out of your comfort zone" is the hook behind the spots that include awkward karaoke, self-checkout at a grocery store, and a small chainsaw accident, just to name a few.
It won't be easy to find a situation where the famous Spaniard will feel awkward. He's comfortable enough in his own skin to do this in public!
Maybe the new hook will be, "While everyone else gets uncomfortable..."
Jimenez won the 2014 Greater Gwinnett Championship in his Champions Tour debut last April, the week after finishing fourth at the Masters -- his best career finish at the year's first major.
Not bad for a man who stretches out with a cigar in his mouth. We'll be keeping an eye out for a new commercial in the near future.
January, 7, 2015
01/07/15
8:01
PM ET
Rory McIlroy's accolades include major championships and global golf awards. Add the title of one of the most eligible bachelors on the planet to the list.
[+] Enlarge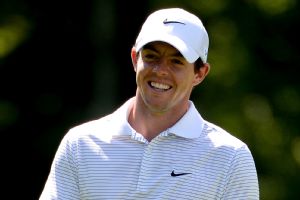 Ross Kinnaird/Getty ImagesRory McIlroy, winner of four major championships at the age of 25, will be shooting to complete the career Grand Slam at the Masters in April.
The 25-year-old Northern Irishman came in at No. 35 in Town and Country magazine's ratings of the top 50 single men.
The current No. 1 golfer in the world ranked as the highest of the eight athletes on the list that included tennis player Marin Cilic (No. 43), Carolina Panthers quarterback Cam Newton (No. 44) and Cleveland Cavaliers big man Kevin Love (No. 50).
McIlroy was also one of 10 men age 25 or younger on the rankings that are dominated by media types, heirs to fortunes and even Kennedys. The average age of the men included was 31.1 years old.
The winner of the past two major championships, McIlroy is expected to begin his 2015 golf season next week in the European Tour's Abu Dhabi HSBC Golf Championship in the United Arab Emirates.
January, 7, 2015
01/07/15
1:22
PM ET
As more players join the PGA Tour, the gap in the world ranking points swings even more toward America.
The average points awarded to PGA Tour winners in 2014 was 56.42, compared with 42.13 for winners on the European Tour. That includes the four majors, for which the winners automatically get 100 points, and the four World Golf Championships, which averaged 73 points for the winner. Remove those eight events from the equation and the average PGA Tour winner received 49.54 points, compared with 32.54 points in Europe.
The PGA Tour points were a slight increase from 2013, while Europe had a slight decrease.
Except for the BMW PGA Championship (the flagship event in Europe that guarantees 64 points to the winner) and the four final events in the Race to Dubai, the Scottish Open had the strongest field for a regular European Tour event, offering 52 points.
The PGA Tour had eight regular events that offered 52 points or more. The strongest field for a regular event was the Memorial, with 64 points to the winner.
As for the playoffs ... the four FedEx Cup playoff events offered an average of 67.5 points to the winner. Meanwhile, the Final Series in the Race to Dubai offered an average of 54.5 points, and that includes the HSBC Champions, a WGC event.