April, 10, 2011
04/10/11
11:18
PM ET
AUGUSTA, Ga. -- College students often ask me what it's like to be a sportswriter, and this is it: killing time at a Waffle House before heading over to Augusta National, papering over nervous energy with hash browns and eggs, trying to rest before Tiger's afternoon tee time. The calm before the storm.
Those moments are what stay with you.
Long after you forget who won, and what you wrote, you will remember these moments with your friends. Especially here. In Augusta, we rent a house every year. It's me, Dan Wetzel from Yahoo! Sports, Brady McCollough from The Kansas City Star, Steve Politi from The Newark Star-Ledger and, this year's newbie, Brendan Prunty. We are old friends, even Brendan, who most of us just met.
[+] Enlarge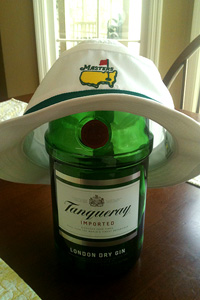 Courtesy of Wright ThompsonHere's to the house.
Something happens when you're on the road, living with each other, covering an event. My wife came to the house one year and, on the way home, told me how cool she thought it was that we'd created a little family. I never thought about it like that -- and I'm not sure that any family should consume as much whiskey and gin as we do -- but I do think of these guys in this house as brothers. There is nothing I would not do for any of them. A bond forms. Maybe it's being away from loved ones, or the stress of deadline, or of the scrutiny that goes with writing, but there is a sense that the people who you see on the road over and over again understand you better than your actual family.
We've grown up together. I was new at the KC Star when I first came here, cocky and desperate to prove myself. Steve Politi, now a beloved local columnist, wrote his first column here, in the same seat he's sitting in now, on Row G. We talked each other through growing pains in journalism. He helped me deal with my father's death, even reading drafts of the stories I wrote about him from here. We talked about meeting Nancy and Sonia, and about getting married. I have a photo of his son, Julian, on my fridge at home. I know this postcard is way personal, really inside baseball, but this is part of the Masters, too. Maybe the most important part.
Writers, golfers, fans, a lot of people rent houses. They live together, cook together, drink together, celebrate together. Families spring up around this event, maybe more so than any other, and I have mine. I look forward to seeing them every year. Sometimes I think about what will be left when we're the old guys, when our stories don't have the zip they once did, surrounded by the cocky, desperate writers we used to be. What will we remember when it's over? What will I think about when I watch the Masters on television?
I think I'll remember my friends most, remember times with Dan and Steve, with Brady and Brendan. In a few hours -- I'm writing this on Saturday afternoon, killing more nervous energy by typing -- we'll go out and watch Tiger. We'll all grind out the scene, looking for angles, trying to write the best story in the house. Trying to kick each others' asses. Then, we'll roll on back to Knollcrest Circle. Like Friday night. After dinner, we had a few drinks before calling it. Steve was telling a story about an old columnist, a man who went to events well into his 70s. Steve asked him why. Why deal with the travel and the arrogant agents and vapid athletes? The guy told him that he did it to see his old friends.
Steve paused. Timing matters a great deal in the house. It is not for the meek.
"They're all dead," Steve said he told the guy.
We laughed, sipping from our drinks and beers. We got a bit sentimental about the bonds formed here, and in Marriott bars from coast to coast and Delta Crown Rooms.
"This is why I enjoy the Masters," Steve said.
Pause. He circled in for the kill.
"When you guys die," he cracked, "I don't still want to be at the Masters."