April, 10, 2011
04/10/11
11:18
PM ET
AUGUSTA, Ga. -- College students often ask me what it's like to be a sportswriter, and this is it: killing time at a Waffle House before heading over to Augusta National, papering over nervous energy with hash browns and eggs, trying to rest before Tiger's afternoon tee time. The calm before the storm.
Those moments are what stay with you.
Long after you forget who won, and what you wrote, you will remember these moments with your friends. Especially here. In Augusta, we rent a house every year. It's me, Dan Wetzel from Yahoo! Sports, Brady McCollough from The Kansas City Star, Steve Politi from The Newark Star-Ledger and, this year's newbie, Brendan Prunty. We are old friends, even Brendan, who most of us just met.
[+] Enlarge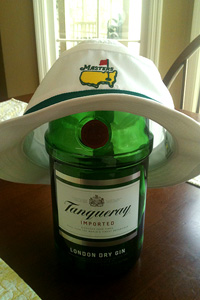 Courtesy of Wright ThompsonHere's to the house.
Something happens when you're on the road, living with each other, covering an event. My wife came to the house one year and, on the way home, told me how cool she thought it was that we'd created a little family. I never thought about it like that -- and I'm not sure that any family should consume as much whiskey and gin as we do -- but I do think of these guys in this house as brothers. There is nothing I would not do for any of them. A bond forms. Maybe it's being away from loved ones, or the stress of deadline, or of the scrutiny that goes with writing, but there is a sense that the people who you see on the road over and over again understand you better than your actual family.
We've grown up together. I was new at the KC Star when I first came here, cocky and desperate to prove myself. Steve Politi, now a beloved local columnist, wrote his first column here, in the same seat he's sitting in now, on Row G. We talked each other through growing pains in journalism. He helped me deal with my father's death, even reading drafts of the stories I wrote about him from here. We talked about meeting Nancy and Sonia, and about getting married. I have a photo of his son, Julian, on my fridge at home. I know this postcard is way personal, really inside baseball, but this is part of the Masters, too. Maybe the most important part.
Writers, golfers, fans, a lot of people rent houses. They live together, cook together, drink together, celebrate together. Families spring up around this event, maybe more so than any other, and I have mine. I look forward to seeing them every year. Sometimes I think about what will be left when we're the old guys, when our stories don't have the zip they once did, surrounded by the cocky, desperate writers we used to be. What will we remember when it's over? What will I think about when I watch the Masters on television?
I think I'll remember my friends most, remember times with Dan and Steve, with Brady and Brendan. In a few hours -- I'm writing this on Saturday afternoon, killing more nervous energy by typing -- we'll go out and watch Tiger. We'll all grind out the scene, looking for angles, trying to write the best story in the house. Trying to kick each others' asses. Then, we'll roll on back to Knollcrest Circle. Like Friday night. After dinner, we had a few drinks before calling it. Steve was telling a story about an old columnist, a man who went to events well into his 70s. Steve asked him why. Why deal with the travel and the arrogant agents and vapid athletes? The guy told him that he did it to see his old friends.
Steve paused. Timing matters a great deal in the house. It is not for the meek.
"They're all dead," Steve said he told the guy.
We laughed, sipping from our drinks and beers. We got a bit sentimental about the bonds formed here, and in Marriott bars from coast to coast and Delta Crown Rooms.
"This is why I enjoy the Masters," Steve said.
Pause. He circled in for the kill.
"When you guys die," he cracked, "I don't still want to be at the Masters."
April, 10, 2011
04/10/11
9:28
PM ET
AUGUSTA, Ga. -- They came in from the late afternoon heat. Members and guests, mothers and agents, wives and friends, filling Grill Room tables, standing by the bar or collapsing in the cushy parlor next door. Sweet air conditioning blew hard from the vents in the ceiling. Laughter rolled off the blond wood walls. Blenders buzzed. The crowd got louder the more drinks that crossed that old-school bar, and the more wild the golf on the televisions became. Some didn't care who won, rooting for the shootout. Others cared a great deal.
Nobody could do anything but watch. The final hour of a chaotic Masters had arrived.
Outside, the galleries packed together, exhausted, shirts soaked through, skin deep pink. For an entire day, they rose and fell with the golfers they followed, only to arrive at the end having seen just a sun-burned prelude. Inside, the Grill Room crowd grew. The mood was tense. Everyone stared at the televisions on the far wall.
Tiger Woods' mom sat at a corner table, slowly sipping a drink. Her son was the new leader in the clubhouse. She focused at the screen: Adam Scott at 12 under and Charl Schwartzel at 11. Schwartzel's agent sat two tables away. He and Kultida Woods didn't speak.
Geoff Ogilvy walked through the room, accepting congratulations for his back-nine 31. He'd also carded a 10-under, tied with Woods. He needed a collapse by the golfers still on the course to have a chance to win. He, too, could do nothing but watch. First, he needed to find his wife.
"You seen Juli?" he asked.
She was just a few steps behind him, sinking into the couch after a long round, apologizing for being so sweaty. Golfers' wives are better at the watching than golfers; they have years of practice, standing to the side, helpless.
The tournament was about a half hour from ending, and anyone could win. Ogilvy and Woods were just two back, and the last few holes at Augusta National have derailed generations of would-be winners. Ogilvy joked about having no shot, but he didn't stop watching. He believed.
Tiger Woods did not.
Stevie Williams trudged past the window, carrying Tiger's clubs. The leaders dueled on the course. Stevie popped the hatch on the black Mercedes SUV, and as he put the clubs inside, a roar came in fast. He didn't turn around. Tiger was going home. Close isn't close enough, and time is not his friend.
[+] Enlarge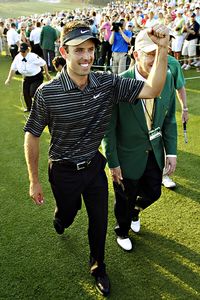 AP Photo/Dave MartinCharl Schwartzel leaves No. 18 as the 2011 Masters champion.
Schwartzel got to 12-under, tying Adam Scott, and the golfers in the locker room headed to the parking lot, too. Bubba Watson walked out, carrying a FedEx box and a pink-shafted driver. Juli Ogilvy returned from the bar and looked over at Geoff. He was still just two shots back.
"You want a drink?" she asked.
"When I'm out of it," he said.
With every move shown on televisions in the Grill Room, Scott and Schwartzel didn't lose strokes. They gained them. Ogilvy looked at the leaderboard and, finally, knew his Masters was finished.
"I'll start drinking now, eh?" he said, smiling.
Schwartzel birdied 17.
Tiger's mom stood up from her table and left. The winnowing happened fast now. Just an hour ago, a half dozen golfers dreamed, grinding each shot, all with a shot of winning, their families and friends living and dying alongside. Now they slipped away.
Ogilvy came into the room with his golf bag.
"Ready?" he asked.
His wife grabbed her purse. She hugged K.J. Choi's wife, who watched her husband bleed strokes coming home. Not long ago, Choi had been in the hunt. Like Ogilvy and Woods, he believed. But memories like that have a tiny half-life, and once hope is gone, it's hard to remember what it ever felt like at all. Choi bogeyed 17. He missed a par putt at No. 18, and when the final putt dropped, his family hurried out the door.
Only Schwartzel remained. His closing birdie gave him a two-shot win. The cameras found his wife, as the other wives gathered up children and headed to the next town. His agent, who'd enduring the stress a table away from Tiger's mom, wrapped him in a hug. The grill room began to clear, the blenders soon to be silent, the televisions soon to be dark. Outside, under the Big Tree, the air cooled. Even the heat was a memory now.
April, 10, 2011
04/10/11
5:37
PM ET
AUGUSTA, Ga. -- Jim met his best friend in college. They clicked instantly, bonding over their favorite sport, golf, and their favorite place, Augusta National. Over the years, they went to 10 or more Masters together. They'd usually find their way to the back side of No. 3 green, or out to Amen Corner. It was their thing.
A year ago, as the Masters approached, Jim was in the hospital, cancer eating away at him. On Friday of that year's tournament, he was released. His best friend, who isn't named here because he didn't want to risk having his Masters tickets revoked, went to see him. They sat in front of a television and, like old times, watched the third round together. The next day, his best friend went home and Jim went back into the hospital. Within a week, he'd be dead.
His will revealed a special request.
He wanted his ashes spread at his favorite place in the world.
So this past Thursday, his best friend put some of Jim's ashes into a prescription medicine bottle. He drove to Georgia from Tennessee. At the gate, he emptied his pockets for the security guards, heart pounding, scared they'd see Jim and throw him away. Nobody noticed.
He walked around the course, remembering good times, saying a prayer here and there. He poured out some behind the third green, and he made his way to Amen Corner. The final group of the day came through and the fans cleared out.
Silence returned to the pine trees as Jim found his final resting place.
April, 10, 2011
04/10/11
3:47
PM ET
AUGUSTA, Ga. -- The directions begin on page 17 of the Spectator Guide. The byline is Robert Tyre Jones, Jr. He first wrote the letter in 1949 and, despite everything changing about the game of golf, his advice holds up. In his simple prose, he directs fans around the course, telling them where to stand and what to look for while they're standing there. He begins with a viewing area behind the No. 2 green, a short five-minute walk from the main scoreboard.
This happens to be one of the most attractive gallery centers I've seen on any course. Within a radius of 100 yards, one may observe fives scenes of action. For my part, I shall first want to watch some of the second shots to No. 2 Green.
Tiger Woods looks down the barrel of the par 5, between the two bunkers, at the second green. His tee shot landed in the trap, and he was forced to lay up. Woods seemed small in the distance, a bright red shirt against black pants. The colors, once intimidating, seem sort of sad when he's struggling.
"He's still in Sunday clothing," a fan standing by the green says.
[+] Enlarge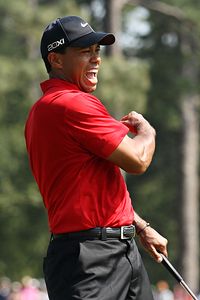 Andrew Redington/Getty ImagesTiger Woods making a charge Sunday.
Woods launches the ball high into the air. It bounces, turns and snuggles up to the hole. The fans five and six deep around the green, following Jones' advice, yell and clap.
Woods rolls in the birdie putt.
Next, let us move a few steps to No. 3 tee to watch some drives. The problem here is to place the tee shot on the right-hand side of the fairway -- the favored position from which to approach the green -- avoiding any tendency to hook which might mean bunker trouble.
Tiger is close enough to touch. He reaches over to his bag and rips off the driver cover. That's enough to send a shock through the crowd.
"Yeah!" several people yell.
Everyone claps in anticipation.
Stevie Williams points into the distance -- toward the right-hand side of the fairway? -- and Tiger peers down range. Woods crushes the ball, walking after it a few steps. He likes it. Williams opens a bottle of water and finishes it in two gulps. Both men wait. When Martin Laird's driver makes contact, a loud metallic whack, Williams wheels around to get the bag. Tiger immediately starts walking to his ball.
Another few paces and we are now watching approach shots to the No. 7 postage-stamp green. This is the only heavily bunkered and, along with No. 12, the only small sized greens on the course. While the second shot is normally played with a short iron, the judgment of distance and wind must be very accurate and the shot well struck in order to stop it on the putting surface.
Forrest and Karen Robinson stand just to the side of the green, waiting on players in the next group to hit their shots. Forrest was here in 1997 when Tiger won for the first time. He and his son, Matt, drove over from Atlanta. Matt was on the high school golf team, just six years younger than Woods, and both he and his dad realized they were seeing the game changed before their eyes. Tiger hit the ball farther, with more action, than anyone they'd ever seen.
"You could feel the electricity," Forrest says. "It was unbelievable because everyone was following Tiger. You got caught up in the river of people flowing with him."
Forrest and Karen watch Tiger making his way down the third fairway.
"He doesn't have the crowds with him like he did back then," Forrest says.
Their house is divided on Tiger. Forrest wants him to get his mojo back. His wife? Not so much.
"She doesn't care for him at all," he says.
"I pull for him to lose," she says.
"I can separate the personal from the professional," he says.
The No. 8 tee is next door, where the tournament players are called upon to make a carry of about 305 yards over a large bunker in order to reach the favored position on the right center of the fairway.
The crowd is thin, waiting on Lee Westwood and Steve Stricker to arrive at the tee. The scoreboard rises steep above them. The fans see the numbers go up next to Tiger's name: birdie, birdie. He's at 7-under and Rory is just now making his way to the first tee. George Mize, from Columbus, Ga., sees the score and turns to a buddy.
"Tiger birdied," he says. "This is gonna get interesting, my friend. I hope he can get close to 12. If he can do that, he can put some fire down Rory's neck."
April, 10, 2011
04/10/11
1:07
PM ET
AUGUSTA, Ga. -- This morning, a feature I wrote ran on "SportsCenter." It's the story of a special relationship between Jack Nicklaus and a boy named Craig Smith, and how that bond is one of the great untold stories of the 1986 Masters. I hope you like it. One quick personal note, since part of what I'm trying to do this week is show you behind-the-scenes moments. In the television pieces I've done, I've learned that the producers do the lion's share of the work, and they often don't get public credit. So, a big thanks to producer Tina Cerbone, who deserves much of the credit for this piece.
April, 9, 2011
04/09/11
9:05
PM ET
AUGUSTA, Ga. -- Kultida Woods took a few steps to the right and leaned for a better view of her son. She fanned herself with a pairing sheet, the blistering afternoon a sauna, she told her friends. She clutched a bag with her Masters souvenir cups inside. A big floppy hat kept her hidden as she followed Tiger around the course. She must've awoken this morning with high hopes. All his fans did. Maybe today, he could reclaim some of the things he's lost in the past year and a half. Just behind her, a step away, a fan said softly to a buddy, "This is supposed to be moving day, and Tiger's going in reverse."
A friend patted Tiger's mom on the back.
Everyone fell silent around the fifth green. Woods lined up his putt, a chance for a birdie that could get him back to 7 under and change the tenor of the day. It tracked, closing on the hole, and, like at least a half dozen putts during his disappointing Saturday, missed by an inch or two.
Kultida Woods saw how close her son had come, and she turned away.
"Oh, my God," she said.
___________
One day, Tiger Woods will be replaced by the generation of golfers he inspired. It's inevitable. The only question is when.
[+] Enlarge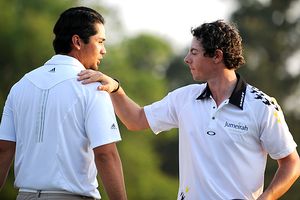 Robyn Beck/AFP/Getty ImagesRory McIlroy, right, pats Jason Day after they finished their round Saturday at the Masters.
How long can he hold them off?
On Saturday, the crowd at Augusta National found itself witness to one of those rare but beautiful moments in sports. The old and new would go head to head, trying to win, of course, but also fighting for something more elemental. The stage was set.
The next-to-last group featured Woods, whose back nine charge on Friday put him 7 under. That was just three back of Rory McIroy, and one back of Jason Day, who were 7 and 8, respectively, when Woods' historic win at the 1997 Masters lit something inside of them. Tiger grew up with Jack on his wall. Rory and Jason grew up with Tiger on theirs. So, with the three of them so close, the question was in the air as fans lined the fairways:
Would today be that day?
The galleries swelled as Tiger moved along the front nine. He hit the ball beautifully for the most part. That's the thing you notice up close. Woods' game, supposedly in free fall, isn't off by much. A lip out on No. 1. A lip out on No. 2. On No. 3, he birdied, and the crowd sensed something. When the ball dropped in, his PR guy, Glenn Greenspan, nodded and walked quickly to the next hole. At some point, his people hope, Tiger Woods will find his game again.
Would today be that day?
He stepped to the fourth hole, a par 3. His swing coach, Sean Foley, stood behind the tee. Tiger's mom walked past, and he reached out and touched her arm.
"I'm OK," she said, hurrying to get in position.
Tiger addressed the ball, the hole an amphitheatre of green and pastel before him. He hit it way left. The crowd groaned. A fan, Loel Heupel from Sacramento, Calif., recognized Foley and eased up next to him.
"Was that a 3-iron?" Heupel asked.
"Probably 4," Foley said, "because he was trying to hit a draw."
Foley walked off in the opposite direction, while Tiger's mom and her entourage continued the slow march around Augusta. They watched the leaderboard. They saw the new names. Was this how Palmer felt when he saw Nicklaus? How Nicklaus felt when he saw Watson? Day had birdied two of the first three holes and now stood tied with McIlroy. Tiger Woods' attorney turned to his agent. Everyone was scoreboard watching.
"Jason Day is at 10," he said.
Jason Day was 8 years old in 1997. He watched the Masters, saw a young golfer bludgeoning the old guys, opening a door to brash kids all over the world. One day, he decided then and there, he would play the Masters. Now, he was tied for the lead as Tiger's mom, agent and attorney watched the numbers go on the board.
Rory McIlroy was 7 years old in 1997. He's said time and again he's not afraid of Tiger. He's a kid; the other day, he got chided by his Augusta rental house neighbor for making too much noise throwing a football around. He's just 21 now, with a leggy girlfriend and a mop of hair. He and Day are part of the future, and their time is coming.
The afternoon slipped away, with fans moving between the two groups. Nobody really made a move. At the end of the day, McIlroy would make up two shots, Woods would drop two and Day would stay exactly the same. There were no fireworks or meltdowns, really, just two young guys trying to stay on track and Tiger Woods trying to keep himself in the hunt. That's sort of the perfect outcome, really.
Eras don't give way neatly. Generations lose their grip a little at a time, an inch here, an inch there, a failed draw, a lipped put. Every day, McIlroy gets a little closer to reaching his potential and Tiger, now 35, gets a little further away from the golfer he used to be. That doesn't mean McIlroy has fully arrived or that Tiger won't win another half dozen majors. But it is now clear in hindsight that time has always been Woods' most dangerous competitor. He once was better than anyone else who'd ever played the game. Is that person still inside him?
The old Tiger seems so close sometimes. On the front nine Saturday, he stood over yet another potential birdie putt. He lined it up and gave it a whack, the ball rolled straight at the hole. Something returned. He began a theatrical backpedal, ready to fist pump.
The putt lipped out.
Moments later, there was a huge roar. Jason Day has birdied to take a brief lead. Tiger Woods' mom walked down a hill to the next hole, leaving the echoes behind her in the trees.
___________
This is but the first of many battles. There will be no clean baton pass. Everyone knows how dangerous Tiger can be, which is why, near the end of the day, McIlroy's agent, Chubby Chandler, stopped dead in the middle of the ninth fairway. Rory seemed safe, at 11 under, soon to be 12, four shots up going into Sunday. And Tiger spent the back nine searching for rhythm. This seemed like another round that would begin with promise and end with a whimper. So Chandler was walking toward the clubhouse when a noise hit him, one of the loudest roars of the day. He stopped mid-step, like a cartoon character, and turned to listen.
[+] Enlarge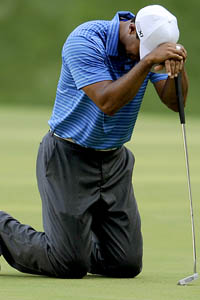 Timothy A. Clary/AFP/Getty ImagesTiger Woods reacts after missing a putt Saturday.
Tiger had birdied 13.
He was back to 6 under.
Two holes later, on the vulnerable par-5 No. 15, a ball flew over the water and landed on the green. Kultida Woods struggled to see over the wall of people in front of her. Who hit that shot?
"That's him," a man in her entourage said.
"That's Tiger," a woman said.
"That's makeable," his agent told her, "Twenty-five feet."
They held their breath. An eagle would put him at 8 under, in perfect striking position. This is his shot. A year and a half of scandal and a collapsed game. Can he finally leave that in the past?
He lined up the eagle putt. He missed. His mom asked how far for a birdie.
Four to five feet, they told her.
Kultida Woods stood still and watched her son hit the putt.
He lipped it out.
Wright Thompson is a senior writer for ESPN.com and ESPN The Magazine. He can be reached at wrightespn@gmail.com.
April, 9, 2011
04/09/11
1:18
PM ET
AUGUSTA, Ga. -- The roars at Augusta are different. I know it's been said, over and over again, but that's because it's true. Yesterday, Rory McIlroy walked off the 18th green with the tournament under control. Then he heard the echoes from the other side of the golf course. He knew right then: Tiger. His night got immediately more restless. Yes, McIlroy said he's not scared. I can't see inside a man, but I'd bet anything that isn't true. I bet he was thinking of Tiger when he went to sleep and again when he awoke. That roar had to have gone home with him. There's no other noise like it in sports, and few people know what it's like to have that directed at you, to be in the eye of the storm.
One man who does know is Jack Nicklaus.
This is a television essay I wrote about a few of his roars from 1986.
April, 8, 2011
04/08/11
7:12
PM ET
AUGUSTA, Ga. -- Trevor Immelman left the courtesy car, driven by a man who looked like his dad, and headed toward the Champions Locker Room. In 2008, he won this tournament.
[+] Enlarge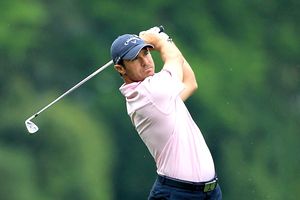 David Cannon/Getty ImagesTrevor Immelman is at 2-under par heading into Saturday.
"I'm just gonna change my shoes," he said. "You want a drink?"
"Water," the woman in the back said.
The car pulled up to the green awning at Founder's Circle and soon, Trevor came down, water bottles in hand.
"You back tomorrow?" a security guard asked.
Trevor nodded yes. He was 2-under.
"Good, good, good," the security guard said.
Trevor Immelman climbed in the passenger seat and rode down the shaded Magnolia Lane, a long way back but still in the game. He seemed relaxed. At ease. He's won his Masters and will come back to this clubhouse long after his young kids have kids of their own.
__________
A few hours later, Rory McIlroy and Jay Day walked out of Butler Cabin, not far apart but absolutely not together. One of them might be the next Immelman. McIlroy is 10-under. Day stood two strokes behind. Headed into the weekend, they are one-two in the Masters, with 36 holes between them and a future with a much different trajectory. They didn't speak. They were just feet away. Finally, as the carts began to move, a little smile. But that was it.
They would see plenty of each other tomorrow.
April, 8, 2011
04/08/11
4:46
PM ET
[+] Enlarge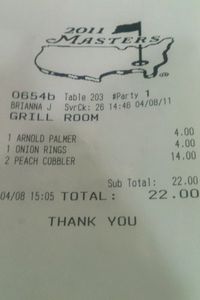 Wright Thompson/ESPNThe bill.
AUGUSTA, Ga. -- There are signs that a place is authentic, little touches that cannot be faked. Follow me past the two security guards to the white door with the brass plaque: Grill Room. The tables and chairs are sturdy. A rack of famous golf clubs is down at one end and, at the other, the computer where I once saw Davis Love and David Duval's kids checking the cut line to see whether their dads were staying for the weekend. The bar's got a good selection of scotch, and their Arnold Palmers are done in a Martini shaker to give 'em a froth. Walk past all that. On each table, with the ketchup and mustard, is a bottle of Durkee Famous Sauce. It's a sandwich condiment, mainly, one with a long history. According to the Durkee people, abandoned bottles of the stuff have been found buried by time near old wagon trails. Supposedly, it was in Lincoln's White House. But mainly, it is a staple of Southern ladies who lunch. My grandmother wouldn't eat a sandwich without it. My mom keeps it in her fridge. I keep it in mine. I see it almost nowhere. So, the first time I came to the Masters, I was stunned for a moment when it appeared on the Grill Room table. Earlier today, I sat for lunch with Bev Norwood, an IMG veteran who used to handle Tiger Woods' PR. We split a club sandwich, and when I uncapped the Durkees, he looked at it and, like most everyone not from the South, asked what I was putting on my sandwich. I was proud to tell him it was the same thing that my grandmother put on hers.
April, 8, 2011
04/08/11
3:31
PM ET
AUGUSTA, Ga. -- There are two people sitting in chairs by the clubhouse door. A man and a woman. She is 87 years old and carries a cane. He is 92 and wears a green jacket. They are watching the world go past, a blur of the famous and well-healed, circling the big tree, headed up to the veranda for a bite or a drink. Life is good in the shade.
"What are you teenagers doing out here?" a passing member asks.
"We're just tearing up the place," Louise Suggs says.
[+] Enlarge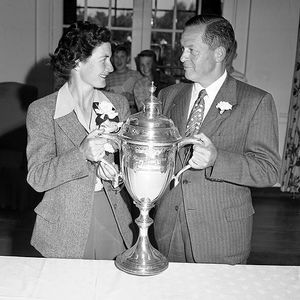 AP Photo/Rudolph FairclothBobby Jones presents a silver trophy to Louise Suggs, then of Lithia Springs, Ga., after she won the Southern Women's Golf Championship in Atlanta on May 10, 1947.
"We ain't doing bad," Dan Yates says. "I can tell you that."
They are familiar faces at Augusta National. He's a longtime member, and she's a golfing legend: co-founder of the LPGA Tour and winner of 11 professional majors, including two U.S. Opens and the U.S. and British Amateurs. They are two of an ever-shrinking pool of people who actually knew Bobby Jones.
"I'm probably the last living person that actually played with Bob," Suggs says.
Suggs and Yates grew up in Atlanta. Yates' family lived by the fourth tee at East Lake Golf Club, Jones' home course. As a kid, Yates often tagged along when Jones played, following him into the clubhouse, where the legend would buy Cokes for the kids. Jones kept a bag of spare clubs -- "the grab bag," he called it -- and he'd bring wide-eyed boys over to it and point. "He'd let us kids reach in there and grab one," Yates says, "and if we liked it, he'd let us keep it."
He was always Mr. Jones to the kids. They all knew his legend, about the Grand Slam and the class and dignity he brought to the game. They watched how he walked through the world and hoped to someday do the same.
"The epitome of a Southern gentleman," Suggs says.
Despite his fame, Jones didn't take it for granted that people knew his name, even though he always remembered theirs. Every time he'd see Suggs, he's stick out his hand and say, "Hi, Louise, I'm Bob Jones." Finally, she told him to quit.
"I grew up in Atlanta," she says. "I could say Bobby Jones before I could say mama and daddy."
They knew him when he could still play golf. When Yates was just a kid, years before he received a personal letter from Jones inviting him to join Augusta National, Jones gave him some golf advice: Remember two things. The first thing is don't try to remember more than one thing. Also remember to stay behind the ball.
"Every time I've hit a golf ball," Yates says, "I've tried to remember that."
"I tried to pattern my swing after his," Suggs says.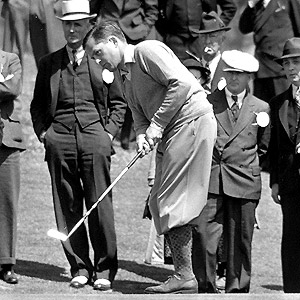 AP PhotoBobby Jones putts during the opening round of the Masters golf tournament at Augusta National on April 1, 1937.
She played with him at an exhibition in 1948, the year Jones competed in his final Masters. His health was declining quickly by then. Soon, one of the greatest golfers who ever lived wouldn't be able to play golf. But he never left the game. He spent time safe behind the walls of Augusta in his cabin on the side of a fairway when he could no longer walk. He could only look at the green grass of No. 10 and remember. Yates and Suggs would see him there, at the club he founded, first with a cane, then in a wheelchair. His body failed him a little more every day.
Yates still gets emotional thinking about seeing a frail Jones playing bridge in his cabin. The cards were held in front of him and he'd knock one over when he wanted to play.
"He loved to hunt and fish," Yates says. "He loved to play bridge."
Jones died in 1971. Something happened afterward. He became a logo. A symbol of something gone, and a hope for something retained. This tournament, which he founded, became a monument to him. Now he's an idea, an ideal. In the Masters program handed out to spectators, his advice for watching the tournament is printed, written in 1949. He hovers over this place.
"You can't help but think about him," Suggs says. "This is the house Jones built."
Yates and Suggs sit in these chairs and let their old friend wash over them. They tell stories -- one about Jones and his father, a foul-mouthed ex-colonel, beating Dan's brother and their Methodist preacher and the preacher commenting afterward that they stood little shot of overcoming the combination of profanity and proficiency. They laugh and smile. Yes, life is good in the shade.
It's getting close to lunchtime.
They'll eat and later return to these seats. Another Masters swirls around them, and their old friend seems close again. Yates and Suggs feel his presence. As long as there are people here who knew him, some part of Jones remains, a story by the front door of the clubhouse, a shadow at the first tee, a whisper on the porch of the Jones Cabin at sunset, the shuffle of cards, the tinkle of ice, the deep, rich baritone of a forgotten South.
"His ghost is here," Suggs says.