A caddie's story
April, 6, 2011
04/06/11
7:06
PM ET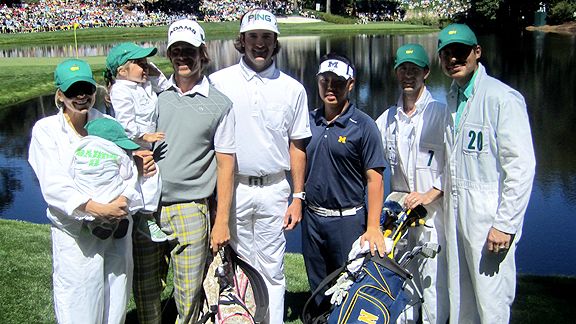 Courtesy Chris WhittenChris Whitten -- he's in the No. 7 bib -- caddied Wednesday at Augusta National.
AUGUSTA, Ga. -- This photo will sit in Chris Whitten's office, or maybe his house, for the rest of his life. He's the guy wearing the No. 7 bib. What will he remember about the day it was taken? The sun was warm, the smell of flowers and pine trees strong. Huge crowds swelled around the pond. When the afternoon began, he was part of that crowd.
He'd come down from his job as a Michigan assistant golf coach with phenom amateur Jun Min "Lion" Kim. It was a Wednesday. He'll remember that detail. The Par 3 Tournament. He stood in the crowd, watching, happy just to be here. Then, Kim's swing coach found him in the mass and asked if he'd like to take over as caddie. Whitten didn't say anything. Will he remember the nerves rising in his gut? The swing coach looked him in the face and said, "Just say yes."
Whitten hurriedly changed into the white overalls and, on the second tee, he was a caddie. The time flew past, and it was over. Will he remember standing on the side of the final green, looking at his green caddie's cap, with the cardboard still in place, and say, a kid again, "I think I get to keep the hat"? Will he remember asking the group to pose for a picture and having the pros, Bubba Watson and Aaron Baddeley, wait there for everyone to gather?
Everyone stood on the bank of the pond, smiles and handshakes, and Whitten said, quietly, "Don't fall in the lake. Don't fall in the lake." They all posed, two famous pro golfers, Baddeley's wife and his two little girls, one of whom had just drained a putt to a roaring applause and a high-five from dad. They crowded together, looked into the camera. Well, most of them. Jolee, 10 months old, slept in a bundle in her mama's arms. Jewell, 2½, stuck a finger in her ear. The shadows stretched and the camera clicked, and everyone went their separate ways: Baddeley with his family, Bubba to the pin to taunt his buddy Rickie Fowler, who was hitting next into the green; Kim to get ready for his round, and the career that will follow it. Whitten slipped out of the white bib, back into street clothes. He blended into the crowd, the day now the property of his memories and a photograph that he'll always keep.