The links to Bobby Jones
April, 8, 2011
04/08/11
3:31
PM ET
AUGUSTA, Ga. -- There are two people sitting in chairs by the clubhouse door. A man and a woman. She is 87 years old and carries a cane. He is 92 and wears a green jacket. They are watching the world go past, a blur of the famous and well-healed, circling the big tree, headed up to the veranda for a bite or a drink. Life is good in the shade.
"What are you teenagers doing out here?" a passing member asks.
"We're just tearing up the place," Louise Suggs says.
[+] Enlarge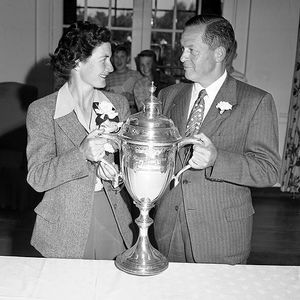 AP Photo/Rudolph FairclothBobby Jones presents a silver trophy to Louise Suggs, then of Lithia Springs, Ga., after she won the Southern Women's Golf Championship in Atlanta on May 10, 1947.
"We ain't doing bad," Dan Yates says. "I can tell you that."
They are familiar faces at Augusta National. He's a longtime member, and she's a golfing legend: co-founder of the LPGA Tour and winner of 11 professional majors, including two U.S. Opens and the U.S. and British Amateurs. They are two of an ever-shrinking pool of people who actually knew Bobby Jones.
"I'm probably the last living person that actually played with Bob," Suggs says.
Suggs and Yates grew up in Atlanta. Yates' family lived by the fourth tee at East Lake Golf Club, Jones' home course. As a kid, Yates often tagged along when Jones played, following him into the clubhouse, where the legend would buy Cokes for the kids. Jones kept a bag of spare clubs -- "the grab bag," he called it -- and he'd bring wide-eyed boys over to it and point. "He'd let us kids reach in there and grab one," Yates says, "and if we liked it, he'd let us keep it."
He was always Mr. Jones to the kids. They all knew his legend, about the Grand Slam and the class and dignity he brought to the game. They watched how he walked through the world and hoped to someday do the same.
"The epitome of a Southern gentleman," Suggs says.
Despite his fame, Jones didn't take it for granted that people knew his name, even though he always remembered theirs. Every time he'd see Suggs, he's stick out his hand and say, "Hi, Louise, I'm Bob Jones." Finally, she told him to quit.
"I grew up in Atlanta," she says. "I could say Bobby Jones before I could say mama and daddy."
They knew him when he could still play golf. When Yates was just a kid, years before he received a personal letter from Jones inviting him to join Augusta National, Jones gave him some golf advice: Remember two things. The first thing is don't try to remember more than one thing. Also remember to stay behind the ball.
"Every time I've hit a golf ball," Yates says, "I've tried to remember that."
"I tried to pattern my swing after his," Suggs says.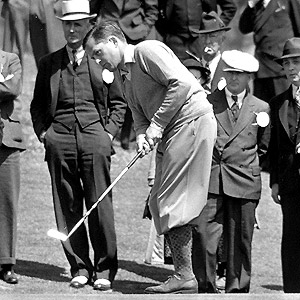 AP PhotoBobby Jones putts during the opening round of the Masters golf tournament at Augusta National on April 1, 1937.
She played with him at an exhibition in 1948, the year Jones competed in his final Masters. His health was declining quickly by then. Soon, one of the greatest golfers who ever lived wouldn't be able to play golf. But he never left the game. He spent time safe behind the walls of Augusta in his cabin on the side of a fairway when he could no longer walk. He could only look at the green grass of No. 10 and remember. Yates and Suggs would see him there, at the club he founded, first with a cane, then in a wheelchair. His body failed him a little more every day.
Yates still gets emotional thinking about seeing a frail Jones playing bridge in his cabin. The cards were held in front of him and he'd knock one over when he wanted to play.
"He loved to hunt and fish," Yates says. "He loved to play bridge."
Jones died in 1971. Something happened afterward. He became a logo. A symbol of something gone, and a hope for something retained. This tournament, which he founded, became a monument to him. Now he's an idea, an ideal. In the Masters program handed out to spectators, his advice for watching the tournament is printed, written in 1949. He hovers over this place.
"You can't help but think about him," Suggs says. "This is the house Jones built."
Yates and Suggs sit in these chairs and let their old friend wash over them. They tell stories -- one about Jones and his father, a foul-mouthed ex-colonel, beating Dan's brother and their Methodist preacher and the preacher commenting afterward that they stood little shot of overcoming the combination of profanity and proficiency. They laugh and smile. Yes, life is good in the shade.
It's getting close to lunchtime.
They'll eat and later return to these seats. Another Masters swirls around them, and their old friend seems close again. Yates and Suggs feel his presence. As long as there are people here who knew him, some part of Jones remains, a story by the front door of the clubhouse, a shadow at the first tee, a whisper on the porch of the Jones Cabin at sunset, the shuffle of cards, the tinkle of ice, the deep, rich baritone of a forgotten South.
"His ghost is here," Suggs says.