Category archive:

Louis Oosthuizen
March, 31, 2013
03/31/13
8:22
AM ET
By
Farrell Evans, ESPN.com
HUMBLE, Texas -- Louis Oosthuizen has one of the best golf swings in the world. With that fluid move, it's easy to predict he would be in contention in every event he enters.
Last year, Oosthuizen took a 2-shot lead into the final round in Houston, but he threw it away with a 5-over 41 on the front nine at the Tournament Course at Redstone. The 30-year-old South African, who shocked the world with a 7-shot win in the 2010 Open Championship at St. Andrews, finished third in Houston.
Up to that point in the season, Oosthuizen hadn't done much in his previous starts. Houston seemed to light a fire in him that peaked in the final round of the Masters, when he made a double-eagle at the par-5 second hole on his way to a playoff loss against Bubba Watson.

After a 7-under 65 on Saturday in the third round in Houston, Oosthuizen is in a similar place as he was at this time last year. With a 9-under total, he is 2 shots back of the lead shared by Stewart Cink and Bill Haas.

On Saturday, he had a difficult time explaining his good play in the Bayou City.

"I don't know," he said. "Probably the excitement of playing Augusta in two weeks. [Redstone] is a great track. I think it's a great way to get yourself ready for Augusta.

"I need to tidy up some shots. I hit it really well today and made some putts. The key to playing well at Augusta is making putts."

Come Sunday, look for Oosthuizen to apply some pressure on the leaders.

"It's always a bit easier chasing," he said. "Early on is very important in the final round of chasing. You need to start well, make a couple of birdies the first six, seven holes just to show your face and just keep the pressure on."

Slow down

Remember Billy Horschel? He's the 26-year-old former Florida Gator who played the last 36 holes of the Farmers Insurance Open in January with Tiger Woods. He's the guy who shot 66-69 in his first two rounds at Torrey Pines, then went 76-75 under the microscopic of the GOAT and his throng of followers.

The Shell Houston Open could present a great learning experience for the Grant, Fla., native, whose best career finish on the PGA Tour is a third at the 2012 True South Classic.

At 9 under after a 5-under 67 on Saturday in the third round, Horschel has a good chance on Sunday of winning his first tour title.

"The more I get into contention, the more I get comfortable with it," Horschel said. "I just got to keep doing what I'm doing. I don't need to worry about anything else but focusing on my game. I can't worry about what this guy is doing or that guy. "

Horschel has also had to learn how to slow down. He said he's learned to be a little bit more deliberate and careful before he hits a shot.

When things go bad in a round, he tends to get faster and more reckless.

Twice this season, he has failed to break 80. Last week in the final round at Bay Hill, he shot an 85.

"When I'm playing good, it's no big deal," Horschel said. "But when things are going a little sideways, I get quicker and quicker. If I can just stay composed and patient and not rush through everything, I will be fine."

Season streak

Will the run of American winners continue in Houston?

The top six players on the leaderboard are Americans. Oosthuizen and Lee Westwood have the best chance of stopping the streak of American winners on tour from extending to 16 straight.

The run of American winners dates back to November, when Tommy Gainey took the McGladrey Classic.
February, 22, 2013
02/22/13
5:23
PM ET
By
Farrell Evans, ESPN.com
MARANA, Ariz. -- I doubt when you filled out your WGC-Accenture Match Play bracket you had all four No. 1 seeds out after the second round. I doubt you had Tiger Woods and Rory McIlroy both losing in the first round.
[+] Enlarge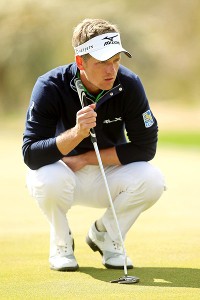 Darren Carroll/Getty ImagesLuke Donald lost Friday, 7 and 6, to Scott Piercy to become the third No. 1 seed to lose in the first two rounds of the 2013 WGC-Match Play. Later in the day, the fourth No. 1 seed, Louis Oosthuizen, dropped his match with Robert Garrigus 3 and 2.
After David killed Goliath and his twin brother Thursday, I doubt you had Luke Donald losing 7 and 6 to Scott Piercy in Round 2. You might not have been as strident about Louis Oosthuizen beating Robert Garrigus, but you probably took in consideration his Open Championship and Masters runner-up finish in your analysis of that match.
Anyhow, what you learned is that Garrigus is very dangerous after his 3 and 2 win over the South African.
With Donald and Oosthuizen going down Friday, all four No. 1 seeds are out of these matches.
On paper, it looks very bad, but in reality, it's really not a surprise. Beyond the unpredictability of match play, Piercy's win was not surprising considering that this is his sixth event in a season that includes a third-place finish in Phoenix.
Meanwhile, this is just Donald's second tournament of 2013. Piercy was sharper than the Englishman, and it showed from the very start.
"I think maybe the No. 1 seeds or the higher seeds, the better seeds as you say, maybe there's a little bit more expectation on their shoulders and the other guys have nothing to lose," Donald said after his beating. "I like that we have some match play and the fact that it breaks up the season. But that's just the way it goes. You've got to be on your game."
Inside the leather
On Friday, after his 2-and-1 second-round victory over Sergio Garcia, Matt Kuchar offered some useful insight on the science of conceding putts.
"I think depending on who's putting," Kuchar said, "…If you're talking about playing Brad Faxon, you're going to concede him longer putts than you will somebody else."
The lesson is that you think long and hard about giving putts to players with the yips or bad putting statistics.
Kuchar also said it's more situational than about the distance of the putt. My uncle used to pick up anything inside the leather of his grip. But for Kuchar, that's not good enough. He said there is a difference between a 3-foot straight uphill putt and a three-footer downhill left to right.
"There is no number. It's just kind of a feeling," he said.
Trending upward
Through the first two rounds at the WGC-Accenture Match Play Championship, Nicolas Colsaerts has left little doubt that he is a force to be reckoned with this week at Dove Mountain.
On Friday, the 30-year-old Brussels native easily handled Justin Rose 4 and 2. Now he faces Kuchar in the third round.
You might remember Colsaerts from Day 1 of the Ryder Cup at Medinah in September, at which he had eight birdies and an eagle in an afternoon 1-up foursomes win with Lee Westwood over Woods and Steve Stricker.
Woods, who had seven birdies in that match, said Colsaerts put on one of the greatest putting displays that he had ever seen.
Kuchar, the 1997 U.S. Amateur champion, is no slouch in this format, either. He lost in the quarterfinals here to Hunter Mahan last year and in the semis to Donald in 2011.
But Colsaerts, the 2012 Volvo Match Play champion on the European Tour, could overwhelm Kuchar with his length and touch around the green.
"I have much shorter irons into greens than some of the other guys," Colsaerts said. "So if I'm on, I'm going to give myself a lot of birdie tries. Obviously, [in] match play you want to hole a few."
One up, one down
Could you blame Shane Lowry for having a letdown after beating his good friend and No. 1 player in the world Rory McIlroy on Thursday in the first round of the Match Play?
The 25-year-old Irishman hadn't played great in his match against McIlroy. It would not have been a surprise if Carl Pettersson thumped him Friday in the second round.
In 2012, Pettersson had a win at Hilton Head and made more than $3.5 million.
But Lowry made six birdies in Round 2 to beat the Swede 6 and 5.
"Got up this morning, spoke to my coach for quite a while on the phone and just reminded myself that it was only the first round," Lowry said.
"I would have been all right to beat Rory, but to lose in the second round is not what I wanted coming here this week," Lowry added. "I wanted to go on. I feel like I could potentially do very well in this tournament."
Charles Howell III wasn't so lucky. After slaying Tiger Woods on Thursday with a career performance, Howell was surprised Friday by Gonzalo Fernandez-Castano, who beat him 6 and 5.
After making seemingly every putt against Woods, the 33-year-old Augusta, Ga., native didn't make a birdie on Friday.
This defeat will probably leave a bitter taste in his mouth, but taking down the 14-time major champion head-to-head should help him down the road.
Confidence man
It was news to me, but Garrigus said Friday that he was in the best form of any player in the WGC-Match Play field.
"I felt like I was playing better than anybody coming in here, so whatever seed it was -- didn't matter if he was 15 or 1 -- I felt like I was going to beat him," Garrigus, the ninth seed in the Hogan bracket, said. "It's just the confidence that I have right now, and that's a good thing to have, especially when your opponent sees you're confident and they think they can't mess up otherwise you're going to win a hole."
His next opponent, Fredrik Jacobsen, is also full of confidence. The 38-year-old Swede beat Marcus Fraser 4 and 3 on Friday.
Jacobsen might actually be playing better than Garrigus. He has a tie for third and a tie for seventh in his past two starts, compared to Garrigus, who has a T-11 and T-22 in his two most recent events.
Regardless of the stats, they are both carrying the right mindsets for match play.