Category archive:

Padraig Harrington
May, 7, 2011
05/07/11
6:24
PM ET
CHARLOTTE, N.C. -- A large poster of Seve Ballesteros alongside countryman Jose Maria Olazabal hung in the European Ryder Cup team room all week at Celtic Manor last fall, and Padraig Harrington recalled just how inspirational a phone call from the Spanish star was on the eve of the matches.
As the golf world reminisces about the legendary Ballesteros, who passed away early Saturday, Harrington recalled the conversation he and the rest of his teammates had with Ballesteros on the Tuesday night of Ryder Cup week in Wales.
"It was very emotional and inspiring," Harrington said Saturday after the third round of the Wells Fargo Championship. "You could sense the passion he had for the Ryder Cup. Everything on his mind was us winning that Ryder Cup.
"It was tremendous, to be honest. His main focus that week was the Ryder Cup and not himself. It was definitely inspiring and very emotional. There were definitely a few tears in the room."
[+] Enlarge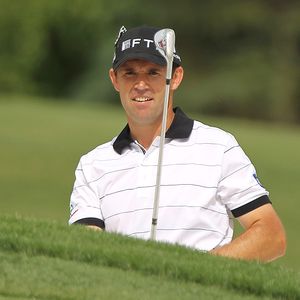 Scott Halleran/Getty ImagesPadraig Harrington said Saturday that of the many things that owe their stature to Seve Ballesteros, the Ryder Cup and European Tour are certainly near or at the top of the list.
Ballesteros was unable to travel to the Ryder Cup due to the health issues associated with brain cancer. But everyone on the European team was well aware of the Spaniard's legacy. The team prevailed by one point.
"The Ryder Cup wouldn't be what it is without Seve," Harrington said. "There's no doubt he was an inspiration to all who played around him."
And Ballesteros was a factor in the decision to expand the Great Britain & Ireland team to all of Europe. He had won the British Open and Masters in 1979 and 1980, and continental Europe joined GB&I for the 1979 matches. Ballesteros played that year, but not in '81 and returned again to be part of the 1983 squad.
The Americans eked out a narrow victory in '83, but lost the next two matches. Ballesteros played on four winning teams and also captained the winning 1997 team. He posted a record 50 European Tour victories.
"And in a short career," said Harrington, noting that Ballesteros last won in 1995 before he turned 40.
His legacy?
"The European Tour," Harrington said. "He won five majors, but there's no doubt he set the standard. He inspired the players of today. The European Tour is very strong at the moment. Every one of those players on the tour would have been influenced by Seve. That's what his legacy is. Would our tour be as strong? Certainly not."
Bob Harig covers golf for ESPN.com. He can be reached at BobHarig@gmail.com.
September, 28, 2010
09/28/10
11:13
AM ET
[+] Enlarge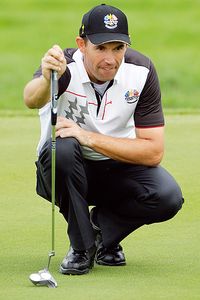 Sam Greenwood/Getty ImagesFor European team captain Colin Montgomerie, Padraig Harrington is the right choice.
NEWPORT, Wales -- The most controversial decision of Colin Montgomerie's Ryder Cup captaincy has been the selection of Ireland's Padraig Harrington as a wild-card pick.
Harrington, a three-time major champion, was taken over Paul Casey, ranked eighth in the world, and Justin Rose, who has won twice this year on the PGA Tour.
Harrington, meanwhile, has gone 25 months since his last victory, missed three cuts in major championships this year and has failed to win a match in each of the past two Ryder Cups.
Montgomerie has taken some "stick'' for the selection -- the phrasing used in an interview session Tuesday at Celtic Manor -- but said it was unfounded.
"I feel the criticism was very unjustified, to be honest,'' Montgomerie said. "I know what Padraig can do, and that's why he was picked. He's like a rookie out there today. He had three eagles out there already. He's playing the best golf of my team out there, and I feel the criticism early on before the Ryder Cup is very unjustified.''
Harrington, who failed to advance to the final two events of the FedEx Cup playoffs on the PGA Tour, shot a final-round 64 on Sunday in Paris to tie for eighth at the Vivendi Cup. He then flew home to Dublin and joined his wife, Caroline, and traveled to Wales on Sunday night.
Harrington, Montgomerie said, could not wait to get here, could not wait to get going.
"He's a world player, he's won three major championships, and the stature of the guy is second to none within our team… He walked into Celtic Manor as if he was a rookie. Fantastic. And he was really up about the whole thing, and has been since.
"The reasons why Padraig Harrington was picked … judge me about that selection on October the 4th and not on September the 28th.''
February, 8, 2010
02/08/10
2:16
PM ET
Having won four times in the last two years, tallied four straight top-10 finishes on tour and finished in the top three in six events since the end of last May, Steve Stricker has sparked conversation that he is one of the most under-the-radar stars in sports in the last few years. His unlikely ascension to second in the Official World Golf Rankings has many tabbing him to win his first major in 2010.
But is Stricker the best current player never to have won a major? This week the tour visits Pebble Beach, site of this year's U.S. Open, so why not visit the thought?
Trivia question
Steve Stricker, who entered the final round at last week's Northern Trust Open with a commanding 6-stroke lead, saw his lead dwindle to 2 shots before holding on for the win. Who was the last player to lose a PGA Tour event after holding a 6-shot lead entering the final round? (Answer below.)
A year ago, we compiled a formula that measured the careers of the best players never to have won a major and called it the "Almost Index." At the time, Stricker ranked fifth by that measure, behind Sergio Garcia, Kenny Perry, Lee Westwood and Rory McIlroy. The formula took into consideration PGA Tour and European Tour career accomplishments, with a heavy emphasis on finishes in majors. Because we always show our work at Numbers Game, the formula breaks down as such:
(2 + [PGA Tour top-10 pct.]) + (1 + [European Tour top-10 pct.]) + PGA Tour wins + (Euro Tour wins x 0.5) + ([Top-10 pct. in majors x 100] x .25) + (major points x 0.1) = Almost Index
Major points are collected as such: Players are awarded points for every major in which they finish in the top 10, on a scale from 1 to 9. A second-place finish is worth 9, a T-2 is 8.5, a third is 8 and so on, with the scale ending at T-10 (0.5 points).
Stricker had an Almost Index score of 17.144 in August, and has seen it bumped to 18.457 after last week's win at the Northern Trust Open. Look at the numbers of the five aforementioned golfers (who still rank as the top five in the Almost Index) before last year's PGA Championship and where they sit heading into this weekend's event:
Almost Index: Then and now
| | | |
| --- | --- | --- |
| Player | Before '09 PGA | Today |
| Sergio Garcia | 30.649 | 30.227 |
| Kenny Perry | 22.434 | 22.360 |
| Lee Westwood | 21.997 | 23.122 |
| Steve Stricker | 17.144 | 18.457 |
| Rory McIlroy | 17.332 | 17.413 |
This is no mathematical bible for identifying the best golfer never to have won a major, merely a guide and a conversation starter. But now you too can impress your friends with statistical nerdery and a bit of substance to support the notion that Stricker has yet to attain one of the most reluctantly owned titles in pro sports.
---
While we're on the topic of majors, this week's AT&T Pebble Beach National Pro-Am undoubtedly will spark all kinds of U.S. Open predictions. Since 2000, the site of the U.S. Open has twice been the site of a PGA Tour event earlier in the year: at Torrey Pines in 2008 and at Pebble in 2000. In each of those instances, the winner of that tournament went on to win the U.S. Open later in the year. And on both occasions, the man who won those tournaments was Tiger Woods.
---
The defending champion for this week's PGA Tour event is Dustin Johnson, who enters Pebble Beach fresh off a Sunday 66, which staked him to a T-3 finish at Riviera. But in theory, last weekend could have gone much better for Johnson, who held his first career 36-hole lead before shooting a 74 in Round 3. Eight of Johnson's 14 rounds this year have been in the 60s, and he remains one of the biggest hitters on tour, currently sitting at fourth in driving distance (298.8 yards).
Johnson led the field in driving distance in this event last year, en route to his second career PGA Tour win. In three of the past five years, the winner of this event has finished in the top four in driving distance among members of the tournament field. Phil Mickelson was fourth when he won in 2007 and third in 2005.
---
Speaking of the world's new No. 3 golfer, it's another week, another California course at which Mickelson has had prior success. Phil has won at Pebble Beach three times, but he missed the cut as the defending champion in '08 and didn't fare much better last year (T-55). This comes after finishes of third, first, T-38 and first in a four-year span from 2004-07.
Mickelson's Achilles' heel in last week's event was a four-hole stretch, from 13 to 16, that he played in 6-over for the tournament. He hit only 2 of 8 possible fairways, half the greens in regulation, and failed to save par either time he hit into the bunker on 15. Phil's wildness off the tee is nothing new, but he has been especially shaky to start this season. He has yet to hit more than eight fairways in a round (through two events) and altogether has missed more of them (58) than he has hit (54).
---
Padraig Harrington -- currently ranked 10th in the world -- will try to rebound this week after missing the cut at Riviera. His 72-73 snapped a streak of six straight top-10 finishes in official PGA Tour events for Paddy, dating back to the WGC-Bridgestone last August.
This will mark the fourth consecutive year Harrington has played in the Pebble Beach event. Since contending finishes in 2007 and '08 at Riviera (T-3rd, seventh), success has been fleeting for Harrington during February's California swing. In four starts, he has missed the cut three times and finished T-24.
Trivia answer
Question: Steve Stricker, who entered the final round at last week's Northern Trust Open with a commanding 6-stroke lead, saw his lead dwindle to 2 shots before holding on for the win. Who was the last player to lose a PGA Tour event after holding a 6-shot lead entering the final round?
Answer: Sergio Garcia, at the 2005 Wachovia Championship.
Ten years ago, when the U.S. Open was played at Pebble -- and the field was playing for second, light years behind Tiger Woods -- Harrington was tied for third through 54 holes and wound up tied for fifth. At the time, it tied for his best finish in a major championship.
One can imagine that Harrington hopes to play like the Woods of 2000 this week at Pebble Beach -- and beyond.
Justin Ray has been a studio researcher for ESPN since June 2008, and is the lead researcher for "The Scott Van Pelt Show." He is a 2007 graduate of the University of Missouri School of Journalism, where he studied convergence media. Send comments and suggestions to Justin.Ray@espn.com.