Category archive:

Matt Kuchar
August, 30, 2014
08/30/14
8:44
PM ET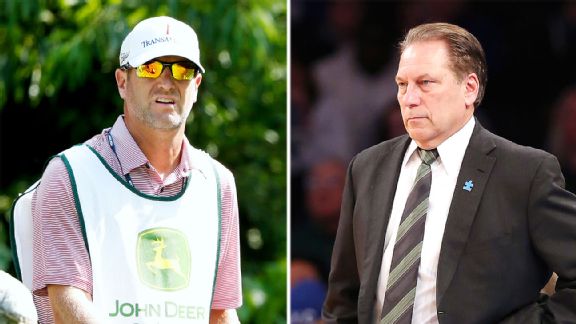 Getty ImagesMichigan State head coach Tom Izzo, right, called Matt Kuchar's caddie, Lance Bennett, left, after Bennett's wife tragically died.
NORTON, Mass. -- Sometimes, when a story connects with someone, they just feel the need to reach out.
That was the case with Michigan State head basketball coach Tom Izzo when the wife of Matt Kuchar's caddie, Lance Bennett, unexpectedly passed away earlier this week.
According to multiple PGA Tour caddies working at the Deutsche Bank Championship outside Boston, Izzo learned that Lance Bennett was a huge Spartans basketball fan and went on a mission to contact him.
After making a few calls (six degrees of separation is true), by Friday morning Izzo had Bennett's phone number. Bennett didn't recognize the incoming number at first and let the call go to voicemail. The coach left him a message, but called back again, just in case.
Bennett answered this time, even though he hadn't heard the voicemail, so it was a complete surprise for him to hear Izzo's voice on the other end of the call. They spoke for about 15 minutes.
With this simple gesture, you can be sure Izzo will never have to pay for a meal in the Caddie Wagon should he ever come to a PGA Tour event, since caddies who don't even follow college basketball were sharing the story and praising the coach.
August, 8, 2014
08/08/14
6:23
PM ET
LOUISVILLE, Ky. -- A variety of injuries struck at the 96th PGA Championship, causing six players to withdraw from the year's final major during the first two rounds.
On Friday alone four players headed home early, including two-time major winner Angel Cabrera with a shoulder injury. Also stepping aside were Kiradech Aphibarnrat with a knee problem, Ben Crane with back issues and Boo Weekley also with a shoulder injury.
On Thursday, defending champion Jason Dufner and Matt Kuchar both said they couldn't continue at Valhalla Golf Club. Dufner has been experiencing neck problems since the Masters and Kuchar cited back spasms during his warm-up before the round began.
June, 12, 2014
06/12/14
11:03
AM ET
PINEHURST, N.C. -- The scoreboard near the 15th green at Pinehurst offered up a couple of Rodney Dangerfield specials this morning. For starters, Matt Kuchar's name appeared as "Kucher," and even though Kuchar has long established himself as a top player, the unwitting lack of U.S. Open respect could be explained like this:
Hey, he's never won a major.
But the same can't be said of Phil Mickelson, who's won five. As Mickelson surveyed his chip shot on the 202-yard par-3 (he started on the back nine), the board displayed his name as "Michelson." Phil proceeded to run his line-drive chip off the opposite side of the green in making his first bogey of the day to fall back to 1-under.
Of course, his five majors include three Masters, one PGA and one Open Championship. If he finally wins a U.S. Open after a record six runner-up finishes, perhaps the scoreboard keepers will come up with the correct spelling.
Bogey for um, Michelson at 15? Ooops!! #USOpen pic.twitter.com/LSVpTou1Mw

- Golfweek Forecaddie (@4caddie) June 12, 2014
April, 1, 2014
04/01/14
1:06
PM ET
The Shell Houston Open has embraced its reality as a Masters tuneup since earning a pre-Augusta spot on the PGA Tour schedule in 2007. The Rees Jones design does its best to replicate what players will face next week at Augusta National, and elite players have responded by making Humble, Texas, part of their annual schedule.
Trivia question
The first Houston Open was held in 1946. Both the winner and runner-up were Texans. Who were they? Answer below
While many of the world's best have made Redstone (now called the Golf Club of Houston) their final tuning grounds before the season's first major, winning the Houston Open hasn't been a harbinger of Masters triumph.
Of the seven winners at the Houston Open since 2007, only Anthony Kim (T-3, 2010) has gone on to finish in the top 10 at Augusta. The other six players in that group made the cut at the Masters, each finishing somewhere between T-38 and T-12.
Some of the biggest names in the sport don't need to win this week to give themselves adequate propulsion down Magnolia Lane. However, good play at the Golf Club of Houston would make them bigger contenders entering the Masters.
This week's Numbers Game breaks down what a handful of the game's biggest names will be looking to refine, fix or otherwise improve upon at the Shell Houston Open.
---
Phil Mickelson -- Rest vs. momentum: Will he or won't he play? The lefty withdrew Saturday in San Antonio with a pulled muscle in his side, leaving this week in Houston in doubt. Mickelson's 2014 on the PGA Tour has been one to forget so far -- six starts and three finishes (with two withdrawals and a missed cut), none of those coming in the top 10.
Logic suggests that resting a 43-year-old body the week before Augusta would be the best approach. But in this instance, as is often the case, logic and statistics disagree. The numbers say Mickelson has to come into Augusta with some kind of high finish under his belt.
Mickelson has 10 top-five finishes in his career at the Masters. He had at least one top-10 finish on the PGA Tour in the same year preceding each of those high finishes. In all but two of those instances, he entered the Masters with at least one PGA Tour victory that season.
---
Rory McIlroy -- Ironing it out: Now that Tiger Woods is out of the mix, McIlroy enters the 2014 Masters as the co-favorite along with Adam Scott (each at 10-1 odds). The golf-viewing public's last strong memory of the world's seventh-ranked player, however, was his double-bogey/bogey/birdie finish to get into a playoff at the Honda Classic, which was ultimately won by Russell Henley.
In McIlroy's two major championship wins, he was a greens-in-regulation machine, hitting them 76.4 percent of the time. Rory hit just 10 of 18 greens Sunday at Honda but was tied for eighth in GIR at Doral two weeks later.
It's a tired subject for McIlroy, but since his club switch before the 2013 season, his iron play truly hasn't been the same. In 2012, McIlroy tied for the lead on the PGA Tour in average approach shot proximity from the fairway (28 feet, 1 inch). In 2013, his rank slipped to T-24, and he is tied for 55th in this young season.
It will be interesting to see if McIlroy's iron play comes into form this week. In 2013, he played the Valero Texas Open in the week before the Masters, finishing second. His approach shot average from the fairway? An average of 23 feet, 2 inches -- best in the field.
---
Dustin Johnson -- Rust-proofing: He has finished T-6 or better in every PGA Tour stroke-play event he's participated in during the 2013-14 season. He leads the PGA Tour in greens in regulation, birdie average, scoring average and all-around ranking. His strokes gained-putting rank has jumped 106 spots this season to 11th. At 29 years old, he is a top-10 player in the world, with six top-10 finishes in majors since 2009.
For Johnson, it's not so much that he has anything to "work on" this week in Houston -- more that the bomber is shaking the rust off. DJ's last start came at Doral three weeks ago, where he finished T-4. That's exactly where he finished at Houston in 2013, firing four below-par rounds before heading to Augusta, where he finished T-13 -- his best career Masters result.
---
Matt Kuchar -- Sunday struggles: The world's 11th-ranked player opened 2014 with a pair of top-10 finishes in Hawaii. He and his family apparently enjoyed it, because they then stayed for the next month on an extended vacation.
Trivia answer
Question: The first Houston Open was held in 1946. Both the winner and runner-up were Texans. Who were they?
Answer: Byron Nelson held off Ben Hogan by two shots.
We at Numbers Game push our ferocious jealousy aside while pointing out that since returning from Hawaii, Kuchar has not cracked 74 in the final round on the PGA Tour (a combined plus-eight in three Sunday rounds).
Kuchar has finished in the top eight in each of the last two years at Augusta, but if he wants to claim his first major, he will need to figure out his fourth-round issue. In his last 11 final rounds in majors, he has broken par just once. And since 2011, he has never ranked higher than 35th on the Tour in final-round scoring average.
February, 24, 2013
02/24/13
6:23
PM ET
By
Farrell Evans, ESPN.com
MARANA, Ariz. -- In their semifinal match on Sunday morning at Dove Mountain,
Jason Day
and
Matt Kuchar
were both on the 13th green. Day was laying 6 and Kuchar had a 24-foot birdie putt.
I know anything can happen in match play, but did Day really expect Kuchar to four-putt from 24 feet? Day should have conceded the hole after his fifth shot. But he made Kuchar putt. And only after Kuchar's ball was comfortably inside gimme range did Day concede.
Call it desperation or gamesmanship, Day's tactics didn't work. The 25-year-old Australian lost 4 and 3.
Lose the one and done?
As much as it's tempting to consider the Volvo Match Play Championship's convoluted format that lets a player continue even after a loss, the WGC-Accenture Match Play's one and done rule is the most straightforward way of carrying out an event of this nature.
The Volvo round-robin formula was devised primarily to avoid exactly what happened this week at Dove Mountain, with Tiger Woods and Rory McIlroy losing in the first round.
In 2011, Ian Poulter was able to win the Volvo tournament with two halves in matches.
The real allure of the WGC-Match Play is the one and done that so many of us hate. It wasn't fun to see Woods and McIlroy lose their first-round matches. But I appreciate the consistency and mental toughness it took for Kuchar and Hunter Mahan to make it through to the finals.
So while this tournament certainly needed its stars around longer this week for greater fan support, it should never consider watering down its format.
Eight is enough for Rory McIlroy
Matt Kuchar's victory at the WGC-Accenture Match Play marked the second consecutive year an American has won the first eight PGA Tour events of the year.
McIlroy broke that streak last year with a win at the Honda Classic, where he also took over No. 1 in the world.
Can the 23-year-old Northern Irishman do it again this year?
The Honda Classic, which starts on Thursday at PGA National in Palm Beach Gardens, Fla., was McIlroy's real coming out party. Sure, he had won the U.S. Open in the previous year, but Honda marked his full ascent to the top of the game.
That week he held off Woods and Tom Gillis by 2 shots.
But nothing from his performance this week at the Match Play indicates McIlroy will be a repeat winner at PGA National. None of the questions about his drastic equipment changes were answered in his 1 down loss to Shane Lowry on Thursday.
Even if McIlroy can't win Honda, it's important for his confidence to have four good rounds with his new equipment. The longer he plays with mediocre results, the more difficult it's going to be for him to summon his game for one week at the Masters.
May, 31, 2011
05/31/11
7:30
PM ET
With the all the negative news in Columbus, Ohio, this week, sports fans in the area (especially those who cheer for the scarlet and gray) should be elated to have a diversion on the way. The state's most treasured athletic figure -- the great Jack Nicklaus -- hosts one of the best events on the PGA Tour this week.
Trivia question
Jack Nicklaus' last PGA Tour victory came at the 1986 Masters Tournament. What was his second-to-last win? (Answer below.)
The Memorial will feature an excellent field -- including new world No. 1 Luke Donald, six of the world's top 10, and reigning Masters winner Charl Schwartzel making just his second stateside start since winning the Green Jacket.
Now is no time to dwell on the negative, Ohio. Sure, your former native son has led his new team to the NBA Finals. And all right, maybe your beloved Buckeyes have been eviscerated by scandal this week. You've still got Jack -- and based on the recent timeline of events in the career of
Tiger Woods
, Mr. Nicklaus looks like he'll be hanging on to that major championships record a little while longer.
---
Three on the tee is a look at a trio of intriguing players to keep an eye on. The LeBron-free "big three," if you will. With no further ado, the starter calls to the tee:
Phil Mickelson: It took Lefty until his seventh start at the Memorial before he finally cracked the top 10. Now, he's finished there three of the past four times he's played the tournament. There's something to be said for experience being a prerequisite at Jack's event as no rookie has ever won the event. The average career start at the Memorial for the past nine winners has been 9.4. Defending champion Justin Rose is basically the aberration to that -- and he had made five previous starts at the event before winning last year.
There's a lot to like about the top-ranked American player in the world entering this week. He's still hitting it a mile -- 16th on tour in driving distance. He's tied for third in birdie average, and 14 of his past 16 rounds on tour have been par or better dating back to his win in Houston. He's never won here before, but 2011 might be the year for Mickelson.
Matt Kuchar: In this world, count on three things: death, taxes and Kuchar finishing in the top 10. Kuchar is tied for the tour lead in such finishes this season with seven, a year removed from leading the tour in them with 11. Kuchar has three straight top-10 finishes in this event, and each of his past seven rounds here have been under par.
Kuchar trails Steve Stricker by .04 shots for the lead in actual scoring average on tour this year, though he has played 22 more rounds than Stricker.
Nick Watney: Not far behind Kuchar in the top-10 finishes category over the past two years is Watney, who has seven in 2011 as well, and 15 since the beginning of 2010. Watney is coming off a pair of top-10 finishes in a row, and seems to have played the best in the deeper fields this year. For example: T-4 at the Players Championship, T-9 at the WGC-Accenture Match Play, and a win at Doral.
Is taking Watney a bit of a flier this week though? Based on his experience at the Memorial, you might say so. Watney missed the cut here last year, and has never finished higher than T-14 in the event.
Still, it's tough to pick against someone who has putted so well this year. Watney is seventh in total putting and in the top-20 on tour in strokes gained -- putting and putting average.
---
Across the pond last week, we were treated to a playoff between Lee Westwood and Luke Donald -- with the winner being awarded not just one of the European Tour's most prestigious trophies (at the BMW PGA Championship), but the title of world's No. 1 player.
When Donald won on the first sudden-death hole, he became the third player to hold the No. 1 spot in 2011. We're not even to the U.S. Open yet, and that's already one shy of the record for the most different names atop the OWGR in a calendar year. That happened in 1997, when four men were on top at different points in the year: Greg Norman, Tom Lehman, Ernie Els, and Tiger Woods.
Donald became the first golfer since 2005 to win a tournament that automatically assured he would become the No. 1 player in the world. That was Woods, who won the 2005 Masters to assure the top ranking.
You might be saying, what about Westwood's win at the Indonesian Masters this year? Well, Luke Donald had a chance to become No. 1 with a win later that day at The Heritage. A technicality, yes, but when it comes to walk off to No. 1, we at Numbers Game have made that distinction.
---
Fans of the PGA Tour are getting spoiled in 2011.
After last weekend's playoff at the windy HP Byron Nelson Championship, won by Keegan Bradley, the tour has had five playoffs in the plast six weeks. In seven straight weeks, that week's PGA Tour event has been decided by either a playoff or by a single stroke. That's the longest such streak on tour since a seven-event stretch in early 2009.
Trivia answer
Question: Jack Nicklaus' last PGA Tour victory came at the 1986 Masters Tournament. What was his second-to-last win?
Answer: The 1984 Memorial Tournament.
And before that came the Masters Tournament, which was one of the most exciting Sundays at a major championship in recent memory.
If we see another playoff this week at the Memorial, though, it will snap a lengthy streak for the event. The Memorial currently holds the distinction of the longest playoff drought on the PGA Tour. The last playoff at the event came in 1992, when David Edwards defeated Rick Fehr.
We've seen 10 playoffs on tour in 2011 in all. The record is 16, which happened in both 1988 and 1991.
Numbers Game is a weekly stat-centric look at the PGA Tour.
Justin Ray has been a studio researcher for ESPN since June 2008 and is the lead researcher for "The Scott Van Pelt Show." Send comments and suggestions to Justin.Ray@espn.com.