Category archive:

Phil Mickelson
November, 17, 2014
11/17/14
10:31
AM ET
August, 29, 2014
08/29/14
7:54
PM ET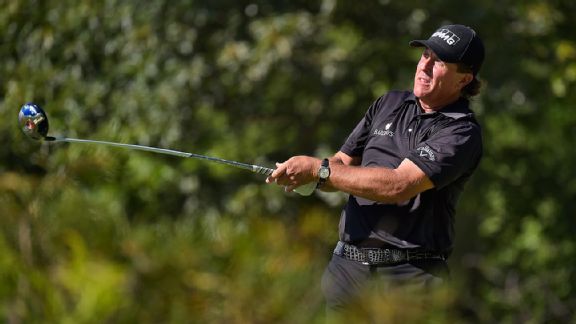 Stan Badz/PGA TOUR/Getty ImagesThe grouping of Phil Mickelson (74), Justin Hicks (77) and Ryo Ishikawa (78) had a combined 11 birdies, six of which came from Lefty on Friday in Round 1 of the Deutsche Bank Championship.
NORTON, Mass. -- When a group gets hot and scores well, PGA Tour players often say, "We really started feeding off one another."
Unfortunately, that can also work the opposite way.
The Phil Mickelson roller coaster produced only five pars on his scorecard Friday in Round 1 of the Deutsche Bank Championship, and playing partners Justin Hicks and Ryo Ishikawa probably want off the team ride after 18 holes. The threesome made only 11 birdies and 20 pars collectively through 54 combined holes played. The group did, however, share in the wealth of bad scores with 13 bogeys, three double-bogeys, a triple and a quad.
Mickelson made the turn "leading" the way in the wrong direction at 5 over. After a pushed drive on the 14th tee, a woman screamed, "Just give us a wave, puh-lease, Phil!"
He sighed and waved in her direction as a collective "awwwww" came from the people gathered.
Hicks and Ishikawa continued to crash and burn on the back nine, finishing at 6 over and 7 over, respectively. Mickelson managed to post birdies at Nos. 15, 16 and 18 to end his day at 3 over.
Although Mickelson has admitted to being tired and playing this week for the PGA Tour's sake, maybe Hicks and Ishikawa could chip in on a good strong cup of coffee for Lefty before Round 2 begins. Either that, or instead of "feeding off one another," they'll be leaving with one another after 36 holes.
August, 23, 2014
08/23/14
3:05
PM ET
PARAMUS, N.J. -- He did it again. For the second straight day, Phil Mickelson hit his tee shot at the par-4 hole fifth hole left of the fairway, the ball bouncing into a hospitality area from where he was able to play his second shot.
Unlike Friday, when Mickelson hit a wedge off the carpet from the temporary venue over the green and made a bogey, on Saturday he got the shot on the green and 2-putted for par.
But unfortunately for Mickelson, 44, it was not a good day. He shot 4-over-par 75 and missed the secondary cut that was in play because the Barclays field had more than 78 players through 36 holes.
Despite the poor showing, Mickelson is projected to be among the top 60 in FedEx Cup points, meaning he will easily qualify for next week's Deutsche Bank Championship (top 100) but might have to sweat out making it to the BMW Championship in Denver (top 70).
August, 22, 2014
08/22/14
5:10
PM ET
Throughout his career, Phil Mickelson continuously dazzled fans with different trick shots. In Round 2 of the Barclays on Friday, he might have one-upped even himself.
Channeling his inner "Tin Cup," Lefty decided to play a shot from a hospitality area to the left of the drivable par-4 No. 5 green at Ridgewood Country Club in Paramus, New Jersey.
"If you hit it off line enough, you're going to see those spots," said Mickelson, who admitted it wasn't the first time he hit a shot from the grandstands. "[I] just hit the shot a little bit too far. I hit it clean. Just hit it too hard."
Upon realizing his tee shot had come to rest in a carpeted area, the five-time major winner announced to no one in particular: "I'll try to play it from there."
The crowd cheered with excitement.
After wading through fans and moving aside a few tables and chairs -- and a few beer bottles, too -- Mickelson eventually got to his ball. Once there, he drew a club and launched a wedge shot that carried roughly 10-15 rows of fans before coming to rest in the far greenside bunker.
"I hit a crappy drive, hit the cart path and went into the grandstands and my drop was going to be in hay," Mickelson said. "I had a clear lie on nice ground there and played it. I hit it a little too hard, went over the green, hit a bunker shot to 20 feet and made bogey."
Mickelson settled for arguably the most interesting bogey of the day, but after his round of 1-over 72, explained what happened.
"It wasn't hard to make contact," he said. "It was hard to hit it on that skinny little green and get it to stop. That was it. Just a bad tee shot.
"It's a great hole. It's the only hole you can reach under regulation here. The par-5s are not reachable. So you get really excited to get to that hole. I hit it great yesterday on the green. Had a great chance for eagle and then today hit a terrible shot."
ESPN.com senior golf writer Bob Harig contributed to this report.
August, 7, 2014
08/07/14
3:21
PM ET
LOUISVILLE, Ky. -- Phil Mickelson salvaged a good round after a strong finish, but it was the start that had him shaking his head.
"I was saying that I felt so good heading into this tournament, I had a great final round last week Sunday, but I also had three great practice days. My game felt really sharp," Mickelson said. "I stood on the first tee for the first time this year like I was ready to play, ready to compete, and try to win a championship. I hit the ugliest shot off the first hole. I mean, it was so far left I don't even know what to say. I was lucky it wasn't out of bounds. Horrific."
Mickelson managed to make a par at the hole, the par-5 10th, after getting a drop due to an obstruction. He was shaky starting out, but ended up playing his last 10 holes in 4 under par to shoot 2-under 69.
Although he has yet to post a top-10 finish this year on the PGA Tour, Mickelson was encouraged after a final-round 62 at the WGC-Bridgestone Invitational on Sunday in which he made 10 birdies.
"I just need to get on the first tee with more confidence," Mickelson said. "When you are not in contention, when you haven't won a tournament, when you haven't played the way you expect to and you are not in the final groups for a while, you get nervous and that is exactly what happened. I just made some unconfident swings.
"I need to make confident, aggressive swings from the first hole, first shot, from here on forward because I can't afford to play like I did those first eight holes."
August, 7, 2014
08/07/14
12:51
PM ET
LOUISVILLE, Ky. -- Just as golf fans were forever curious about the often tense relationship between Jack Nicklaus and Arnold Palmer, inquiring minds are always asking about Tiger Woods and Phil Mickelson and whether they despise each other.
[+] Enlarge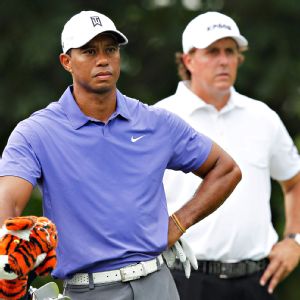 REUTERS/John Sommers IITiger Woods and Phil Mickelson played together in Round 1 of the PGA Championship. Woods shot a 3-over 74 and Mickelson posted a 2-under 69.
They don't. Not these days, anyway. My best guess -- after talking to some who should know -- is the Woods-Mickelson relationship has evolved over the years from deep mutual dislike to a shared respect with occasional displays of affection. Tempered affection, that is.
When they shook hands on the 10th tee Thursday morning at the PGA Championship (Woods, Mickelson and Padraig Harrington started on the back nine), Phil greeted Tiger with a "Hey, buddy." OK, that's hardly the stuff of warm and fuzzy reunions, but there was Woods laughing with Mickelson's caddie, Bones Mackay, on the 13th fairway, and there were Tiger and Phil chatting away in neighborly fashion as they walked together toward the 13th green.
Again, hardly evidence that Woods and girlfriend Lindsey Vonn and Mickelson and wife Amy are planning a weeklong Caribbean cruise together. But Mackay and Woods' caddie, Joe LaCava, maintain a close friendship that has softened the rough edges of the Tiger-Phil dynamic.
Mickelson's five major victories haven't hurt either. Once upon a time, when Lefty was the reigning BPNTWAM -- best player never to win a major -- Woods appeared to view him as a talented goof who didn't have the drive or nerve to close out a big one. Mickelson also started faring better in his head-to-heads with Tiger; he credited his coach, Butch Harmon, for giving him tips on how to break down the intimidating aura radiating from Harmon's former pupil, Woods.
In the wake of Mickelson shooting a 2-under 69 to his 74 at Valhalla, Woods said, "Unfortunately Phil and I never get paired together. It happens so rarely the first two days. We're always on the opposite side of the draw. Usually, if you look at most of the majors, exact same tee times, just opposite sides. It's always fun to play with him."
Listen, they're never going to engage in a bromance, and the image frozen in the minds of those who still believe Tiger and Phil hate each other is the look on Woods' face when the Ryder Cup partner he never wanted, Mickelson, sent his tee shot sideways in their disastrous pairing of 2004.
But time has healed some wounds for sure.
"The people who think they can't stand each other just don't get it," said one prominent golfing figure who knows both. "I've heard how they talk to each other, and seen how they are with each other around the locker room. They've definitely gotten to a point of respect."
The change reminds me of how Derek Jeter and Alex Rodriguez -- sworn enemies in their early years together in the Bronx -- came together in 2009 to win a championship as cooperating business partners, if not acquaintances.
Woods did tweak Mickelson at the Open Championship when he compared Rory McIlroy's inconsistency to Phil's; Tiger will always maintain some distance between himself and the rest of the field. But as Woods and Mickelson have aged and weathered various storms on and off the course, they've loosened their grip on the grudge.
Arnie and Jack eventually came around too. By the time Tiger and Phil are ceremonial players at the Masters, they'll be swearing to people they were the best of buds all along.
July, 19, 2014
07/19/14
1:41
PM ET
HOYLAKE, England -- For the second straight major, Rickie Fowler will play in the final group Sunday. Unfortunately for Fowler, for the second straight major, he has considerable ground to make up.
Last month at Pinehurst, it was Martin Kaymer at the U.S. Open who ran away to an eight-shot victory, with Fowler settling for a tie for second. This time he'll be trying to chase down Rory McIlroy, who has a six-shot advantage.
If nothing else, Fowler is gaining experience. He is the only player to have top-five finishes at each of the first two majors.
"If I'm able to go out and get off to a good start, maybe I can put a little bit of pressure on him, because he's definitely in control of the golf tournament right now," Fowler said.
Fowler, 25, whose lone PGA Tour victory came in a playoff over McIlroy (and D.A. Points) at the 2012 Wells Fargo Championship, was tied with McIlroy on Saturday with six holes to play.
But Fowler played them in 2 over while McIlroy went 4 under, including eagles at the 16th and 18th holes.
Fowler and McIlroy's history goes back to 2007, when both were amateurs playing in the Walker Cup in Northern Ireland at Royal County Down, a competition won by the United States.
"In '07 you're really never sure about what's going to happen in the future," Fowler said. "He was definitely the young star over here. And I was one of the young stars from the U.S.
"But the past couple of years, seeing what he's been doing, obviously he has two majors already. He's a bit out in front of me right now. It was just a matter of time the two of us found a way to sneak into a final group together."
July, 19, 2014
07/19/14
12:07
PM ET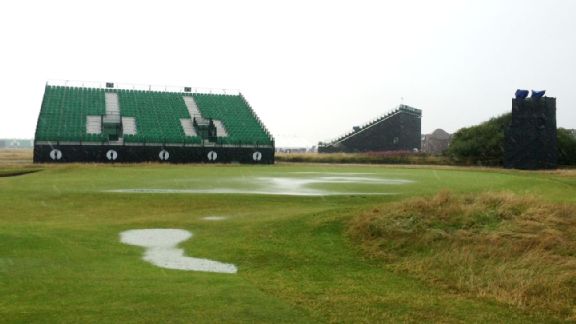 Dottie Pepper/ESPNThe 7th hole at Royal Liverpool had standing water on it after play ended Saturday because of a deluge shortly after the final groups finished play in Round 3 of the Open Championship.
HOYLAKE, England -- There was considerable consternation over the R&A's decision to go to a first-ever, two-tee start at the Open -- especially when the really poor weather and lightning that was forecasted did not materialize. Although there was heavy rain at times, it was mostly early, and everyone finished -- before rain pelted the course afterward.
It wasn't the rain R&A officials were concerned about -- most likely, the tournament would have gone on Saturday afternoon, although photos showed some greens with standing water, which would have halted play. Lightning was the big reason. Lightning is rare in the U.K., but the forecast called for it, and officials wanted to give themselves the opportunity to complete the round if there were delays.
"It's easy to say now that it was the wrong decision looking at the weather we've had thus far," said 2011 Open champion Darren Clarke. "But if they have a couple of bolts of lightning in the next couple of hours, it's going to mess up everybody's day, isn't it? They've had to do what they had to do to try and get it done today, and they're trying to do what's best for the tournament. So there can be no blame apportioned at all to the R&A for that."
July, 19, 2014
07/19/14
10:01
AM ET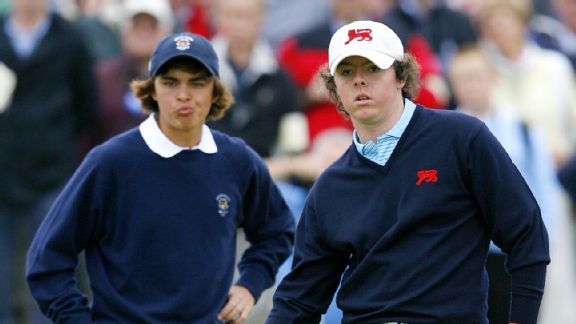 Peter Muhly/AFP/Getty ImagesRickie Fowler, left, and Rory McIlroy were fresh-faced amateurs at the 2007 Walker Cup.
HOYLAKE, England -- Rory McIlroy and Rickie Fowler have come a long way since competing against each other at the 2007 Walker Cup, as seen in the above photo.
They've already dueled in a PGA Tour playoff, where Fowler prevailed in 2012 at the Quail Hollow Championship to capture his only PGA Tour title.
And Saturday afternoon, they were on track to be grouped together in the final round of the Open Championship with the Claret Jug on the line.
In 2007, they were 18-year-old amateurs, with Fowler playing for the United States and McIlroy part of the Great Britain & Ireland team. The Walker Cup is played every two years and is similar to the Ryder Cup, although it's contested over just two days.
The two were involved in one match, with Fowler and Billy Horschel defeating McIlroy and Jonathan Caldwell 2 and 1 in Sunday's morning foursomes. It was an important point for the Americans, as the U.S. won the competition 12½ to 11½.
The match was played at Royal County Down, in McIlroy's native Northern Ireland.
July, 19, 2014
07/19/14
9:36
AM ET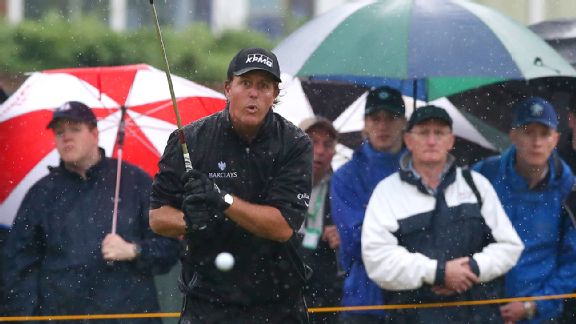 AP Photo/Jon SuperPhil Mickelson helped himself with four birdies, but gave most of them back with three bogeys.
HOYLAKE, England - If Phil Mickelson wants to comfort himself on the long ride home, he can envision how he would feel if last year had never happened. A Mickelson minus the dramatic, come-from-behind victory at Muirfield would be a Mickelson disconsolate over the missed opportunities at Royal Liverpool.
But he did take the Open Championship of 2013, and he did enhance his Hall of Fame legacy by winning the one major he was never supposed to win. So the 1-under 71 Mickelson shot Saturday in soft, forgiving conditions offering up scoring chances that might've given him some hope on Sunday? The knowledge that he would play the final round at Hoylake with no more chance to seize the Claret Jug than a fan in the crowd has?
Hey, he still has Muirfield.
"Sure, it will ease a lot of things," Mickelson said of the memory. "Just having success in this tournament means a lot to me in the past. But getting a taste of it last year, I just want it more. It makes me work harder, makes me want to come here and play harder even more."
He hated links golf as a younger man, and now he adores it. Mickelson wasn't moved to complain about anything outside of his own game; he said he had no problem with the R&A's decision -- in anticipation of brutal weather that never quite arrived -- to send players off early in the third round and off both nines for the first time in the long and rich history of this event.
"It's not like it's a big deal," Lefty said. "We do it every week."
But despite facing what he called "beautiful scoring conditions," Mickelson left the course dismayed over the fact he turned a 65 or 66 and an outside crack at a two-peat into a Sunday practice round for next month's PGA Championship.
"Oh my goodness," he said, "I threw countless shots away -- not shots, opportunities, away -- all throughout the day. And it's just frustrating.
"But I know that it's not far off, but it's got to click. It just hasn't yet."