Category archive:

Geoff Ogilvy
September, 1, 2014
09/01/14
8:57
PM ET
NORTON, Mass. -- "The best part about this [playoff] format I think is the variations and the fluctuations and the projections of where you're going to finish ... There's a bunch of guys sitting out there at 68th to 73rd flipping out and they don't know if they're playing yet."
That comment came from Geoff Ogilvy after he shot his second consecutive round of 65 on Monday that secured his spot in this week's BMW Championship, which is the third leg of the FedEx Cup playoffs.
Ogilvy missed the cut last week at the playoffs opener -- the Barclays -- and thought he was not teeing it up again until October when the 2014-15 season kicks off. That Sunday evening after the Barclays concluded, he learned he was last man in to the Deutsche Bank Championship as No. 100 out of 100.
The Aussie's tie for second this week at TPC Boston not only gets him into the BMW Championship, but projects him at 24th on the FedEx Cup points list, meaning a middle-of-the-pack finish this week at Cherry Hills (the BMW is a no-cut event) could easily take him all the way to the Tour Championship in Atlanta.
It's not quite "from the outhouse to the penthouse," but close enough that, when asked if he brought enough clothes, Ogilvy said, "I'm going to need to find a laundry, but I'll work it out."
March, 29, 2013
03/29/13
7:47
AM ET
By
Farrell Evans, ESPN.com
HUMBLE, Texas -- The Shell Houston Open marks the last week for players to get inside the top 50 in the world rankings for an automatic invitation to the Masters.
Geoff Ogilvy, the 2006 U.S. Open champion, and Charles Howell III, an Augusta native, are two players in the Houston field with hope that good finishes here will help them lock up a place in the year's first major.
Ogilvy is 50th on the official world ranking, but he could fall out that position with a poor showing in Houston. On Thursday, Ogilvy, who had a tie for fourth in the 2011 Masters, shot a 1-over-par 73. With a missed cut, the 35-year-old Australian could put himself at risk of missing his first Masters since 2005.
Howell, who grew up playing next door to Augusta National at the Augusta Country Club, is a sentimental favorite to make it into his hometown event, where he has played eight previous times. After a solid 3-under 69 Thursday, he is positioned well to get into contention on the weekend to go after the top-5 finish that he probably needs to leap into the top 50. Howell is 57th on the ranking.
A mother's gift to her son
D.A. Points is far from a household name in the world of golf. But the 36-year-old former University of Illinois star is very well respected around the tour.
In 2011, he had a breakthrough win at the AT&T Pebble Beach National Pro-Am.
On Thursday, Points made nine birdies using a Ping Anser putter that he took out of his mother's golf bag when he was 11 or 12 years old.
He was the first-round leader after an 8-under 64.
Points used the putter for a while after turning pro in 1999. He treated it like an old girlfriend, going back and forth to it for years.
Eventually, he had Ping refurbish the putter, adding some weight to the toe and heel.
Points was putting so badly coming into this week that he decided to return to his old muse.
With seven missed cuts in nine events on the year, Points is hoping the magic in his mother's wand stays with him through the weekend.
Could all the good luck with the putter prompt Mama Points to ask for it back?
"She might now," Points said. "I've had it for a long time. I think she's been praying so badly for me to make some putts, she's probably happy for me to have it."
The duck man comes forth
I was standing on the Redstone driving range Thursday afternoon watching Angel Cabrera hit balls. It's hard to miss his waddling, duck-like gait, slouched posture over the ball and the great tempo that helped him to Masters and U.S. Open titles.
But I had trouble recalling the last time he had done anything since winning those majors. The 43-year-old Argentinian hasn't had a tour win since taking that 2009 Masters in a playoff over Chad Campbell and Kenny Perry. He hasn't even had a top 10 on tour since the 2011 McGladrey Classic.
In 2013, he made only $283,385 in 20 events. Last week at Bay Hill, he missed the cut with rounds of 80-77.
On Thursday, Cabrera rode his way to the Houston leaderboard with a bogey-free, 6-under-par 66. Maybe this is the round that could launch him back to prominence.
With the Masters two weeks off, a good showing in Houston might give him the confidence he needs to shine at a place where he solidified his place in history.
November, 29, 2011
11/29/11
9:50
AM ET
One's record in a team competition such as the Presidents Cup is probably never as good or bad as it may appear. Take the case of
Robert Allenby
, the Melbourne native who went 0-4 for the International team, the only player on either side who failed to earn a point.
Allenby spent the next several days after the 19-15 U.S. win hearing how bad he was, and finally had enough, basically unloading at last week's Australian PGA Championship on his partners -- which precipitated a near-fight with fellow Aussie Geoff Ogilvy, according to several Australian news outlets.
According to the Australian AP, Allenby and Ogilvy got into a heated exchange Sunday night in Coolum at the resort used for the Australian PGA. A witness told the AAP that Allenby invited Ogilvy "to step outside and settle it." At least one glass was smashed during the argument before Allenby stormed off.
"It was just two guys who'd had a few tough weeks letting off some steam and getting some things off their chest," said Allenby's manager, Tony Bouffler. "It appears, from what I've heard, things may have been blown out of proportion. They're good mates and they're still good mates. They've supported each other on the tour for years and I'm sure they'll continue to do so in the future."
Ogilvy was not happy that Allenby had publicly called out several of his teammates -- including Ogilvy. After the first round of the Australian PGA -- which Allenby ended up losing in a playoff to Greg Chalmers -- the veteran went off.
Allenby said Retief Goosen had missed several makeable birdie putts after "I hit it inside 10 feet a few times" in Thursday's foursomes (alternate shot). He said Y.E. Yang had left him playing alone too many times in the closing nine of Friday's fourball matches. And he said that Ogilvy had "hit me in the tree three times off the tee and I had to chip out three times" in Saturday's foursomes.
"Everyone's making me look like I'm playing like s--- and then it starts wearing on your mind a little bit, maybe you are," Allenby said. "It's quite draining ... there was a lot of pressure on me to hit the shots and also make the putts and it was windy and it was tough conditions.
"It was a combination of a lot of things. People look and say how disappointing can you be, because you didn't get a point, but when you're relying on someone else as well, it's sometimes not all just you, it can be other people hitting you in the s--- ...
"Sunday was just a wipe out. [David] Toms hit every fairway [in a 7-and-5 victory over Allenby], every green and made six or seven putts.
"He probably would have beaten everyone on our team on that day -- he played awesome. But there's probably guys in their team that I could have played and probably would have beaten. It's pot luck at times. I hit a lot of good shots before that Sunday, and just got nothing out of it, so I probably lost a little confidence from that.
"But that's golf. It wasn't as if I wasn't trying, but I wasn't overtrying either, just trying to go out there and play my game. But I'm not hitting the ball that bad, not playing that bad. I made some good ones when I needed to keep the matches going."
Allenby's play at the PGA seemed to bear that out as he got into a three-man playoff with Chalmers and another Aussie, Marcus Fraser, losing after a bogey on the first extra hole.
Bob Harig covers golf for ESPN.com. He can be reached at BobHarig@gmail.com.
December, 30, 2009
12/30/09
11:52
AM ET
As PGA Tour administrators and the golf industry as a whole count down the seconds until their biggest draw is back on the course, it might be helpful for everyone to take a step back, look at the numbers and breathe a bit.
Their sport is still in a good place.
[+] Enlarge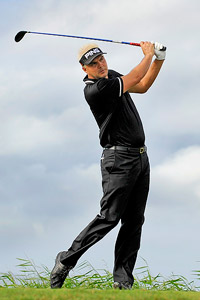 Stan Badz/PGA TourAfter winning the season-opening tournament in 2008, Daniel Chopra didn't have another top-10 finish the rest of the year.
Take some numbers into consideration regarding the growth of the earning power of players on the PGA Tour. It's no secret that the past decade was a prosperous one for the Tour, even if those facts have become obscured in the short term by visions of smashed windshields and newsmen referring to TMZ.com.
In 1999, 36 players earned $1 million while playing on the PGA Tour. Last year, 91 did. Back in '99, No. 125 on the Tour's money list was the immortal Charles Raulerson, who made a cool $326,893. Last year Jimmy Walker finished 125th and made more than double that ($662,683).
Entering 2009, 43 first-year players had made $1 million in their rookie seasons on the PGA Tour. Entering this decade, that had happened only twice -- both times in 1999.
Twelve players in the history of the PGA Tour have earned $25 million in career winnings. Every one of those 12 players won a PGA Tour event this decade.
The cumulative total of purses on the
PGA Tour in 1999 was $134,950,000, at the time an all-time high, and the first time that number had passed $100 million. In 2009, that number was more than doubled: $277.3 million.
So while the absence of Mr. Woods on the course is a loss to everyone who loves this sport, he has helped put it in an enviable place financially in the past decade.
---
What will the first tournament of this decade -- aka the SBS Championship -- tell us about what's to come on the course in 2010? Recently, success at the first event of the year hasn't translated to great success for the rest of the PGA Tour calendar (see: Chopra, Daniel in 2008).
Trivia question
Who was the most recent player to win each of the first two official PGA Tour events of a calendar year? The answer is below.
Since 2002, half of the eight winners have gone on to win another tour event that year. The winners have finished in the top 10 in just over 20 percent of their events for the rest of the year after kicking off their season in the best possible way.
Success in majors for the winners has been far more fleeting. Geoff Ogilvy won the Accenture Match Play in March and seemed like a prime candidate to win his second major in 2009. It was not to be. His finishes at the four majors: T-15, T-47, missed cut and T-43. In fact, no winner of the first event on the calendar has gone on to finish in the top 10 of any major since Ernie Els finished tied for fifth at the 2003 PGA.
No one has won the first event of the year and gone on to win a major that same year since Tiger Woods in 2000, when he beat Els in a playoff at the Mercedes-Benz Championship. Woods then went on to have a year you might not recall -- three majors, nine wins and 17 top-10s in 20 starts.
---
Last year at Kapalua, the only thing Ogilvy seemed to fail at was making things interesting. The Aussie blew away runners-up Anthony Kim and Davis Love III by six shots. Ogilvy was the only player in the field to have four sub-70 rounds. He hit 25 of 30 fairways over the weekend and missed just one green on the back nine on both Saturday and Sunday. His putting won the event, though -- Ogilvy ranked first in the field in putts per GIR (1.871).
Six of the past eight winners at the Plantation Course in Kapalua have finished either first or second in the field in putting average. The winners' putting average has also gone down in each of the past four years. A look at the winners since 2002 and what they did on the greens:
Winners at Mercedes-Benz Championship since 2002
| | | |
| --- | --- | --- |
| Player | Putting avg. | Field rank |
| Geoff Ogilvy, 2009 | 1.645 | 1st |
| Daniel Chopra, 2008 | 1.694 | 1st |
| Vijay Singh, 2007 | 1.764 | 2nd |
| Stuart Appleby, 2006 | 1.808 | 6th |
| Stuart Appleby, 2005 | 1.694 | 4th |
| Stuart Appleby, 2004 | 1.618 | 1st |
| Ernie Els, 2003 | 1.585 | 1st |
| Sergio Garcia, 2002 | 1.596 | 2nd |
Numbers getting lower at Kapalua has been a trend across the board in recent years. The total scoring average for the event has gone down each year since 2006. That year the number was 74.893; only the U.S. Championship had a higher total scoring average among PGA Tour events. Since then: 72.895, 70.935 and 70.515. The number of players under par follows suit: Six broke even in '06. Last year, only two players in the field did NOT shoot better than par.
---
Kapalua is a field consisting only of winners from the previous year, but what about winners of multiple events in the previous year? Six players in the field this year fit that category: Steve Stricker, Zach Johnson, Kenny Perry, Y.E. Yang, Brian Gay and defending champ Ogilvy. Tiger Woods and Phil Mickelson also won multiple times last year, but neither is in the field this week.
In the past three years, 11 players who won more than once on tour in the previous year played the event. None went on to win, and only one finished in the top five (Kim, in 2009). Ten of those 11 players finished out of the top 10, which is lower on the totem pole than normal considering the size of the field.
Trivia Answer
In 2003, Ernie Els won the Mercedes Championships and a week later captured the Sony Open.
The most recent winner of the event to have won multiple times the previous year? The Big Easy, who won twice in 2002, then won at Kapalua in '03.
And you thought I was going to say Tiger.
Justin Ray has been a studio researcher for ESPN since June 2008, and is the lead researcher for "The Scott Van Pelt Show." He is a 2007 graduate of the University of Missouri School of Journalism, where he studied convergence media. Send comments and suggestions to Justin.Ray@espn.com.
March, 9, 2009
03/09/09
10:51
AM ET
This week on the PGA Tour brings the second of three World Championship Golf events, with the CA Championship at Doral. It also brings the second 2009 appearance of the world's No. 1-ranked player, Tiger Woods.
Golf Stats: The Numbers That Matter
Every golfer and golf fan knows the sport is a game of numbers. One of the most distinct characteristics of golf is that any player's efforts are summarized by an absolute and final statistic: the score. However, as any visitor to the 19th hole knows, the story of the game cannot be told in full by the tally at the end of the round. "Golf Stats: The Numbers That Matter" is your weekly source of insight into the numbers that make a difference in golf, focusing on the PGA Tour. Whether you're looking to wow your buddies in your Saturday foursome or get a little extra help for your fantasy team or are just a stats junkie, this blog is for you. Every week, this sliver of the Internet will be your one-stop shop for the unique and significant golf stats that best tell the stories beyond the scores.
Although Tiger is the favorite to win this tourney, he'll face a world-class field of 79 other players. The most notable competitor is defending champion Geoff Ogilvy, coming off his win two weeks ago at the WGC-Accenture Match Play Championship. This week, the stats blog looks at why Ogilvy deserves to be mentioned immediately after Woods and how these two took it to the field at Doral the past two years.
The WGC-CA event was a traveling tournament until 2007, when it took over for the regular tour stop at Doral. How has Tiger fared at this event and at the Blue Monster?
• Six wins in the nine WGC-CA Championship events (1999, 2002, 2003, 2005, 2006, 2007). Woods' earnings for these events total $7.598 million.
• Those wins have come on six different courses, in Ireland, England, Spain, California, Georgia and Florida.
• The three years in which Tiger has not won the event, he has finished fifth, T-5 and ninth.
• In all, Tiger has won at Doral three times in six appearances. The other three finishes were all top-10s, including second-, fifth- and ninth-place finishes. He is 89 under par in these six starts, averaging nearly 15 under.
Though it is impossible to compete with this record, Ogilvy has proved he can at least compete this week. The Aussie's recent showings prove that point:
• Ogilvy will try to join Tiger as the only players to win back-to-back WGC events after his victory at the WGC-Match Play two weeks ago. Ogilvy and Tiger are the only two players to win the event more than once; Tiger has done it three times.
• Of Ogilvy's six PGA Tour victories, three are WGC events. He's second on the list, behind Tiger and his 15 WGC titles.
• Ogilvy is the PGA Tour's leading money winner at $2.67 million, FedEx Cup leader at 1,176 points and Road to Dubai leader at 1.543 million euros.
• Ogilvy has gained more points in the world rankings than anyone this season. He has moved into fourth place, up from 12th to begin 2009.
• Ogilvy has two fantastic finishes at the WGC-CA since it moved to Doral: T-3 and a win last year.
How have Ogilvy and Woods gotten it done the past two years at Doral? It's all about greens in regulation.
We are the champions
GIR rank
Putting < 10 feet rank
Scrambling rank
GIR pct.
Putting < 10 feet pct.
Scrambling pct.

Woods -- 2007
1
70
36
75.00
81.70
61.1
Ogilvy -- 2008
1
T-2
1
76.39
95.3
94.1

• More PGA Tour statistics
These are some staggering similarities and differences for two champs on the same golf course. Though both hit greens at an elite clip, Ogilvy got up and down almost without exception, whereas Tiger didn't.
Their scrambling can be summed up by the scorecard: Ogilvy made only a single bogey in his victory, while Tiger made eight. In 2007, Ogilvy started with 60 consecutive holes without a bogey, and hole No. 61 was his only blemish for the entire event. For the week, he sank all 52 of his putts from 5 feet and in.
Looking deeper, the biggest overall difference from 2007 to 2008 had nothing to do with the champions; instead, it was the course. In fact, there was a seven-shot difference in the winning score -- Ogilvy won at 17 under, Tiger at 10 under. In just a single season, the Blue Course at Doral dropped from the 16th-most difficult course to 40th out of 54. It went from playing a stroke over par in 2007 to playing a stroke under par in 2008.
For the field as a whole, the greatest contributor to the increased difficulty was GIR percentage, as the field averaged 64.06 percent last year compared with 54.9 percent in 2007.
Tangled up in Blue
The Blue Course at Doral, a par-72 that plays to 7,266 yards, often is referred to as the Blue Monster.
It's most famous for its finishing hole, the 467-yard par-4 18th. This beast was the most difficult home hole on the PGA Tour in 2004 and 2007, and was the sixth-most difficult in 2008. It is a very difficult driving hole that usually plays into the wind or into a crosswind.
The wind can play a huge factor in Florida golf at this time of year, especially with Sunday nerves and a world-class field factored into the equation. The closing hole also sports a very long and narrow green that is entirely bordered by water on the left side.
Combining the two years in which the Blue Monster has hosted the WGC-CA Championship, players have birdied the hole only 7 percent of the time, while they have carded bogey or worse more than 40 percent of the time.
Fantasy foursomes
This will be the first real opportunity to use Tiger in your lineups this season. It's pretty hard not to start him, but if you saw Ogilvy win the WGC-Accenture Match Play, no one can argue too much if you start Ogilvy over Woods.
In a field of world-class players like this, you're best off going with the hot hand and the blue chips. This is one of the last times you'll see a field this strong before Augusta, so why not just go thoroughbred across the board?
The starters: Ogilvy, Rory McIlroy, Steve Stricker, Retief Goosen
Next in line: Woods, Adam Scott, Zach Johnson, Luke Donald
Notables
• Stuart Appleby continues his streak this week as the only player to compete in every individual World Golf Championship event since its inception in 1999.
• Six players will make their first start in a WGC event this week: Thomas Aiken, Ken Duke, Garth Mulroy, Bubba Watson, Azuma Yano and last week's champ, Y.E. Yang.
• This week the PGA Tour also hosts the Puerto Rico Open, in which Manuel Villegas, Camilo's brother, will make his first PGA Tour start.
Send comments, suggestions and corrections to Nathan.J.Easler@espn.com.
March, 1, 2009
03/01/09
9:22
PM ET
Geoff Ogilvy is having one heck of an early season. With all the cameras and eyes on Tiger Woods' return, Ogilvy's 2009 start is as dominant as what we've come to expect from Tiger.
Golf Stats: The Numbers That Matter
Every golfer and golf fan knows the sport is a game of numbers. One of the most distinct characteristics of golf is that any player's efforts are summarized by an absolute and final statistic: the score. However, as any visitor to the 19th hole knows, the story of the game cannot be told in full by the tally at the end of the round. "Golf Stats: The Numbers That Matter" is your weekly source of insight into the numbers that make a difference in golf, focusing on the PGA Tour. Whether you're looking to wow your buddies in your Saturday foursome or get a little extra help for your fantasy team or are just a stats junkie, this blog is for you. Every week, this sliver of the Internet will be your one-stop shop for the unique and significant golf stats that best tell the stories beyond the scores.
The Aussie followed up his December Australian PGA win with his fifth PGA Tour victory at the season-opening Mercedes-Benz Championship. On Sunday at the WGC-Accenture World Golf Championship, he notched title No. 6.
How has he been able get it done so far? Ogilvy's numbers show him racking up birdies at a torrid rate; not surprisingly, they have been set up by much-improved putting and a stronger greens-in-regulation percentage. Last week in Tucson, Ariz., Ogilvy showcased an outstanding birdie total and impressive putting display to defeat the world's finest players and take home the $1.4 million winner's check.
Coming into this week, Ogilvy led the PGA Tour in birdies per round (5.13) and percentage of holes at birdie or better (29.17). By comparison, the tour averages are 3.64 and 20.82, respectively.
Ignoring the holes that were conceded, Ogilvy was actually able to improve on his birdie numbers, averaging 5.42 birdies per round and making birdie or better at a 30.97 percent clip. He made these improvements under the duress of match play and on a championship course measuring more than 7,800 yards. In Sunday's 36-hole final, Ogilvy was 12 under through 33 holes and didn't record a single bogey.
To score this well, all parts of his game were obviously clicking on all cylinders, but it was Ogilvy's putting that separated him from the field. Just how clutch was his putter? Let's take a look at how Ogilvy's putting inside 10 feet compared to that of the other players in the final four:
Putting from 10 feet and in
In playing 121 holes over five days, Ogilvy missed just five putts from inside 10 feet, for a 95.10 percentage. How does this compare to what has been done on the PGA Tour this year?
Finding the flat stick
| | | |
| --- | --- | --- |
| Tour leader | Tour avg. | Ogilvy before WGC-Match Play |
| Aron Price -- 92.93% | 86.49% | 85.91% |
Ogilvy's putt percentage inside 10 feet last week bested that of the tour leader in the category, and he blew past both the tour average and his own putting rate by nearly 10 percent. To further quantify this stat, Ogilvy made exactly 9.37 more putts inside 10 feet than we would have expected coming into this event. In match play, this can really wear an opponent down.
Ogilvy performed and putted under the increased pressure of match play -- and did so in what the players consider one of the most challenging putting tests they have seen in some time. In fact, there is so much undulation and subtle movement on the greens at the Ritz-Carlton Golf Club that the greens were kept rolling more than two points slower on the stimpmeter for the event. Had they been the normal tour speed, the players contend, the greens would have been the most difficult on tour.
Ogilvy was able to figure them out and feasted under the pressure. For the season, Ogilvy is ranked third in putting average and has decreased his putts per round by 2.1 from last year.
The other key ingredient to Ogilvy's birdie barrage is his improved iron play and ball striking. The most notably improved stat for Ogilvy in 2009 is his greens-in-regulation percentage. After hovering around 62 percent GIR for the past three years, Ogilvy has improved to more than 70 percent this year and moved up 130 spots in the PGA Tour rankings in the category.
Green is good
| | | |
| --- | --- | --- |
| Year | Greens in regulation | Rank |
| 2009 | 70.49% | 36 |
| 2008 | 61.89% | 169 |
| 2007 | 62.75% | 158 |
| 2006 | 62.94% | 160 |
And with victories in all six of his matches this week, Ogilvy put himself atop a very impressive list for career record at the WGC-Accenture Match Play (minimum 10 matches played):
Ogilvy also joins Tiger as the only players to have won the WGC-Match Play more than once. Woods has won it three times.
Ogilvy's $3.54 million in career earnings at the event is second only to Tiger's $4.71 million. As for 2009, Ogilvy now leads the FedEx Cup standings at 1175.5, the PGA Tour money list at $2.67 million and the Race to Dubai at 1,543,168 euros.
Ogilvy began the season ranked 12th in the world, and he has moved up to fourth -- behind Tiger, Sergio Garcia and Phil Mickelson -- while jumping ahead of the likes of Padraig Harrington and Vijay Singh.
Tiger's return
After a welcoming first match and 3-and-2 victory over Brendan Jones, Tiger met a much tougher opponent in Round 2 in Tim Clark. The South African played nearly flawless golf, amassing six birdies and no bogies in defeating the world's No. 1 player, 4 and 2.
In postround interviews, Tiger was humble, saying he flat-out got beat. But he was encouraged by the fact he hit only two shots in two rounds that he considered bad.
Although that might be true, the numbers revealed some rust. Over two days, Tiger's iron play wasn't what we have come to expect from him: He hit only 59.4 percent of greens in regulation. In 2008, his rate was 71.4 percent.
In terms of scoring, Tiger did electrify the crowd with two first-round eagles, including a birdie-eagle start to the event. For his two matches, Tiger finished with seven birdies and two eagles.
However, he made a significantly larger number of bogeys than expected, totaling six over 32 holes. When Tiger is on his game, he totals a ratio of 2.2 birdies for every one bogey. This week, the birdie-to-bogey ratio was cut nearly in half, to 1.17.
It has been speculated that Tiger's surgery will help him significantly with accuracy off the tee. Though the sample size is very small, Tiger did improve, hitting 62.5 percent of fairways this week, compared to 57.9 percent in 2008.
This improvement came even as Woods had noticeable difficulty transferring his weight from his right side. He hasn't been able to really push against his left leg for a long time, so there may be two factors for him to overcome: the muscle memory of favoring his left leg, and the change in his movement now that he can fully transfer his weight to his left side.
The numbers show that, of the fairways missed, 77.7 percent were to the right. This would support the notion that Tiger is still staying on his right side.
Notables
• Clark has the bittersweet honor of being the highest earner on the PGA Tour without a win. Clark's career earnings total more than $12.2 million. The feather in his cap for beating Tiger last week might be the confidence boost needed to help him get off the schneid.
• This week's runner-up, Paul Casey, is the highest-ranked player without a win on the PGA Tour. Casey jumped 10 places, all the way to 13th in the world rankings, thanks to his stellar showing at the WGC-Match Play and his season-opening win at the Abu Dhabi Championship on the European Tour. With his game and work ethic, a PGA Tour win -- perhaps even a major -- should be on the horizon.
• On his way to the WGC-Match Play Final, Ogilvy had a much more difficult road than Casey, his opponent. Ogilvy took down Kevin Sutherland (ranked No. 56), Shingo Katayama (No. 41), Camilo Villegas (No. 10), Rory McIlroy (No. 17), Stewart Cink (No. 22) and Casey (No. 23). The average rank of Ogilvy's opponent was 28th compared to Casey's 43rd. Before facing Ogilvy, Casey's highest-ranked opponent was Ross Fisher at No. 38 in the world.
• Ogilvy does his best work against the best fields. Of his six PGA Tour victories, three are in WGC events, one is the 2006 U.S. Open and another is the 2009 Mercedes-Benz Championship (a winners-only field). His first PGA Tour victory came at the 2005 Chrysler Classic.
• McIlroy is going to be a force in professional golf for a long time. The 19-year-old Northern Ireland native went 3-1 in his first PGA Tour event on U.S. soil. He was knocked out by Ogilvy in the fourth round, falling 2 and 1. Ogilvy had the most birdies of any round against McIlroy, totaling eight, but the match still went 17 holes.
Send comments, suggestions and corrections to Nathan.J.Easler@espn.com.