Category archive:

Rory McIlroy
January, 7, 2015
01/07/15
8:01
PM ET
Rory McIlroy's accolades include major championships and global golf awards. Add the title of one of the most eligible bachelors on the planet to the list.
[+] Enlarge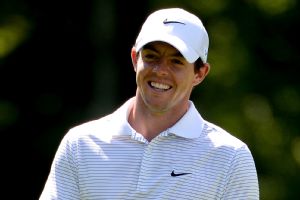 Ross Kinnaird/Getty ImagesRory McIlroy, winner of four major championships at the age of 25, will be shooting to complete the career Grand Slam at the Masters in April.
The 25-year-old Northern Irishman came in at No. 35 in Town and Country magazine's ratings of the top 50 single men.
The current No. 1 golfer in the world ranked as the highest of the eight athletes on the list that included tennis player Marin Cilic (No. 43), Carolina Panthers quarterback Cam Newton (No. 44) and Cleveland Cavaliers big man Kevin Love (No. 50).
McIlroy was also one of 10 men age 25 or younger on the rankings that are dominated by media types, heirs to fortunes and even Kennedys. The average age of the men included was 31.1 years old.
The winner of the past two major championships, McIlroy is expected to begin his 2015 golf season next week in the European Tour's Abu Dhabi HSBC Golf Championship in the United Arab Emirates.
November, 10, 2014
11/10/14
1:35
PM ET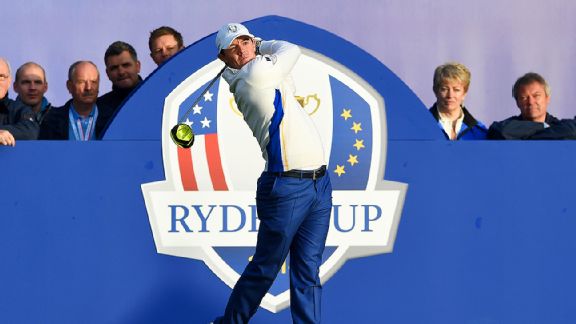 Ian Rutherford/USA TODAY SportsIn the PGA Tour's 2013-14 season that concluded in September, Rory McIlroy finished first on the money list, nearly $2 million ahead of Bubba Watson.
Only three players have a chance to catch Rory McIlroy for the European Tour's money title -- and they would each need to win the final two events on the schedule, while getting some help from McIlroy, to accomplish the comeback.
Jamie Donaldson, Sergio Garcia and Marcel Siem still have a mathematical chance to win what is called the Race to Dubai, but they would need to win this week's Turkish Airlines Open followed by next week's season-ending DP World Tour Championship in Dubai, United Arab Emirates.
McIlroy has not played since finishing second at the Dunhill Links Championship in October and has had a comfortable lead since capturing the Open Championship, WGC-Bridgestone Invitational and PGA Championship in successive tournaments in July and August.
All three tournaments are official events on both the European Tour and the PGA Tour, where McIlroy claimed his second money title this year. He is in position to capture both money titles for the second time, having also done so in 2012.
The European Tour is in the midst of a four-tournament Final Series. Following the final regular event in Australia, players' money earnings were converted to points, with each of the final four events offering 10 million total points, with 1.66 million going to the winner.
According to the European Tour, McIlroy will finish the season with at least 5,427,869 points -- his current total plus last place in Dubai, where he is scheduled to play next week.
Donaldson would need to win the next two events and have McIlroy finish outside the top five, while Garcia would need two victories and a McIlroy finish outside of the top seven. For Siem to claim the money title, he would need to win both and then have McIlroy finish outside the top 17.
The top 60 money winners through this week's Turkish Airlines Open advance to the Dubai event, where there is also a $5 million bonus pool offered to the top 15 finishers in the final Race to Dubai standings.
September, 8, 2014
09/08/14
12:56
PM ET
CHERRY HILLS VILLAGE, Colo. -- In golf speak, it is called "taking relief" -- when a player gets to drop his ball away from various obstacles during the course of a round. Billy Horschel took the term to a different level on Sunday at Cherry Hills Country Club, outside Denver.
Having hit his approach shot to the 18th green in the final round of the BMW Championship, Horschel, 27, started running toward the gallery ropes.
The television cameras followed him toward the spectators, and everyone was puzzled about what had him in such a hurry -- as he was two putts away from securing a $1.44 million check.
Simple, really. "I'm sure the whole world saw me sprint, but I had to go to the bathroom," Horschel said. "I had been holding it for way too many holes and I just felt like, you know, I can sort of relax now. Let's just go ahead and go to the bathroom before I can't go."
Horschel found a portable restroom just off to the side of the 18th hole, then was in a much calmer state of mind as he headed to the green and two-putted for his par that secured a two-stroke victory over Bubba Watson.
The win was Horschel's second on the PGA Tour. He heads to this week's Tour Championship in second-place in the FedEx Cup standings, behind Chris Kirk and ahead of Watson and Rory McIlroy. The winner of the FedEx Cup gets a $10 million bonus.
September, 7, 2014
09/07/14
6:49
PM ET
CHERRY HILLS VILLAGE, Colo. -- For the second straight day, Rory McIlroy 4-putted a green at Cherry Hills, doing it at the same hole as he did on Saturday.
The No. 1-ranked player in the world took it in stride, choosing to laugh at himself rather than get too upset over it.
Just incase anyone missed my 4 putt yesterday, I had to do it again =H decent week overall, still in a great position going to Atlanta.

— Rory Mcilroy (@McIlroyRory) September 7, 2014
"It sort of shows everyone out there that we do the same things as they do every weekend," McIlroy said after finishing in a tie for eighth, 6 strokes back of winner Billy Horschel at the BMW Championship.
Of course, McIlroy took the classy way out by failing to mention that most everyone else can't hit 350-yard tee shots, drive par-4 holes or, well, win consecutive major championships.
But McIlroy did give up 5 strokes to par at the par-3 12th over the weekend, making a triple-bogey on Saturday -- when he 4-putted from 4 feet -- and then a double-bogey Sunday when he 4-putted from 19 feet.
And give McIlroy credit for acknowledging that Saturday's 4-putt might have played a role in Sunday's 4-putt.
"Over the second putt it was [on my mind]," McIlroy said. "I said, let's not give any more shots away to this hole. So maybe I put a little bit too much pressure on myself to hole the second putt.
"On the third putt I'm thinking, 'OK, you don't want to 4-putt again,' and I actually [holed] a decent-length putt for a 4-putt."
As for the oddity of it?
"Two 4-putts on the game green? It's not my worst," McIlroy said. "I have 5-putted before. But it's one of those things that at least I can laugh about it and move on."
McIlroy will head to Atlanta for this week's Tour Championship fourth in FedEx Cup points after Horschel moved to second behind Chris Kirk. Bubba Watson, who finished second at Cherry Hills, moved to third. Hunter Mahan is fifth and any in the top five would capture the FedEx Cup with a victory at East Lake.
September, 4, 2014
09/04/14
9:33
PM ET
CHERRY HILLS VILLAGE, Colo. -- There is an $8 million purse and a chance to add another victory to an already impressive 2014 résumé, positioning for next week's FedEx Cup finale in Atlanta for Rory McIlroy to think about this week at Cherry Hills.
But among his big reasons for wanting to play the tournament? Football. American football.
Yep, McIlroy acknowledged two weeks ago that he really wanted to go to Sunday night's NFL game between the Denver Broncos and Indianapolis Colts.
Born and bred on the other football -- soccer -- in his native Northern Ireland, McIlroy, 25, has come to appreciate the American version.
"Of course I can enjoy it," McIlroy said Thursday after shooting 67 to share the lead. "I mean, I'm a huge rugby fan. So there's obviously similarities with that. Even though you guys play with pads on, which is -- I don't understand that.
"But it's a great game. Once you start to understand it, and I started to understand it more over the past couple of years, you really get into it, and I think the great thing about football is how short the season is. So it's always in demand. People want it. Once the Super Bowl finishes, they can't wait for football season to start up again. I think that's the great thing about it."
McIlroy said he met Broncos quarterback Peyton Manning on Tuesday in the locker room at Cherry Hills and got hooked up with tickets for the game.
"It's nice to be in this position and to be able to meet other sports people and people who are at the top of their game and profession," McIlroy said.
September, 1, 2014
09/01/14
9:49
PM ET
Be wary of falling asleep on a plane with Rory McIlroy nearby.
After finishing tied for fifth Monday evening at the Deutsche Bank Championship, and apparently flying away from the TPC Boston course in Norton, Mass., the No. 1-ranked golfer in the world decided it was time to play a prank on his caddie, J.P. Fitzgerald.
August, 19, 2014
08/19/14
12:38
PM ET
#ALSIcebucketchallenge accepted. Phil Knight and @RafaelNadal you're up. Thanks @McIlroyRory http://t.co/KJC2g8PXdK

- Tiger Woods (@TigerWoods) August 19, 2014
Why have one superstar golfer take the ALS Ice Bucket Challenge when you could have two?
As they continued their media tour through New York this week, Tiger Woods and Rory McIlroy decided to join the fray that has taken over most Facebook feeds in recent weeks.
Current world No. 1 McIlroy and former No. 1 Woods were nominated by Nike's Mark Parker. The pair, in turn, called out Nike's Phil Knight and Rafael Nadal (by Woods) and former President George W. Bush, Wayne Rooney and model Meghan Markle (by McIlroy.)
To add a small twist, the two decided to dump the icy buckets of water on each other, with Woods getting doused first.
The impact of this global phenomenon has clearly affected awareness of the disease and its charitable contributions. In 2013, the national ALS chapter raised $23.5 million. In the past 22 days, the Ice Bucket Challenge has raised $22.9 million by the ALS Association and its chapters.
August, 16, 2014
08/16/14
1:41
PM ET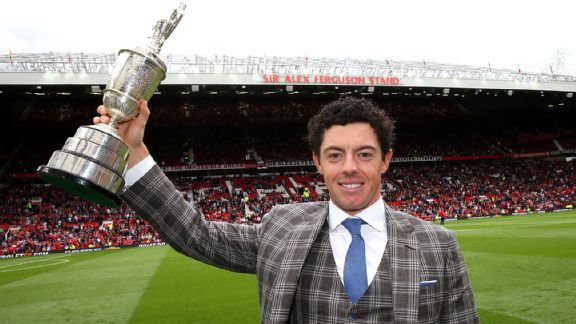 John Peters/Getty ImagesRory McIlroy brought the oldest major championship trophy in golf to Old Trafford to celebrate the opening of the English Premier League season with Manchester United.
After winning the Open Championship in July, Rory McIlroy announced to the crowd at Royal Liverpool that he appreciated the kindness of the fans, even though he was a supporter of Manchester United of the English Premier League.
On Saturday, it's safe to say he got a warmer reception at Old Trafford.
And after meeting some legendary names at the home of Man United, McIlroy got into a comical Twitter back-and-forth with Arsenal fan and fellow Ryder Cupper Ian Poulter.
Hey you can keep your Claret Jug but can I have my suit back please Mr @McIlroyRory I thought something was missing. pic.twitter.com/wI12lw7qdV

- Ian Poulter (@IanJamesPoulter) August 16, 2014
Sorry @IanJamesPoulter you must be mistaken... this suit was only available with the claret jug!

- Rory Mcilroy (@McIlroyRory) August 16, 2014
And the red socks? @McIlroyRory Sorry @IanJamesPoulter you must be mistaken.. this suit was only available with the claret jug!

- Ian Poulter (@IanJamesPoulter) August 16, 2014
Yes them red socks. I thought Van Gaal was going to ask you to take off that suit and help your boys out. They needed it. @McIlroyRory

- Ian Poulter (@IanJamesPoulter) August 16, 2014
You do realize they are the only trophies that will be paraded at Old Trafford this season. @McIlroyRory

- Ian Poulter (@IanJamesPoulter) August 16, 2014
August, 9, 2014
08/09/14
5:51
PM ET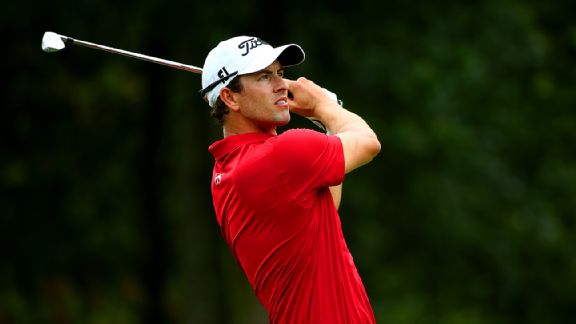 Andy Lyons/Getty ImagesAdam Scott pulled within shouting distance of the lead with a 5-under 66 on Saturday.
LOUISVILLE, Ky. -- Fresh off a bogey-free round of 5-under 66 Saturday at Valhalla, Adam Scott confronted this unforgiving truth:
Odds are he is not going to win the PGA Championship.
"I'm probably too far back," he said, "unless there's something special in there tomorrow."
Scott did something pretty special in reaching 7-under at the end of his third round, moving up the PGA leaderboard and into the conversation about players who can threaten from back of the Sunday pack. But in assessing his chances, or non-chances, Scott was also factoring in the presence of the man who just replaced him as the world's No. 1 golfer, Rory McIlroy, who was only in the early stages of his third round when Scott spoke.
Opponents are almost afraid of the freight train McIlroy became after his victories at Hoylake and Firestone. They talk about his power and his aim and his fearlessness in ways they talked about Tiger Woods' weapons back in the day.
And Scott has to be thinking: Wasn't this supposed to be me they were talking about?
When he won the 2013 Masters at age 32, ending Australia's drought at Augusta National, Scott was hailed as the next big action star in golf. He had leading man looks and a blacksmith's arms and, oh yeah, he even had Tiger's old caddie on his bag.
People lined up to declare that Scott was a surefire multiple major winner, that he had too much game to toss him into the one-and-done bin. But although he has had four top-10 finishes in the six majors that followed his Masters win, including three top-5s, Scott has proved just how difficult it is to win two Grand Slam events, never mind four.
At 25, McIlroy is 18 glorious holes from No. 4. He is so strong, and so long, that a Masters champ in his prime can come off a 67 that put him at 7 under -- right in the mix -- and concede that he's a long shot at best.
"Just needed a few more birdies," Scott said after delivering five of them.
Maybe he'll surprise himself Sunday with a brilliant closing round that supplants the kid who supplanted him. Or maybe McIlroy will just go ahead and show why everyone suddenly sounds so afraid of him.
August, 8, 2014
08/08/14
2:14
PM ET
LOUISVILLE, Ky. -- Apparently Rory McIlroy's success means he is getting recognized when he is out and about -- even at a gas station. He was spotted at a local gas station and posed for a photo.
Who knew my cousin was famous? @99rooniegirl pic.twitter.com/ozfFz98q18

— maddy wesley (@MaddyWesley) August 8, 2014