Category archive:

Rickie Fowler
June, 14, 2014
06/14/14
7:10
PM ET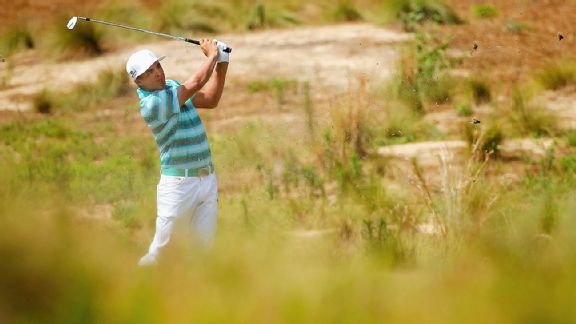 Mike Ehrmann/Getty ImagesRickie Fowler's best finish in a major is a tie for fifth in April at the Masters and at the 2011 Open Championship. He heads into Sunday's final round of the U.S. Open at Pinehurst No. 2 in a tie for second.
PINEHURST, N.C. -- On a treacherous day at Pinehurst No. 2, Rickie Fowler became the first player of the day to complete a round under par. And he did it by 3 strokes, shooting a 67 that moved him into a tie for second.
"I'm happy to be under par," said Fowler, who has been working with instructor Butch Harmon since December and has slowly seen improvement with his swing. "I didn't hit it as well as I would like to. I drove it a little bit poorly and definitely need some work on that with Butch before we go out. But I hit a lot of great shots into the greens and I got the ball up and down when I needed to."
For the third round, the scoring average was over 74, yet Fowler made five birdies and two bogeys to get to 217, 3 under par for the tournament. Erik Compton later matched him with a 67.
As for contending?
"I look at it as similar to what Bubba [Watson] was doing at the Masters," Fowler said. "He was so far out in front that you can't focus on him. I can put myself in contention with the rest of the group and see what Martin does."
June, 12, 2014
06/12/14
10:29
AM ET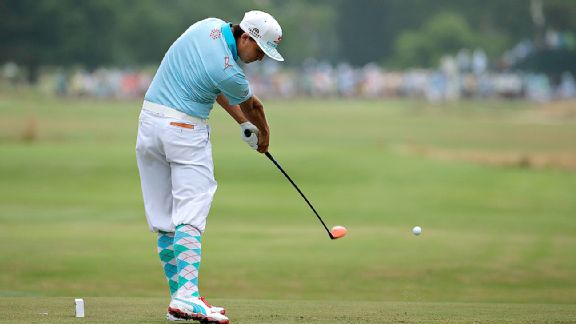 AP Photo/Charlie RiedelRickie Fowler, who has his own signature style, honors Payne Stewart's signature style with knickers in Round 1.
PINEHURST, N.C. -- In honor of Payne Stewart, Rickie Fowler is wearing knickers on Thursday for the first round of the U.S. Open at Pinehurst No. 2.
Stewart, the 1999 U.S. Open champion at Pinehurst, wore knickers throughout his 18-year PGA Tour career.
Days after Stewart perished in a plane crash in October 1999 at the age of 42, several players honored him by wearing the traditional attire during the final round of the Tour Championship in Houston.
Stuart Appleby wore clothes from Stewart's wardrobe.
With white knickers, a blue shirt, matching argyle socks and white pumas with his neon laces, the 25-year-old Fowler brought his own notable fashion instincts to the iconic outfit, keeping his flat-billed hat over Stewart's Kangol flat cap.
February, 18, 2014
02/18/14
11:19
AM ET
Maintaining status as one of the sport's elite players is a rare achievement in the world of golf. Gravity remains undefeated, in both life and the Official World Golf Ranking. What goes up must come down.
Ask former world No. 1 Lee Westwood, who's 32nd in the ranking this week. Or Bo Van Pelt, who was 23rd to open up 2013 but is now 78th and without a line in this year's WGC-Accenture Match Play bracket.
Trivia question
Tiger Woods is the only player to win the WGC-Accenture Match Play in back-to-back years (2003-04). Who is the only player to finish runner-up in back-to-back years? Answer below
Several of the game's stars are off to rough starts this season. We at Numbers Game examine what's plaguing three elite players as the golf world's attention turns to Dove Mountain.
Rickie Fowler
There are three unquestionable truths regarding Fowler: an ostentatious wardrobe, appeal to young fans everywhere and stellar iron play. The third trait might be the least famous of the three, but the numbers support the claim -- Fowler ranks sixth or better on tour in approach shot proximity on shots between 100-125, 125-150 and 150-175 yards.
But Mr. Flatbill has missed each of his last three cuts. Granted, he's recently started working with a new swing coach, Butch Harmon, but last year he never once missed the cut in back-to-back PGA Tour starts. Fowler's short game is the biggest reason for his struggles this year, as his scrambling percentage ranks outside the top 100 on tour in all denominations of the statistic (from inside 10 yards and between 10-20 yards and 20-30 yards).
It's his putter, however, that's the biggest culprit. So far this season, the numbers say that Fowler has regressed from an average putter to an abysmal one.
In 2013, Fowler ranked 24th on tour in strokes gained putting. He's 175th this season. On putts inside 10 feet, Fowler has dropped from 79th to 161st.
All of this spells trouble for Fowler coming into the Match Play, where he's been bounced in the first round each of the last two years. Oh, and Fowler's first-round matchup? Match play dynamo Ian Poulter.
Brandt Snedeker
A knee injury suffered last fall that involved a motorized scooter will take the brunt of the blame for Snedeker's slow start to the season. Snedeker has no top-10 finishes and just one top-25 in six starts so far this year.
At first glance, it seems like his full swing isn't the issue. Snedeker's ballstriking and driving accuracy ranks have improved this year. And he actually has the exact same PGA Tour rank in greens in regulation percentage this year (79th) that he did last season.
Not all GIRs are created equal, though. Snedeker ranked T-13 last year on tour in average approach shot proximity. He's 172nd so far this season in the stat.
Snedeker's trademark elite putting has diminished significantly early on this season. In 2012, he led the PGA Tour in both strokes gained putting and one-putt percentage. Last year, he was fourth and sixth in those statistics, respectively. This year? He's 58th in strokes gained putting and tied for 103rd in one-putts.
In particular, Snedeker's putting between 10 and 15 feet has really hurt him. When Snedeker led the tour in strokes gained putting in 2012, he made more than 38 percent of his putts from that distance. So far this year, he's making about 22 percent -- tied for 150th on the PGA Tour.
Snedeker draws David Lynn in the first round of match play, he of one career appearance at Dove Mountain (2013, where he lost in first round). Regardless of his opponent, though, Snedeker will need to play much better this week if he hopes to climb through the Jones Bracket.
Nick Watney
He's made the cut in five of six starts so far this season, but with no top-25 finishes, Watney is struggling by his own high standards. Once again, it's the flat-stick that has dictated this decline.
When Watney ascended into the top 10 in the world back in 2011, it was largely because he became an elite putter. That season, Watney ranked in the top 12 on tour in strokes gained putting, birdie-or-better conversion percentage and putting inside 10 feet. This year, Watney is outside the top 100 in each of those statistics.
Trivia answer
Question: Tiger Woods is the only player to win the WGC-Accenture Match Play in back-to-back years (2003-04). Who is the only player to finish runner-up in back-to-back years?
Answer: Paul Casey, 2009-10
How significantly do putting numbers affect one's ability to score? Watney's tour ranks in greens in regulation percentage (59th) and approach shot proximity (T-34) are actually better this season than they were in 2011 (T-54th and T-68th), but his scoring average rank is 93 spots lower -- down from fifth to 98th.
Watney faces Louis Oosthuizen in an 8-vs.-9-seed first-round matchup. He's gotten out of his first match in all four career starts at this event, but his recent putting woes say not to bet on it happening again.
May, 15, 2012
05/15/12
10:04
AM ET
Rickie Fowler
nearly accomplished something Sunday at TPC Sawgrass that has not been done since 1997.
Trivia question
Who is the only player to win both The Players Championship and the Byron Nelson Championship multiple times each? (Answer below)
Had Fowler picked up the victory at The Players Championship, he would have been the first golfer since David Duval to get his first two career PGA Tour wins in consecutive weeks.
Fowler's T-2 showing at TPC Sawgrass was his fifth career runner-up finish on tour. He moved to sixth on the money list, seventh in Ryder Cup points and eighth in the FedEx Cup standings. His résumé is building by the week, and he's likely going to be one of the most talked-about names leading up to this year's U.S. Open at Olympic Club.
Now if only this kid could putt.
All this success, and Fowler is 126th on the PGA Tour this year in strokes gained--putting. At Sawgrass, Fowler missed 11 putts inside 10 feet, and was just 4-for-21 on putts from 10-20 feet.
His season putting marks aren't good either, regardless of how you slice it. Fowler is tied for 91st on tour in putts inside 10 feet. From 10-15 feet, he's outside the top 120. From 15-20 feet, he's tied for 168th. Yikes.
And we at Numbers Game aren't condemning Fowler -- on the contrary -- we're thinking about what could be should these numbers improve. Fowler has eight career finishes of fourth or better in his PGA Tour career. In seven of them, he gained at least 0.6 strokes per round on the field putting.
And Saturday, when Fowler fired a 66 to surge up the leaderboard, his flatstick was true: zero 3-putts, 2.14 strokes gained on the field, and 16-for-17 on putts inside 10 feet. Fowler seems to be one club away from seeing his career really take off.
---
"Three on the tee" this week examines the new world No. 5 golfer, a player finding his game and a streak that might never be approached again. The Numbers Game starter calls to the tee:
Matt Kuchar: He has as many top-10 finishes on the PGA Tour since 2010 (25) as anybody else on the circuit (tied with Luke Donald for the most in that span). He's been in the top 25 on tour in birdie average for three straight years. So before last week at TPC Sawgrass, how had Kuchar won just twice on the PGA Tour since October 2009?
We at Numbers Game suppose his final-round scoring average has had something to do with it. In 2011, Kuchar ranked fourth on the tour in overall scoring average. In fourth-round scoring average? Tied for 37th.
"Final round performance" measures how often a player improved his position on the leaderboard in the final round. In 2010, when Kuchar led the tour's money list, he was eighth in the statistic. In 2011 and 2012, he's been outside the top 75.
So will Sunday's performance help Kuchar shake that Sunday stigma? Almost everything Kuchar did in the final round at Sawgrass points to yes. He hit his last 13 greens in regulation, hit eight of his last 10 fairways, and had just a single 3-putt (at 17) on Sunday.
Jhonattan Vegas: Last week, he rung up his first top-10 finish of 2012. One of the biggest reasons? Vegas made 91.0 percent of his putts inside 10 feet -- his best performance over the course of a tournament as a PGA Tour professional. Vegas' 20 holes at better than par were also the most he's recorded in a tournament this year.
In each of his last three starts, Vegas has hit at least 65 percent of his greens in regulation. If Vegas wishes to improve on last week's T-7 finish at Sawgrass, he'll likely need to exceed that number again. In each of his four top-10 finishes on tour, he's hit at least that many greens in regulation. Vegas will be playing about four hours from his old collegiate stomping grounds at the University of Texas at this week's HP Byron Nelson Championship.
Byron Nelson: This week's tournament namesake would have turned 100 on Feb. 4, 2012. We could go another 100 years without seeing anyone come close to approaching a record he set in 1945.
From March to August of that year, Nelson went on a streak that anyone throughout the annals of sports will be hard-pressed to ever replicate. Nelson won an amazing 11 straight tournaments, starting with the Miami Four Ball and ending with the Canadian Open.
Trivia answer
Question: Who is the only player to win both The Players Championship and the Byron Nelson Championship multiple times each?
Answer: Jack Nicklaus (The Players -- 1974, '76, '78; The Nelson --1970, '71)
In the nearly 70 years since then, only two players have even gotten halfway to Nelson's 11 straight victories: Tiger Woods (who has streaks of six and seven straight in his career) and Ben Hogan, who won six tournaments in a row in 1948. Put it into this perspective: since Joe DiMaggio's MLB-record 56-game hit streak in 1941, there have been 28 hit streaks of at least 30 games.
Nelson captured 18 tournaments in all that year, five more than any other player has won in single season (13 by Hogan in 1946) in PGA Tour history.
Justin Ray is a senior researcher with ESPN Stats & Information. He has contributed to ESPN's golf coverage since joining the network out of college in 2008. He is based in Austin, Texas, with the Longhorn Network. Send comments and suggestions to Justin.Ray@espn.com.
January, 27, 2011
01/27/11
8:57
PM ET
ESPN.com's Bob Harig filed this video blog from Torrey Pines, site of the 2011 Farmers Insurance Open.
Bob Harig covers golf for ESPN.com. He can be reached at BobHarig@gmail.com.
September, 16, 2010
09/16/10
1:15
PM ET
Want to know what Rickie Fowler thinks about the best career path to reach the PGA Tour? How about his clothing color choices? Maybe how to pick a golf teacher? The rookie (and rookie on the U.S. Ryder Cup team) answered questions on Twitter for a number of followers.
For the record, Fowler favors college, orange on Sunday and personal preference and recommendations (for a golf teacher.) As for how he thinks he fare at the upcoming biennial event at Celtic Manor?
"'@SKietz: @RickieFowlerPGA Whats it gonna be like to play in the Ryder Cup as a rookie' I'll have to get back to you in 3 weeks."
Kevin Maguire is the golf editor at ESPN.com. He can be reached at Kevin.Maguire@espn.com.