Category archive:

Adam Scott
August, 9, 2014
08/09/14
8:37
PM ET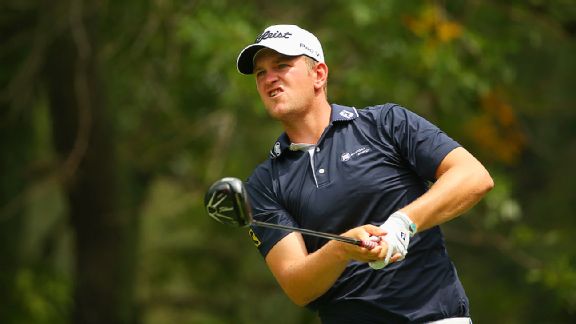 Mike Ehrmann/Getty ImagesBernd Wiesberger was 12-under par through three rounds at the PGA Championship.
LOUISVILLE, Ky. -- And now, a nutshell golf biography of Austrian Bernd Wiesberger, who trails PGA Championship leader Rory McIlroy by 1 shot:
"I got introduced to the game from my parents, especially from my father," he said. "They had quite a big sports store back in Austria and a pro shop close by and a golf club. When they opened up that course ... that's how I got introduced to the game."
On how many people in Austria are rooting for him:
"Well, given a population of just over 8 million people, we have around 100,000 golfers in the golf clubs. So I would reckon about 90,000 would be on the TV by now -- or at least I hope so."
On being paired with McIlroy in the last group on Sunday:
"Well, I've not been in contention in a major championship, so I don't know how it's going to turn out ... I'm friends with Rory and I'm sure it's going to be a nice situation out there again. ... Yeah, just enjoy myself. From now on, it's just a bonus, really."
On how many different ways he's heard his last name pronounced by first-tee emcees:
"I'm not going to say those because then I'll have them all the time tomorrow. Let's be creative. I'm sure there will be creative guys out there tomorrow."
August, 9, 2014
08/09/14
5:51
PM ET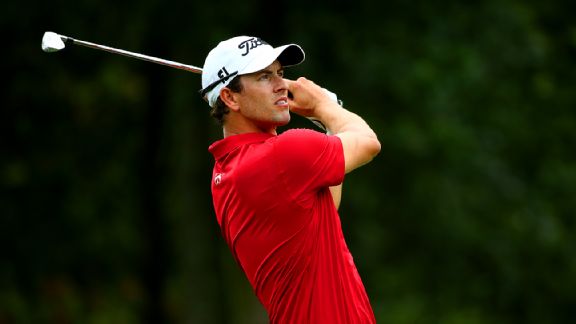 Andy Lyons/Getty ImagesAdam Scott pulled within shouting distance of the lead with a 5-under 66 on Saturday.
LOUISVILLE, Ky. -- Fresh off a bogey-free round of 5-under 66 Saturday at Valhalla, Adam Scott confronted this unforgiving truth:
Odds are he is not going to win the PGA Championship.
"I'm probably too far back," he said, "unless there's something special in there tomorrow."
Scott did something pretty special in reaching 7-under at the end of his third round, moving up the PGA leaderboard and into the conversation about players who can threaten from back of the Sunday pack. But in assessing his chances, or non-chances, Scott was also factoring in the presence of the man who just replaced him as the world's No. 1 golfer, Rory McIlroy, who was only in the early stages of his third round when Scott spoke.
Opponents are almost afraid of the freight train McIlroy became after his victories at Hoylake and Firestone. They talk about his power and his aim and his fearlessness in ways they talked about Tiger Woods' weapons back in the day.
And Scott has to be thinking: Wasn't this supposed to be me they were talking about?
When he won the 2013 Masters at age 32, ending Australia's drought at Augusta National, Scott was hailed as the next big action star in golf. He had leading man looks and a blacksmith's arms and, oh yeah, he even had Tiger's old caddie on his bag.
People lined up to declare that Scott was a surefire multiple major winner, that he had too much game to toss him into the one-and-done bin. But although he has had four top-10 finishes in the six majors that followed his Masters win, including three top-5s, Scott has proved just how difficult it is to win two Grand Slam events, never mind four.
At 25, McIlroy is 18 glorious holes from No. 4. He is so strong, and so long, that a Masters champ in his prime can come off a 67 that put him at 7 under -- right in the mix -- and concede that he's a long shot at best.
"Just needed a few more birdies," Scott said after delivering five of them.
Maybe he'll surprise himself Sunday with a brilliant closing round that supplants the kid who supplanted him. Or maybe McIlroy will just go ahead and show why everyone suddenly sounds so afraid of him.
July, 17, 2014
07/17/14
3:27
PM ET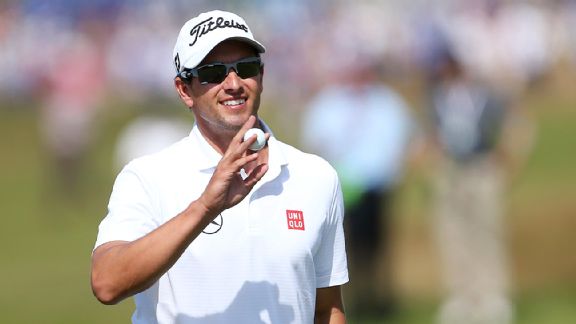 AP Photo/Peter MorrisonPlaying in the afternoon Thursday, Adam Scott was one of the few players from that side of the draw who challenged Rory McIlroy's 18-hole lead at the Open Championship.
HOYLAKE, England -- Adam Scott has won the Masters, and nobody can ever rip that green jacket off his broad shoulders. But the popular notion that Scott's triumph at Augusta National in 2013 effectively erased his Open Championship meltdown in 2012 does not hold up against the standards of common sense.
Scott held a 4-shot lead with four holes to play at Royal Lytham and then gift wrapped the Open to Ernie Els with a bogey-bogey-bogey-bogey finish. Fair or not, that bogeyman will remain in Scott's closet (right next to that green jacket) until he wins golf's oldest major.
Assuming he wins golf's oldest major, of course.
On Tuesday, when asked if he owns the requisite skill set to win an Open, Scott said, "I think I've got it. I think Lytham was the proving [ground] to me that I've got what it takes to win."
But really, until a man wins an Open Championship, he doesn't know for sure that he has the game and the nerve to pull it off. At Muirfield last year, third-round leader Lee Westwood swore he knew how to win a big one, then went ahead and proved Sunday that he most certainly did not.
Scott blew his own chance to close out the Open at Muirfield, swinging wide the door for Phil Mickelson's stunning breakthrough. And so here the world's top-ranked player stands after Round 1 at Royal Liverpool, only 2 shots off Rory McIlroy's 6-under lead while hoping he doesn't suffer the indignity of a third straight near miss.
Scott arrived in Hoylake a week ago Thursday to study the course from head to toe. In fact, he's been here so long that he's about to be taxed at a resident's rate. He said he adores the place.
"Every aspect of it is perfect," Scott gushed. "It's incredible, really."
After he completed his first 18 holes at Royal Liverpool, an afternoon round, Scott said the wind kicked up late and made the conditions tougher than they were for the morning guys. But no, he wasn't complaining.
"It's a good start," he said of his 68. "I've got a long way to go, 36 holes to put myself in position. So I'll just be grinding the next two days. If I keep swinging well, I think I'll give myself enough chances to be there. ... I've kind of got to make it happen when I'm playing good at the moment."
Can he make it happen? Sure, he's got the talent.
We'll find out over the next three days if he has the poise he didn't have at Lytham over those fatal four holes.
December, 13, 2013
12/13/13
1:55
PM ET
The best images of the year in golf are invariably etched into our memories as fans. Among them -- Adam Scott's "C'mon Aussie!" at Augusta, Justin Rose pointing to the sky at Merion, and "Bones" Mackay bursting into tears after Phil Mickelson won the Open Championship.
Many of the best numbers in the sport this year have proved to be equally as compelling. In no particular order, we at Numbers Game present some of the most significant ones in the sport from this year:
Trivia question
Jason Dufner claimed his first major title at the PGA Championship this year, held at Oak Hill. Who won the first professional major ever held there? (Answer below)
8: If you had Henrik Stenson winning the FedEx Cup and the Race to Dubai at the beginning of the year, put your hand down, because you are a horrible, horrible liar.
Since the second week of July at the Scottish Open, Stenson has racked up a ridiculous eight top-four finishes in world ranking-weighted events around the world. He was outside the world's top 60 after his final start of 2012. As we enter 2014, Stenson has a realistic shot at the world's No. 1 position.
Stenson ended the 2012 season 87th on the PGA Tour in greens in regulation percentage. In 2013, he was first in that statistic. If Stenson improves his putting in the coming months (he was 98th in strokes gained-putting this year), he'll be a favorite in the majors in 2014.
4 under: Adam Scott has a multitude of numbers to support the incredible year he had: the No. 2 spot in the world ranking, nearly $5 million in PGA Tour earnings, and the fifth-best scoring average on tour among them.
[+] Enlarge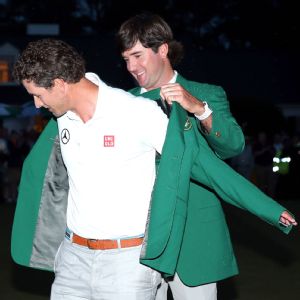 Ross Kinnaird/Getty ImagesAs is Masters tradition, 2012 champion Bubba Watson slips the green jacket on this year's winner, Adam Scott, after the Aussie became the first man from Down Under to win at Augusta National.
Scott etched himself a place in history, however, with his performance down the stretch at Augusta. He played the last six holes of regulation and two playoff holes during the final round in bogey-free, 4-under style. For the week, Scott dominated holes 13-18 at Augusta National, carding nine birdies and not a single bogey. He is the only Australian-born player to ever win the Masters.
82: As a 19-year-old, Jordan Spieth began 2013 with no PGA Tour card and a world ranking north of 800. That's not to say he didn't have a pedigree that promised success: Spieth and some dude named Tiger Woods are the only two players to ever win multiple U.S. Junior Amateur titles. And Spieth had already made waves in the professional ranks, toying with the lead on the weekend at the Byron Nelson while in high school.
Spieth ended his season as the first player to go from no status to the Tour Championship since Woods in 1996. Along the way, Spieth won the John Deere Classic (knocking off local favorite Zach Johnson in the process) to become the first teenager in 82 years to win a PGA Tour event.
Spieth finished the season with nine top-10 finishes, tied for first on tour. He also finished 2013 ranked in the top 10 in scoring average, all-around ranking, money earned, eagles and final-round scoring average.
66: A little over a month after he made bogey on three of his last six holes at Merion in the U.S. Open, Phil Mickelson entered the final round of the Open Championship 5 shots behind Lee Westwood and seemingly an afterthought. Lefty's brilliant final-round 66 gave him the most surprising of his five major titles. Before his victory, Mickelson had just two top-10 finishes in 20 appearances: third in 2004, and T-2 in 2011.
Mickelson's 66 was his lowest career final-round score in a major, and tied the best final round by any major champion since 2000. It was the best round on the course at Muirfield that day, and tied the low round of the tournament.
Over the past 20 years, only one player has won more majors than Mickelson -- Tiger Woods.
Speaking of Tiger ...
3: The 2013 season was the 10th different year in which Woods won five or more times. The previous career high for such seasons was eight, held by Sam Snead. And speaking of Snead, Woods now trails the legend by just three wins for first on the tour's all-time list.
Four of Tiger's wins came at familiar grounds of domination -- Torrey Pines, Bay Hill, Firestone and Doral. With those last two being WGCs, Woods has now won a staggering 18 times in WGC events. Geoff Ogilvy is second on that list with three.
Woods claimed his 11th PGA Tour Player of the Year honor, but he is ultimately judged on his performances in the biggest four weeks of every golf season, when he has the opportunity to reach major win No. 15.
36: Over the past seven major championships, Woods is a combined 10 under par in Rounds 1 and 2. In Rounds 3 and 4, however, he's 26 over -- 36 shots worse. Tiger has just two weekend rounds below par in the majors in that span -- both coming at this year's Masters.
Woods' putting has been the biggest statistical difference. Woods has needed an average of 28.5 putts in the first and second rounds of the past seven major championships. In Rounds 3 and 4, that number leaps to 30.9 putts per round. (Stat nerd's note: It's unfortunate the advanced putting metrics available during regular tour events aren't there for the majors -- it would paint a much more valuable picture of this trend.)
Trivia answer
Question: Jason Dufner claimed his first major title at the PGA Championship this year, held at Oak Hill. Who won the first professional major ever held there?
Answer: Cary Middlecoff in the 1956 U.S. Open.
Woods turns 38 years old on Dec. 30. Only two players have ever won four or more majors after turning 38 -- Ben Hogan (five) and Sam Snead (four).
I'm not going to personally ask Tiger, but I assume he plans to become the third.
March, 15, 2013
03/15/13
4:05
PM ET
PALM HARBOR, Fla. --
Adam Scott
's time between tournaments this week was spent helping out a friend, then accompanying him to Augusta National to get a sneak peek at the Masters venue.
[+] Enlarge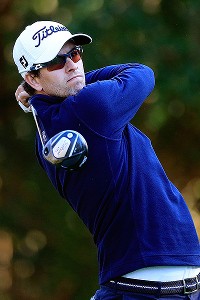 Sam Greenwood/Getty ImagesEven though Adam Scott lost the Open Championship in July to eventual champion Ernie Els, the Australian and the South African remain close friends.
That the friend is Ernie Els should come as no surprise, given that the two golfers have been close for years.
Scott participated in the Els for Autism event on Monday at PGA National -- Els' son, Ben, is autistic -- then went with the Big Easy to get a look at Augusta National on Tuesday.
And that little matter of last year's Open Championship at Royal Lytham & St. Anne's was never an issue.
Els, of course, captured the Claret Jug after Scott bogeyed the final four holes to lose by one. It was a crushing defeat for the Australian, albeit an uplifting win for Els, who had gone 10 years between major victories.
"I was very happy for Ernie," said Scott, who on Friday moved into contention at the Tampa Bay Championship presented by EverBank. "I think he's an incredible talent and he's one of the best players I've seen on a golf course. I've played so much golf with him and seen him do such incredible things. I think he could have won 10 majors.
"So he paid his dues, and whether he won it or I helped him win it a little bit … it doesn't matter. He won it. Probably eased the pain a little bit that he was a close friend of mine. I could feel some happiness for him."
As for the trip to Augusta, it was just the two of them on a busy Tuesday with several other PGA Tour players and members on the course. The 77th Masters begins April 11.
"I thought it was in the best shape I've ever seen it this early in the year," said Scott, who tied for second at the Masters in 2011. "They must have had some nice warm days and cool nights, and a lot of grass seems to be growing. Sometimes it can be a little thin early on, but it looks great. It's Augusta. It's pretty much perfect."
Scott tied for third at the WGC-Cadillac Championship on Sunday after shooting a final-round 64. The Tampa Bay Championship is his final tournament before the Masters.
November, 30, 2012
11/30/12
1:38
PM ET
Before we at Numbers Game dive into the math, we must offer a disclaimer for prisoners of the moment.
Putting technique controversy is nothing new.
In 1967, the USGA and R&A agreed to prohibit players from straddling the line of their putt. The great Sam Snead had developed a "croquet style" of putting that grew in popularity with players struggling on the green.
Trivia question
Who is the only player to rank inside the top five in strokes gained putting each of the last three seasons? (Answer below)
Fast-forward 45 years, and the belly putter is now in the proverbial cross hairs. Wins in three of the last five majors (Keegan Bradley at 2011 PGA, Webb Simpson at 2012 U.S. Open and Ernie Els at 2012 Open Championship) will do that.
Els' rediscovered recent success says the switch worked, but what do the specifics tell us? Whether or not the switch has been effective for a few players isn't at the core of the debate, but the statistics can lend some clarity as to the impact the belly putter has had.
For starters, not many elite putters are using the anchoring method. Look at the PGA Tour's leaders in putting's definitive metric, strokes gained putting. Not a single player ranked in the top 20 in SGP this year primarily used a long putter. The highest-ranked player using one? Carl Pettersson, who is 21st.
When the Big Easy made the switch, he didn't turn into Ben Crenshaw. Instead, the numbers say it made an atrocious putter simply below average.
In 2011, Els was 178th to 183rd on the PGA Tour in several categories, including strokes gained putting, make percentage inside 10 feet, putts between 4 and 8 feet and putts between 10 and 15 feet.
Els skyrocketed into mediocrity in each of those categories in 2012. He moved to 112th in strokes gained putting, 85th inside 10 feet, and 91st between 4 and 8 feet.
Adam Scott rode a similar escalator to below-average putting when he switched.
In 2010, Scott's last full season with the regular-length flatstick, he was 186th on the PGA Tour in strokes gained putting and 192nd on make percentage inside 10 feet. In 2012, Scott was up to 148th and 111th in those statistics. That's a definite improvement, but not exactly Brandt Snedeker territory.
A common thread between the switches made by Els and Scott was their huge jump in make percentage on putts between 10 and 15 feet.
Els' ranking in that statistic jumped 55 spots from 2011 to 2012. Scott ascended 74 places -- from 157th to 83rd -- from 2010 to this season. Bradley and Pettersson also rank inside the top 40 on tour in the category.
But not all of the numbers reflected glowing improvement for Els and Scott.
In 2011, Els had 41 three-putts in official PGA Tour events. Want to venture a guess on how many he had in 2012?
That's right: 41.
In 2010, using a conventional putter, Scott ranked 189th on putts between 4 and 8 feet. In 2012, he was just 166th.
The switch doesn't work for everybody. For one week in 2011, Phil Mickelson gave us one of golf's most bizarre sights in recent years when he tried using a long putter.
Lefty finished the 2011 Deutsche Bank Championship tied for 10th, but it wasn't on the strength of his putting. Mickelson made just one putt longer than 15 feet all week; he was 61st in the field in strokes gained putting. He also missed seven putts inside 10 feet.
Trivia answer
Question: Who is the only player to rank inside the top five in strokes gained putting each of the last three seasons?
Answer: Luke Donald
Switching back was the right call for Lefty. With a conventional putter in 2012, he finished 10th on tour in strokes gained putting and made 55 putts of 15 feet or longer.
Because players who have dabbled in long-putter experimentation tend to go back and forth with using the club, it can be difficult to get a firm grasp on what a switch means statistically.
One thing is certain: As long as the anchoring of belly or long putters is allowed by the rules and there's a chance they help a player succeed, then they'll continue to be in some players' bags.
Justin Ray is a senior researcher with ESPN Stats & Information. He has contributed to ESPN's golf coverage since joining the network out of college in 2008. He is based in Austin, Texas, with the Longhorn Network. Send comments and suggestions to Justin.Ray@espn.com.
August, 29, 2012
08/29/12
10:16
AM ET
Each week of the season, our experts will share their insights into which players fit the criteria for our four categories:
Horse for the Course
(a golfer who knows the track inside and out),
Birdie Buster
(a guy who could take it low this week),
Super Sleeper
(a player who could unexpectedly contend) and
Winner
.
This week's tournament: Deutsche Bank Championship at TPC Boston in Norton, Mass.
Horse for the Course
Michael Collins, ESPN.com senior golf writer: Jason Day
He could be this year's golfer to go from starting the playoffs outside the top 100 (113th) in the FedEx Cup standings to the Tour Championship (top 30). Coming into the playoffs, he had only 13 starts on tour this year, with three missed cuts and a W/D, but a strong Sunday finish (65) just so he could qualify for the Deutsche Bank leads him to a course where he finished third last year, and was one of only four players to shoot all four rounds in the 60s.
Farrell Evans, ESPN.com senior golf writer: Vijay Singh
At the TPC Boston, the 49-year-old Hall of Famer is a combined 38-under par in his two wins at the Deutsche Bank Championship.
Bob Harig, ESPN.com senior golf writer: Tiger Woods
TPC Boston is another place where Woods has performed well over the years. In seven appearances, he's been out of the top 11 just once, and he won in 2006.
Kevin Maguire, ESPN.com senior golf editor: Brandt Snedeker
Looking to solidify a spot on the U.S. Ryder Cup team as a potential captain's pick, the man who leads the PGA Tour in strokes gained-putting posted a pair of top-5 finishes in his past two starts at the Deutsche Bank Championship. And what Ryder Cup captain wouldn't want the best putter on tour on his team?
---
Birdie Buster
Michael Collins: Nick Watney
In 2011 he had two victories, but before winning last week at The Barclays, he had only three top-10s this year, with eighth place his highest finish. Not the year the Butch Harmon student was planning for himself, but there's something to be said for getting hot at the right time. Even though this will be his fifth week in a row teeing it up, when you're rollin' . . . don't stop rollin'! And if Bill Haas won the big money Fed Ex Cup prize last year, it only would be fitting if his stunt double Watney put himself in a prime position to take it this year.
Farrell Evans: Bud Cauley
At The Barclays, the 22-year-old rookie out of the University of Alabama got his fourth top-10 in his past five starts.
Bob Harig: Nick Watney
He just showed how important a win is in the FedEx Cup playoffs, jumping from 49th in the standings to the top spot with his victory at The Barclays.
Kevin Maguire: Steve Stricker
A T-54 at last week's Barclays probably isn't the way Stricker wanted to start his playoffs, but the likely Ryder Cup captain's pick does own a pair of career victories in the FedEx Cup playoffs. He seems to relish playing at this time of year, so expect that to continue this week at TPC Boston.
---
Super Sleeper
Michael Collins: J.B. Holmes
After making seven cuts in a row, it's almost a blessing in disguise that he missed the cut at the Wyndham Championship. Holmes has played himself into a position to make the Tour Championship with a good week, and the last time he played this week's course, in 2010, he finished 10th. It's a bomber's course and he is still a bomber.
Farrell Evans: Jason Day
The 24-year-old Australian got a tie for third in Boston last year. In a disappointing 2012 season, Day comes into this week 88th in the standings. He would love to make it back to the Tour Championship, where he finished last year in a tie for sixth.
Bob Harig: Martin Flores
He missed the cut at the Wyndham Championship and at The Barclays last week, dropping him 12 spots to the 100th and final qualifying position for the Deutsche Bank Championship. He clearly needs to get something going if he wants to prolong his playoffs.
Kevin Maguire: Dicky Pride
Talk about playing with house money. Pride clinched his tour card for 2013 behind the strength of three top-10 finishes this year. He hadn't had one previously since mid-2009. And at 96th in the FedEx Cup standings, a strong week gets him into the third leg of the PGA Tour playoffs, a spot he likely couldn't have imagined at the beginning of the season.
---
Winner
Michael Collins: Rory McIlroy
Because he wasn't a member of the tour last year, he wasn't eligible for the playoffs. He did compete in 2010, with a 37th-place finish at the TPC Boston. He has two more years of experience and two majors under his belt, and I expect a very good week on a course that sets up well for his style of golf. With a tour scoring average of 69.02, if he just holds his average, it'll be an easy top 10. I expect much more than that this week.
Farrell Evans: Brandt Snedeker
The former U.S. Amateur Public Links champion finished second at The Barclays. He's playing this week in Boston hoping that a great tournament will get him a spot on the U.S. Ryder Cup team. Last year, the former Vanderbilt star finished in a tie for third at the Deutsche Bank.
Bob Harig: Adam Scott
Save for his near-miss at the Open Championship, it's been a quiet year for the Aussie, who won his first PGA Tour event nine years ago at TPC Boston. A victory this week puts him near the top and in the running for the FedEx Cup.
Kevin Maguire: Jason Day
Never underestimate motivation. The Aussie, who's finished T-3 and T-2 in his previous two outings at TPC Boston, is currently on the outside looking in at next week's BMW Championship. Without a strong finish, his playoffs could end Saturday. Don't expect the new dad to get some extra time off on the holiday weekend.