Category archive:

Bernd Wiesberger
August, 9, 2014
08/09/14
8:37
PM ET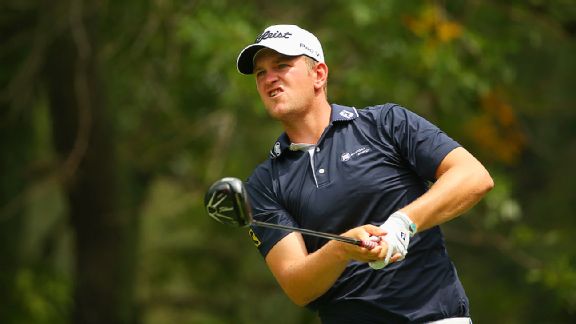 Mike Ehrmann/Getty ImagesBernd Wiesberger was 12-under par through three rounds at the PGA Championship.
LOUISVILLE, Ky. -- And now, a nutshell golf biography of Austrian Bernd Wiesberger, who trails PGA Championship leader Rory McIlroy by 1 shot:
"I got introduced to the game from my parents, especially from my father," he said. "They had quite a big sports store back in Austria and a pro shop close by and a golf club. When they opened up that course ... that's how I got introduced to the game."
On how many people in Austria are rooting for him:
"Well, given a population of just over 8 million people, we have around 100,000 golfers in the golf clubs. So I would reckon about 90,000 would be on the TV by now -- or at least I hope so."
On being paired with McIlroy in the last group on Sunday:
"Well, I've not been in contention in a major championship, so I don't know how it's going to turn out ... I'm friends with Rory and I'm sure it's going to be a nice situation out there again. ... Yeah, just enjoy myself. From now on, it's just a bonus, really."
On how many different ways he's heard his last name pronounced by first-tee emcees:
"I'm not going to say those because then I'll have them all the time tomorrow. Let's be creative. I'm sure there will be creative guys out there tomorrow."