Category archive:

Tiger Woods
January, 5, 2015
01/05/15
8:35
PM ET
It's pretty rare when a sports book doesn't want your money.
After taking a close look at the odds being set for the 2015 Masters, it's pretty obvious they don't want any action on Tiger Woods anytime soon.
[+] Enlarge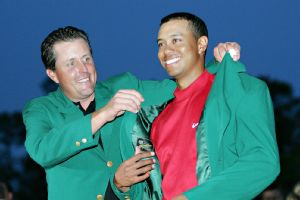 AP Photo/Morry GashIt's been 10 years since Tiger Woods slipped on a green jacket after winning the Masters at Augusta National.
This year will mark the 10th anniversary since Tiger's last win at Augusta National, yet he's currently the No. 2 favorite going in at 12/1, the same odds as Jordan Spieth, last year's runner-up.
Rory McIlroy is the betting favorite at 6/1. Defending champ Bubba Watson starts the year at 20/1 to win a third green jacket.
Seeing the odds just for winning majors, it appears McIlroy's numbers make sense.
0 majors = 5/6
1 major = 8/5
2 majors = 11/2
3 majors = 25/1
Winning Grand Slam = 80/1
Those are on point for a guy who won the past two majors and has shown flashes of dominance we've only seen recently from one other guy ... which is what makes Woods' odds to win such a head-scratcher.
Tiger's major odds:
0 majors = 1/4
1 major = 11/4
2 majors = 20/1
3 majors = 100/1
Winning Grand Slam = 250/1
The 39-year-old former world No. 1, who hasn't won a major since 2008 (on a broken leg), is getting 20/1 odds to win two majors this year? That is the gambling equivalent of waving the white flag yelling, "We have no clue! Please keep your money ... or would you like to try a fun game called Keno?"
Odds information above gathered from GolfOdds.com, but other places you can bet are all over the map.
VegasInsider.com -- Masters odds -- 6/1 McIlroy, 15/1 Woods, 25/1 Spieth & Watson PaddyPower.com -- Masters odds -- 9/2 McIlroy, 12/1 Watson, 14/1 Woods, 16/1 Spieth Ladbrokes -- Masters odds -- 4/1 McIlroy, 10/1 Woods, 16/1 Watson, 16/1 Spieth
It appears trying to gamble on golf has worse odds than roulette, unless you're McIlroy's dad.
December, 5, 2014
12/05/14
5:32
PM ET
WINDERMERE, Fla. -- For Maggie Ossa, it was mission accomplished, with a bonus.
"I've been trying to fist bump [Tiger Woods] for over three years," she said, fighting back tears on Friday during the second round of the Hero World Challenge.
Coming off a birdie at the 13th hole, Woods was walking up to the 14th tee as Ossa stuck out her fist.
"Nice birdie, Mr. Woods," she said.
Tiger glanced to the side, said "thanks" and stuck out his fist.
Their knuckles touched. No big deal, right? Until two steps later, a squeal arose from the silence.
"Oh my god, oh my god, oh my god, he fist bumped me!"
At that moment, Patrick Reed, who was playing with Woods and was 6 under at the time, started laughing hysterically while Tiger shook his head, looked down, smiling, and sheepishly pulled a club out of his bag.
Ossa started crying and hugging a complete stranger. This is the perfect time for a Twitter pic! Show me that fist (notice the glistening of the eyes).
Tiger makes birdie at 13, gives this girl a fist bump and she is now crying. Even Patrick Reed is laughing on 14 tee! pic.twitter.com/eCBQ6XCTeF

- Michael Collins (@ESPNCaddie) December 5, 2014
Now I was curious, because I've only ever seen a teenage girl cry over a golfer (Adam Scott in Houston) and this was a grown, married woman!
So I had a few questions.
How many chances do you think she's had in the past three years?
"Nearly 18 times," she said. "I first saw him at Doral, think it was in 2011 or 2012."
After I jokingly mentioned that she might be getting into stalker mode, she laughed and said, "A lil' bit, yeah" -- making the one inch sign with her thumb and index finger.
Is your husband OK with you stalking Tiger?
"He knows. Yeah, he thinks I'm a little crazy," she said.
Ossa was laughing like someone who knows just how ridiculous this sounds.
And how did you feel seeing Tiger and Reed laughing on the tee box after your outburst?
"I didn't see it," she said. "I was still crying."
Ossa was still giggling like a school girl. Are you going to be OK? "Yeah," she said in a shaky voice.
What if Tiger fist bumps you again?
"I don't know!" Here come the tears.
Hey Maggie, ask your husband if there's a woman out there who will give him the same reaction, because I want to be there when he meets her.
Only seems fair, right?
December, 4, 2014
12/04/14
6:08
PM ET
WINDERMERE, Fla. -- When so much work goes into one part of a golfer's game, it is understandable that another part is apt to suffer. Case in point: Tiger Woods' short game.
He inexplicably flubbed four chip shots on Thursday during the opening round of the Hero World Challenge. He left another shot in a greenside bunker. Those mistakes help explain a 5-over-par 77 at Isleworth Golf and Country Club.
His focus on the long game with a new instructor, Chris Como, and returning from back issues might explain the short-game woes.
But Woods was making no excuses.
"I have a nice facility in my back yard,'' Woods said. "I can't say it's for lack of practice.''
Woods designed the facility himself. It covers 3.5 acres, allows for shots of up to 150 yards to four different green complexes. There is also a "wedge'' range for shots up to 85 yards.
"I just haven't faced grain this thick,'' he said. "My short game area is very tight. It got a little stickier in the longer grass around the greens and I just hit horrible chips.''
December, 3, 2014
12/03/14
12:54
PM ET
WINDERMERE, Fla. -- How many holes before the butterflies finally went away?
"About three," Pawan Munjal said with a smile. He did hit a perfect drive on the first hole and even had a birdie chance that didn't drop.
For a man who is the vice chairman & managing director of Hero MotoCorp, which just signed Tiger Woods to an endorsement deal, Munjal is very approachable and friendly. After walking nine holes Wednesday in the pro-am at the Hero World Challenge, and occasionally chatting with him, I came away with the feeling that if you didn't know who this guy was or what he did for a living, he'd be someone you would enjoy golfing with regardless.
"When I played with Tiger in India in front of 5,000 people, I wasn't nervous," he said. "I spent the whole night and morning thinking so much about it, that by the time we teed off, all the nerves had worn off. Tiger is really down-to-earth and makes you feel at ease when you play golf with him."
There are plenty of people (corporate sponsor execs included) who wouldn't say that, but this man, who stands about 5-foot-6, seems very comfortable in the fishbowl. During the pro-am, as the adrenalin rush that comes anytime you tee it up in front of cameras and a gallery starts to wear off, he's not fazed.
The fact that Tiger will probably never ride one of the motorbikes he'll help sell doesn't seem to bother Munjal in the slightest. And why would it? Sit on the bike, take some pictures (for ads), and let's go play golf.
Works for me, and it looks as though it'll work for them, too.
December, 2, 2014
12/02/14
3:05
PM ET
WINDEMERE, Fla. -- "I don't know."
Tiger Woods was at his most honest and vulnerable as I have ever seen him saying those three words Tuesday prior to the Hero World Challenge he is hosting this week.
That's a phrase athletes, especially ones who are considered by some to be greatest of all time in their sport, rarely use when talking about themselves and their game.
Tiger said "I don't know" more than I've ever heard him utter it in his career. When asked about any swing changes due to adding Chris Como as his swing consultant and how long it would take to implement, Woods said, "I don't know."
What about expectations on the course with the swing?
"I don't know. I don't know," Woods said. "I'm curious to find that out myself, too. It's going to be nice playing a tournament this week and getting a feel for being under the heat and see where my swing is, see what shots -- where my misses are; not necessarily my good ones.
"I know my good ones are good. But where are the misses going to be? Am I able to rectify them right away, or is it going to take a shot or two, or a hole or two? Or maybe I might not be able to do it at all [in the course of a round], and that might not be a good thing."
On one side, a small panic attack could be set off by an athlete's realization that invincibility is no longer there, also causing panic among his die-hard fans. On a much deeper level, Tiger saying, "Father Time is undefeated" shows an elder statesman mentality that might just endear him to some people who normally root against him.
It's one thing for the media to question what 100 percent means for Tiger in the future and how that compares to the guys he competes against every week. It's a completely different situation when the man lowers the cloak of invincibility on himself and wonders aloud what his future game will be.
Love him, hate him or feel indifferent toward him, a new Tiger Woods is coming in 2015.
Honest, vulnerable and a sometimes unsure Tiger -- and what that means on the golf course -- honestly, I don't know.
August, 19, 2014
08/19/14
12:38
PM ET
#ALSIcebucketchallenge accepted. Phil Knight and @RafaelNadal you're up. Thanks @McIlroyRory http://t.co/KJC2g8PXdK

- Tiger Woods (@TigerWoods) August 19, 2014
Why have one superstar golfer take the ALS Ice Bucket Challenge when you could have two?
As they continued their media tour through New York this week, Tiger Woods and Rory McIlroy decided to join the fray that has taken over most Facebook feeds in recent weeks.
Current world No. 1 McIlroy and former No. 1 Woods were nominated by Nike's Mark Parker. The pair, in turn, called out Nike's Phil Knight and Rafael Nadal (by Woods) and former President George W. Bush, Wayne Rooney and model Meghan Markle (by McIlroy.)
To add a small twist, the two decided to dump the icy buckets of water on each other, with Woods getting doused first.
The impact of this global phenomenon has clearly affected awareness of the disease and its charitable contributions. In 2013, the national ALS chapter raised $23.5 million. In the past 22 days, the Ice Bucket Challenge has raised $22.9 million by the ALS Association and its chapters.
August, 7, 2014
08/07/14
12:51
PM ET
LOUISVILLE, Ky. -- Just as golf fans were forever curious about the often tense relationship between Jack Nicklaus and Arnold Palmer, inquiring minds are always asking about Tiger Woods and Phil Mickelson and whether they despise each other.
[+] Enlarge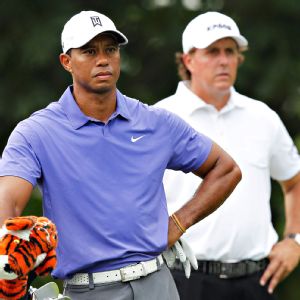 REUTERS/John Sommers IITiger Woods and Phil Mickelson played together in Round 1 of the PGA Championship. Woods shot a 3-over 74 and Mickelson posted a 2-under 69.
They don't. Not these days, anyway. My best guess -- after talking to some who should know -- is the Woods-Mickelson relationship has evolved over the years from deep mutual dislike to a shared respect with occasional displays of affection. Tempered affection, that is.
When they shook hands on the 10th tee Thursday morning at the PGA Championship (Woods, Mickelson and Padraig Harrington started on the back nine), Phil greeted Tiger with a "Hey, buddy." OK, that's hardly the stuff of warm and fuzzy reunions, but there was Woods laughing with Mickelson's caddie, Bones Mackay, on the 13th fairway, and there were Tiger and Phil chatting away in neighborly fashion as they walked together toward the 13th green.
Again, hardly evidence that Woods and girlfriend Lindsey Vonn and Mickelson and wife Amy are planning a weeklong Caribbean cruise together. But Mackay and Woods' caddie, Joe LaCava, maintain a close friendship that has softened the rough edges of the Tiger-Phil dynamic.
Mickelson's five major victories haven't hurt either. Once upon a time, when Lefty was the reigning BPNTWAM -- best player never to win a major -- Woods appeared to view him as a talented goof who didn't have the drive or nerve to close out a big one. Mickelson also started faring better in his head-to-heads with Tiger; he credited his coach, Butch Harmon, for giving him tips on how to break down the intimidating aura radiating from Harmon's former pupil, Woods.
In the wake of Mickelson shooting a 2-under 69 to his 74 at Valhalla, Woods said, "Unfortunately Phil and I never get paired together. It happens so rarely the first two days. We're always on the opposite side of the draw. Usually, if you look at most of the majors, exact same tee times, just opposite sides. It's always fun to play with him."
Listen, they're never going to engage in a bromance, and the image frozen in the minds of those who still believe Tiger and Phil hate each other is the look on Woods' face when the Ryder Cup partner he never wanted, Mickelson, sent his tee shot sideways in their disastrous pairing of 2004.
But time has healed some wounds for sure.
"The people who think they can't stand each other just don't get it," said one prominent golfing figure who knows both. "I've heard how they talk to each other, and seen how they are with each other around the locker room. They've definitely gotten to a point of respect."
The change reminds me of how Derek Jeter and Alex Rodriguez -- sworn enemies in their early years together in the Bronx -- came together in 2009 to win a championship as cooperating business partners, if not acquaintances.
Woods did tweak Mickelson at the Open Championship when he compared Rory McIlroy's inconsistency to Phil's; Tiger will always maintain some distance between himself and the rest of the field. But as Woods and Mickelson have aged and weathered various storms on and off the course, they've loosened their grip on the grudge.
Arnie and Jack eventually came around too. By the time Tiger and Phil are ceremonial players at the Masters, they'll be swearing to people they were the best of buds all along.