Category archive:

Henrik Stenson
January, 14, 2014
01/14/14
8:23
AM ET
In existence for less than a decade, the Abu Dhabi HSBC Golf Championship has become a marquee early-season event in the golf world. Reported multimillion-dollar appearance fees to summon the likes of Tiger Woods will do that.
Trivia question
This is the ninth annual Abu Dhabi HSBC Golf Championship. Who won the inaugural edition in 2006? (Answer below)
There is no Woods in the field this week competing for one of the coolest trophies in golf, but a fantastic collection of golfers features eight major champions and four players ranked among the top 10 in the world.
Defending champion Jamie Donaldson is in the top 25 in the world rankings for the first time in his career, but we at Numbers Game examine three of the biggest names in the sport in this week's Three on the Tee:
Henrik Stenson: At the end of 2011, Henrik Stenson was ranked 191st in the world. He was coming off a year in which, in events weighted by the OWGR, he had 11 missed cuts, just one top-10 finish and no victories. Two years later, he is ranked No. 3 and is in position to give Woods a run for his money as the world's top-ranked player.
In his past 14 worldwide starts counted by the world ranking, Stenson has three wins, an incredible eight top-three finishes (including two in the most recent two majors) and 10 top-10s. For comparison's sake, in Woods' past 14 starts, he has three wins, six top-three finishes and eight top-10s.
Stenson finished second to Sergio Garcia in his last start -- at the Thailand Golf Championship in mid-December. The 37-year-old Swede has two runner-up finishes in his career at Abu Dhabi, but no top-10s since 2008.
Phil Mickelson: Lefty played his college golf at Arizona State, nearly shot 59 last year in Scottsdale and is a three-time winner of the Waste Management Phoenix Open. So you would think desert conditions in Abu Dhabi could be a good fit to get his 2014 started, right? Mickelson has just one start in this event, and he finished T-37 in 2011.
Lefty earned a top-10 only once in eight starts after his historic victory at the Open Championship last summer. The previous time Mickelson won his first worldwide start of a calendar year was in 2004 at the Bob Hope Classic.
For many golf fans, though, Mickelson's year revolves around the U.S. Open, June 12-15 at Pinehurst, N.C. He will have the chance to complete the modern career Grand Slam, something only five players have accomplished: Gene Sarazen, Ben Hogan, Gary Player, Jack Nicklaus and Woods.
Rory McIlroy: With the world watching his every step in 2013, then-world-No. 1 Rory McIlroy failed to register a victory anywhere until the Australian Open in December. That included just two rounds under par in the first three majors of the season and resulted in T-25, T-41, missed cut finishes.
Still just 24 years old, and with the spotlight dimmed a bit entering this year, McIlroy could be poised for a return to top form in 2014. He finished sixth or better in four of his last six tournaments of 2013, accumulating a combined score of 52 under par in that stretch. The world's seventh-ranked player, who got engaged to Caroline Wozniacki, recently said his ball speed (with his driver) has topped 180 mph for the first time in his career.
The magnitude of what McIlroy has accomplished at such a young age cannot be understated. He will turn 25 between this year's Masters and U.S. Open, yet he already has two major titles to his name. Since 1930, only three other players have won multiple majors before age 25: Nicklaus, Seve Ballesteros and Woods.
---
Meanwhile, back stateside, birdies should be easy to come by at the Humana Challenge. In 2013, the three easiest courses on the PGA Tour were La Quinta CC, PGA West Palmer and PGA West Nicklaus -- the three tracks played at this event. Each of the past six winners has finished at least 22 strokes under par, even after the format switched from 90 holes to 72 in 2012.
In fact, since 2008, each course hosting this event (six courses in all during the stretch) has ranked among the 10 easiest on the PGA Tour in that given season. The statistic "adjusted scoring average" was created for tournaments like this.
Trivia answer
Question: This is the ninth annual Abu Dhabi HSBC Golf Championship. Who won the inaugural edition in 2006?
Answer: Chris DiMarco
The propensity for low scores could mean another great finish. Each of the past four years, this tournament has been decided by 2 or fewer strokes, with two playoffs determining the winner in that span.
Big names to watch for include Brandt Snedeker, who enters with an active streak of 17 straight sub-par rounds in this tournament (and top-10 finishes in 2010 and 2012), and Keegan Bradley, who finished T-7 in his only career start here in 2011.
December, 13, 2013
12/13/13
1:55
PM ET
The best images of the year in golf are invariably etched into our memories as fans. Among them -- Adam Scott's "C'mon Aussie!" at Augusta, Justin Rose pointing to the sky at Merion, and "Bones" Mackay bursting into tears after Phil Mickelson won the Open Championship.
Many of the best numbers in the sport this year have proved to be equally as compelling. In no particular order, we at Numbers Game present some of the most significant ones in the sport from this year:
Trivia question
Jason Dufner claimed his first major title at the PGA Championship this year, held at Oak Hill. Who won the first professional major ever held there? (Answer below)
8: If you had Henrik Stenson winning the FedEx Cup and the Race to Dubai at the beginning of the year, put your hand down, because you are a horrible, horrible liar.
Since the second week of July at the Scottish Open, Stenson has racked up a ridiculous eight top-four finishes in world ranking-weighted events around the world. He was outside the world's top 60 after his final start of 2012. As we enter 2014, Stenson has a realistic shot at the world's No. 1 position.
Stenson ended the 2012 season 87th on the PGA Tour in greens in regulation percentage. In 2013, he was first in that statistic. If Stenson improves his putting in the coming months (he was 98th in strokes gained-putting this year), he'll be a favorite in the majors in 2014.
4 under: Adam Scott has a multitude of numbers to support the incredible year he had: the No. 2 spot in the world ranking, nearly $5 million in PGA Tour earnings, and the fifth-best scoring average on tour among them.
[+] Enlarge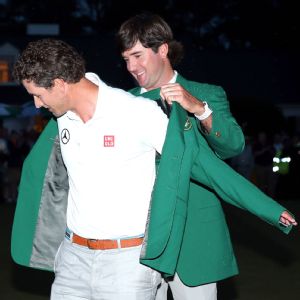 Ross Kinnaird/Getty ImagesAs is Masters tradition, 2012 champion Bubba Watson slips the green jacket on this year's winner, Adam Scott, after the Aussie became the first man from Down Under to win at Augusta National.
Scott etched himself a place in history, however, with his performance down the stretch at Augusta. He played the last six holes of regulation and two playoff holes during the final round in bogey-free, 4-under style. For the week, Scott dominated holes 13-18 at Augusta National, carding nine birdies and not a single bogey. He is the only Australian-born player to ever win the Masters.
82: As a 19-year-old, Jordan Spieth began 2013 with no PGA Tour card and a world ranking north of 800. That's not to say he didn't have a pedigree that promised success: Spieth and some dude named Tiger Woods are the only two players to ever win multiple U.S. Junior Amateur titles. And Spieth had already made waves in the professional ranks, toying with the lead on the weekend at the Byron Nelson while in high school.
Spieth ended his season as the first player to go from no status to the Tour Championship since Woods in 1996. Along the way, Spieth won the John Deere Classic (knocking off local favorite Zach Johnson in the process) to become the first teenager in 82 years to win a PGA Tour event.
Spieth finished the season with nine top-10 finishes, tied for first on tour. He also finished 2013 ranked in the top 10 in scoring average, all-around ranking, money earned, eagles and final-round scoring average.
66: A little over a month after he made bogey on three of his last six holes at Merion in the U.S. Open, Phil Mickelson entered the final round of the Open Championship 5 shots behind Lee Westwood and seemingly an afterthought. Lefty's brilliant final-round 66 gave him the most surprising of his five major titles. Before his victory, Mickelson had just two top-10 finishes in 20 appearances: third in 2004, and T-2 in 2011.
Mickelson's 66 was his lowest career final-round score in a major, and tied the best final round by any major champion since 2000. It was the best round on the course at Muirfield that day, and tied the low round of the tournament.
Over the past 20 years, only one player has won more majors than Mickelson -- Tiger Woods.
Speaking of Tiger ...
3: The 2013 season was the 10th different year in which Woods won five or more times. The previous career high for such seasons was eight, held by Sam Snead. And speaking of Snead, Woods now trails the legend by just three wins for first on the tour's all-time list.
Four of Tiger's wins came at familiar grounds of domination -- Torrey Pines, Bay Hill, Firestone and Doral. With those last two being WGCs, Woods has now won a staggering 18 times in WGC events. Geoff Ogilvy is second on that list with three.
Woods claimed his 11th PGA Tour Player of the Year honor, but he is ultimately judged on his performances in the biggest four weeks of every golf season, when he has the opportunity to reach major win No. 15.
36: Over the past seven major championships, Woods is a combined 10 under par in Rounds 1 and 2. In Rounds 3 and 4, however, he's 26 over -- 36 shots worse. Tiger has just two weekend rounds below par in the majors in that span -- both coming at this year's Masters.
Woods' putting has been the biggest statistical difference. Woods has needed an average of 28.5 putts in the first and second rounds of the past seven major championships. In Rounds 3 and 4, that number leaps to 30.9 putts per round. (Stat nerd's note: It's unfortunate the advanced putting metrics available during regular tour events aren't there for the majors -- it would paint a much more valuable picture of this trend.)
Trivia answer
Question: Jason Dufner claimed his first major title at the PGA Championship this year, held at Oak Hill. Who won the first professional major ever held there?
Answer: Cary Middlecoff in the 1956 U.S. Open.
Woods turns 38 years old on Dec. 30. Only two players have ever won four or more majors after turning 38 -- Ben Hogan (five) and Sam Snead (four).
I'm not going to personally ask Tiger, but I assume he plans to become the third.
May, 10, 2009
05/10/09
1:06
PM ET
Henrik Stenson played at a high level across the board all week to beat an elite field at the 2009 Players Championship. The Swede's solid play reached its pinnacle Sunday; his bogey-free 66 at the Stadium Course at TPC Sawgrass was a thing of beauty.
Golf Stats: The Numbers That Matter
Every golfer and golf fan knows the sport is a game of numbers. One of the most distinct characteristics of golf is that any player's efforts are summarized by an absolute and final statistic: the score. However, as any visitor to the 19th hole knows, the story of the game cannot be told in full by the tally at the end of the round. "Golf Stats: The Numbers That Matter" is your weekly source of insight into the numbers that make a difference in golf, focusing on the PGA Tour. Whether you're looking to wow your buddies in your Saturday foursome or get a little extra help for your fantasy team or are just a stats junkie, this blog is for you. Every week, this sliver of the Internet will be your one-stop shop for the unique and significant golf stats that best tell the stories beyond the scores.
The victory gives Stenson his second PGA Tour win, $1.71 million for the victory, and moves him to No. 5 in world rankings. This week, the stats blog breaks down the 2009 Players Championship, focusing on a comparison between Stenson and Tiger, the numbers that show Woods might still be recovering from ACL surgery, the importance of tee times and timely scoring, plus how the signature 17th hole was tamed this year.
Stenson rock solid; Tiger shaky, but scoring
Stenson's most impressive statistic this week was his weekend driving. The Swede hit 26 of 28 fairways on the weekend (92.9 percent), ranking him first for the final two rounds.
This was quite an improvement compared to Round 1, when Stenson found the short grass on only 5 of 14 occasions (35.7 percent). Despite this start, Stenson still finished T-11 in driving accuracy and sixth in ball striking. This bucks two very strong trends among recent Players champions: Three of the past four winners led the field in both driving accuracy and greens hit.
Stenson did not join the company of Sergio Garcia (2008), Stephen Ames (2006), and Fred Funk (2005) in these ball-striking statistics. Stenson compensated for it with a very solid short game, making 91.4 percent of putts inside 10 feet and scrambling at a 69.6 percent clip on a course that became increasingly more difficult each day.
Here is a more complete breakdown of how Stenson compared with Woods and the field:
Stenson vs. Tiger vs. the field
Stenson (rank *)
Woods (rank *)
Field avg.
Driving accuracy %
73.2 (T-11)
53.6 (T-62)
63.1
GIR %
68.1 (T-12)
61.1 (T-40)
63.9
Ball striking **
20 (6)
97 (56)
68
Proximity to hole
35' 5" (T-20)
35' 0" (15)
36' 10"
Scrambling %
69.6 (8)
53.6 (42)
53.7
Putting < 10 feet
91.2 (T-6)
85.6 (47th)
85.9
Avg. Distance of putts made
73'4" (37)
75'9" (33)
72' 11"

Birdie:Bogey ratio
19:8 (1)
17:13 (T-21)
0.94 : 1
Par 3 scoring
Even (T-13)
+2 (T-38)
+2

Par 4 scoring
-4 (T-2)
+1 (T-20)
+5

Par 5 scoring
-8 (T-8)
-8 (T-8)
-4

* -- Ranks out of the 70 players played four rounds.

* -- Ball striking is the player's total driving dank added to the player's GIR rank.
As the table above shows, Stenson really had no glaring deficiencies this week. He bested Woods almost across the board. Both players attacked the par-5s and finished at 8 under on them, but Stenson was exceptional on the par-4s, finishing second in par-4 scoring.
The numbers that stand out for Tiger are his weak ball-striking stats and his putting inside 10 feet. Woods came in to the week making 91.94 percent of his putts inside 10 feet, giving him the unofficial PGA Tour lead in this category.
Although Tiger was 60-of-60 from 5 feet and in, he struggled from 5-10 feet, making only 2 of 11 (18.2 percent). Coming into The Players, Tiger had converted 20 of 34 from this range (58.8 percent.) Woods was particularly poor in one of the most important categories at the Stadium Course: driving accuracy. Tiger ranked 62nd out of 70, hitting only 53.6 percent of his fairways. It's a testament to Tiger's grinding ability and mental game that he still finished T-8.
There are a couple of points of interest with these numbers in relation to Tiger's recovery from ACL surgery.
First, Tiger's upper body was noticeably more buff after he came back from surgery. Putting is powered by your shoulders and given feel through your hands; Tiger now has broader shoulders and stronger hands. The quickening greens at TPC Sawgrass might have exposed that Tiger hasn't been able to mentally adjust yet to these physical changes.
As to the driving accuracy item, this might also be rehab-related. Giving further analysis to Tiger's driving, he ranked dead last in the field in right rough tendency at 24.5 percent (13 of 53). Right rough tendency is the percentage of times a tee shot comes to rest in the right rough on laser-measured drives. The tendency for Tiger to miss right might be a result of his not fully trusting his surgically repaired knee, or it might be a carryover effect from the swing changes he made before surgery to minimize the torque on his knee.
Timing is everything
An interesting way to break down scores is to compare a player's score to the field average that day. That way, one gets a better idea of just how good a closing-round 66 might be or that a final-round 73 might be better than most.
Round and round we go
| | | | | | | | |
| --- | --- | --- | --- | --- | --- | --- | --- |
| | Stenson | Field diff. | Woods | Field diff. | Cejka | Field diff. | Field avg. |
| Round 1 | 68 | -4.08 | 71 | -1.08 | 66 | -6.08 | 72.08 |
| Round 2 | 69 | -3.38 | 69 | -3.38 | 67 | -5.38 | 72.38 |
| Round 3 | 73 | -0.61 | 70 | -3.61 | 72 | -1.61 | 73.61 |
| Round 4 | 66 | -7.46 | 73 | -0.46 | 79 | +5.54 | 73.46 |
| Total | 69.00 | -3.69 | 70.75 | -1.94 | 71.00 | -1.69 | 72.69 |
The final analysis above shows that Stenson's 6-under 66 on Sunday was 7.46 shots below the field average. Looking at Tiger's numbers, his biggest move was on moving day when he shot -3.61 below the field average to move up 20 spots on the leaderboard.
Another timing item worth looking into is the early/late scoring by round. It was quite warm in Florida this week, and the grounds crew allowed the course to dry out as the day and week progressed.
Not surprisingly, it was more difficult to play late in the day each round at the 2009 Players Championship. This is of particular note on the weekend when you consider that the early players began the day at the bottom of the field and they still bested the players at the top.
Time and time again
| | | | |
| --- | --- | --- | --- |
| | Early | Late | Difference |
| Round 1 | 71.69 | 72.92 | +1.23 |
| Round 2 | 72.37 | 72.39 | +0.02 |
| Round 3 | 73.46 | 73.76 | +0.30 |
| Round 4 | 73.00 | 73.91 | +0.91 |
| Total | 72.46 | 72.92 | +0.46 |
This analysis supports the idea that the course was drying out and becoming more difficult; however, it also needs to be noted that there is also much less pressure on the players ranked 36th to 70th (early tee times) than the top 35 (late tee times).
The signature hole
The 17th hole at the TPC Sawgrass Stadium Course is one of the most recognizable patches of ground in the world of golf. Nice weather with low winds took some bite away from the teeth of this short but difficult hole.
Pete Dye's signature hole had less than half as many balls in the water this year compared to 2008, and less than one-third the water visits of 2007.
Waterlogged
| | |
| --- | --- |
| Year | Balls in the water |
| 2009 | 30 |
| 2008 | 64 |
| 2007 | 93 |
| 2006 | 57 |
| 2005 | 68 |
| 2004 | 30 |
| 2003 | 29 |
On the week, the hole played to an average of 3.025, the easiest it has played in the past five years.
Notables
• Stenson is the first Swedish-born player to win The Players and joins Sandy Lyle (1987) and Garcia (2008) as the only Europeans to win in the tournament's 35-year history. Stenson continues an impressive record at The Players: T-23rd, T-10th, T-3rd, 1st.
• Alex Cejka, one week removed from an epidural, held the largest 54-hole lead in the tournament's history at Sawgrass. Despite his Sunday struggles (79), Cejka still managed his best 2009 finish this week at T-9. He had hit 83.3 percent of his fairways entering Sunday, but managed just 7 of 14 in the final round.
• The third-round leader/co-leader has won 14 of 19 events (74 percent) on the PGA Tour this season. Last year, the third-round leader/co-leader won only 22 of 46 events (48 percent).
• Tiger Woods is now 8 of 21 (38 percent) when entering the final round second or tied for second. This was the 22nd time Tiger has entered a final round 5 shots back; he has won two of these, most recently at Bay Hill this year.
• Geoff Ogilvy (T-22) maintains the top spot in the FedExCup standings for the 11th consecutive week. His 1,431 points lead second-ranked Phil Mickelson, who owns 1,377 points.
• Ponte Vedra Beach resident Jim Furyk's T-5 finish is his third top-5 at The Players in his past six starts.
• Jeff Klauk, whose father is the former superintendent of the Stadium Course, had the best showing of 19 first-time competitors, finishing T-14.
Send comments, suggestions and corrections to Nathan.J.Easler@espn.com. Information from the PGA Tour was used in this report.