Category archive:

Bubba Watson
December, 16, 2014
12/16/14
5:23
PM ET
Where are you going to see Gumby throw down a slam in an elf's face?
In Bubba Watson's new video, that's where.
Watson, the left-handed two-time Masters champion who has been part of several music videos as a member of "The Golf Boys," strikes out on his own with a new rap as Bubba Claus, his seasonal character who brings his love of religion, golf and even the NBA together into one musical interlude.
December, 6, 2014
12/06/14
7:17
PM ET
Windermere, Fla. -- "I got six mothers, nine aunts, four dads and three fish that need you to sign this."
That was Bubba Watson's response when asked about the difference between people honestly asking for an autograph for themselves and people selling them online. But what happens when the athlete gets it wrong?
Joshua Bush, from Gainesville, Florida, had someone bring him a 2012 Masters flag and last year he made the trek to the Players Championship to get it signed by the Masters champ himself.
On Wednesday that week, during the practice round at TPC Sawgrass, Bush found a prime spot just off the 18th green and waited patiently. He was sure the planning paid off when Watson made his way toward the group of fans to sign autographs.
"Me and a young kid, who looked about 10 years old, was next to me, also with a 2012 Masters flag," Bush said. "[Bubba] walked closest to me first and I just asked him if he could sign my Masters flag. He looked at me and said, 'You're gonna make a bunch on money eBay.' I said, no, I wouldn't.
"The kid next to me asked him to sign the flag and he did sign his flag, but then said, 'You're dad's gonna make a bunch of money on eBay off that.'"
Bush couldn't believe what he just heard.
"My jaw just dropped. That was not what I was expecting to come out of his mouth."
Therein lies the problem for professional athletes. How can you tell who's going to sell autographs and who is truly there as a fan? And how many fans do athletes lose in a moment of discourse? Watson lost one that day.
"Not too long after that I actually got into an argument with somebody that was really sticking up for Bubba saying how nice of a guy that he was," Bush said. "I just told him about my personal experience and plus what everybody sees on TV occasionally."
There was hurt on Bush's face and in his voice when he spoke of that incident.
Is there a way a player could tell the difference between a fan and a salesman?
"That's tough cause ... if you look at a 10-year-old kid, I highly doubt he's gonna put it up for sale," Bush said. "But I don't think there really is a definite way you look at somebody and tell if they are there as a fan, or there for other reasons ... maybe pick and choose a little better wording is my best advice."
Just then, Watson came out of the scoring area and came over to where Bush was standing on Saturday at the Hero World Challenge. After a quick introduction and telling of the story, I was able to snap this photo.
This flag is NOT for sale! @bubbawatson makes good for a fan @titleistgator89 pic.twitter.com/3WG1n7IfC4

- Michael Collins (@ESPNCaddie) December 6, 2014
"Honestly, I don't care if people are gonna sell the stuff," Watson said. "I just want them to be honest about it. Don't tell me you got seven grandmothers who need stuff signed."
Then six tournament volunteers walked up and asked Watson for photos and autographs.
"[That puts a] little different outlook on things, [when] you get his side of the story, kinda, and it puts it all into a different perspective for sure," Bush said. "Those guys get it all day, ya know? People asking them for autographs for a couple aunts."
He smiled saying that.
"It's nonstop for these guys even after signing their scorecards and being away from the big crowds," Bush added.
So now what?
"Bubba's good by me," Bush said, without hesitation.
August, 5, 2014
08/05/14
5:32
PM ET
LOUISVILLE, Ky. -- With one notable exception, those who took part in the PGA Championship's revived long-drive contest Tuesday seemed to enjoy the experience.
Once an annual part of the pre-tournament festivities -- Jack Nicklaus notably still carries the money clip that was his prize for winning the 1963 competition -- the PGA of America brought it back this year at Valhalla Golf Club, with a notable difference.
Instead of everyone standing on the driving range and launching tee shots, the contest was held on Valhalla's 590-yard, par-4 10th hole. And players in the PGA Championship field didn't have to go out of their way to do it. They simply could take one chance when arriving at the 10th tee during their practice round.
Louis Oosthuizen won with a drive of 340 yards, edging Jason Day by two yards.
"I thought it was a great addition," said Phil Mickelson, who was in a group with Keegan Bradley -- whose drive traveled 326. "We all thought it was great. And we had the feedback right there to let you know how far the drive was. I thought it was terrific. I hope they keep doing it."
Bubba Watson turned out to be the main party pooper.
The Masters champion and one of the game's longest hitters was not interested in the contest, even though he played a practice round Tuesday and just needed to hit a driver off the tee. Instead, he hit an iron.
"I want to practice the game of golf," Watson said. "I want to learn this golf course. I hadn't seen the 10th hole. I don't see that we should have a competition like that while we're playing a practice round and learning the golf course, trying to win a great championship.
"There's no reason to make something up in the middle of the practice round like that. That's just me. That's just what I think."
In Watson's defense, taking part was not mandatory, sort of like the Par 3 Contest on the Wednesday prior to the Masters.
But this seemed pretty easy. While Watson said he wanted to practice for the tournament, he put the driver away on the 10th -- even though that's the club he will be using there beginning Thursday.
"It will be driver every day," he said. "I was just trying to prove a point that nobody cared about."
Hours earlier, Adam Scott began his practice round at the 10th.
"I didn't really know about it, but it was my first hole of the day at 7 this morning, and wasn't really warmed up for it and surprised myself," Scott said. "I got one down the middle and probably got 30 yards of run on it.
"It was fun. It held up for a little while. I think it will probably be fun for everyone to kind of have something to cheer for on a day like today."
July, 18, 2014
07/18/14
12:27
PM ET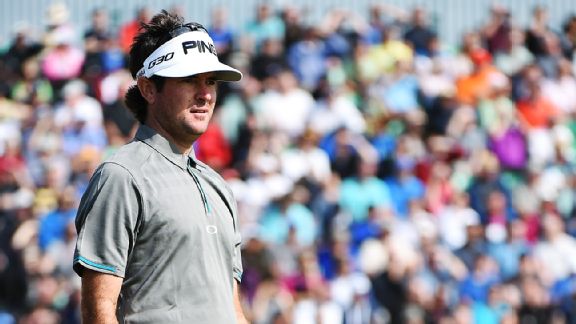 Warren Little/Getty ImagesBubba Watson stood at 4-over through two rounds of the Open Championship.
HOYLAKE, England -- After shooting 72 and finishing outside the projected cut line, Masters champion Bubba Watson asserted that there has "not been one positive thing'' said about him on television or in print.
In a wide-ranging interview session, Watson was asked if, with the proliferation of social media and other high-tech ways to watch sporting events, he would rather attend a golf tournament.
Said Bubba: "Some coverage is not very fun to watch, just saying. I don't minding watching an LPGA event. They're always positive. It would be rare to hear a negative comment. So watching that ... I don't mind watching it. I hate the negative comments.
"I mean, guys are trying their hardest. We always hear, 'Oh, that's terrible,' this and that, this and that. 'I did this when I was 17 years old. Shot 63 before.' So no, that's why I don't watch coverage anymore; there's too much negative stuff going on in the world, not just golf, the whole world. Just can't even watch that stuff.''
He was then asked if he really doesn't follow men's professional golf because the coverage is negative.
"Oh gosh, there's a lot,'' Watson said. "There's not been one positive thing. I'm waiting on that one. Then I'll start reading. Well, I can't read yet, but I'll start.''
April, 9, 2013
04/09/13
7:47
AM ET
ESPN golf analyst and two-time major champion Andy North put together his list of the 10 greatest shots in Masters history. ESPN.com will roll out his rankings on a daily basis leading up to the world's top players competing at Augusta National this year.
No. 2: Bubba Watson, 2012
With his unique style of golf, Bubba from Bagdad, Fla., launched a 50-yard hook from the trees on the second playoff hole (No. 10) to help clinch his first major championship victory.
Watson edged 2010 Open Championship winner Louis Oosthuizen -- who had made a double-eagle earlier in the day on the par-5 second hole -- to slip on the green jacket.
April, 24, 2012
04/24/12
11:08
AM ET
Masters champion
Bubba Watson
makes his return to competition this week in New Orleans, with the added caveat of being the defending champion at the event. Watson defeated
Webb Simpson
on the second hole of a playoff to pick up his third career PGA Tour victory at the Zurich Classic in May 2011.
Recent history tells us, though, that fans shouldn't expect a repeat this week in Louisiana.
Trivia question
Who is the last player to win on the PGA Tour the week after winning the Masters? (Answer below)
Since 1986, only once has a player won on tour in their first start following a win at Augusta. That was Tiger Woods in 1997, who won the Byron Nelson in his first start back, five weeks after winning the Masters.
Only eight of the 26 champions in that span even finished in the top 10 in their first subsequent PGA Tour start, and five of those guys were named either Woods or Phil Mickelson. There have been nearly as many missed cuts by the group (four) as top-five finishes (six).
In fact, the numbers say that we should expect to wait a while before we see Bubba in the winner's circle again on the PGA Tour.
Since 2000, only two Masters winners won on tour that year at all: Zach Johnson in 2007, and Woods following his three victories.
The rest of the major champs needed double-digit starts to win again. Mickelson went 20 PGA Tour starts between his 2010 Masters title and his win in the 2011 Shell Houston Open. Vijay Singh started 50 times on the circuit between his 2000 Masters win and his next victory, which came in 2002 in Houston.
Three of the past four Masters winners haven't won on the PGA Tour since being awarded the green jacket: Charl Schwartzel, Angel Cabrera and Trevor Immelman. Of the nine in the group since 2000 who have won since, it took an average of 14.7 PGA Tour starts to get back to another trophy ceremony on the PGA Tour.
Of course, nothing about Watson is conventional, so bucking the numerical trends shown above would surprise nobody here at Numbers Game. Watson's past success in New Orleans could make him the exception to the Masters hangover rule. In addition to the win last year, Watson finished tied for fifth at the event in 2007, and eight of his past nine rounds here have been below par.
And if Watson is within striking range Sunday, things could really get interesting. Bubba is 16 under in five career final rounds in this event, and six of his seven final-round scores in 2012 have been par or better.
---
While Watson is the headliner this week, the Zurich Classic of New Orleans features an otherwise solid field, featuring four of the world's top 10 players and 12 different major champions. The Numbers Game starter calls to the tee:
John Huh: Now the presumed front-runner for PGA Tour Rookie of the Year, Huh had one of the more remarkable weeks by a non-winner in recent memory last week at the Valero Texas Open.
Huh started Thursday 9 over on his first eight holes. After that, he played the rest of the tournament in 16 under, making just a single bogey during his final 64 holes. He hit just one of his first eight greens in regulation, but hit 72 percent in regulation the rest of the way.
Since 2009, no player has shot worse than a 73 in their opening round and gone on to win on the PGA Tour. If Huh had gone on to win, his opening-round 77 would have cleared that mark by 4 strokes. Huh will look to carry on that last-64-holes momentum this week in New Orleans.
Steve Stricker: Nobody has won more times on the PGA Tour since the beginning of 2010 than Stricker (five wins). He makes his 13th career start at the Zurich Classic this week. Stricker has finished in the top 25 here in four of his last five starts, and was tied for fourth entering Sunday last year before firing a final-round 73.
Stricker was especially hot putting on Saturday in this event a year ago, going 18-for-18 on putts inside 20 feet en route to a 68. Sunday he was 18-for-26 inside 20 feet, tumbling from T-4 to T-13.
Trivia answer
Question: Who is the last player to win on the PGA Tour the week after winning the Masters?
Answer: Bernhard Langer, 1985, in Hilton Head Island, S.C.
Luke Donald: He's been one of the most consistent players in the sport over the past 30 months or so, partly by succeeding in fields like the one he'll be a part of this week. Last year in his first trip to Avondale, Donald fired four sub-par rounds and finished tied for eighth.
While that will make you a ton of money on tour, such success breeds expectations on the game's biggest stage -- something Donald has yet to live up to. Since the 2010 U.S. Open, Donald has made just two top-10 finishes in eight major championships. In that same span, he's finished in the top 10 in 65.4 percent of his PGA Tour appearances (17-for-26).
Bonus -- Lee Trevino: At the 1974 Greater New Orleans Open, World Golf Hall of Famer Lee Trevino did something that hasn't been done since on the PGA Tour. Trevino won without carding a single bogey over 72 holes, posting an 8-stroke victory over Bobby Cole and Ben Crenshaw. Trevino earned the winner's share of $30,000 that week -- just $1.122 million less than what this week's champion will receive.
Justin Ray is a senior researcher with ESPN Stats & Information. He has contributed to ESPN's golf coverage since joining the network out of college in 2008. He is based in Austin, Texas, with the Longhorn Network. Send comments and suggestions to Justin.Ray@espn.com.
March, 8, 2011
03/08/11
8:34
AM ET
Each of the top 50 players on the planet are in the field this week at TPC Blue Monster for the newly-sponsored WGC-Cadillac Championships. With a tournament jam-packed with the best names in the sport, we at Numbers Game see no sense in waiting to take our first swing.
Trivia question
This year marks the 15th anniversary of the cinematic release of "Tin Cup." What is the name of the golfer Don Johnson plays in the movie? (Answer below.)
Three on the tee is a glance at three players in the field this week at Doral, using numbers that will amaze, enlighten and undoubtedly delight your senses. Prepare yourself for life-altering links wisdom.
Tiger Woods: His PGA Tour starts-without-a-win mark has reached an unofficial tally of 16 -- which would tie his longest drought without a victory in his career. We say unofficial because the WGC-HSBC Champions event held in China was marked as "unofficial" in 2009, but hazily was decreed "official" in 2010. We at Numbers Game are counting the 2010 tournament as a start without a win, but not 2009.
Regardless, it means he's still not the Woods we knew for so long. It seems like every week we're providing numerical evidence to say "this could be the week!" for Woods to return to form, but believe us this time, will you?
Tiger has won the WGC-Cadillac (or CA, or American Express) six times in his career -- two shy of Sam Snead's mark for most wins of a single PGA Tour event (Greater Greensboro Open). Just one of those have come since the event made Blue Monster its home, but Tiger also won the Ford Championship at Doral twice. Combined, he's 100 under par, with 25 of 28 rounds better than par at Doral in his tour career. In seven career starts in PGA Tour events at Doral, Woods has never finished outside the top 10.
Now that the obligatory Tiger talk is out of the way ...
Ernie Els: The Big Easy ended a two-year victory drought on the PGA Tour here last year with a 4-stroke victory over fellow South African Charl Schwartzel. Els became the third player to win the same WGC event more than once, along with Woods and Geoff Ogilvy (two-time winner of the Match Play).
Els has just one top-10 on the PGA Tour since last year's U.S. Open -- a tie for seventh at the Tour Championship last September. He did, however, win the South African Open in December, edging out Retief Goosen.
There might not be a better course for Els to regain his stateside stride: He's on an eight-round streak of par or better at Doral, and 30 of his last 37 rounds at the course have been at par or better.
Bubba Watson: Is Bubba the best American golfer right now? It's debatable, but Watson is certainly in the conversation. Some notes on Bubba's successful start to 2011:
• He's first on the PGA Tour in greens in regulation percentage (76.8). That's an 11.2 percent increase over his mark in 2010.
• He's second on the money list to Mark Wilson, with a win at Torrey Pines and a fourth-place finish at the WGC-Accenture Match Play.
• His only round over par this year came in the first round of an event he withdrew from because of injury.
• He's first on tour in driving distance, seventh in birdie average and third in ball striking.
The "best American right now" title is an open competition, to be re-evaluated weekly until further notice.
---
The 18th at TPC Blue Monster is one of the most famous finishing holes on the PGA Tour. The 467-yard beast is gorgeous from a blimp shot above, but distinctly less attractive if your vantage point is the tee box.
Last year, though, No. 18 was downright tame compared to years past, playing to an average score of 4.210 during the '10 WGC-CA Championship. That was the easiest the hole had registered in tournament play since 2003.
Granted, the brutal scoring standard set in years past at the 18th is tough to live up to, but consider the following numbers from last year: there were 36 birdies made at 18 a year ago -- 25 more than in 2009. In fact, the birdie/bogey differential on the hole was -40 (the field made 40 more bogeys or worse than birdies) for the week. In 2009, that number was -114.
Any kind of ability to breathe at 18 is an aberration, though. In 2009, the 18th was the toughest closing hole on the PGA Tour. In 2007, the scoring average was a staggering 4.625 -- which wasn't just the toughest closing hole on tour, it was the toughest altogether, regardless of hole number.
Winners aren't exempt from the hole's wrath: Not scoring well on the 18th doesn't preclude you from winning the tournament. Over the last 10 years, only three times has the winner at Doral played the 18th under par for the week. In 2007, Woods played it to +2 and still won by two shots. The hole is always a source for great entertainment, especially if it becomes the backdrop for drama Sunday.
---
Trivia answer
Question: This year marks the 15th anniversary of the cinematic release of "Tin Cup." What is the name of the golfer Don Johnson plays in the movie?
Answer: David Simms
From the age-is-just-a-number file: Peter Senior -- he of 51 years, 7 months of age -- has qualified for this week's event. And with that, he will hold the distinction of being the oldest player to ever tee it up in the now-named WGC-Cadillac, and the second-oldest to ever play in a WGC event of any kind.
At the 2005 Bridgestone Invitational, Jay Haas was 51 years, 8 months and 19 days old, which is the record for oldest player in a WGC event. Senior becomes the third player over 50 to qualify for a World Golf Championship event -- Haas did it six times after turning 50, and Fred Funk did it twice.
Justin Ray has been a studio researcher for ESPN since June 2008 and is the lead researcher for "The Scott Van Pelt Show." Send comments and suggestions to Justin.Ray@espn.com.