Tiger's troubles? Hank Haney has an idea
March, 12, 2014
03/12/14
11:33
AM ET
These days you will not find Hank Haney on PGA Tour driving ranges working with the best players in the world. Haney's 2012 tell-all book about his six years working with Tiger Woods likely ended any formal association with this elite bastion of the game.
But that doesn't mean he's not still teaching.
On a recent beautiful and sunny Tuesday afternoon in New York's Times Square, the 58-year-old Dallas resident was giving lessons to average Joes as a part of TaylorMade's Speed Pocket World Challenge, in which golfers in New York, London, Toronto and San Francisco got to test the club manufacturer's new SpeedBlade irons.
"I don't miss the tour at all," Haney told me. "I did it for 30 years. I loved what I did. I worked with the person who I think is the greatest player in the history of the game.
[+] Enlarge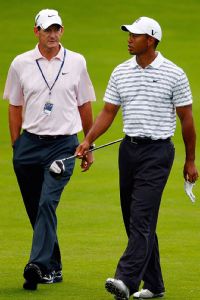 Scott Halleran/Getty ImagesHank Haney resigned as Tiger Woods' swing coach in 2010 amid a firestorm of criticism over the way he handled the 14-time major champion.
"I worked with Tiger during the most prolific time of his career. He won 45 percent of his tournaments and was top-10 85 percent of the time the last three years I helped him. That was enough for me. I like what I'm doing now. Last year, I gave clinics for over 15,000 people. It's not easy coaching professional athletes, especially the greatest athlete in the world."
Although Haney is no longer a part of Tiger's close-knit circle, he still pays very close attention to the activities and news surrounding his former star pupil.
Earlier this year, Haney suggested on his SiriusXM radio show that Tiger was overdoing it in the gym and should spend less time on the weights and more time on the practice tee.
"When [girlfriend] Lindsey Vonn says that Tiger is the hardest worker she's ever seen, she's not referring to him hitting 4-irons on the driving range," said Haney, who doesn't see anything in Woods swing that could explain the back spasms that have plagued him since last year. "She's talking about what he does in the gym. He says he's got smaller, but he looks big.
"He's not playing well because he hasn't practiced."
Few people in the game know better than Haney Tiger's golf mind and the evolution of his swing. For Haney, constant change, which often presents drama and instability, is a main ingredient of Tiger's psyche and success.
"You have to understand Tiger's personality," Haney said. "Why does he always change his golf swing? He's always got better. He won 20-something percent of his tournaments when he changed his swing with Butch Harmon.
"He changed his swing with me, and he won 45 percent of his tournaments. This time [with Sean Foley] it hasn't worked out, but he's doing the right thing in his mind. Telling him not to change would be changing because he's always changed. His motivation and his determination and work ethic are always at the highest when he is in the middle of a change. And that's not a bad thing. That's just his nature."
During ski trips with Tiger, Haney says, the 14-time major champion would ride up the chairlift saying everything he was going to work on during the run down the mountain.
Haney is very proud of the work he did with Tiger and is dedicated to putting that phase of his life behind him. But it's difficult to move on with Tiger in the spotlight and his swing always the subject of debate.
In January, Tiger alluded to falling into some bad swing habits he acquired while working with Haney, a subtle jab at his former instructor.
"Everybody is entitled to their opinion, but check the facts," said Haney, who resigned as Tiger's instructor in 2010 after fierce criticism over his handling of the 79-time tour winner. "I worked with Tiger during the most prolific time of his career. But criticism goes with the territory."
Haney says Tiger's swing has changed in three fundamental ways since they stopped working together.
Foley has made Tiger's grip much stronger. Haney had Tiger in a more neutral grip to eradicate the shot to the left. So, most of Tiger's misses were to the right. He eliminated half the golf course. Now, Haney argues, Tiger is about 50-50 with his misses to the right and left.
Second, Haney had Tiger's position at the top of the swing more left of the target or slightly laid off. Now, Haney says that Tiger is more neutral or across the line, which brings a hook more into play.
Third, Haney says that Tiger no longer plays the low stinger shot with the fairway wood and driver that was a key go-to shot for him in his best years. It was like hitting a knockdown shot with a wood: more controlled without losing much of the distance.
"That was an important shot for him," Haney said. "He played it with Butch [Harmon]. He used it a little differently with Butch than he did with me. But he hasn't used it one time this year."
Haney's passion for the golf swing isn't just reserved for Tiger. In Times Square, he showed the same calm determination to help a beginner make a good shoulder turn as he did when he was doctoring Tiger's golf swing.
Like his most famous student, Haney is in a constant search for the kind of change golfers want most: solidly hit golf shots and putts that reach their targets.
Haney is no longer fixated on helping Tiger reach his next target: Jack Nicklaus' record of 18 wins in majors. That's Foley's job now. But, on this bustling Tuesday afternoon in the middle of Manhattan, Haney is still Tiger's swing coach to the men and women who are spending their lunch breaks with one of the world's most famous golf instructors.