Handicapping the world No. 1 chase
April, 29, 2014
04/29/14
6:12
AM ET
There are several established statistical systems in sports that are as ubiquitous as they are criticized.
College football fans made an annual fall tradition of bickering about the BCS Standings, something that, for most, gleefully came to a close last season. Runs batted in was a baseball card staple for generations, but its value has been debated in recent years by seamheads everywhere.
Trivia question
The Official World Golf Ranking began in April 1986. Who was the first No. 1-ranked player under the system? Answer below
The Official World Golf Ranking, for all its perceived flaws, is the most important evaluator of a player's status compared to his peers around the globe. Elite players likely aren't overly concerned with what their number is any given week, but if that number is low (or high) enough, it can determine whether a player qualifies for the game's biggest events.
The criticisms of the OWGR are well-documented: major championships not being worth enough, the rolling two-year system offers too large of a window, and the overvalue of European Tour events being some of the common detracting sentiments.
Still, it's the most prominent system used by the sport, so for better or worse, we are stuck with it.
For the better part of 15 years, who was No. 1 in that ranking system wasn't an issue. From June 1997 through October 2010, the world ranking was released, weekly, 698 times. Tiger Woods was No. 1 for a record 623 of those weeks -- just under 90 percent of the time. The player with the second-most weeks in the top spot during that span? Vijay Singh, at 26 weeks -- just under 11½ years behind Woods.
But since Tiger relinquished the No. 1 position in October 2010, the title of No. 1 has changed 12 times. It, of course, landed back on Woods' shoulders in March of last year, where it has stayed for the past 60 or so weeks.
With Woods out for an indeterminate amount of time this season because of back surgery, and with his lead dwindling to less than half of one "average point" in the ranking, it's only a matter of time before No. 1 switches hands again.
But to whose hands? Let's look at what the numbers say.
Adam Scott
World Rank: 2nd
Average points back: 0.277
Adam Scott has had his opportunities to claim the top spot in the OWGR, most recently at this year's Masters. The Aussie, who was tied for third entering the weekend at Augusta, needed a T-3 finish or better to become the 17th player to wear the title of OWGR No. 1. He was 4 over in Rounds 3 and 4, and finished tied for 14th.
Scott is next scheduled to tee it up at The Players Championship starting May 8, a tournament that awards 80 world ranking points to the winner. To put that into perspective, the four major championships each hand out an even 100 points to the champion and the Zurich Classic of New Orleans doled out 36 points.
Despite not having a victory yet in 2014, Scott has been consistently very good. In six events this calendar year, he has never finished outside the top 25, and has three top-eight finishes. With the heavy point distribution at TPC Sawgrass, Scott will likely just need another good finish (a top-five, for instance) to pass Tiger two weeks from now.
[+] Enlarge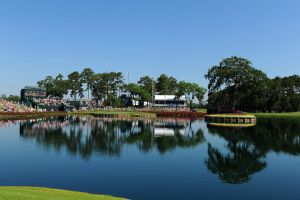 Stan Badz/PGA TOURNext week's Players Championship might decide the new No. 1 in the world rankings as the current holder of that position, Tiger Woods, doesn't appear to be getting back on the course any time soon after back surgery.
Henrik Stenson
World Rank: 3rd
Average points back: 0.456
With two missed cuts in 2014 and no finish better than a tie for fifth, the news that Henrik Stenson could have potentially passed Woods and Scott for the top spot in the world ranking last week was a head-scratcher to some. Not that Stenson hasn't been one of the world's most consistent players over the past 10 months, but the fact that a win in the event he was playing in would warrant such a jump came as a surprise.
Last week's Volvo China Open awarded 32 OWGR points to the tournament winner -- for perspective, that's somewhere between the Sony Open (42) and the Frys.com Open (28). Stenson would have seized the No. 1 position for the first time in his career with a victory. Stenson finished tied for fifth, 8 shots behind runaway winner Alexander Levy.
Stenson also will be teeing it up next at TPC Sawgrass. If the points distribution at The Players Championship is equivalent to what it was last year, a runner-up finish or better should move Stenson to No. 1.
Matt Kuchar
World Rank: 5th
Average points back: 1.32
After Scott and Stenson, Matt Kuchar is the most likely player to move into the No. 1 position in the world from the next group of players.
Kuchar has earned a little over 148 world ranking points this year, more than anyone except Masters champion Bubba Watson. A staggering 117.6 of those have come in his past four starts -- remarkable in any span that doesn't include a major championship victory. And Kuchar will soon be teeing it up at the site of his biggest professional victory, both in terms of perception and points -- his title at the 2012 Players Championship earned him a career-best 80 OWGR points.
---
Though Scott, Stenson and Kuchar are the top three nominees to claim the No. 1 spot, this year's Players Championship could provide that opportunity to several golfers.
With a good event still to play this week (last year's Wells Fargo Championship winner earned 52 points), two additional players look to be in position to move into the No. 1 slot with a win at TPC Sawgrass: Jason Day, who is battling a thumb injury he aggravated at the Masters, and Watson.
Trivia answer
Question: The Official World Golf Ranking began in April 1986. Who was the first No. 1-ranked player under the system?
Answer: Bernhard Langer, who held it for three weeks before Seve Ballesteros earned the title.
And with strong performances this week in Charlotte, it's possible that Phil Mickelson, Justin Rose and Rory McIlroy could join that group as well.
Though players and fans alike certainly don't all agree on how the OWGR works, the potential musical chairs at the top of them this summer will add intrigue to the golf world.