Quinns share Father's Day inside the ropes
June, 15, 2014
06/15/14
2:36
PM ET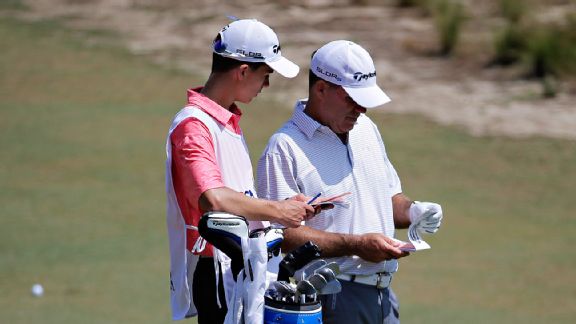 AP Photo/Eric GayFran Quinn, 49, and his son Owen, 15, got to spend Father's Day together to create a memory they will likely cherish forever.
PINEHURST, NC -- Fran Quinn started Father's Day 19 shots from the top of the leaderboard. Martin Kaymer has the U.S. Open lead on Sunday, but Quinn has the memories of sharing this past week with his 15-year-old son Owen. On some level, I'm not sure Quinn would trade places with Kaymer.
Owen caddied for his old man at the local and sectional qualifying. When Fran, who joined the PGA Tour in 1992 and last made a majors cut in 1994, qualified for this U.S. Open, he told his son that he had concerns about Owen missing a week's worth of school.
"Oh, I'm missing the school," Owen told his dad.
Fran relented, and father and son have had the time of their lives. Fran said it has been "surreal" and "beyond words" to have Owen at his side this week.
"He's a terrific young man," said Fran. "He's really handled it well the entire time."
Even before the final round began, Owen knew it would be an emotional time for both of them when they walked down the 18th fairway one last time.
"I'm not sure I'll be able to keep it together," Owen said.
Owen didn't get his dad a Father's Day card. "This is it," he said. This, being a father and son sharing a U.S. Open together.
Reality arrives for Owen at 7:30 a.m. ET on Monday morning. That's when he has a biology final exam at Wachusett Regional High School in Holden, Mass.
Has he studied?
"I tried, but I haven't gotten much done," he said.
Can you blame him?