Remembering Payne Stewart at Pinehurst
June, 15, 2014
06/15/14
5:51
PM ET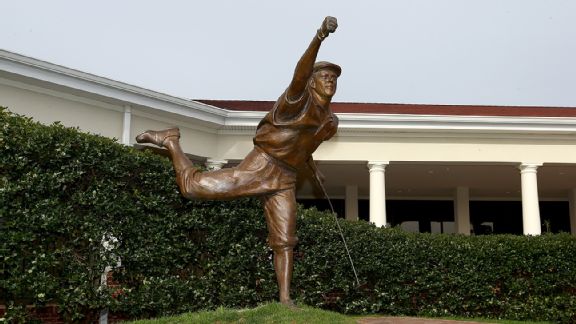 Streeter Lecka/Getty ImagesThe statue of Payne Stewart in his now-famous pose resides behind the 18th green at Pinehurst No. 2.
The New York Yankees had just taken a 2-0 lead over the Atlanta Braves in the 1999 World Series, and I was on a flight to New York when I called my sports editor at the time to check in on his plans for Game 3.
Over one of those old air phones, the editor, Mark Leary, told me there was a runaway plane in the sky and that authorities believed the people on board were either incapacitated or already dead. Leary told me there were reports that one of the passengers aboard the private plane was a prominent athlete from the Orlando, Florida, area.
This isn't the kind of bulletin you want to get at 35,000 feet. I shared the stunning news with the baseball writer sitting next to me, Tom Verducci, and it was only natural for us to start reviewing the roster of big names out of Orlando.
As soon as the flight landed, I called Leary again and discovered that Payne Stewart was among the six people who died on that private plane.
Stewart had just pumped his fist on the 72nd hole after winning the U.S. Open four months earlier, and it was hard to imagine him dead.
There's a bronze statue of Stewart at Pinehurst, and his daughter Chelsea stood next to her father's likeness last week and struck the same triumphant pose, creating a snapshot that was a big social media hit.
On Father's Day 2014, Stewart won't be far from anyone's mind at the U.S. Open. When he beat Phil Mickelson with that putt in 1999, he famously grabbed Mickelson by the cheeks and told his vanquished, about-to-become-a-dad-any-minute foe that there is nothing like being a father.
Mickelson found out that Stewart was right, and so did a wide circle of fathers gathered at Pinehurst to see who will claim golf's national championship. We're all missing our sons and daughters today and, 15 years after Stewart's death, remembering how precious every day is in their presence.