Hole-by-hole analysis of Tiger's Round 2
June, 27, 2014
06/27/14
1:04
PM ET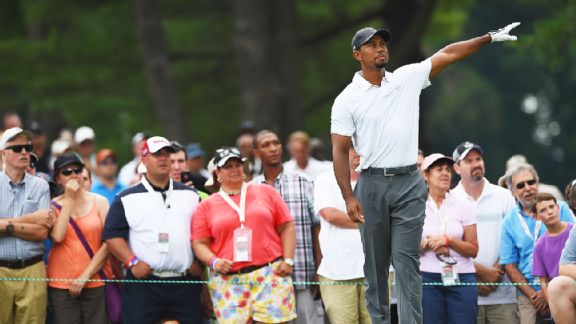 Patrick Smith/Getty ImagesTiger Woods struggled to a 2-over 38 on the front nine Friday at the Quicken Loans National.
BETHESDA, Md. -- After carding a 74 in Round 1 of the Quicken Loans National, Tiger Woods needed a good score Friday if he wanted to play the weekend at Congressional Country Club.
ESPN.com's Farrell Evans followed the former world No. 1 on the course and shared insights on Woods' second round.
No. 18, par-4, 523 yards; Woods' score: Par, +4 for round (75), +7 overall
Tiger's last missed cut came at the 2012 Greenbrier Classic.

— Farrell Evans (@EvansESPN) June 27, 2014
After a 4 over 75 in the second round of the Quicken Loans National for a 7 over 36 hole total, Tiger has now missed 10 career PGA Tour cuts

— Farrell Evans (@EvansESPN) June 27, 2014
No. 17, par-4, 437 yards; Woods' score: Par, +4 for round, +7 overall
Tiger's short birdie miss at 17 says a lot about his week. he just doesn't have his A game right now. He may not have it for a long time.

— Farrell Evans (@EvansESPN) June 27, 2014
---
No. 16, par-5, 579 yards; Woods' score: Birdie, +4 for round, +7 overall
To polite applause, Tiger makes birdie at 16 to get to 7 over.

— Farrell Evans (@EvansESPN) June 27, 2014
Watching Jason Day the last two days, it's mind boggling that he's only won twice on tour. He hits it as well as anybody in the game.

— Farrell Evans (@EvansESPN) June 27, 2014
---
No. 15, par-4, 490 yards; Woods' score: Par, +5 for round, +8 overall
Tiger gets off the bogey train with a par at 15, his first since the 7th hole. He's still at 8 over with three holes to play.

— Farrell Evans (@EvansESPN) June 27, 2014
Downhill lie in a deep rough at 15, Tiger chases a hybrid into the front bunker.

— Farrell Evans (@EvansESPN) June 27, 2014
---
No. 14, par-4, 467 yards; Woods' score: Bogey, +5 for round, +8 overall
To cut watchers: Tiger needs a miracle to play the weekend.

— Farrell Evans (@EvansESPN) June 27, 2014
It's getting ugly. 5 over for the day---8 over for event. fans are weary but glad they bought tickets for today instead of weekend

— Farrell Evans (@EvansESPN) June 27, 2014
---
No. 13, par-3, 193 yards; Woods' score: Bogey, +4 for round, +7 overall
Tiger just chunked his chip at the par 3 13th. Not average at any level.

— Farrell Evans (@EvansESPN) June 27, 2014
---
No. 12, par-4, 471 yards; Woods' score: Bogey, +3 for round, +6 overall
Tiger made bogey at 12 to drop back to 6 over. So much for momentum.

— Farrell Evans (@EvansESPN) June 27, 2014
One thing that can't be said about Tiger is that he is a slow player . He has wasted no time on even the most difficult shots.

— Farrell Evans (@EvansESPN) June 27, 2014
Big shot here at 12. Bad stance outside of the bunker, Tiger runs his flop shot through the green.

— Farrell Evans (@EvansESPN) June 27, 2014
Tiger has a two way miss going. After hitting it right off the tee at 11, he's pulled it left at 12.

— Farrell Evans (@EvansESPN) June 27, 2014
---
No. 11, par-4, 489 yards; Woods' score: Bogey, +2 for round, +5 overall
Tiger falls back to 5 over with a bogey at 11. This is the tough part of the golf course that stung him in the first round.

— Farrell Evans (@EvansESPN) June 27, 2014
Tiger will need a great up and down at the 11th to keep momentum going. He was really lucky that his drive stayed out of the creek.

— Farrell Evans (@EvansESPN) June 27, 2014
---
No. 10, par-3, 218 yards; Woods' score: Birdie, +1 for round, +4 overall
Tiger is making a move, albeit toward the cut line. He has now made back to back birdies with a nice putt at the 10th to get to 4 over

— Farrell Evans (@EvansESPN) June 27, 2014
After the birdie at the 9th, the crowds are urging Tiger on to make some birdies and get to the weekend.

— Farrell Evans (@EvansESPN) June 27, 2014
It's quite the scene at the par 3 10th. People are hanging out of the back of the clubhouse. All for Tiger.

— Farrell Evans (@EvansESPN) June 27, 2014
---
No. 9, par-5, 636 yards; Woods' score: Birdie, +2 for round, +5 overall
Tiger had a two over par 38 on the front.

— Farrell Evans (@EvansESPN) June 27, 2014
Tiger makes the turn at 5 over after making a birdie at the 9th. He will never stop grinding.

— Farrell Evans (@EvansESPN) June 27, 2014
There are 83 players at 3 over. Tiger has to have two birdies and no bogeys on the back to have a chance of making the cut.

— Farrell Evans (@EvansESPN) June 27, 2014
Give Tiger credit for showing up. Here at the par 5 9th with him behind a tree. Great recovery and fine third shot. He is desperate!

— Farrell Evans (@EvansESPN) June 27, 2014
---
No. 8, par-4, 354 yards; Woods' score: Bogey, +3 for round, +6 overall
Tiger limps off the 8th with a bogey after hitting a perfect drive to the very short par 4. Six over for the tournament.

— Farrell Evans (@EvansESPN) June 27, 2014
Wow. Tiger couldn't hit the green with a little chip shot from the middle of the fairway at 8.

— Farrell Evans (@EvansESPN) June 27, 2014
It's 70 and ties that make the cut and there are 71 players at 3 over presently.

— Farrell Evans (@EvansESPN) June 27, 2014
The cut just moved to 3 over. Tiger is two shots out. On Thursday, he made five bogeys on the back. He's playing 8 and has the par5 9th.

— Farrell Evans (@EvansESPN) June 27, 2014
---
No. 7, par-3, 173 yards; Woods' score: Par, +2 for round, +5 overall
Tiger made a routine two putt par at the par 3 7th. It's windy enough out here that he has to pay attention to it.

— Farrell Evans (@EvansESPN) June 27, 2014
A fan tells Tiger to relax. That's the last thing he can do now trying to make the cut!

— Farrell Evans (@EvansESPN) June 27, 2014
---
No. 6, par-5, 555 yards; Woods' score: Par, +2 for round, +5 overall
Classic case of Tiger's lack of feel right now: three-putt at par 5 6th from about 45 feet. Lost opportunity

— Farrell Evans (@EvansESPN) June 27, 2014
---
Tiger hasn't taken advantage of the easier front nine at Congressional. He has two par 5s left on this side that he needs to birdie.

— Farrell Evans (@EvansESPN) June 27, 2014
---
No. 5, par-4, 413 yards; Woods' score: Double-bogey, +2 for round, +5 overall
I didn't see that Tiger's first shot in the bunker at the 5th was buried. He made double there. He is 5 over for event.

— Farrell Evans (@EvansESPN) June 27, 2014
It looks like half of Greater Washington took the afternoon off from work to follow Tiger around Congressional.

— Farrell Evans (@EvansESPN) June 27, 2014
Heading into the 5th hole , Tiger is even par for the day and three over for the tournament.

— Farrell Evans (@EvansESPN) June 27, 2014
Tiger is healthy but he doesn't seem to have that explosiveness back.

— Farrell Evans (@EvansESPN) June 27, 2014
---
No. 4, par-4, 470 yards; Woods' score: Par, Even on round, +3 overall
After hitting his first fairway of his second round, Tiger hit his approach to 5 feet and missed the putt badly. And short!

— Farrell Evans (@EvansESPN) June 27, 2014
---
No. 3, par-4, 466 yards; Woods' score: Par, Even on round, +3 overall
Tiger is scrambling. He made his third straight par of the day after getting into trouble off the tee.

— Farrell Evans (@EvansESPN) June 27, 2014
---
No. 2, par-3, 233 yards; Woods' score: Par, Even for round, +3 overall
At No. 2, Tiger made a great par save after the double cross off the tee. He's made a career of these.

— Farrell Evans (@EvansESPN) June 27, 2014
Tiger doesn't like a draw. He had a left pin to the long par 3 2nd hole and his iron started about 30 yards left of that pin to the rough.

— Farrell Evans (@EvansESPN) June 27, 2014
---
No. 1, par-4, 402 yards; Woods' score: Par, Even for round, +3 overall
It looks like rain is coming to Congressional as Tiger makes a routine par at No. 1. It's hard to make birdie from the rough.

— Farrell Evans (@EvansESPN) June 27, 2014
---
Lindsey Vonn is inside the ropes following her man.

— Farrell Evans (@EvansESPN) June 27, 2014
Tiger Woods begins his second round in the Quicken Loans at 1:12pm EST. At 3 over, he is on the present cut. I'm walking with him.Stay tuned

— Farrell Evans (@EvansESPN) June 27, 2014