Phil Mickelson will always have Muirfield
July, 19, 2014
07/19/14
9:36
AM ET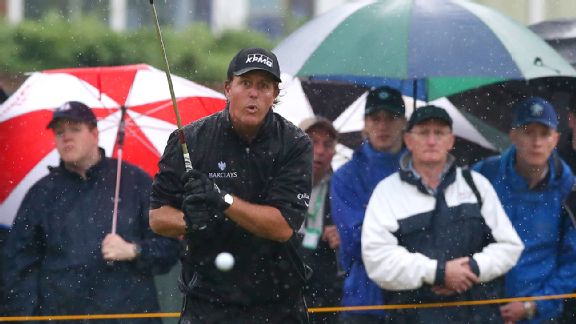 AP Photo/Jon SuperPhil Mickelson helped himself with four birdies, but gave most of them back with three bogeys.
HOYLAKE, England - If Phil Mickelson wants to comfort himself on the long ride home, he can envision how he would feel if last year had never happened. A Mickelson minus the dramatic, come-from-behind victory at Muirfield would be a Mickelson disconsolate over the missed opportunities at Royal Liverpool.
But he did take the Open Championship of 2013, and he did enhance his Hall of Fame legacy by winning the one major he was never supposed to win. So the 1-under 71 Mickelson shot Saturday in soft, forgiving conditions offering up scoring chances that might've given him some hope on Sunday? The knowledge that he would play the final round at Hoylake with no more chance to seize the Claret Jug than a fan in the crowd has?
Hey, he still has Muirfield.
"Sure, it will ease a lot of things," Mickelson said of the memory. "Just having success in this tournament means a lot to me in the past. But getting a taste of it last year, I just want it more. It makes me work harder, makes me want to come here and play harder even more."
He hated links golf as a younger man, and now he adores it. Mickelson wasn't moved to complain about anything outside of his own game; he said he had no problem with the R&A's decision -- in anticipation of brutal weather that never quite arrived -- to send players off early in the third round and off both nines for the first time in the long and rich history of this event.
"It's not like it's a big deal," Lefty said. "We do it every week."
But despite facing what he called "beautiful scoring conditions," Mickelson left the course dismayed over the fact he turned a 65 or 66 and an outside crack at a two-peat into a Sunday practice round for next month's PGA Championship.
"Oh my goodness," he said, "I threw countless shots away -- not shots, opportunities, away -- all throughout the day. And it's just frustrating.
"But I know that it's not far off, but it's got to click. It just hasn't yet."