Tiger and Phil: Closer, but not close
August, 7, 2014
08/07/14
12:51
PM ET
LOUISVILLE, Ky. -- Just as golf fans were forever curious about the often tense relationship between Jack Nicklaus and Arnold Palmer, inquiring minds are always asking about Tiger Woods and Phil Mickelson and whether they despise each other.
[+] Enlarge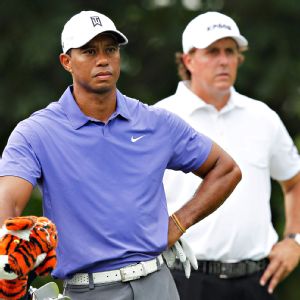 REUTERS/John Sommers IITiger Woods and Phil Mickelson played together in Round 1 of the PGA Championship. Woods shot a 3-over 74 and Mickelson posted a 2-under 69.
They don't. Not these days, anyway. My best guess -- after talking to some who should know -- is the Woods-Mickelson relationship has evolved over the years from deep mutual dislike to a shared respect with occasional displays of affection. Tempered affection, that is.
When they shook hands on the 10th tee Thursday morning at the PGA Championship (Woods, Mickelson and Padraig Harrington started on the back nine), Phil greeted Tiger with a "Hey, buddy." OK, that's hardly the stuff of warm and fuzzy reunions, but there was Woods laughing with Mickelson's caddie, Bones Mackay, on the 13th fairway, and there were Tiger and Phil chatting away in neighborly fashion as they walked together toward the 13th green.
Again, hardly evidence that Woods and girlfriend Lindsey Vonn and Mickelson and wife Amy are planning a weeklong Caribbean cruise together. But Mackay and Woods' caddie, Joe LaCava, maintain a close friendship that has softened the rough edges of the Tiger-Phil dynamic.
Mickelson's five major victories haven't hurt either. Once upon a time, when Lefty was the reigning BPNTWAM -- best player never to win a major -- Woods appeared to view him as a talented goof who didn't have the drive or nerve to close out a big one. Mickelson also started faring better in his head-to-heads with Tiger; he credited his coach, Butch Harmon, for giving him tips on how to break down the intimidating aura radiating from Harmon's former pupil, Woods.
In the wake of Mickelson shooting a 2-under 69 to his 74 at Valhalla, Woods said, "Unfortunately Phil and I never get paired together. It happens so rarely the first two days. We're always on the opposite side of the draw. Usually, if you look at most of the majors, exact same tee times, just opposite sides. It's always fun to play with him."
Listen, they're never going to engage in a bromance, and the image frozen in the minds of those who still believe Tiger and Phil hate each other is the look on Woods' face when the Ryder Cup partner he never wanted, Mickelson, sent his tee shot sideways in their disastrous pairing of 2004.
But time has healed some wounds for sure.
"The people who think they can't stand each other just don't get it," said one prominent golfing figure who knows both. "I've heard how they talk to each other, and seen how they are with each other around the locker room. They've definitely gotten to a point of respect."
The change reminds me of how Derek Jeter and Alex Rodriguez -- sworn enemies in their early years together in the Bronx -- came together in 2009 to win a championship as cooperating business partners, if not acquaintances.
Woods did tweak Mickelson at the Open Championship when he compared Rory McIlroy's inconsistency to Phil's; Tiger will always maintain some distance between himself and the rest of the field. But as Woods and Mickelson have aged and weathered various storms on and off the course, they've loosened their grip on the grudge.
Arnie and Jack eventually came around too. By the time Tiger and Phil are ceremonial players at the Masters, they'll be swearing to people they were the best of buds all along.