Ernie Els made it look easy again
August, 10, 2014
08/10/14
7:46
PM ET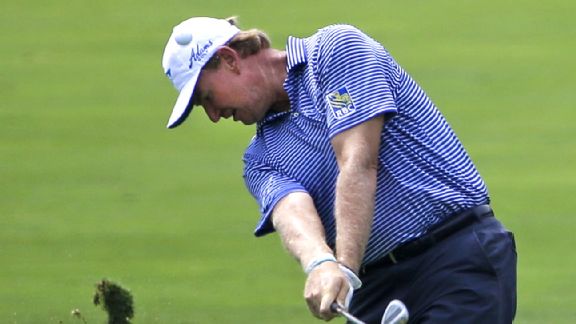 AP Photo/David J. PhillipErnie Els surged to a 6-under 66 in Sunday's final round at Valhalla.
LOUISVILLE, Ky. -- Out of left field, Ernie Els was Ernie Els again. The Big Easy was playing big and making it look easy.
He was out of the tournament at 5-under at the start of Sunday, 8 strokes behind Rory McIlroy, a leader who looked unstoppable. But something funny happened on the way to a backdoor top-10 at Valhalla.
The 44-year-old Els got so hot, he started thinking the unthinkable. He started thinking he could win the PGA Championship.
"I felt like I could birdie every hole," Els said.
He ripped off four in a row on holes No. 3 through 6 to get to 9-under, and he felt like a brand-new man. After tying for fourth at the 2013 U.S. Open, Els had failed to finish in the top 25 in his past five majors, missing the cut three times.
But he switched back to a short putter at the start of the year, waited to find a rhythm with it and, voila, finally found it on the front nine of his final major round of the year. Els failed to birdie No. 7 and missed a brutal 5-footer at No. 8, and yet felt so confident in his rediscovered game that he turned to his caddie and said, "Let's get to 14."
He meant 14-under, not the 14th hole.
"That meant I needed to make five birdies in 10 holes," he said. Els threw everything he had at Valhalla in a desperate attempt to claim his fifth major title but ended up tied for seventh.
The heavy rains had left the venue an inviting and vulnerable target. "The course was as gettable as you can get ever," Els said. "This is a great course, great spectator course, but for a major, this was as gettable as you are going to get."
Els pushed it to 11-under on the 11th hole before running out of steam. Four consecutive pars and a bogey preceded his closing birdie for a round of 65 that felt more like a 62.
"It could have been something real special," the Big Easy said.
Ernie Els was back to being Ernie Els. That was special enough.