Izzo contacts Kuchar's caddie Bennett after wife died
August, 30, 2014
08/30/14
8:44
PM ET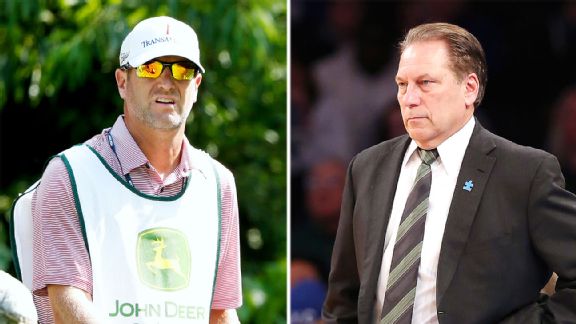 Getty ImagesMichigan State head coach Tom Izzo, right, called Matt Kuchar's caddie, Lance Bennett, left, after Bennett's wife tragically died.
NORTON, Mass. -- Sometimes, when a story connects with someone, they just feel the need to reach out.
That was the case with Michigan State head basketball coach Tom Izzo when the wife of Matt Kuchar's caddie, Lance Bennett, unexpectedly passed away earlier this week.
According to multiple PGA Tour caddies working at the Deutsche Bank Championship outside Boston, Izzo learned that Lance Bennett was a huge Spartans basketball fan and went on a mission to contact him.
After making a few calls (six degrees of separation is true), by Friday morning Izzo had Bennett's phone number. Bennett didn't recognize the incoming number at first and let the call go to voicemail. The coach left him a message, but called back again, just in case.
Bennett answered this time, even though he hadn't heard the voicemail, so it was a complete surprise for him to hear Izzo's voice on the other end of the call. They spoke for about 15 minutes.
With this simple gesture, you can be sure Izzo will never have to pay for a meal in the Caddie Wagon should he ever come to a PGA Tour event, since caddies who don't even follow college basketball were sharing the story and praising the coach.